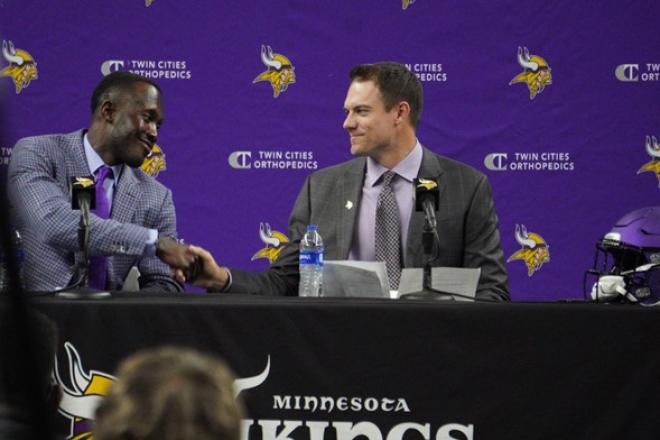 R.C. Fischer
FFM
19 July 2022
2022 New Hire NFL Head Coach Analysis #3: Kevin O'Connell, Minnesota
‍
(same intro as prior coaching analysis reports)
===========
I need to address two things at the top, and I'll probably copy and paste this into every intro ahead of the new hire coaching analysis for 2022…
1: Why are your (RC's) famous coaching studies just now starting (July 2022)? You usually do them in Jan.-Feb.-Mar.?
I used to be excited to jump right on these studies but the longer I research and study the NFL, as it relates to Fantasy Football, the new head coach is not as big a factor as I thought it once was. I do some base research right away, when they are hired, to identify trends/patterns in their (and their staff's) history on offense especially -- but a full research report, as I have done for years, I am arriving at a belief that it just isn't as important as player scouting and study, so I put it off until I had the time to work on it…so, he we are.
It's a definite, purposeful lack of priority as to why I'm starting the deeper reports in the summer.
2: Why do I (RC) think the new head coaching hires are not as important as they once were?
After years and years of NFL study and observation, I've come to the most simple/obvious conclusion about a new (or any) NFL head coach importance to team wins/performance: Tell me who their quarterback is, and I'll tell you how 'good' a coach they're gonna be this season/ahead.
All my years of NFL observation, all I see is coaching failure and nonsense from the top (head coach)…out of touch philosophies, fighting with the GM, strange decisions for their starting lineups, and inability to manage a salary cap or construct a roster. Now, they do know how to do the 'job' of coaching…they know playbooks, weight rooms, stretching, dumb/cliché filled speeches, dress codes for road trips, practice schedules, blowing a whistle, coach speak press conferences, play calling from the playbook…they know how to perform the job of 'coach', but 'difference makers'? Legends? Geniuses? Name one.
Ask yourself, if head coaches are so smart and such great communicators and understand the game so well…why are ex-quarterbacks getting tens of millions of dollars to analyze the game on TV, and not ex-NFL head coaches? Have you listened to the Bruce Arians, or Jeff Fisher, or Brian Billick, or any of the ex-coaches try and call a game…or even host a pregame show or something like it? Useless. Ex-quarterbacks in the booth are always natural and detailed and understand what they are seeing and can communicate it. Ex-head coaches…well, there's Rex Ryan as a nonsensical sideshow on a dying media company's pregame show. Steve Mariucci? Are you kidding me?
We all thought we had Bill Belichick to look up to, but then we saw how he handled the Tom Brady situation and how he wanted rid of Tom, and how he's fared since Tom (and how Tom has fared without him). Who has been a better coach in the NFL? Bill Belichick or Bruce Arians? Answer = the one possessed Tom Brady, that's who.
There are better coaches than others, for sure…but it's more 'least damaging to things' is better than 'very damaging to things'. They do know how to swing a whistle on a string around their finger and bark nonsense while the players stretch out pregame/practice.
In the end, this following statement is going to make you deny it…and then when you think about it, you'll agree…and then it is sobering (for coaches): the location/geography, the weather, the stadium, the surrounding city, and the tax ramifications of that area/state are more important in attracting and keeping players than 'head coach'.
A head coach has one main characteristic they MUST possess…don't piss off the elite quarterback/you must befriend the elite quarterback.
Football fans are always so religious in their faith and defense of and promotion of their team's new head coach -- it boggles my mind. People believe in a new hire head coach, likely a guy they may have never heard of before they entered the interview cycle/media cycle, with more rigor than church goers believe in God on Sundays. You can have hope in your new head coach for your favorite team, but these coaches are mere mortals, and most doomed-to-fail (and these adoring fans will turn on them within two years of their hire)…and many of these new head coaches were not the first or even third-fourth-fifth choices during the interview process, but when these coaches land on 'your' team then the making-them-into-a-god process by the media…and thus the sheep/fans go right along for the ride.
=================
My first/opening line in any of these reports/analysis on projecting how good the new hire head coach is asking the question – who is their QB? It's my sarcastic, yet 100% poignant question to reinforce how little I think of NFL head coaches/how important QB is to everything.
I'm not going to ask that question first on this one with Kevin O'Connell. It's disrespectful.
Why?
I've researched Kevin O'Connell's player/coaching history, watched his intro press conference, his first head coaching interviews, and gone back and watched him mic'd up working on the field. I have done this type of research on new hire head coaches for like…what…6-7+ years now? I've maybe done 50+ of these reports over the years?
In all my time, this was the most impressive coaching study…most impressive coaching candidate I've ever come across. He can hold a room/your attention when he speaks – and he speaks with a balance only a rare few in the football world can achieve…the balance of being interesting, having the right speech cadence of a leader, and making you respect/like him just by his body language and communication style. He sounds smart and yet personable…and yet a leader that you think is smarter than you, but he's not flaunting it over you, and you like what you're hearing. His ability to communicate on several levels makes me jealous.
O'Connell has the youthful, but professional look…the confident speech and body language of a former player…but without the 'jock' mentality or cushy NFL career that means he's not going to put in all the detailed work as an NFL head coach. He sounds both intelligent and approachable/normal all at the same time. I was wildly impressed.
O'Connell's on-field, in-practice communication with the players is not silly or 'coachy', but professional…and personable, motivating, respectful, and he feels like 'one of them' but also above them as a coach/superior in the workplace -- he's not intimidated by the players at all. He strikes a balance on so many levels, I cannot even think of a coaching candidate like him…ever.
I don't know if he sucks at X's and O's, I doubt he is bad at it…he just assisted the Rams' offense to the Super Bowl, but I know a real leader's personality and body language when I see it. I worked in corporate life longer than my football analysis life, and I was around all levels of people and interviewed many candidates for all kinds of jobs – Kevin O'Connell is as impressive a candidate/person/coach/leader I've ever come across on first impressions and examining his history.
I would bet on O'Connell over any of the other new hire candidates right now, and I haven't even studied them all yet. He's the best candidate of the 2022 crop…and would've been over any of the 2021 crop. If I had my pick of any head coach in the NFL right now, to start my expansion franchise with – I think I would take O'Connell…right up there with McVay-Shanahan (I respect Belichick, but I think he is getting past time/the current era). I might take O'Connell over McVay-Shanahan…O'Connell isn't a former daddy's boy entry into the league nor is O'Connell dating/marrying Instagram models. O'C is a normal family life with multiple kids guy.
I could not endorse a head coaching candidate highly enough…just from the outside looking in on someone who has never held the head job prior. Whenever he desires, I bet O'Connell becomes a highly paid TV analyst, as well. A great communicator who can be serious or low-key funny as needed.
So, then I can now ask – Who is O'Connell's quarterback? Oh, it's Kirk Cousins…O'Connell will be a good head coach right out of the gates.
Not only does O'Connell have Kirk Cousins in place, but he also has as great a young GM to work with as I've seen in all my time -- Kwesi Adofo-Mensah, who just killed it in 2022 free agency and had a very savvy first NFL Draft.
Everything is in place for instant and great success for the Vikings. If I were a Vikings' fan (I am a fan of no team), I'd be out of my mind thrilled with this change over of staff from awful Mike Zimmer and goofy Rick Spielman…to now possessing two of the brightest young candidates/future stars in their vocation people that I've seen connected together in the NFL.
Wow. I might become a Vikings fan now.
I've done three new hire coaching analyses so far for 2022…and Nathaniel Hackett (my 2nd study) puts Mike McDaniel (my 1st study) to shame, as a hire, first impression…and Kevin O'Connell puts Hackett to shame, as a hire. If O'Connell is an A+…then Hackett is a C, who fell into a great situation at QB/GM…and McDaniel is a D/F over his head, not-going-to-be-respected, quiet/nerdy personality coach doomed to be replaced by Sean Payton in 2023…if Dallas doesn't make/announce the Payton hire in December.
Kevin O'Connell's impact on Fantasy?
You could probably follow the 2021 Rams pattern and glean a parallel from it…
Kirk Cousins will have a fantastic season, perhaps his best of his career.
Dalvin Cook will be the lead dog but in a more open offense. And I think Alexander Mattison could be on the move…the Ty Chandler draft pick probably signaled more desire for faster athletes at RB, not slower/bangers.
Jefferson-Thielen will do their thing, but perhaps statistically better in 2022 as Cousins rises.
The defense is led by a Vic Fangio disciple D-C, and the GM just gave him an arsenal of defensive talent…and with that loud home stadium, it should be a killer defense in short order.
I normally don't get into these new head coaching hires, because they are typically dead men walking within 2-3 years – but I'm extremely interested in this one for Minnesota…for NFL and FF purposes.
‍