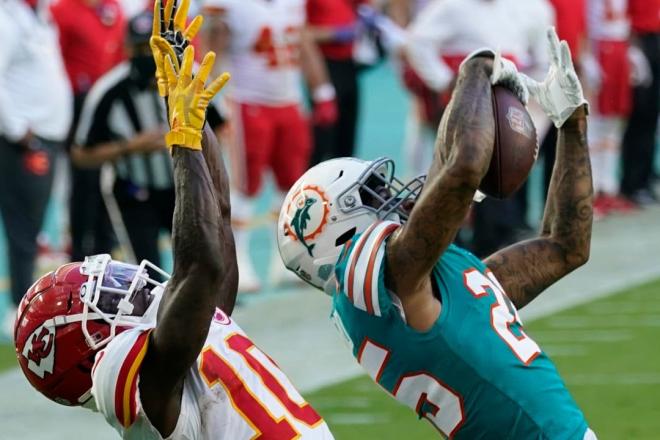 R.C. Fischer
FFM
21 February 2021
‍
2020 NFL/FFM Defensive Player of the Year
All this week we are going through the major NFL awards division by division, naming a divisional winner…then debating the divisional winners by conference until we get to the final two candidates and declare our 2020 winner from there.
2/2 = Defensive Player of the Year
2/3 = Coach of the Year
2/4 = Rookie of the Year
2/5 = MVP/Offensive Player of the Year
AFC EAST
BUF: CB Tre'Davious White
MIA: CB Xavien Howard
NE: CB J.C. Jackson
NYJ: NT Quinnen Williams
Quinnen Williams had a very nice 2nd-season for the Jets…a team leading 7.0 sacks with 10 TFLs and 14 QB hits…which is really nice out of a DT/NT, but he wasn't close to impactful as the other options here.
Tre'Davious White and J.C. Jackson played great ball in 2020, Pro Bowl players. Somewhat shutdown corners. White is a great corner, but I thought he wasn't as sharp early in the season and didn't have his best year. Jackson was really good but not a true force. But neither could compare to Xavien Howard in 2020.
Howard led the NFL with 10 INTs, but interceptions aren't always the true indicator of success.  But when you see he allowed just 51.5% of passes completed against him and that QBs had a measly 48.3 QB rating throwing his way – that's a shutdown corner. In 2019, Tre'Davious White had a 43.3 QB rating against…but a 79.9 QB rating against in 2020. The clear best defensive player in the AFC East was Howard.
WINNER = Xavien Howard, Miami
AFC NORTH
PIT: OLB T.J. Watt
BAL: CB Jimmy Smith
CLE: CB Denzel Ward
CIN: SAF Jessie Bates
First off, eliminate Bates from consideration. He had a nice/solid year, but the 'rules' of this was I picked a representative from each team…so Bates was the choice for Cincy, but he has no shot among this group. 2nd and 3rd options off the other teams are more worthy.
Denzel Ward, to me, is just as/more key to Cleveland's defense than Myles Garrett. At the end of the day, Garrett started hot and really finished cold (9.0 sacks first 7 games…3.0 sacks the rest of the season). I could go Garrett or Ward here, I chose Ward – but neither would top Watt or Jimmy Smith.
You can't go wrong with T.J. Watt. He definitely could be the winner here, and the winner overall. But I am going to make the case for Jimmy Smith. Did you know Smith did not allow a TD pass to the receiver he was covering this season? Did you know he did not allow a TD to any receiver last season?
In 2020, Smith allowed a 57.4 QB rating against him…QBs completed just 50.0% of their passes throwing his way. Three seasons in a row of 56.0% of lower Comp. Pct. allowed against him. He is 32-years old and has gotten statistically better every season the past three years, which is remarkable.
I watched Smith a lot on tape this year…fascinated by him. He just took away any receiver he was on, and he moved around to different receivers all the time. He is really one of the unsung best defensive players in the NFL. To the point that teams/QBs just don't even throw his way – no 'stats' to chew on for him to compare/boast, but it's really a greater honor. My AFC North best defender…I'm going Smith over Watt to make a point, with bias. Watt is legit too.
WINNER = Jimmy Smith, Baltimore
AFC SOUTH
TEN: CB Malcolm Butler
IND: LB Darius Leonard
HOU: LB Zach Cunningham
JAX: CB C.J. Henderson
Malcom Butler was solid/OK on a very bad defense. Butler wasn't a star, but he played with everything he had…with high tackle counts and high PDs. His coverage metrics were OK. He was just a 'rock' for a team without a lot of defensive standouts, but not the top defender in the division.
Zach Cunningham had a ton of tackles, but teams ran all over Houston…so, how valuable was Cunningham? Not much.
Had C.J. Henderson played most of the season, he would have likely won…a shutdown corner from snap #1 in the NFL. However, he got hurt halfway in and went on I.R. for the remainder. Which leaves the always great Darius Leonard as a solid choice for the DPOY of the division. It wasn't his best year, but it was a really good year…so, he gets the slight nod.
WINNER = Darius Leonard, Indianapolis
AFC WEST
KC: SAF Daniel Sorenson
LV: DE Maxx Crosby
LAC: DE Joey Bosa
DEN: SAF Justin Simmons
Maxx Crosby was the one guy offenses had to stop on a terrible Raiders pass rush. Crosby played a lot of snaps and took up blocking. He didn't have a great impact and this defense was overall terrible, so no reward for Crosby beyond being the arguable best the Raiders had to offer.
Joey Bosa only played half the season but had some jaw dropping numbers in those games – 7.5 sacks and 27 QB hits in, essentially, half a season. Now, to be fair, Bosa either creates havoc a few times a game or leaves a wide-open space for teams to roll through A LOT…hard to know if he's a net positive or net negative on the field overall. Still, he only played 9 games on a weak defense so we cannot reward him with the top in division honor.
It's between the two safeties… Justin Simmons has been a solid leader of the Broncos defense for years, but I'm going to reward Daniel Sorenson because that guy has been so good for so long, so underutilized and unsung – his career torpedoed/wasted by the KC coaches. He was the hero several times last year, including that Houston playoff game comeback-from-a-huge-deficit game. This season, he led the team in tackles, forced fumbles, and D TDs. It's my pleasure to give the nod to Sorenson.
WINNER = Daniel Sorenson, Kansas City
NFC EAST
WSH: CB Kendall Fuller
NYG: CB James Bradberry
DAL: LB Jaylon Smith
PHI: LB Alex Singleton
I give Jaylon Smith a hard time (for years) because people think he's the greatest thing ever, but I think he's mediocre and a liability in coverage – but he does play with all-out effort every game and he's great covering the RB out of the backfield…terrible at covering TEs and WRs but smart snuffing out screens and swings. So, he deserves some praise vs. my constant ridicule.
Alex Singleton played better than Smith, once installed as a starter, and was a tackling machine…but he has similar liabilities as Jaylon Smith. Not a complete linebacker.
Kendall Fuller was quietly a rock for Washington – a steady, stabilizing force in coverage in 2020. A really nice year. Ronald Darby had a really good year too. Montez Sweat was under consideration as well, but I thought Fuller was more key than all of them.
But the winner here is clearly James Bradberry – he was breathtaking in coverage for NYG. Getting away from being a zone cover corner to a man-to-man, and he was arguably the best in the biz this year, along with Jalen Ramsey. Bradberry changed the game…changed the NYG defense into something menacing. Fantastic season for Bradberry.
WINNER = James Bradberry, NY Giants
NFC NORTH
GB: CB Jaire Alexander
CHI: LB Roquan Smith
MIN: LB Eric Wilson
DET: DE Romeo Okwara
The worst group of defenses in one division in the NFL, but we gotta pick a winner…
Romeo Okwara had 18 QB hits on the season for Detroit…all the other DLs combined had 21 on the season, Okwara had 10.0 sacks…the entire rest of the team had 14.0. On a terrible defense, give Okwara a pat on the back (FYI, the Giants cut him two+ seasons ago).
Eric Wilson and Roquan Smith had great accumulation seasons, and I am so pleased to note that Eric Wilson was the best defensive player for the Vikings – I've been whining about this for 2+ years. Now you know why. Both Wilson and Smith had similar seasonal/per game numbers, but Jaire Alexander was the most feared/impactful defender in the NFC North…a shutdown corner teams had to avoid. Easy winner for Jaire.
WINNER = Jaire Alexander, Green Bay
NFC SOUTH
NO: LB Demario Davis
TB: LB Devin White
CAR: DB Jeremy Chinn
ATL: LB Foye Oluokun
Solid season from Demario Davis as the QB/leader of the defense. Much respect, but when it comes to linebackers in this division – Devin White and Foye Oluokun were much better in performance. I could flip a coin between them. White was terrific in the 2nd-half of the season…Oluokun so terrific 1st-half of the season forcing fumbles, making plays all over.
Then there is rookie Jeremy Chinn…2 defensive TDs. He was all over the field as well – led the team in tackles and could cover receivers nicely.
The biggest impact, with the numbers to back it up – I have to slight lean towards Devin White.
WINNER = Devin White, Tampa Bay
NFC WEST
SEA: DE Carlos Dunlap
LAR: CB Jalen Ramsey
ARI: SAF Budda Baker
SF: CB Jason Verrett
Kudos to Carlos Dunlap – the Seattle defense was horrific WITH Jamal Adams and Bobby Wagner the first half of the season, but when Dunlap arrived from Cincy…the defense totally changed/improved.
Jason Verrett had a helluva comeback season at corner. After many years and multiple lost seasons due to multiple ACL tears – Verrett's career seemed over coming into 2020, instead he rose back up as the shutdown corner he used to be.
Budda Baker is the heart & soul of the Arizona defense.
Dunlap or Verrett or Baker could be the winner in other division, but the Rams had Aaron Donald and Jalen Ramsey (and still couldn't win the division…) and they are #1-2 for the division winner. I give it to Ramsey because this was his best year of his career, I believe, and the stats say it too. In an era of high-flying passing games and fancy WRs – Ramsey shut 'em all down. The best corner in football trumps the best DT in football. You could argue either way, but I like Ramsey as more important. The Rams minus Donald would be better than them with Donald minus Ramsey…I believe.
WINNER: Jalen Ramsey, LA Rams
=================================
FINALS…
AFC Finals:
CB Xavien Howard, Miami
CB Jimmy Smith, Baltimore
LB Darius Leonard, Indianapolis
DB Daniel Sorenson, Kansas City
Daniel Sorenson had a great season, but he's the first one out of consideration. Easy to set aside in this group. He wasn't near as impactful as anyone in the AFC final four.
Darius Leonard is out next because the Indy defense wasn't awesome and Leonard was good, but not great…not noticeable or attention getting most of the season. He was quietly very good.
Whereas Jimmy Smith and Xavien Howard were visibly taking opposing WRs out of the game…changing the games So, my choice comes down to these two guys. Howard has the numbers, but Smith doesn't get numbers because no one throws at him.
I have to go with Howard, because he did pick off a league leading 10 passes and he took on all comers at WR…whereas Smith would play 50-75% of the snaps (had a mild injury to deal with) and didn't always cover the #1 WR.
AFC WINNER = Xavien Howard, Miami
NFC Finals:
CB James Bradberry, NY Giants
CB Jaire Alexander, Green Bay
LB Devin White, Tampa Bay
CB Jalen Ramsey, L.A. Rams
Devin White was good, and the Bucs run defense was great at times -- but he was high effort, good stats but I don't know that the game changed with him like it did with the shutdown corners on here.
Jaire Alexander was terrific as a shutdown corner, but not as good as Bradberry or Ramsey were.
So, between the two best corners in the NFC…who do you go with? After about 5-8 games of the season, I was with Bradberry -- but he let up a bit late while Ramsey just became more dominant as the season went on. With all respect to the other guys…Jalen Ramsey is my NFC representative.
NFC WINNER = Jalen Ramsey, LA Rams
===========================
2021 DPOY Super Bowl
AFC WINNER = Xavien Howard, Miami
vs.
NFC WINNER = Jalen Ramsey, LA Rams
I thought this was going to be Ramsey easily, but looking at the numbers – Howard was surreal this season. Granted, Ramsey doesn't get thrown at as much but on a per throw basis…Howard's numbers ruled.
68.6 QB rating against, 1 INT, 9 PD, 50.7% Comp. Pct. allowed, and 71 targets = Ramsey
48.3 QB rating allowed, 10 INTs, 20 PDs, 51.5% Comp. Pct. allowed, and 101 targets = Howard
My gut reaction was Ramsey, at first…that was my biased impression going in. However, the numbers and reality say it should be Howard, so it shall be for me.
The 2021 FFM Defensive Player of the Year:
CB Xavien Howard, Miami

‍
‍