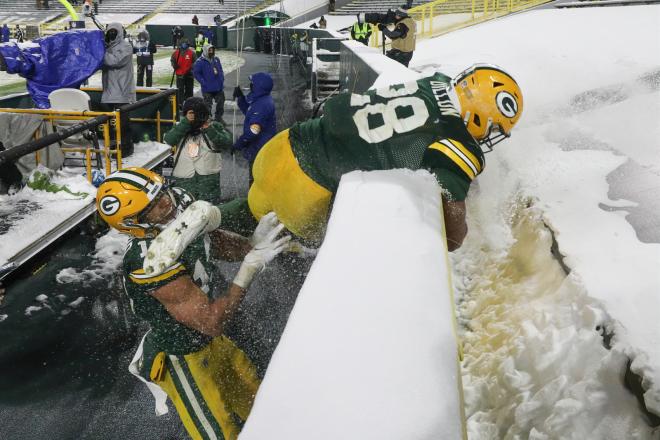 R.C. Fischer
FFM
01 January 2021
Week 16 Mini-Report: RB A.J. Dillon, Green Bay v. TEN
I went back through some of the 'of interest' game tape/performances from Week 16, took scouting notes, and am sharing some of what I saw this game week – with an eye on Week 17 or long-term/Dynasty/2021.
You might have seen this game/performance…especially if you had a Fantasy title game on the line. Some may have missed it for the holiday weekend (if no title game action) or you checked out on the game early when the Packers raced out to a big lead. I watched it live, but then went back through and watched all of A.J. Dillon's touches – as he had his breakout performance of 2020: 21 carries for 124 yards and 2 TDs, 1 catch for 5 yards.  
I wanted to rewatch this game isolated to just Dillon's touches/snaps – to see how this unfolded…was it just a nice moment in a blowout in sloppy weather, or something deeper? Here are my notes…
1) This was more real than not.
This game …this was the Dillon who I had hoped, who our computer models suspected he could be – a new age Earl Campbell…an Incredible Hulk of a running back who is just too big, too physical to contain easily.
2) Don't forget his measurables…
6'0"/247, a 4.53 runner, 7.19 three-cone, 23 bench reps, a 41.0" vertical.
He's a freak of nature.
3) In the game early…
This was not Dillon entering in for a play here and there, and then getting a run as the game got out of hand. He came in with 4+ minutes left in the 1st-quarter and played so well that he stayed in the whole drive. More shocking…Dillon started the next series and played most of that series snaps.
Later, his key moment…4th & 1, deciding to go for it from 30 yards away – handoff to Dillon and his first TD of the season.
4) Un-tackle-able…
That 30-yard TD run…a Tennessee defender dove at/tried to arm whip or grab at an already rolling AJD's knees at the line of scrimmage – which was a joke. The defender nearly lost a limb in the attempt. Dillon never slowed down. 'Ran through it' is an understatement. He then pulled away with only the safety to beat and as the Titans' DB dove at Dillon's legs, he was as effective as a bug taking on a windshield of a moving car.
It was that way all night with 2-3-4-5 guys trying to tackle Dillon at times on seemingly 0-1-yard runs that became 3-4-5-yard ones by sheer power.
I previously mentioned that Dillon is a new age Earl Campbell. Do you really remember Campbell from back in the day? Drink in a few minutes of this: https://youtu.be/xkmQNSRVAOg
Now watch, I mean really watch, Dillon's TEN highlights…look how many people can't tackle him. It's something you don't get in Cam Akers or D'Andre Swift types: https://youtu.be/nRVgULwr-SM
5) Dillon is not a liability in the passing game…
Dillon was credited with one catch, but he actually had two catches in the game but lost one to penalty. He caught the ball well considering…considering most people think he can't be a receiving back on 3rd-downs because of his bulky size. He gets typecast, wrongly, like Leonard Fournette did when he came out.
6) Who will be the starting RB for Green Bay in 2021?
Jamaal Williams is a free agent in 2021/a few weeks. So too is Aaron Jones.
What will the Packers do? Which one will they sign? Their salary cap situation forecasts they are not likely to plow a bunch of money into Aaron Jones, plow money into an older, smaller running back – that's stupidity in today's NFL economy.
It's stupid, but NFL teams do it all the time. However, when the Cook's, Mixon's Kamara's were getting early/expensively renewed right before the season began…Aaron Jones didn't…as the Packers drafted Dillon in the 2nd-round of the 2020 NFL Draft months prior.
It's very possible A.J. Dillon is the lead dog, starting RB for the Packers Week 1 of 2021 season…with Jamaal Williams as his 'cuff. We'll find out in March 2021
7) Week 17?
Aaron Jones will be the lead but then I think we're gonna start to see more Dillon as the two-headed monster tandem of Jones-Dillon could take the Packers in a whole other direction for offensive efficiency…and to the Super Bowl. Week 17 is an opportunity to push Dillon more…but still a 33% snap/touch guy probably – but if the game gets out of hand then he may have another one of these events wrecking a defeated Bears' defense.