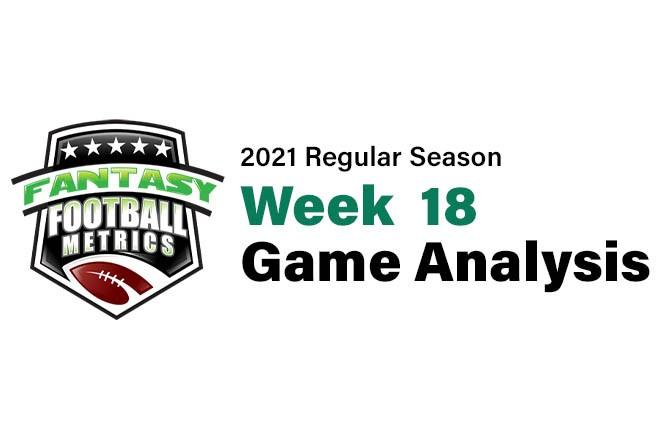 Ross Jacobs
FFM
12 January 2022
2021 Dynasty/Fantasy Game Analysis Week 18: Chiefs 28, Broncos 24 (By Ross Jacobs)
Well this game can't make you feel good if you're a Chiefs fan. I know the Broncos aren't a bad team, but they gave Kansas City all they could handle here.
The Chiefs scored on their first drive and it looked like another beatdown coming, but Denver locked in and frustrated them for the next 3 quarters. The Broncos took the lead in the 2nd quarter and wouldn't relinquish it until the 4th.
They held a 21-20 lead and were about to cash in on another score but Melvin Gordon was hit in the backfield, fumbled, and the Chiefs picked it up for an 86 yard TD. Without that singular play there's a good chance the Broncos pull the upset.
Instead, the Chiefs hang on for the 2nd seed in the AFC but do not look like a dominant team. They've lost to most of the better teams they've faced this year. Their best two wins were over the Packers without Rodgers and the Cowboys without Tyron Smith.
I think RC is right that they are a pretender team. They aren't bad by any means, definitely solid and hard to beat because of Mahomes, but this isn't the unstoppable aerial attack we're used to. It's just an above average group and they rely on their defense to get a couple turnovers to help out.
Of course they get the dream first round matchup against the Steelers who they should murder. After that things get dicier and they'll have to face either the Patriots, Raiders, or Bengals in the next round. I'm not sure they will beat any of those teams. All three are physically tougher teams with good ground games and none of them are afraid of the Chiefs.
I'm having a hard time seeing the Chiefs win the AFC. The Titans are better if Derrick Henry is back. The Bengals are better. The Bills are even or slightly better. And even the Pats and Raiders have what it takes to beat them. It just looks like bad matchups for the Chiefs across the board. This might be an early exit for them and then the questions are going to start about them falling off....and once the questioning starts everything gets put under a microscope and suddenly the flaws look a lot bigger and more real.
We could be looking at the time when the Chiefs fall back into the back of good-but-not-great teams with an elite QB trying to carry them to the playoffs every year, which is the fate of almost all teams because ultimately the coach doesn't matter, the defense doesn't really matter, the offensive line matters a little, but the QB carries the day. Every couple years these teams luck into a good line and an ok enough defense and they win 11-12 games, maybe make a Super Bowl or two, and then the luck fades and everything goes back to normal.
Fantasy Notes
--Tyreek Hill hurt his heel during pregame warmups and only played 14 snaps before he was pulled. It's definitely an issue heading into the playoffs as this type of injury can linger and significantly impair a WR's ability to play.
They likely won't need him against the Steelers so I wouldn't be shocked if he sat a week to try to heal (sorry) it properly, but coaches are the biggest idiots in the world so very likely he'll be out there playing and very well could aggravate the injury. If Hill gets knocked out because of this there's no way the Chiefs are making the Super Bowl.
--In Hill's stead, Mecole Hardman (8-103-0/11) seemingly stepped up in a big way. Is he finally, finally breaking out? Yes and no. Let me explain.
So almost all his catches and yards came within 5 yards of the line of scrimmage. It was nearly all screen passes. 1) That's smart and something Hill never did until this year either. Get the fast guy with iffy hands the ball quickly and let him run. 2) He was just filling in for Tyreek, so if Hill is playing I wouldn't expect this to repeat unless the Chiefs change the offense and start sending Tyreek deep again which is a distinct possibility.
We won't know the answer to this until both guys play together, but I'm starting to think that if Tyreek is banged up they may send him deep as a decoy and let Hardman be the guy to work underneath. Byron Pringle will become the mid-range 1st down receiver. In this scenario Hardman would become a poor man's Jaylen Waddle. It's honestly a good role for him and if I'm right he should be a nice surprise ppr play in the playoffs.
--If you have games this week, definitely be careful trying to start Darrel Williams. This has turned into a full-blown committee between Williams, Gore, and McKinnon.
McKinnon actually looks the best which should surprise no one with FFM as we all know he's an incredible athlete. He had a couple plays here where he made half the Broncos defense miss. Look for him to possibly grab a slightly bigger role throughout the playoffs, especially as a receiver near the goal line.
--I've been claiming for 2 years now that I see something with Drew Lock and every week now I keep thinking that he is Josh Allen-lite (very lite) and I'm sticking by it. I don't mean that he's a hidden gem at QB or that he's even going to be a good starter eventually. What I'm saying is he's not nearly as bad as people are making him out to be. I see flashes of some real ability hiding here, but this shit offense isn't doing him any favors.
He's not getting any blocking and is throwing every pass under duress yet still manages to hit some spectacular plays. He does occasionally throw an inaccurate ball or make a poor decision, but without a doubt he has cut way down on those since his rookie year.
I want to see what he can do with better circumstances. I don't know that he's going to get that chance. Fangio never seemed to like him, the new GM Paton doesn't seem to like him, and very likely whatever new coach they bring in isn't going to like him. Things just aren't set up well for Lock to get another shot here. He's got one year left on his rookie contract, so I imagine he'll be "in a competition" with whatever new rookie or veteran they bring in this off-season, but we all know it won't be a real competition.
My guess is he rides the bench one more year and then leaves and hopes for a chance behind an established starter elsewhere. He probably gets the Trubisky treatment and it wouldn't surprise me in the least if he actually replaced Trubisky as the backup in Buffalo behind Allen. Personally I'm hoping he can be the next Tannehill. I really do believe he has that kind of ability. It's just a question of landing spot and opportunity now though.
--I love the talent of Fant and Sutton, but unless something changes they have no hope in Denver next year. So much depends on who the QB is next year. If Lock gets a chance with a better O-Line I think things could be better. If it's Teddy again somehow you can forget it.
I do think Fant has more of a chance than Sutton though because for whatever reason this team seems to think that Jeudy is the #1 receiver and not Sutton. It makes zero sense but it's true. The one good thing with this situation though is that both of these guys are essentially free in dynasty. Nobody wants them for obvious reasons. But all it would take is Rodgers or Watson landing here to skyrocket their values, so for that reason alone I like them both as penny-stock deep stashes. The talent is there. It just needs the right situation to unlock it.
IDP Notes
--Every single time that Nick Bolton plays a significant amount of snaps he racks up tackle counts like nobody's business. The guy is a run game machine. Think of what Denzel Perryman did this year for LV. That's Bolton.
The trouble is, Bolton sucks in pass coverage and that is becoming more and more a part of the modern game every year. His snap counts decreased all year because of it except for the one spike game against the Chargers a few weeks ago. So what to do with him?
I think you stash him and hope he figures out the coverage stuff more for next year. He was a rookie this year and a high draft pick at that. The team wants him to become a full-time player. They are invested in that and believe in him. Plus the upside is too high. If he becomes an every down starter he could easily pace the league in tackles. If he doesn't then at least you took your shot on a guy with crazy potential.
--RC's guy Caden Sterns (9 tackles) finally played a full game as a starter and responded nicely. I honestly wasn't very impressed, but it's just one game. He clearly has the movement skills you want to see, but he looked a little timid to me, like he wasn't exactly sure what he was supposed to be doing.
I have a feeling Sterns might take a couple years to "get it" but then we're going to look around in 2025 and he's one of the better safeties in the league. Some guys don't splash immediately and we forget about them. That's the vibe I'm getting here. Sterns seems like the kind of guy that's always going to be underrated and never really get the recognition he should, like a De'Vondre Campbell.
--The young guy that did really impressive me here was Denver's Michael Ojemudia (11 tackles, 2 pd). Now you only get that many tackles at corner if you're allowing catches, but most everything caught against him was a screen pass. In coverage he was fantastic and that was with Mahomes coming after him.
He's got good size and moves around smoothly but doesn't look like a high-end athlete. Mayock would say he's not "twitchy." He does a pretty good job in coverage though and is never beaten badly. Definitely looks like he could be a solid starting corner.
Snap Counts of Interest
65 = Hardman
55 = Pringle
41 = Robinson 
31 = Williams
24 = Gore
23 = McKinnon