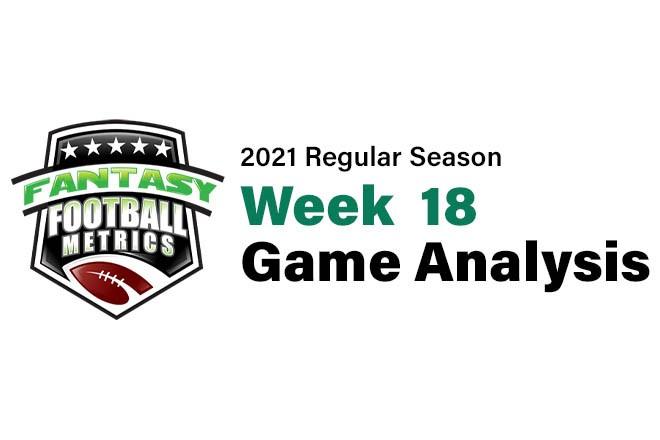 Ross Jacobs
FFM
13 January 2022
2021 Dynasty/Fantasy Game Analysis Week 18: 49'ers 27, Rams 24 (By Ross Jacobs)
The Rams led this game 17-3 at halftime. They were outscored 24-7 in the second half and it was absolutely no fluke. If anything they were lucky to have the lead they did early on.
LA moved the ball well early on, scored a couple times, then capitalized on a short punt by SF to take that massive lead. The 49'ers barely had the ball to do anything with it.
That all changed in the 2nd half as SF stormed back to tie the game. Then with just a few minutes remaining they were about to take the lead, but a Garoppolo pass into coverage was tipped by Jalen Ramsey who somehow came down with the ball. The Rams would go down the field for a 7 point lead.
The 49'ers next drive failed and they punted it back to LA who only needed to run out the final 2:30 to win. They couldn't and SF got the ball back with about 1:30 left. They went right down the field to tie the game and we were headed to OT.
SF won the toss and took their first possession down the field for a FG. LA ball to tie or win and we got a sequence of plays that encapsulates the problems that I believe will cripple the Rams in the playoffs.
First, OBJ ran the wrong route and tried to catch a pass one handed that was intended for Kupp. He got a second pass thrown at his feet because Stafford was under a ton of pressure and couldn't get it there. And on the final game sealing play, Stafford heaved a ball deep for OBJ but underthrew it and Ambry Thomas came back to the ball for the easy INT while OBJ just stared.
We have said all along that this OBJ experiment was doomed to fail. We said it while the media and fans crowed about how awesome OBJ was for catching a TD pass every game while the Browns struggled to complete a pass.
And I say it again now: OBJ is not a very good receiver anymore. He's ok. He can catch easy slant passes for TD's when they are thrown to him from the 2 yard line. That's all he is really good for and he is an absolute drag on this offense because Stafford is still trying to force him the ball like he's a star. He's not even close.
Here are his stats in 8 games since joining the Rams:
27 catches on 48 targets (56.2%) for 305 yards (11.3 ypc) and 5 TD's
Here are his stats in 6 games with the Browns:
17 catches on 34 targets (50%) for 232 yards (13.6 ypc) and 0 TD's
With the Rams he has averaged 38.1 ypg in one of the most prolific passing attacks in the league. With the Browns he averaged 38.7 ypg.
So tell me...what's the difference? There is none other than he went to an offense that scores a lot and he incidentally caught a couple of short TD's. He hasn't produced any more than he did in Cleveland and that's with Stafford instead of Baker and Kupp to take coverage away from him.
We were promised a superstar performance by OBJ with the Rams. He would take the offense to new heights! The media sold you a steaming bag of crap the same as they always do. OBJ is done, has been done. And if anything he is holding back this offense because they still don't realize it. Every pass sent OBJ's direction is a wasted opportunity.
The Rams could have gotten dozens of other receivers that were available all over the league that could produce better than this, and yet they fell for the sucker's bet on OBJ because their beach bum GM is too busy sipping pina coladas to actually watch tape.
If the Rams don't figure this out soon they are going to get their asses handed to them in the playoffs. They might anyways because they are a soft team and Stafford can't handle the pressure in big moments. Shockingly, he's the exact same guy in LA that he was in Detroit. Go figure.
The Rams drop to the 4th seed with this loss and it might cost them. I know the Cardinals haven't been playing very good lately, but they beat the brakes off of LA early in the season. They are capable of it. The Rams offensive line is dying and I bet they don't hold up well under heavy pressure from Chandler Jones and company. And you know what Stafford does when under pressure....
I've spilled a lot of ink on the Rams so far, but let's talk about the 49'ers. They've won 8 of their last 11 games including beating the Rams twice. But looking back over those games...not that impressive. They did beat the Bengals but that's the only other good win. All the rest are against the dregs of the NFL.
I'm not saying the 49'ers are a bad team. But they are a bit fraudulent and should have their hands full with the Cowboys (who also have beaten up a weak schedule but done it far more impressively). Their front seven really gave the Rams fits here, and they'll need a repeat performance if they want to beat Dallas.
Fantasy Notes
--Deebo Samuel obviously had a monster year, but can we expect a repeat performance next year? I think I'm going to pass next year for a few reasons.
First, RC and I both recommended selling him off hot after his blazing start. He was racking up 100 yard games and multiple TD's left and right, but we both felt like they were somewhat fluky performances. The long TD's were happening because a DB fell down or crashed into each other. Random stuff.
But then he got moved to RB and the TD's kept flowing. He scored 14 total TD's this year, 8 of them on the ground. It was an astonishing and impressive performance, but do we really think he's going to match that again next year?
What if Trey Lance takes over? How does that affect him?
I'm not drawing any hard conclusions right now because there's still a lot up in the air, but for the price I'll probably be looking at other WR's in his range.
--Now I expect there will be a lot of people fading Cooper Kupp next year for various reasons, and while some of those things are good arguments, I have no problem taking him again, especially because I doubt he'll even be the first receiver drafted.
Normally the top scorer one season automatically becomes the top drafted guy the next, but in this case I wouldn't be surprised if Kupp was the #2-3-4 WR instead.
I doubt he matches the raw stats from this year but only because it takes so much going right to set records like this. Will he have perfect conditions again? He might. We know he's talented enough to do it once. He's also Stafford's bff and is going to get a million targets.
The only real question is: can he match the TD mark again? We saw Davante Adams go from 17 last year to 11 this year. It doesn't sound like much, but it makes the difference between being a top 5 guy and being THE guy. Unfortunately, there's no way to know unless you have reason to believe the offense will score far fewer TD's as a whole.
So the short answer is: yes, I'll be drafting Kupp a lot next year especially if I get a discount on him. All the conditions are in place for a repeat performance. Don't go chasing the shiny new thing in favor of what is working. Remember our lessons on Derrick Henry this year.
--Jauan Jennings had himself a monster game on the stat sheet. It was a complete random outburst. He's an ok receiver, but one TD was a trick pass from Deebo and the other he got lost in coverage with the defense chasing Aiyuk. He was barely even targeted until the last 5 minutes of the game. Nothing to see here.
--Likewise, you can forget about any options behind Kupp and OBJ with the Rams. Van Jefferson is back to being a decoy/occasional deep ball guy since the team thinks OBJ is their Woods replacement. And Ben Skowronek is just too unathletic to even get open. Man, if only they hadn't wasted their 2nd round pick on a diminutive receiver that can't even get on the field....
--Cam Akers is back somehow and logged a few snaps here although he was clearly still behind Michel in the running game. I bet that changes soon. Michel looks as stiff as ever, and McVay has to get his love-child back on the field.
He looked a little tentative which isn't surprising since he hasn't played football in months. But other than that he was moving ok. I've never been that impressed with his athletic ability but he should be fine once they start jamming him carries. It might even be this week against the Cardinals if things get dicey, but I bet they try to get him one more semi-light game before going to him full-time. Best guess is split between him and Michel but with Michel as a slight lead, say 70-30 or 60-40.
--I've written more words this year on Trey Lance than any other player by far, and to date we still haven't seen much with him. I've grown quite nervous about how he's developing but it's still only year 1.
However, I'm beginning to have doubts about next year as well, especially if the 49'ers make a deep playoff run. I didn't believe it would happen, but Shanahan is digging his heels in and is not going to play Lance until he absolutely has to. He has no problem letting Trey ride the bench for another year or two. I'm absolutely certain.
We're going to have to see how this develops, but I am officially nervous. Trey will get his shot eventually, no doubt about it, but could it be 2023 before he does? Maybe. I think it's on the table now.
IDP Notes
--I've seen a lot written this week about what a great signing Arden Key has been because he has 6.5 sacks on the year. I've covered the 49'ers several times this year and he's never stood out to me, so I watched him extra close here and.....nothing. I don't see it. He's just another rotational guy on a deep defensive line.
His "half sack" here was only credited to him because he reached out and touched the QB as another guy wrapped him up. He was literally the least impressive D-lineman I saw for SF. Hard pass from me.
Snap Counts of Interest
52 = Michel
13 = Akers
64 = Kupp
51 = OBJ
45 = Jefferson
17 = Skowronek