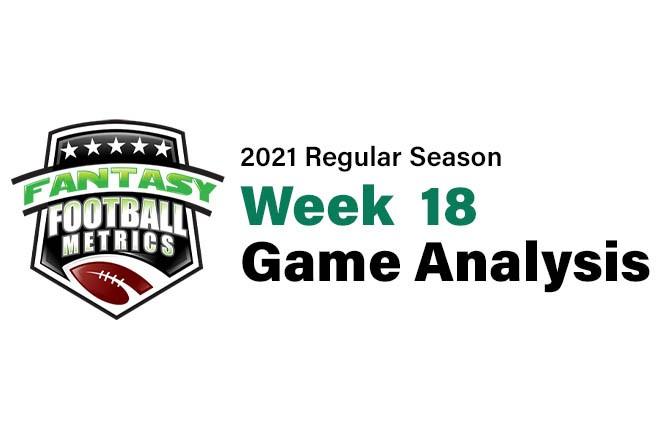 R.C. Fischer
FFM
21 January 2022
2021 Dynasty/Fantasy Game Analysis Week 18: Titans 28, Texans 25
Huge game for Tennessee…win and they would become the #1 seed in the AFC. A shocking turn of events…a #1 seed achieved despite losing their best player (Henry) halfway through the season, maybe the best/most important offensive player in the NFL (and I think RBs are pretty much all the same, lower value…but not Henry).
The Titans jumped out to a 21-0 lead at the half, and it was obvious to everyone that, of course, the Titans would crush the weak Texans here in such an important game. But…
With 4:04 to go in the game, the Texans had closed the lead to 28-25. The Titans on the verge of letting the lead, the AFC #1 seed, get away. But the Titans ran out the clock…they got the first downs needed to just put the game away/let the clock tick down on kneel downs at the end for the win. Closer than expected, but the Titans achieved the improbable – the #1 seed in the AFC.
Nice gutty effort for the Texans…so 'gutty' that they fired their 1st-year head coach about a week later. He didn't deserve it. I mean, he shouldn't have been hired in the first place…but he was there, and the Texans played better than their crappy roster for the most part. Culley didn't deserve this. However, he committed the cardinal sin of NFL organizations – he has no ties back to Bill Belichick/he's not an ex-Pat, so he's going to go out with a whimper to be replaced by a true Patriot Way guy. Culley was a patsy…hired to run this 'tank' season, get it out of the way, then get Culley out of the way so a real ex-Pat can come in…whomever that might be. Culley is the Lee Harvey Oswald of the NFL in 2021-22. https://youtu.be/sbR6vHXD1j0
GM Nick Cesario is the Jack Ruby.
The Texans owner's spiritual guru/football advisor/ex-Patriot/Cesario BFF from their days in New England Jack Easterby just sits back and laughs as his direct deposit clears for another bi-weekly compensation. He's the CIA head in the tale of this rudderless team management, this tangled web the Texans are weaving.
Why I went JFK assassination to describe this…I think it was because I was listening to someone speak about the ordeal/theories on it last week or so, and I guess it was stuck in my subconscious.  
The Titans go into the playoffs a #1 seed, that almost no one is picking to win the AFC and go to the Super Bowl…despite the potential that Derrick Henry might be back/ready-to-go. With Henry back, they should be the favorite. Without Henry, I think the Bengals would dismiss them handily.
Fantasy Player Notes…
 -- D'Onta Foreman (21-69-0, 1-15-0/2) kinda took over as the true lead back (with Derrick Henry out) in Week 12. From Week 12 to Week 18 (6 games), Foreman tallied…
110 carries, 482 yards rushing, 3 TDs, 6 catches for 60 yards.
18.3 carries, 80.33 rushing yards, 90.33 total yards, 0.50 TDs per game.
A 17-game season tally at those averages per game: 1,365 rushing yards, 1,536 total yards, 8.5 TDs per game, 17 catches.
That's pretty salty work for a guy who any team could have picked up off the street the first 8 weeks of the NFL season. Foreman was a better, more effective RB, in 2021, then Ezekiel Elliott (likely playing hurt), Saquon Barkley, and Miles Sanders among others.
D'Onta Foreman is a free agent at the end of the playoffs. You think he'll get a good contract and a chance to start anywhere in the 2022 season? Hell, no. Adrian Peterson will get chances ahead Foreman for some team most likely in 2022…just like in 2021…just like in 2020 the same scenario was true.  
Here's another example of how bad Falcons HC Arthur Smith is at evaluating talent…he had Foreman in the preseason (knew him from his days with Tennessee in 2020), but cut him weeks prior to the 53-man roster announcement.
 -- Julio Jones (5-58-1/9) finally kinda mattered in a game again. It may be that he was just dealing with a nagging injury all mid-to-late season (typical) and he's nursed his way to being ready for the playoffs (smart).
The Titans are the #1 seed.
They are getting Derrick Henry back, we assume.
Julio Jones is looking ready for the playoffs.
A.J. Brown is fully back from his couple games missed.
The defense is playing better and better.
Why are we usually all assuming the Titans can't make it though the playoffs and get to the Super Bowl?
Julio is set to make $14M next season…or $13M to cut. The Titans took a big risk and a big financial burden to add Julio Jones this season…and it really hasn't worked out for the price. Perhaps, he'll salvage all that with a nice playoff run? If they win the title, it will not matter. If they lose to Cincy, the Titans fans/media will be howling about Julio as an epically stupid decision.
 -- Davis Mills (23-33 for 301 yards, 3 TDs/0 INTs) in a meaningless game for Houston…down 21-0 at the half…behind a terrible O-Line, no run game, and no real receiver firepower outside of Brandin Cooks (and he only played 18 snaps) – and Mills throws for 300+ yards and 3 TDs and almost leads a comeback on a fully engaged opponent.
I never thought Mills would be a legit NFL QB. He didn't have enough time at Stanford. His tape looked sloppy. He showed some mechanical skills but looked to me like he was robotic and overwhelmed…and he looked that way in the NFL preseason as well. He was thrown into the NFL fire for Houston early in the season in a terrible situation with a terrible coaching staff, and he's responded – he's done really well for a rookie.
In their last 6 games played/started in the 2021 season…
11 TDs/3 INTs, three 300+ yard passing games, 67%+ Comp. Pct. in games 3x = Davis Mills
10 TDs/7 INTs, two 300+ yard passing games (one was 299, but we'll say 300), 67%+ Comp. Pct. in games 2x = Mac Jones (ignoring his start v. BUFF where he had 3 pass attempts)
I maintain, Mills is on par or better than Jones…considering the disaster Mills has to deal with and the terrific surroundings for Jones. I bring it up because it's fascinating to consider if Mills and Jones are about the same, but what the draft price was by comparison.
 -- As Davis Mills rose to power in the 2nd-half of the season, Nico Collins (3-67-0/7) showed some flashes of being a legit NFL WR…but he has a ways to go.
In his final 5 games of the 2021 season, Collins averaged 3.0 rec. (6.0 targets), 43.6 yards, 0.20 TDs per game.
Collins has work to do to improve his short game, but he definitely flashed star-like talent to me. Very encouraged by the raw skills of Collins. He's definitely one to watch for 2022 or 2023. He has some 'it'.
 -- The Titans defense has allowed 0-19-17-3-25 for points in games since their Week 13 BYE…just 12.8 PPG allowed in that span. They didn't play a murder's row on the schedule or anything but they did squash who they should and did fluster/halt the hot (2nd-half of the season) 49ers offense in that stretch.
This defense faces a HUGE test with Cincinnati/Joe Burrow 1st-round of the playoffs…but they killed Patrick Mahomes and Matt Stafford earlier this season.
Titans FF Notes for divisional game v. Cincy:
 -- This game marked the first time that Ryan Tannehill had a fully healthy A.J. Brown with fully healthy (looking) Julio Jones with Nick Westbrook-Ikhine running as the heavy-snap count #3…and Tannehill completed 71.9% of his passes and threw for 4 TDs…and each of those three WRs caught a TD pass. It was Tannehill's best game (to my eye) of the 2021 season.
Tannehill has 7 TDs/0 INTs in his last three games, completing over 73% of his passes in that span. With Derrick Henry back providing cover for thinner coverage in the passing game, Tannehill might be a slick DFS/one-week play this week.
 -- I'd expect a fully cleared, healthy Derrick Henry to get 90%+ of the RB touches, with Dontrell Hilliard on 3rd-downs/obvious passing situations, and D'Onta Foreman to barely play/touch the ball.
 -- Anthony Firkser has scored a TD in back-to-back weeks. 2.8 rec. per game his last five games.
Snap Counts of Interest:
56 = A.J. Brown
50 = Westbrook-Ikhine
46 = Julio Jones
12 = McMath
10 = Ch Rogers
35 = Foreman
34 = Hilliard
48 = Swaim
23 = Firkser
40 = Burkhead
17 = David Johnson
01 = R Freeman
41 = Collins
37 = C Moore
30 = Amendola
22 = J Camp
18 = Br Cooks
**College Football Metrics 2022…new season sign ups have begun**
The new season of CFM will be starting up in January, as always. A little different schedule this year as the NFL extended their season by a week and the Senior Bowl was bumped back a week as well. We should have a Senior Bowl, NFL Combine…it looks like it will be a normal scouting year!
The NFL Draft, Dynasty Rookie Draft, and regular season ahead rookie analysis all gets started through CFM in January with our usual season starter -- the past two years/2020-2021 Mock Rookie Draft re-do, along with in-depth Senior Bowl analysis, and full QB scouting reports and much more as we build towards the NFL Combine and all the other positional scouting reports. Football study never ends…
Thank you for your support of CFM for the past decade now…wow, time flies.