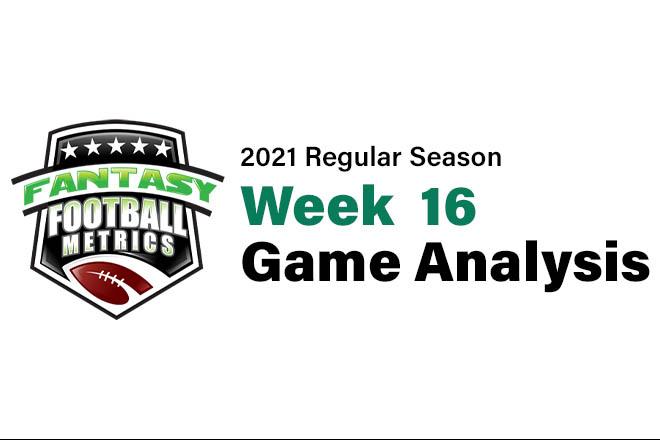 Ross Jacobs
FFM
04 January 2022
2021 Dynasty/Fantasy Game Analysis Week 16: Seahawks 51, Lions 29 
What else did you expect? I'm sorry, you have to respect the fight of the Lions and the tenacity they've shown throughout the year, but this just isn't a good team. They aren't even decent. It's a pure talent issue, nothing more. If Dan Campbell can hold onto this camaraderie and energy in 2022-2023 then we might see a respectable team provided Detroit can bring in some better players.
You see it every week with them. The Lions got their butts handed to them early on, but they didn't quit and kept coming back at Seattle. The game was 31-7 at half and 38-7 moments later, but Detroit cut the lead to 38-22 before Seattle scored one last TD to put it away.
I think Dan Campbell has earned another year despite their record. You'd think management would see how the players have rallied around him and responded to what he's selling. Now that may not matter next year if they don't start winning some games. Culture only works if you win. But it shouldn't be too hard to improve. It takes real talent to stay a bottom-feeder year after year (coughHueJacksoncough).
Big changes are coming for Seattle though. One or both of Pete Carroll and Russell Wilson are leaving. There's no way to keep the band together any longer. You would expect management to attempt to keep Wilson and dump Carroll, but I have a feeling Russell is leaving either way. I think he's had enough of Seattle management as well.
If he's traded, the most likely destination is the New York giants. Russell is reportedly most interested in the Giants for obvious reasons, it's a huge media market for him and his wife, and they have a ton of skill position talent. Trade for Russ, draft 2 or 3 offensive linemen, and mix that with an underrated defense and you have an instant playoff team.
He's also been linked to the Saints and his connection there is apparently all about Sean Payton. I don't think this one is particularly likely though because it doesn't give him the big market (like Chicago or Dallas, the other teams he was supposedly interested in last year) and the Saints are in cap hell right now and don't really have the assets to move for him.
I don't believe he'll want to go to either Denver or Pittsburgh for similar reasons.
Fantasy Notes
--If Russell does leave, where does that leave DK Metcalf and Tyler Lockett? Depends on who replaces him.
Regardless of whether it's a rookie or vet though, Lockett is the one most likely hurt by Wilson's departure. He's had a connection with Russ for years, but Metcalf is widely viewed as the alpha receiver here. Without Wilson I would expect the target distribution to change significantly with Metcalf picking up a large chunk of what Lockett loses.
It's unlikely that Seattle will be able to find a replacement of Wilson's caliber this year though, so both receivers could be in for a downturn in production next year.
*RC NOTE: Imagine if Seattle trades Russ and hires some young, inexperienced coach to start over…and then winds up drafting a young garbage rookie QB while adding a washed up vet QB, as D.K.'s production drops – Metcalf is gonna go off the rails on the path/course he seems to be on. 
The next A.B. or Calvin Ridley mental concern WR scouting/worry (now, this is a thing more and more…the leading contenders (to me): D.K. Metcalf, Kadarius Toney. We saw AB, Ridley, and A.J. Brown fight mental issues this season, as WRs. Lane Johnson did as well, but he's an OL. 
I'm not trying to be crude or insensitive, but my job as a football scout is to assess these risks (and I do all the time with our CFM draft scouting on guys like Derrius Guice, Johnny Manziel, last year with Kadarius Toney, etc., and now you see why…it's a new era). 
These mental concerns have always been discussed in football scouting circles but now it's a whole new thing with players now just 'not playing'/taking mental time off at the drop of a hat – we're gonna see it more and more ahead with overpaid WRs, I believe.You usually see it in well-paid WRs where they have more money than they know what to do with (or so they think). I think it is a real issue that comes with a coddled life from high school on as a superior athlete, followed by NFL fame and fortune and them worshipped as heroes while most everyone in their family, some of their closest friends, and random women are trying to get money from them, as is their agents – they can wind up with no real friends, and everyone around them a potential predator.
This is a in-the-early-stages issue we have to watch out for as Dynasty owners/players. And WRs seem to be the flakiest group of them all, and have been for years (T.O. comes to mind, NYG era OBJ, Josh Gordon drug issues, Randy Moss had issues that almost chopped down his career until Belichick/Brady saved him, etc.).
This is real. It's a Dynasty scouting item ahead. 2021 kicked down the door of players just 'checking out' and the teams giving grace...so now others will follow. I think we'll see it mostly in WRs and CBs as the lowest contact positions, so the game is a different experience for them compared to RBs and LBs and interior linemen. QBs will be next in line for some issues popping up…after they get their big contracts, but it will hurt their career in an instant…whereas WRs and CBs are seen as 'different' in NFL circles. 
If you don't think it's a thing for Dynasty…you didn't draft/own Calvin Ridley in 2021, did you? RIdley owners could tell you how much they enjoyed is half a season+ disappearance.
--Rashaad Penny is another interesting piece to think about. He's played well these last few games, finally living up to some of the promise of his 1st round selection. He'll be a free agent this off-season though after Seattle declined to pick up his 5th year option.
Will they bring him back? I think they will. We don't know if Chris Carson will ever be able to play football again, Penny is easily the most talented back on the roster, he's familiar with the system, and I don't believe he'll be too expensive to resign because despite his recent surge, he's still only played a few good games. Is another team going to throw a bunch of cash at a guy that's been hurt the vast majority of the last 4 years? Unlikely.
My guess is Seattle re-signs him to a medium contract, drafts another back in the 2nd or 3rd round, and gives Penny first crack at being the main starter while the rookie develops. If Penny can stay healthy, a huge if, he could easily finish as an RB1 next year depending on other circumstances. He's likely someone I'll fade though because between his health, coaching changes, a bad offensive line, etc, there's just too many risk factors for me.
If you're still playing week 18 though I think you can play him and get a decent game. The Cardinals aren't pushovers but it is possible to run on them and Seattle has really been opening some nice holes for Penny. I doubt he cracks 100 yards again, but he's a starting back and likely to take 15-20 carries. You have to play him.
--One player that will almost for sure be jettisoned is longtime Seattle defensive leader Bobby Wagner. Wagner has a cap hit of $20 million next season but a dead cap hit of only $3.75 million which almost guarantees he'll be let go.
Seattle already has his replacement ready to go with Jordyn Brooks, the NFL's 3rd leading tackler behind only Wagner and Atlanta's Foyesade Oluokun. To me both players are a touch overrated due to their raw tackle totals, but obviously they are both very good players regardless. Brooks should be among the league leaders in tackles for the foreseeable future, but Carroll's departure could bring defensive changes that aren't quite so stat friendly.
--For Detroit there's not much to be excited about which is why Amon-Ra St Brown's recent fantasy success is being blown completely out of proportion by the Detroit fans and media. When you are starved for any positive news, the tiniest shred of hope can seem like manna from heaven.
St Brown is an ok player. If you read that deep into the draft guide this past summer, you'll have seen my entry on him. I noted that Brown is a tough player with solid hands and enough athleticism to be a decent slot receiver, and I hit the nail on the head when I said he would be buried early in the year but start to carve out a role later in the season.
Unfortunately, that's where the good news ends for Brown. All his stats were piled up in garbage time against defenses not worried about covering him all that much. He runs a lot of curl routes, turns around, and catches the easy pass. There are a million receivers all over the league that can do the exact same thing. There's nothing special about Brown.
Can he keep that pace up? I guess, if they keep forcing it to him. But these types of guys pop up multiple times a year for 2-3 games and then disappear back to mediocrity. Why should Brown keep it up over an entire season? Remember when Sterling Shepard had that great run the first few games of the season? Brown isn't a better receiver than Shepard.
*RC NOTE: Excellent point here by Ross. The Shepard story is a nice parallel – avg./good slot guys have a good stretch for a million and one reasons, and then they fade off into 'OK' or 'good' but never live up to that 'hot stretch'. St.Brown is an overvalued asset to me going into 2022, but he could see a million targets next year and be sweet for PPR…but falling back down to 'average' is on the table – because he is an average talent. The offense and QB will dictate his future for FF, not any immense talent from ARSB.
Everyone is dreaming about Brown being some huge breakout star next year just because of this blip, but when Detroit drafts one or two bigger, more athletic receivers in the draft, everyone will forget all about Brown.
Week 18 he draws the great GB secondary, although they will likely be benching many of their starters after clinching the top seed in the NFC. You might as well play him. Don't try to fight this trend.
--The strangest thing I saw from this game was D'Andre Swift returning from injury and then being completely ignored early in the game while it was still somewhat competitive. Swift didn't get in the game until the rout was on. Were they just managing his reps or...?
I honestly have no idea. But then I don't understand why this coaching staff is still wasting carries on Jamaal Williams either. Williams is easily the worst of the RB's on this team. He really should be cut and then run a rotation of Swift, Reynolds, and Igwebuike, but they'll never do it.
The Williams push is why I can't get behind this coaching staff despite some of the promise they've shown in other areas. Culture and energy and spirit are all great, but the most important thing will always be talent because good players win games.
Ditto the situation in Miami. When you try to force garbage like Myles Gaskin just because he works hard, you're going to lose in the long run. It's that simple.
If this team dumps Williams, then I'll get on board with Swift for 2022. He's definitely much more talented than I thought when he was drafted. I saw a few flashes of it this year, but he needs to stay healthy.
--I don't think anyone needs me to tell them Tim Boyle is never going to matter for the NFL or fantasy. Give him a clean pocket and he can look ok drilling balls to open receivers, but any kind of muddy pocket and he collapses.