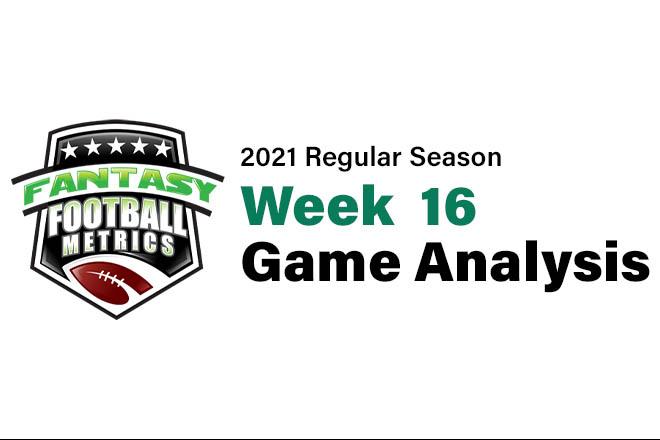 Ross Jacobs
FFM
30 December 2021
2021 Dynasty/Fantasy Game Analysis Week 16: Raiders 17, Broncos 13 
A dull game from two of the dullest teams in the entire league. Both teams would love to run the ball 50 times and grind out a 3 point win with their defense, and that's basically what we got here, an old-school coach's wet dream.
The score was 7-3 Raiders for most of the first half, but right before halftime the Broncos got 10 points off of Vegas turnovers including a near pick 6 after Bradley Chubb snuck out on a Derek Carr screen pass and nearly took it to the house.
Other than that 30 seconds though, the Raiders essentially dominated this game start to finish. Doesn't mean they are suddenly a good team. They are just less bad than Denver.
For Denver the issues are clear. 1) This is a very bad offensive line. They were getting absolutely dominated by the Raiders. 2) Melvin Gordon is done, cooked, finished. He is beyond awful at this point. It's been obvious all year to anyone with eyes that Javonte Williams should be not just the starter but the only back here. Gordon can't hold a candle to Williams and it's a massive wasted opportunity every time he takes a carry. And 3) Whoever is running the offense is an idiot because Gordon should not be taking carries and the play-calling is just terrible.
The Broncos scored 3 offensive points on their own in this game and it was not an accident. Let me describe a typical series for them.
1st and 10: Gordon run for -1 yard.
2nd and 11: Lock straight drop back with no play action, drops a dime on a WR who drops it
3rd and 11: Lock drops back against with no play action and is immediately pressured and takes a sack
This kind of thing was happening almost every single series. It was absolutely pathetic to watch. This entire Denver staff needs to go. They are simply too conservative and not doing their players any favors. This was a must-win game to try and make the playoffs and the coaching staff basically threw the game because they are so committed to a vanilla passing game and Melvin Gordon.
The Broncos fall to 7-8 with games against the Chargers and Chiefs remaining. It's theoretically possible that they could win out if the Chiefs have locked up the #1 seed and sit everyone week 18, but they would still need a host of other teams to all lose out to make the playoffs. It's not happening. Denver just blew their chances here. I have a feeling things are going to look very different with this team in 2022.
The Raiders manage to stay alive for the playoffs at 8-7 with games against the Colts and Chargers left. If the Colts are missing Carson Wentz that's huge for Vegas, and the Chargers have proven themselves to be quite beatable. If the Raiders can somehow win out to get to 10 wins they have a good shot at a wildcard spot because they'll have tiebreaks over the Colts, Chargers, and Dolphins, their most likely competitors for those final spots.
Fantasy Notes
--Drew Lock (15-22 for 153 yards, 0 TD/0 INT) looked alright here, something RC and I both noted in the preseason. He was really held back by his offensive line, drops, and a terrible game plan, but within all that chaos he played controlled ball, didn't make a single bad decision that I saw, and delivered accurate and catchable passes...that were dropped.
I would really like to see what Lock could do with better pieces around him and Gordon not constantly putting him in 3rd and long situations. There are tools to work with here. At times he looks like a lesser version of Josh Allen out there with the big arm and mobility. I'm not playing this up either. Let Javonte start, give him a respectable offensive line and not Pat Shurmur at offensive coordinator and I think we'd see Lock very differently.
Teddy Bridgewater still has not been medically cleared, so it seems unlikely that he'll be playing this week. There's no doubt in my mind anymore that Lock should be starting over him though and gives the Broncos the best chance to win.
--You just have to laugh at the Melvin Gordon (7-(-4)-0) stat line. It really was that bad. It wasn't all his fault as Javonte Williams (7-12-1) didn't fare much better, but where Gordon was getting a yard or two on his best runs, Javonte was breaking 2-3 tackles and getting positive yardage after getting swarmed in the backfield every play. There's no comparison between them.
Javonte still has hopes against the Chargers this week. If Rex Burkhead can rush for 140 yards then Javonte can do alright as well. I think he could be considered a RB1.5 or so this week. No Denzel Perryman and Maxx Crosby to ruin his day.
--The Zay Jones (6-50-0/8) WR 2.5 party continues. He's good for this kind of stat line just about every week now. This is a ball-control offense and he's the best non-Renfrow option the Raiders have to dump short passes to.
IDP Notes
--LB Jonas Griffith (13 tackles) is really coming on strong. An All-American performer for Div II Indiana State, he was an UDFA that signed with the 49'ers in 2020. Griffith bounced around a little before landing back on the SF practice squad.
During the 2021 preseason, Griffith was 3rd on the 49'ers in tackles while leading special teams in tackles. He even stood out to me as I made note of him during the first preseason game against the Chiefs:
"Another player around the ball an awful lot was 2nd year linebacker Jonas Griffith. He's got good size and was moving around well, registering 4 tackles and a couple of pass breakups including a near interception."
George Paton and the Broncos made a trade for Griffith, presumably to help out with special teams as they were struggling with that at the time. I highly doubt Paton had any inkling that Griffith would be able to help out at LB, but if he did then kudos.
Griffith played his first 23 snaps of the season against Detroit two weeks ago racking up 5 tackles quickly, but injuries forced him into more snaps the following week against the Bengals and he responded with 9 tackles on about 80% of the defensive snaps.
After piling up 13 tackles here and looking pretty good doing it, it seems clear that Griffith has earned more playing time for the remainder of the season.
To my eye he's a fairly decent athlete if not spectacular. But much like his former teammate in SF, Azeez Al-Shaair, he just finds his way to the ball somehow, exactly like both guys did in college. I thought he did a little better job in coverage than in the run game, but when he's protected from blockers he does a really good job knifing through trash to make the tackle.
What 2022 holds for him we'll have to see as there are multiple more highly drafted guys ostensibly ahead of him when healthy, but his play may force the Broncos to take a look at that. In 2021 though he'll likely finish up the season as one of the starting ILB's and I like his chances to finish strong.
Snap Counts of Interest
38 = Fant
14 = Okwuegbunam
52 = Zay Jones
40 = Renfrow
36 = Jackson