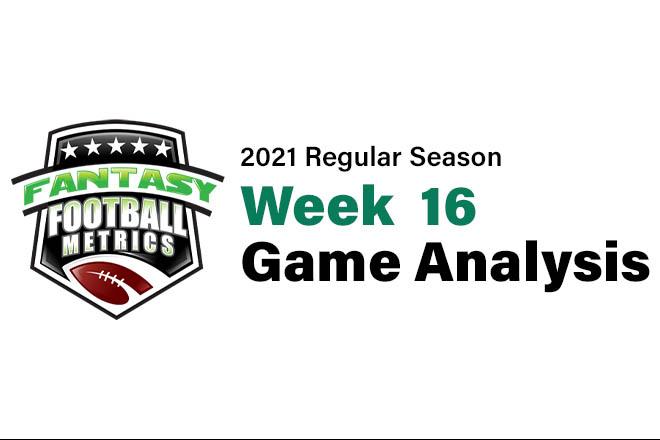 R.C. Fischer
FFM
31 December 2021
2021 Dynasty/Fantasy Game Analysis Week 16: Bucs 32, Panthers 6
This was never really a game. The Panthers are pathetic for any number of reasons, the main one being their QB play…they're now rotating the two worst QBs in the NFL, as a plan…on purpose. It's bad enough if Darnold or Cam play all the way -- but rotating them gives you the worst of all worlds.
Tampa Bay was missing several offensive starters due to injury, but their 'B team' guys waltzed right thru Carolina, because Tom Brady is there captaining the ship.
Tampa Bay rises to (11-4) -- and should win out…but has little chance at a #1 seed in the NFC. So many things have to go TB's way, but unfortunately for them they will have to likely go through Green Bay to get back to the Super Bowl. They have Tom Brady, so they probably will…when/if TB goes to GB in late January, it will probably be a global warming event the likes of which no one in Wisconsin has ever seen to make Tom as comfortable as God desires.
Carolina falls to (5-10) and are likely to lose out and have an outside shot at still getting into the top 5 of the 2022 NFL Draft. The team that started (3-0) has gone (2-10) since. Matt Rhule is embarrassing himself every week. I watched his 17-minute press conference post-game, and he was sweating like a proverbial whore in church…as he talked-fast like a criminal under interrogation that everyone can tell he's lying, but he's thinking 'no one knows I'm lying, I'm so smooth at this'. Then the Jay-Z nonsense he dropped…yeccckkk. Lost in all that is he also referenced the Fresh Prince of Bel Air during this rambling excuse fest as to why the team sucks but they're really good…just no one sees it yet. Next week he'll reference Alf, Falcon Crest, Vanilla Ice, and the Love Boat to show how current he is in relating to players and people at large.
I wouldn't fire Rhule yet, if I'm David Tepper. I give him some more time to work this out. I mean…what else is out there better than Rhule? Rhule may not be fit for the NFL now…or ever, but there's no obvious replacement anywhere. Which is why I'm not going to waste a ton of time reading about or speculating about the 2022 coaching carousel. I'll analyze them once someone gets the job.
The NFL, fans, and the media wastes a month debating 'who should be hired' for whatever open job. People are never satisfied with their current coach, and everyone/anyone else always seems better. Teams hire ___, and then the local and national media prattles on about what a great hire and they name the bullet point good things that ____ was around/part of recently and how ____ is going to change the culture, and then ____ comes in at his intro press conference and talks about changing the culture and reducing penalties and being a physical football team. All of the new hires parrot the same things over and over…year after year, and then they always fail within 2-3 years, and we do the cycle all over again.
Who do you really respect among the NFL head coaches? Bill Belichick and….? Maybe Sean McDermott is next…or Mike Vrabel? It's a big drop off from Belichick…and he may not be 'all that' without Brady. You either have an elite QB, or you don't – and you either have an O-Line to protect them, or you don't. You wanna know who might be the next great NFL head coaching hire? Tell me who the QB is they are inheriting and what the O-Line depth chart looks like, and then I can try and guess if they will be a good coach (see: Matt LaFleur, Andy Reid, among others). Matt Rhule currently sucks as a head coach because he sucks at evaluating QBs. Leave him there long enough and he'll stumble into one randomly, eventually.
I thought this was going to be a boring watch…a blowout with little to really learn (Carolina sucks, Tampa is good…not that difficult!)…but in reality, there's lots of little nuggets from this game.
Fantasy Player Notes…
 -- It was a strange flow to the Buccaneer backfield this game…
Ronald Jones (20-65-1, 2-16-0/3) got the start and the dominant touches, as you would expect. He was in every play early on, even on 3rd-downs. A few series in, randomly, Ke'Shawn Vaughn (7-70-1, 0-0-0/1) appeared. When it happened, I was like…"Oh, yeah…that guy. They'll want to get him touches in this beatdown I suspect." He then gets the handoff, breaks a tackle at the line of scrimmage, gets out into some open space, breaks another tackle and then jets down the field like he's the best RB prospect in the NFL. I was like…What the…? Where did that come from? Where has that guy been?
After the impressive TD, I then thought…"Well, that screws any of our RoJo starts this day. Now Vaughn will be in a bunch!" Nope. Vaughn just had the most impressive run by a Tampa Bay back since James Wilder (probably, who knows…just reaching into my history bag) and then he's a ghost watching RoJo run a lot.
Ronald Jones went back in and was fine. He even botched pass catch attempts, because he has the worst hands of any RB in the NFL, but that didn't stop him from staying in the game. Eventually, Vaughn would pop up here and there but then he'd get stuffed on a run, then he botched a flare pass from Brady…he didn't help himself after the 55-yard TD run.
My takeaways from this game, going into Week 17…
1) The Bucs/Arians seems committed to Ronald Jones…and not pressing on Vaughn. Even when this game was getting out of hand 4th-quarter…still RoJo working a bunch with little Vaughn activity. I have to assume that's Arians' mindset going into Week 17.
2) Vaughn showed flashes of a real, dangerous RB here…his TD run, then a later in game run up the middle he almost popped too – for the first time in his NFL career, Vaughn has my attention a bit.
The only Tampa Bay RB under contract for 2022 on their roster today is: Ke'Shawn Vaughn…the RB who Bruce Arians said the following off after the game…
After the win, Bucs head coach Bruce Arians was asked if he thinks Vaughn has a future as the team's third-down back.
"No, I think he's a lead back," Arians said, via Zach Goodall of SI.com. "He has great running skills, excellent jump-cut ability and he's worked on his hands. His hands are better. He dropped [a pass on Sunday] — it pissed him off — but he has worked on his hands hard. I think he's a lead dog."
That's great, but I saw zero effort to push him after his big run in this game…which follows a two-year path of ignoring by Arians. There has been ZERO push for Vaughn at all under Arians, which is odd…but we have to assume is the Week 17 reality, but I'm a little wary of it being a spot to push Vaughn some more (assuming they'll kill the Jets).
3) Le'Veon Bell plays RB like Jared Cook plays TE these days…no speed, no juice…shouldn't even be on an NFL team.
 -- Antonio Brown (10-101-0/15) looks like he's 27 years old and in the prime of his career. He abused Stephon Gilmore the entire time Gilmore was in there. And Stephon Gilmore looks like he lost interest in playing football a long time ago.
…and Bill Belichick looks like a genius for seeing it ahead of everyone else and deserves an apology from me for jumping to conclusions too fast. Belichick knows existing NFL players more than anyone in the NFL. He doesn't know how to draft any better than anyone else, thus he uses 'played for Alabama' as his draft ranking guide…but let him see the players in the NFL – and he's gold. And I know what he's sensing. I see things scouting for the college draft, and I have to make big predictions and projections (guesses) – but really, I'm at my best when I can then see them working in the NFL side-by-side other NFLers.
 -- The reason why Tyler Johnson got no targets, and Scott Miller didn't see any targets when Brady was playing (saw one target with Gabbert) is Cyril Grayson (3-81-0/3, 1-14-0) is now a thing.
Grayson started, not Johnson (in their normal two WR set).
Grayson saw three targets and one jet sweep (for a sweet 14 yards)…more than Miller (1) and Tyler (0) combined.
Grayson has legit NFL speed+ (4.33 40-time at his Pro Day)…a former track star at LSU turned football player.
Grayson has become what you thought Scotty Miller might be – the speedy deep-ball threat for Brady, at his disposal. And for FF, Grayson can do more with 3-5 targets than others (like Tyler Johnson) can do with 6-8+ targets.
This season, Grayson has 4 catches for 131 yards…a whopping 43.7 yards per catch.
If Evans is out, Grayson could start again Week 17…against the Jets…and will probably have another 3-4 catches, for 50+ yards, with a shot at a long TD. If Evans is back, Grayson might have 1-3 catches for 50+ yards, with a shot at a long TD playing 30-40% of the snaps.
If Breshad Perriman (DNP COVID) is ready-to-go, he might get rammed back in as a starter…and split time with Grayson, but Perriman gets a bigger push.
If Evans AND AB are out, it could be Perriman-Grayson starting Week 17 in a juicy matchup v. Jets.
Grayson is not a future starter/star, per se…just a 'weapon' who is possibly at the right place at the right time. If Brady retires, then no more Grayson FF-talk for a while/ever. Grayson is going to push onto the Dynasty Stash reports in the top 175 this next publishing. He's older (28 years old), but he's more about the right now pop he could have with Brady for another season as a sweet #4 WR rotating weapon…and maybe a long shot #3 WR a la a (recent) DeSean Jackson type of decoy/threat.  
 -- Tom Brady (18-30 for 232 yards, 1 TD/0 INT) had a down game, but don't blame it on 'he's missing Evans-Godwin-Fournette'. He had a lot of chances in this game that were near misses, strange moments and then two rushing TDs hogging the aerial score potential. Everything looked fine here.
 -- It did not look fine for Sam Darnold (15-32 for 190 yards, 0 TD/0 INT)…the guy is a joke. He's so busy forcing the ball to D.J. Moore and Robby Anderson he's missing a bevy of other, young weapons. Darnold is a great play Week 17…for the NO-DST.
 -- Speaking of the Panthers' young weapons, let's go over them because they were hiding in plain sight, but Darnold sucks so hard. Matt Rhule would be a much better/accepted coach if he had a real QB, because he's building solid young pieces around the shitty QB…but the QB rules/Rhules in the NFL.
The Panthers have three good-looking young players going to waste right now…
1) Tommy Tremble (2-22-0/2) looks so much more confident in the passing game as the season goes on. He could be a low-end TE1 if he had a decent QB to work with Week 17…or a low end TE1 in PPR next season.
Tremble has a bigger and better-than-Jonnu Smith vibe to his game.
2) WR Shi Smith (3-86-0/5) could be a future slot WR for Carolina…but they may shove him to the outside as a decoy/deep ball threat instead. And if they don't have a QB, Shi won't FF-matter…just like Robby or DJM don't much matter for FF.
3) Terrace Marshall (1-6-0/1) has size and movement skills, almost like an athletic TE. He shows ability but a lot of inconsistency, and a personality I'm not sure Matt Rhule will put up with for long with Joe Brady gone – but there's raw clay here as a legit starting NFL WR. More athlete than WR…which is the part you cant teach.
*4) The young player that is dying on the vine…Chuba Hubbard (6-9-0, 0-0-0/1). He's done nothing with CMC officially out. This offense is terrible, so that doesn't help…but he's pretty flimsy, so that doesn't help either. I assume he's fading off, but Matt Rhule's wife swears by him, so…
 -- You have to love the Bucs-DST vs. NYJ Week 17, but beware…TB started the week with 75% of their starting secondary on the COVID list. It may not be until the weekend before we know if they're cleared…any or all.  
Snap Counts of Interest:
41 = Tremble
24 = I Thomas
34 = Hubbard
23 = Abdullah
14 = Bonnafon
41 = T Marshall
15 = Shi Smith
53 = AB
53 = Grayson
36 = Tyler Johnson
03 = S Miller
35 = RoJo
24 = K Vaughn
03 = Le'Veon
**College Football Metrics 2022…new season signups coming in January 2022**
The new season of CFM will be starting up in January, as always. A little different schedule this year as the NFL extended their season by a week and the Senior Bowl was bumped back a week as well. We should have a Senior Bowl, NFL Combine…it looks like it will be a normal scouting year!
The NFL Draft, Dynasty Rookie Draft, and regular season ahead rookie analysis all gets started through CFM in January with our usual season starter -- the past two years/2020-2021 Mock Rookie Draft re-do, along with in-depth Senior Bowl analysis, and full QB scouting reports and much more as we build towards the NFL Combine and all the other positional scouting reports. Football study never ends…
Thank you for your support of CFM for the past decade now…wow, time flies.