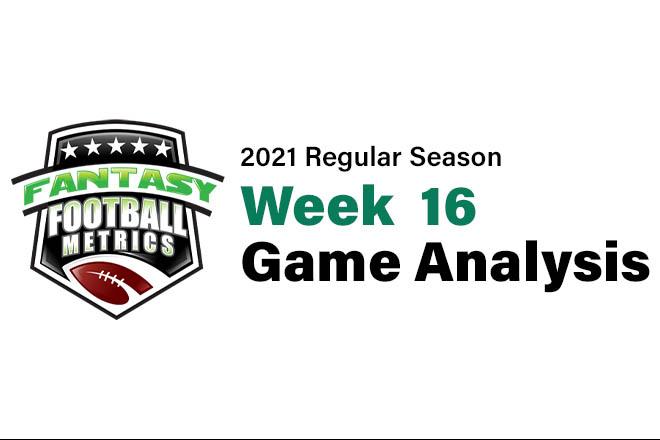 R.C. Fischer
FFM
28 December 2021
2021 Dynasty/Fantasy Game Analysis Week 16: Jets 26, Jags 21
The Jags win!!!
I mean, they lost the game…in an embarrassing way (failed several goal to go shots with a minute left by Trevor), but they 'win' by continuing to get into position to take the #1 pick in the 2022 NFL Draft. The Lions (the current #1 pick holders) hurt the Jags' chances of getting that #1 spot by losing Goff (COVID) the week they would've thumped Atlanta with him and that would've launched Jacksonville to the #1 pick.
Jacksonville is (2-13) and they won't win another game this season (at NE, IND remaining)...they are sitting in the #1 pick spot, a half game over Detroit. They pray for the Lions to get another win to really assure the Jags that #1 pick, in case the Jags accidentally win Week 18 if Indy doesn't need that game. I think the Jags will wind up with that top pick, but whether they are picking #1 or #2…it won't matter, this organization is trash and they're stuck with Trevor Lawrence mediocrity (not generational) for three more years. If I were a Jaguars fan…I would file divorce papers after what happened this season.
The Jets rise to (4-11) and four wins is probably where they wind up (TB, at BUF ahead) and likely in the top five for the 2022 NFL Draft. A few teams tied with 4 wins right now. The Jets are sitting #4 in the draft...plus #6 (their pick from Seattle/Jamaal Adams).
This game was sloppy and dull…and not worth really talking about team-wise. It is what it is.
Fantasy Player Notes…
 -- One of the main reasons I watched this game was to scout Dare Ogunbowale (17-57-1, 2-15-0/4)…now taking over for James Robinson (achilles).
Simple scouting on Dare: He was not very good here…he runs stiff/slow, not explosive. His offensive surroundings stink, and he faces a riled-up Patriots defense Week 17. This is not likely to work. He'll get touches, but they probably won't amount to much…maybe you get lucky with a short TD run (like he got here).
The Jags have little else in the backfield…
Nathan Cottrell (1-3-0) just came up from the practice squad recently and looked more explosive, but that's not saying much compared to tugboat Dare. And Cottrell didn't flash any signs either.
Ryquell Armstead is on the roster, but he was on COVID list for this game…and he's not very good.
B.J. Emmons is the most talented back they have, an interesting practice squad RB, but doubtful they do anything with him. Better to hide him if they want to retain long term. But if he gets elevated my ears will be perked up.
Ogunbowale is the most experienced guy, and so he'll likely be the main guy with Cottrell getting a couple extra touches to try and impress. And Dare would probably post a 12-40-0 line at NE this week…not a great outlook for his 'start'.
 -- I was ready to mock the Tavon Austin (6-68-0/7) little outburst, but without Laviska Shenault (COVID), Austin got more looks. If Shenault is out again, it might happen again. However… This little burst was against the Jets. Facing the Patriots in the cold in Week 17, it's not Austin's, or more importantly…not Trevor's kind of atmosphere.
 -- No Jamison Crowder (injury) so, Braxton Berrios (5-37-0/6) was Wilson's #1 WR look, as we suspected…but it didn't matter much with a wimpy/OK PPR score…but he did return a kick for a TD to help make him a WR2-3 for the week.
If no Crowder Week 17, Berrios probably has a similar-ish game of PPR WR3 +/- on catch volume.
 -- In the battle of the #1 overall 2021 NFL Draft pick, versus the #2…nothing really happened to change hearts and minds.
Trevor Lawrence (26-39 for 280 yards, 0 TD/0 INT) had his typical allergic reaction to throwing for a TD pass…1 TD pass in his last eight games is a complete and utter embarrassment. And he isn't playing poorly…he's just such lukewarm water as a QB.
Zach Wilson (14-22 for 102 yards, 1 TD/ 0 INT) wasn't much better…typical game for him, running for his life, making some awesome throws and making some forced dumb throws. He had a TD pass to an O-Lineman and a fluky 50+ yard TD run…all of it 'on accident' in a sense.
The winner of this Lawrence v. Wilson showdown was…Davis Mills (playing the best of any rookie right now) and Trey Lance (Lance by doing nothing moves up in status vs. them).
 -- Jags rookie IDP Andre Cisco (5 tackles, 1 PD) played one of the worst games of football I've seen from a player this year. A HUGE disappointment.  
I was very high on Cisco as a top 3 safety prospect from the 2021 NFL Draft. He was an early 3rd-round NFL Draft pick, might have been a 2nd-rounder had he not gotten hurt (ACL, I think it was) his last year of college play. I argued he might have been the best safety from the 2021 class, possibly…at least we thought he was in that conversation.
Cisco's main attribute I recall from his scouting is – flying around to the ball and a great tackler/hitter. That's why when I watched him get the start in this game and then play like a giant puss, I was shocked…and appalled…and I'm done with him for IDP. He'll have to draw me back in to get back onboard.
He half-assed around the field in a way I've seen from a few players the last few years…players trying to play not to get hurt (usually veterans at the end of their careers)…so they conveniently get to the ballcarrier a beat too late allowing someone else to make the tackle. When a ballcarrier gets out in the open field and is racing for the end zone on a long play/run, these 'fake' players (like Cisco here) run half speed from a distance to ensure they are nowhere near the ballcarrier or camera shot to get caught. I caught it…and I couldn't unsee it.
A bunch of lollygagging and arm tackles…until he made a goal line stand one-on-one tackle at the goal line to save the game with under 2 minutes left, forcing NYG to a field goal, allowing the Jags a chance to win with a TD…which they almost did. His goal line tackle was vintage Cisco…his other 58 minutes should get him cut from the NFL.
Now, I understand why Urban Meyer didn't play him. My apologies for blasting Urban for not playing him. Sorry, Mr. Meyer…for that, but you still were the worst head coach I've ever seen in the NFL, regardless…so there's that.
Cisco falls in my stash rankings and IDP projections this week…to my surprise and disappointment.
Snap Counts of Interest:
48 = Berrios
43 = K Cole
32 = Mims
13 = J Smith
50 = Kroft
22 = Wesco
60 = Ogunbowale
01 = Cottrell
64 = Treadwell
60 = Marvin J
43 = Tavon Austin
08 = Josh Hammond
**College Football Metrics 2022…new season signups coming in January 2022**
The new season of CFM will be starting up in January, as always. A little different schedule this year as the NFL extended their season by a week and the Senior Bowl was bumped back a week as well. We should have a Senior Bowl, NFL Combine…it looks like it will be a normal scouting year!
The NFL Draft, Dynasty Rookie Draft, and regular season ahead rookie analysis all gets started through CFM in January with our usual season starter -- the past two years/2020-2021 Mock Rookie Draft re-do, along with in-depth Senior Bowl analysis, and full QB scouting reports and much more as we build towards the NFL Combine and all the other positional scouting reports. Football study never ends…
Thank you for your support of CFM for the past decade now…wow, time flies.