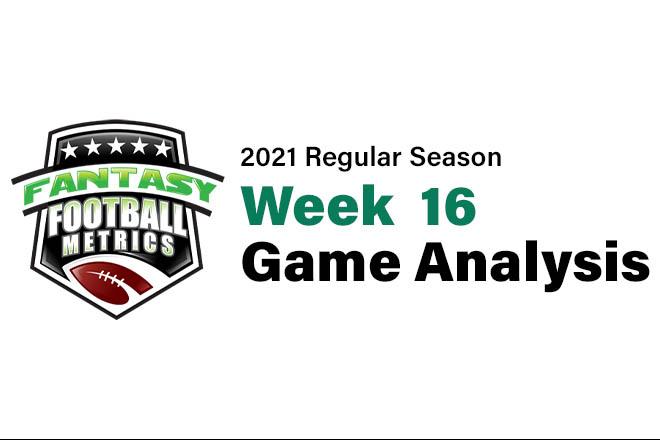 R.C. Fischer
FFM
01 January 2022
2021 Dynasty/Fantasy Game Analysis Week 16: Bengals 41, Ravens 21
First, the Ravens had Lamar hurt and unable to play. Then, Tyler Huntley got COVID a day+ ahead of the game. Baltimore had to deploy practice squad QB, recently signed, Josh Johnson…and everyone could probably guess what was going to happen from there…and it did…a drubbing by the Bengals.
Honestly, this game wasn't as much of a blowout as you'd think. The Ravens led 7-3 early. The Bengals were up and down on both sides of the ball, but bailed out by penalties early, then Ravens CB Anthony Averett went down and that released the floodgates of a confused, patchwork Ravens secondary…and Joe Burrow throwing for 500+ yards.
The Bengals are now (9-6) and knocking on the door of the AFC North title. If they can beat KC this week, they have a strong shot at a #1 seed in the end. It's a tall order, but I think Cincinnati, at full strength, might be the best team in the AFC right now…because all the top AFC teams have flaws. It's probably too early for all this for Cincy, but just know…with Burrow…Cincy is going to be among the top AFC teams for years to come.
The Ravens are now (8-7) and they have a long shot hope at the AFC North still, but a reasonable chance at a wild card if they can win one of their next 2 games and get some help. Win their next two games, and they are very likely in the playoffs. I don't think they can win two ahead (LAR, PIT) but they should/could beat PIT Week 18 and then cross their fingers around them.
Fantasy Player Notes…
 -- Joe Burrow (37-46 for 525 yards, 4 TDs/1 INT) single handedly won some people a trip to the next round of the FF playoffs if they started him here. Burrow is good, was good…but when CB Anthony Averett went down he destroyed the Ravens secondary.
Burrow is the new Tom Brady…the closest thing we have to it.
If Burrow goes and beats KC Week 17, he's likely my MVP vote for 2021 season.
 -- What should the Ravens think when Josh Johnson (28-40 304 yards for 2 TDs/1 INT) comes off the Jets practice squad and in less than a week is a better passer than Lamar Jackson in this offense? Just sayin'…when Lamar gets that 7-year/$300M+ deal, the Ravens will have signed their future death certificate for the next 4-5 years of non-Super Bowl trips/hopes.
 -- Burrow went off, so his WRs went for the ride too…
Since Week 12, Tee Higgins (12-194-2/13) has been the #4 PPR PPG WR in Fantasy…four 100+ yard games in his last 5 games.
Ja'Marr Chase (7-125-0/10)…I can (and will) say, "Oh, Chase was made by Burrow at LSU." That could be 100% true, but HE'S GOT BURROW IN THE NFL now too. The top things around Burrow are gonna prosper.
If the Bengals get their hands on a top TE prospect or free agent in 2022, that TE is going to be a hot TE1 prospect ahead.
 -- I keep saying that I can't trust Rashod Bateman (4-26-1/5) because of the QB play in Baltimore, but two things keep hitting me…
1) He's a really promising WR talent. Better than Marquise Brown (5-44-0/9), and that's not a shot at Brown.
2) No Lamar…and Bateman is getting more looks and is producing. I shouldn't say Bateman's FF problem is the BAL QB play…I should specifically say it's a Lamar Jackson issue. When LJax is out again ahead, and Huntley takes over – I'll be down with Bateman as a WR2 option.
LJax is tied to Marquise (and Andrews)…and not enough volume left for consistent Bateman. There's only room for two FF stars from this passing game…and if Bateman makes a move from WR3, it will only go so high…and thus brings Brown down a peg to Bateman-Brown as hard to predict WR2 output week to week. Two WR2-3s…with Brown no longer a WR1-2 (if Bateman starts to rise some).
 -- James Proche (7-76-0/8) had nice numbers here, but the Ravens were throwing a bunch and Proche got on the field as a #3 WR a lot and he took some volume (Duvernay out pushed this). He's a decent NFL WR…but if you think Bateman is in trouble due to LJax, then…
 -- Whether it's Lamar…or Huntley…or Josh Johnson, Mark Andrews (8-125-1/10) is on fire and seemingly unstoppable. Sign of a great FF TE…when the QB play doesn't hurt him.
It's a real debate for 2022 now…who is the best TE? No longer just Kelce or Waller…now it's Kelce or Kittle…or Mark Andrews, and I'm not sure the right answer isn't Andrews in 2022.
 -- Cincy defense side note for IDP…
Key/top Bengals ILB Logan Wilson has been practicing in full and is expected to be back 100% and starting Week 17.
Snap Counts of Interest:
49 = Uzomah
32 = Sample
62 = Mixon
11 = Perine
54 = M Brown
48 = Bateman
28 = Proche
27 = Wallace
03 = Sammy Watkins (ha!)
33 = D Freeman
17 = Latavius
**College Football Metrics 2022…new season signups coming in January 2022**
The new season of CFM will be starting up in January, as always. A little different schedule this year as the NFL extended their season by a week and the Senior Bowl was bumped back a week as well. We should have a Senior Bowl, NFL Combine…it looks like it will be a normal scouting year!
The NFL Draft, Dynasty Rookie Draft, and regular season ahead rookie analysis all gets started through CFM in January with our usual season starter -- the past two years/2020-2021 Mock Rookie Draft re-do, along with in-depth Senior Bowl analysis, and full QB scouting reports and much more as we build towards the NFL Combine and all the other positional scouting reports. Football study never ends…
Thank you for your support of CFM for the past decade now…wow, time flies.