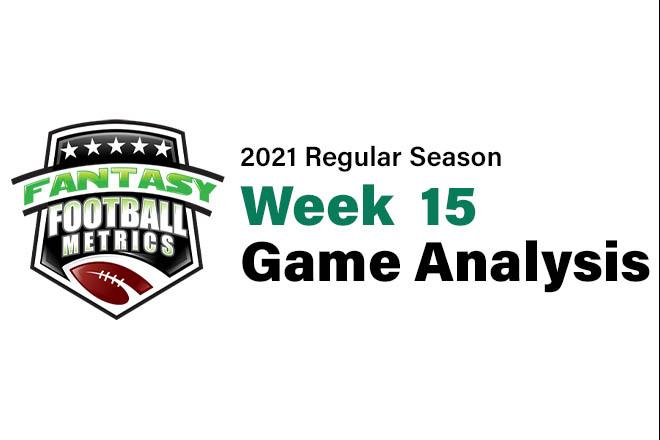 Ross Jacobs
FFM
23 December 2021
2021 Dynasty/Fantasy Game Analysis Week 15: Cowboys 21, Giants 6 
This was an ugly affair. The Giants just have nothing going for them on offense right now. Terrible offensive line, no QB, and the skill position players are beyond frustrated. The Cowboys defense just crushed them and that was the game essentially.
At first I was confused about why the Dallas offense looked so poor here. Was this some new issue that they would have to worry about moving forward?
The answer is no, not exactly, although things aren't perfect. The biggest reason why they looked bad is that the Giants defense is just really, really solid. They don't have any star power right now, but if the offense wasn't constantly putting them in bad positions, they could be a top 10 unit. Once they get Blake Martinez back next year this defense might even be a top 5 unit with a couple minor tweaks.
Quincy Roche (who New York plucked from Pittsburgh this preseason) and Azeez Ojulari are looking like an emerging young pair of pass rushers for the Giants in the vein of Carolina's Haason Reddick and Brian Burns. And the scary part is they are both rookies.
The offense is still too bad to help them so you can't start the Giants for fantasy yet, but I'll be looking at them very hard in 2022 as a potential shock defense that you can draft late.
There's a lot of pressure in New York to dump Dave Gettleman, and I have to admit I've never been his biggest fan, but RC is right that Gettleman has really assembled a lot of talent and deserves another year. This team is a QB and some offensive line support away from being a very strong team.
The Cowboys only scored two offensive TD's here, and they both came from short fields after the Giants turned the ball over. I already talked about how sneaky good the Giants defense is, but the Cowboys do have a couple issues of their own.
The biggest thing plaguing them here was the absence of Tyron Smith again. This offense consistently takes a step back whenever he is out. Dak was under constant pressure here, and Zeke had nowhere to run. Smith hasn't practiced so far this week and is considered day-to-day. They need him back to have a shot at a Superbowl.
Dallas is up to 10-4 with three winnable games remaining. None of them are gimmes, but they should be favored against Washington and the Eagles. We'll see if Arizona can bounce back against the Colts this week. If they are collapsing, that just helps Dallas more. If they can win out they have a shot at possibly the #2 seed in the NFC.
If Smith can make it back for the playoffs Dallas has as good a chance as anyone outside of Green Bay to make the championship game. The defense is playing well and the offense is good if not all that explosive anymore. They are playing like a slightly worse version of the Packers right now (no surprise since McCarthy was the coach there for so long), a versatile offense with lots of options to attack with and a stout but not shutdown defense. It's a good recipe for postseason success.
Fantasy Notes
--Dak Prescott (28-37 for 217 yards, 1 TD/0 INT) hasn't been the same for fantasy in weeks and I see no change on the horizon. He doesn't have to do much right now. The formula has changed. With the emergence of the Dallas defense, the offense can simply play the ball control game and grind out wins. It's the same thing that's held back Rodgers's stats this year. Dak is still capable of those huge weeks where he scores 3-4-5 times, but it's not the norm anymore. And again, the presence of Smith is a huge bump for him. No Smith, don't expect a big game from Dak.
--I still maintain there's nothing (or not much) wrong with Ezekiel Elliott (16-52-1, 3-20-0/4). Maybe he doesn't quite have the same short area burst as he did before the knee injury, but right now I just don't see anywhere for him to run. He was getting hit in the backfield on nearly every carry.
Part of the reason I projected a strong finish for Zeke was the potential for increased carries with Pollard out, but Tony was back this week and looking as good as ever. Because of this development you do have to tone back expectations for Zeke. He's an RB2 for the moment in this split backfield.
--Tony Pollard (12-74-0, 3-13-0/3) was shockingly back in here and looking just fine after it looked like his foot injury could sideline him the rest of the regular season. I guess you can use him how you were using him before. He'll see good touch counts but is still missing out on the scores most weeks. Think of him like Chase Edmonds from early in the season. Solid floor but not much upside.
--With the offensive line struggling, the passing game has become very muted for Dallas. It's still mostly short targets to Dalton Schultz and CeeDee Lamb in the slot, and then Michael Gallup has become the de facto #2 WR ahead of Amari Cooper.
I still have no idea why Gallup has ascended ahead of Cooper, but that's the reality. The only guys you can count on these final weeks are Schultz and Lamb though. Schultz is a ppr top 5 TE and Lamb is a WR1.5 or so. If he would stop dropping passes he'd be a WR1.
--Similar to the Zeke/Pollard issue, the Giants are dealing with much the same with Barkley and Booker. There's nothing wrong with Barkley. He is moving just fine. He's just got nowhere to run. Booker looks great at times because the defense doesn't care about him. When Barkley is in, he's the obvious focus of the defense. You just can't count on him for fantasy right now. He's a RB3.
Also, in both of these RB cases, the two guys averaging better ypc, Pollard and Booker, are being used more on edge runs and sweeps while Zeke and Barkley are just taking straight ahead carries up the middle into bad offensive lines. It's no wonder the edge guys are more efficient and thus look better. They are running into space instead of into a wall of defenders.
--Jake Fromm came in for Mike Glennon late. Glennon didn't play badly at all really. He just has no time to throw. The turnovers weren't even really his fault, just bad luck.
Fromm didn't look awful exactly, but he's every weak-armed, smart, backup QB ever. He can run the offense and make predetermined throws when on time, but rush him and he's going to throw the ball into traffic.
Facing the Eagles this week is problematic. They have a good defensive line that's going to give this bad Giants line fits, and Darius Slay has been a turnover monster lately. There's a high chance of a pick 6 or two happening if Fromm starts.
IDP Notes
--Trevon Diggs (4 tackles, 2 pd, 1 INT) had another INT gift wrapped for him by Glennon. I swear every one of his INTs this year has been thrown right to him. He's a fine corner but not nearly as good as he's being portrayed because of these fluky TO's. To me GB's Rasul Douglas is the better corner right now. Don't fight it for fantasy though.
Snap Counts of Interest
44 = Zeke
29 = Pollard
37 = Saquon Barkley
28 = Devontae Booker