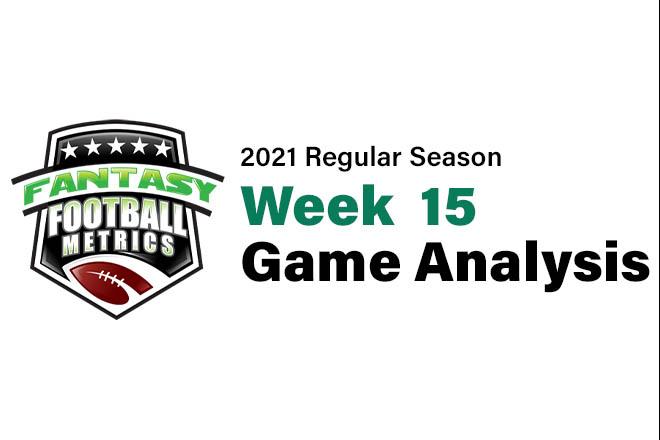 Ross Jacobs
FFM
23 December 2021
2021 Dynasty/Fantasy Game Analysis Week 15: Packers 31, Ravens 30 
This game will only be remembered for the failed 2-pt conversion at the end, but that overshadows a fantastic game all around.
Baltimore came into this game banged up worse than any team in the league, multiple guys out due to injuries and covid, their backup QB getting only his second start, going up against arguably the best team in the NFL and they nearly came away with the victory.
Highly impressed with what I saw from the Ravens here, and I've been unimpressed and rooting against them all year. This was easily the best performance I've seen from them.
The Packers hang on for the win, but it's no slight to them. Baltimore just played a great game. GB is still the best team to my eyes. I wasn't a fan early on, but they just keep getting better and better and still haven't got Alexander and Bakhtiari back yet. If they do, there's no team deeper or more dangerous. Both players are likely still out this week against the Browns, but both guys have been practicing and should be ready for the playoffs.
GB is now 11-3 with the inside track to the #1 seed in the NFC after Tampa crapped the bed against the Saints. The Bucs are a great team and offense no doubt, but they do have a tendency to fold sometimes against better, physical defenses. Not so with GB. They are just so consistent. You can only hold Rodgers down for so long. He has too many weapons to work with.
The GB defense is fantastic as well. Probably not the absolute best group but top 5 for sure. They are deep at every unit and led by the best secondary I've seen this year, a secondary that is still missing their best player. Once Alexander comes back there will be no passing on this group, not to WRs anyways. The way to beat GB is going to be running the ball, throwing to the TE, and playing good defense. No worries starting them against the Browns this week no matter who the QB is, although it does get juicier obviously if Mayfield is out.
Baltimore falls to 8-6 with 3 straight losses. Their season is falling apart. The injuries have caught up to them and their good fortune is finally failing. Just note though that all three of those losses came by a combined 4 points. They are still a very solid and dangerous team. I just don't know that it's going to be enough to hold off the Bengals for the division.
The game against Cincy this week is massive for both teams. The Bengals currently have the tiebreak over Baltimore after crushing them early in the season. A Baltimore win would put them up a half game with a split in the heads up matchup. They still have tough games against the Rams and Steelers after that, but this Cincinnati game is a must-win. Lose and they will be lucky to get a wildcard spot.
Fantasy Notes
--The RB trends for GB reversed themselves this week as Aaron Jones outcarried AJ Dillon 13-7. I don't think it's a pattern that will necessarily stick however. Both guys were in early splitting reps essentially 50-50. It just so happened that Jones was more effective than Dillon against a good Baltimore run defense. His speed was allowing him to cut back against aggressive run crashes.
I think we've entered a true 50-50 split with chances for one guy to get hot and take a few extra carries, but most weeks I think it will default to Dillon as the slight lead. GB wants to wear down defenses with his physical running. Most teams aren't going to be able to bottle him up as effectively as the Ravens did, and he'll for sure be the guy grinding out games during blowouts.
--Marques Valdes-Scantling (5-98-1/7) finally had that pop game RC has been calling for. He was more involved than Allen Lazard after it was the opposite last week.
The trouble is, I don't know if there's a way to predict who is going to do better from week to week. Rodgers is distributing the ball to whoever is open. He has a power back, a speed back, a possession receiver in Adams, a deep ball guy in MVS, and an intermediate big body guy in Lazard. It's just too many unique weapons for a defense to stop, and Rodgers works the matchups like a magician.
It's fantastic for real football and makes them tough to stop, but it's maddening for fantasy. Davante Adams (6-44-1/7) is no longer the only option they have to throw to. Now if you clamp down on him the Packers can hit you elsewhere.
If I had to guess, I'd say I like Lazard better than MVS this week against a good Cleveland secondary, but I'd take MVS in the final two games against the weakened Minnesota and Detroit units. It's just a hunch though.
*RC NOTE: MVS is on the COVID list…if he is out for Week 16, then Lazard will be a WR2 projection this week v. CLE. 
--Bravo Tyler Huntley (28-40 for 215 2 TD/0 INT, 13-73-2)! I've been raving about Huntley since this preseason, and I was so glad to see him perform well here. This is what I had to say about him from the Ravens 3rd preseason game:
"Huntley does a damn good Lamar Jackson impression. He's got the same build, a similar throwing motion, and even moves similarly. It's honestly hard to tell them apart at times. He's not quite as fast or explosive/elusive as Lamar, but he moves around well enough to be a threat and is shockingly throwing a really nice ball. Both times I've seen him now he was aggressively attacking downfield, throwing over the middle and in between coverage, showing a powerful arm and really good accuracy. He does have the occasional misfire and sometimes has issues with touch throws on seam routes but that's about it. He looks really good and is the perfect backup for Lamar because the Ravens don't have to change the offense at all.
If Lamar were to go down Huntley might be a shock QB1. That's how impressed I have been with him."
The mainstream would call me sacrilegious for saying this, but I'm going to say it anyways...Huntley is a better pure QB than Lamar. When I say QB I mean as a passer, knowing where to go with the ball and when, having the accuracy to fit it into tight windows...that kind of thing. And Huntley is absolutely better at those things than Lamar.
Now I'm not trying to bash Lamar here. He's still a very good player and he does a lot of things well. But he can be contained at times if you can get him trailing or keep him bottled up in the pocket. He's a dynamic playmaker when the whole playbook is open to him, but limit his options a little and he can be stopped.
Huntley is much less prone to that because he is a QB first and a runner second. Now he's not the greatest at either one, but the combination makes him dangerous. Should he be a starting QB in the league? Maybe. I think he could. But a team would have to build the offense similarly to Baltimore's. Huntley would have been a perfect QB for Urban Meyer.
So how will Huntley fair this week against the Bengals? The Bengals have a pretty good defense, but it's not so good that they will crush him. I think he's a QB1. He should have somewhere in the neighborhood of 240 yards passing and maybe 50 rushing to go along with 2 TD's. Think a mix of Jalen Hurts and Justin Fields. If you're in need of a good streamer this week, Huntley is likely the best available assuming Lamar can't go.
--Speaking of Lamar, he hasn't practiced so far this week with his ankle injury. The Ravens are calling it day-to-day. My best guess is he'll play if he possibly can. This game against the Bengals is too big. If I was running Baltimore I'd have enough confidence in Huntley to play him and let Lamar rest, but they probably don't view it that way. We'll have to wait for more reports about Lamar's availability. Whether he practices today or not will say a lot.
--Latavius Murray looks healthy again and is back to a full split with Devonta Freeman, although as good as Murray looked he might take a 60-40 lead soon. This was the best I've seen him all year. He's got no agility left but he's got enough burst north and south to still be an effective grinder inside. If you must start a Baltimore RB out of desperation it's Murray you want now not Freeman.
--What happened to Rashod Bateman (1-5-0/2)? Rasul Douglas happened. He shut down Bateman with ease. That forced Huntley to try and attack Eric Stokes with Marquise Brown (10-43-0/14) and you see how that went. Brown caught a ton of short passes, but it didn't add up to much. This is what I mean about GB's secondary. They are already arguably the best group and Alexander is still out. It's going to be a no-fly zone in the playoffs. Bad news for the Rams and Buccaneers.
IDP Notes
--Geno Stone (7 tackles, 1 tfl) had himself a nice game at safety while Chuck Clark was out with COVID. He's your typical solid Baltimore safety, nothing special that I can see, but well trained and athletic enough to play. Unfortunately now he's been added to the COVID list, so we'll see if either he or Clark can get cleared. He's likely headed back to the bench regardless.
Snap Counts of Interest
49 = Lazard
41 = MVS
39 = Aaron Jones
23 = Dillon
39 = Freeman
29 = Murray