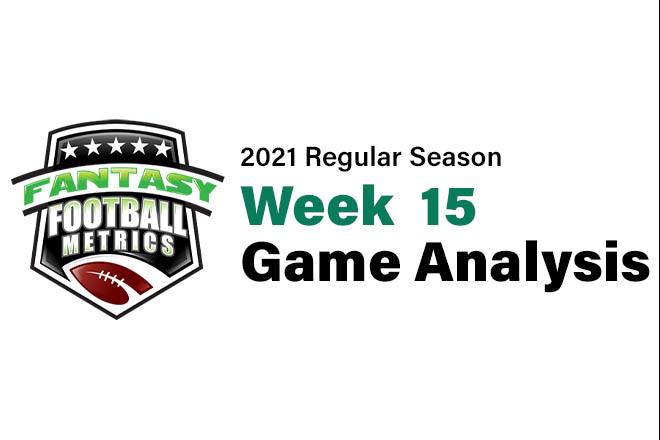 R.C. Fischer
FFM
24 December 2021
2021 Dynasty/Fantasy Game Analysis Week 15: Rams 20, Seahawks 10
This game was a 10-10 tie into the 4th-quarter. The Rams playing better but a little lax against Seattle, and the Seahawks playing for their playoff lives. Eventually the superior team started to pull away in the 4th-quarter to the victory…the Rams took it by 10 points and put Seattle out of the playoffs, and sent them to their first losing season in a long time. It wasn't a masterpiece, but the Rams did what they had to do.
Seattle is now (5-9) with likely big changes coming this offseason…one of Pete Carroll or Russell Wilson is going. Only an idiot(s) would choose to stick with Carroll in that equation, so it's 50/50 that a football ownership/management group does just that. There's no way it makes any sense to bring both guys back. I'll assume Seattle will let Carroll resign with dignity and let Russ help choose the next head coach he wants to work with.
Carroll has to see it coming, so Seattle will probably play loose/unpredictable the next few weeks as Carroll will operate like a substitute teacher and/or delegates a bunch to his staff. It's just this team is so bad…I think they're all making vacation plans and looking forward to next year.
The Rams are now (10-4) and in great shape for the playoffs, and with a shot to take the NFC West from Arizona now. Odds are against them but it's within reason now.
Fantasy Player Notes…
 -- As I was chirping about all last week leading into this game…that Rashaad Penny's (11-39-0, 2-5-0/2) Week 14 explosion was matchup based (v. HOU), on top of him being good. Week 15 vs. LAR was not going to be a favorable for FF output due to the opponent…with a risk of a real FF-dud, and that's what happened.
It didn't help that Penny missed a chunk of the game due to his favorite play; the old: 'Get hurt and go to the locker room' play. Penny returned late but was still ineffective and Seattle was down and passing with DeeJay Dallas (8-41-1, 3-11-0/4).
I wonder the following thought, which is something (probably useless) to worry about…but just talkin' wild thoughts:
I wonder, now that Seattle is toast for 2021 season, and Carroll knowing/assuming he's done…will he pull back on Rashaad Penny now? I mean, the guy has screwed him for four years – a wasted 1st-round draft pick…always hurt…never lived up to expectations. Penny was his best RB to try and improbably run to the playoff hopes…but now, with those dreams dashed, does Carroll throttle back on Penny or even totally screw him going into his free agency, and/or give a DeeJay Dallas or Travis Homer…or even Alex Collins an extra opportunity for their recent efforts? Why help Penny going forward?
Just the conspiracy theory in me…or the bastard in me (because that's what I'd do).
 -- We all wondered: what would the split be like when Darrell Henderson (6-23-0, 2-4-0/2) came back from injury/COVID, between he and Sony Michel (18-92-0, 2-23-0/2)? The answer = a resounding tilt to Michel.
Perhaps, the Rams were comfortable to bring back DH slowly…and he'll get more involved next week? Perhaps. But Michel is starting to work well, and Sean McVay has never been that pro-DH…so, finally, all these weeks…late into the season – I might be right from my preseason prediction: McVay is gonna turn on Henderson.
For sure, when Cam Akers is back…McVay will shut-back-out Henderson in 2022.
…or in 2021 season, because Cam Akers is slated to be back practicing this week. I suspect Akers will practice a little this week and not get activated Week 16. He'll get more conditioning Week 17…and maybe Week 18 too, to try to be ready for the playoffs. I don't believe Akers will see a touch in Weeks 16-17, but suddenly it's not off the table.
Weeks 16-17, you have to bet on Michel as the lead back/main touch guy but if Hendo gets hot in-game it can go any which way.
 -- Odd output from the non-Kupps…
Van Jefferson (2-23-0/2) and Odell Beckham (1-7-0/3) were ghosts…against a mediocre pass defense. They've both been good/decent together this season, for FF, so I'm not panicking if I am running with them. However, Odell is starting to flash some warning signs of being Cleveland Odell. But this Rams situation is a good fit for him to show up when he wants to, so I think he's as OK a WR2-3 as you'll find. Ditto Van J.
 -- Russell Wilson (17-31 for 156 yards, 0 TD/1 INT) is not helping the case of the people versus Pete Carroll-not-allowing-Russ-to-be-cooking.
In his last 8 games, Russ has thrown for over 250 yards in a game…just one time. 9 TDs/5 INTs in that span…barely a TD pass per game. He barely runs the ball anymore (1 rushing TD this season).
Blame Pete…blame Russ. Blame Russ's finger injury. Blame whatever…but his production has been sagging for two seasons now, especially as the season wears on. Russ has nothing to play for this season and he doesn't care about Pete Carroll, so how good is he going to be these final few games?
 -- And Russ's bad cooking is leaving an upset FF-stomach for D.K. Metcalf (6-52-0/12).
Did you know that since Russell Wilson returned from his few games missed with the finger injury that D.K Metcalf has not caught a TD pass? Nor has he gone over 60 yards in a game in that span?
What causes it to change ahead?
 -- If Seattle is checked out, in a sense, now that they are out of the playoff chase…will the nice matchups of v. CHI and v. DET the next two weeks work for the Seahawks-DST? Maybe…maybe not. I'm skeptical…but the potentially messy weather for Week 16 might be OK, especially if Justin Fields is out.
 -- What about the Rams-DST with two mediocre matchups the next two weeks…at MIN, at BAL.
Well, Week 16 will be MIN without Dalvin Cook, which helps.
In their past 6 games, the Rams defense has given up 22 or more points in a game four times. But in their last three games they've shut down Week 13 JAX and Week 15 SEA. MIN and BAL ahead have better offenses than JAX and SEA.
I think the Rams-DST will be OK the next two weeks, but it's not a slam dunk.
Snap Counts of Interest:
48 = Michel
18 = DHendo
33 = DeeJay Dallas
24 = Penny
01 = Colby Parkinson
**College Football Metrics 2022…new season signups coming in January 2022**
The new season of CFM will be starting up in January, as always. A little different schedule this year as the NFL extended their season by a week and the Senior Bowl was bumped back a week as well. We should have a Senior Bowl, NFL Combine…it looks like it will be a normal scouting year!
The NFL Draft, Dynasty Rookie Draft, and regular season ahead rookie analysis all gets started through CFM in January with our usual season starter -- the past two years/2020-2021 Mock Rookie Draft re-do, along with in-depth Senior Bowl analysis, and full QB scouting reports and much more as we build towards the NFL Combine and all the other positional scouting reports. Football study never ends…
Thank you for your support of CFM for the past decade now…wow, time flies.