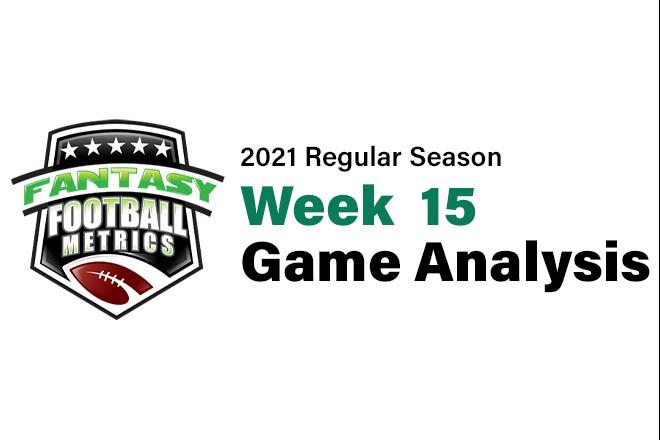 R.C. Fischer
FFM
22 December 2021
2021 Dynasty/Fantasy Game Analysis Week 15: Lions 30, Cardinals 12
This was a Detroit-dealt ass-kicking from the opening bell. Even if Arizona had caught some breaks early, it wouldn't have mattered. In every aspect of this game, on both sides of the ball, Detroit was the better team.
Consider that last statement in the light of many thinking Arizona was the best team in football a week or two or three ago. Sometimes good teams get beat by inferior ones because of early turnovers or ill-timed BS penalties extending drives – not here. Detroit out-played, out-schemed, out-toughed a previously tough, and machine-like Arizona team. It was a sight to behold.
Could it have been 'one of those weeks?' sure…but I think it's more Arizona is fading to the finish (like Buffalo), they may have peaked too soon and lost too many key players along the way (Watt, Hopkins, etc.). But it's also that Detroit is way better than given credit. Detroit is (2-11-1) now. Think of how many near-miss wins they've coughed up last second this season. If I gave Detroit +3 points in every game they played this season, instead of (2-11-1) they would be (6-7-1) and more respected. I'm not saying it's a great Detroit team but it's not the joke we all tend to think. When you see 'Detroit' you should think of them as in the mediocre range with teams like Pittsburgh, Tennessee (sans Henry), the 49ers, Miami, Cleveland, Philly, Minnesota, etc. – and not with the Jets, Jags, Texans, Falcons crowd.
If I'm right, the Lions are the best bet of Week 16 with points at ATL (if Goff is back).
Arizona is now (10-4) and will be lucky to hold on to win the NFC West. Everything you want to know about the Cardinals will be told to us by their next two games. Facing Indy and Dallas, two of the better teams in the NFL…two of the top 10 teams in the NFL. They could lose both and have a total collapse into the wild card race. They could rally and physically go out and dominate both and reestablish themselves as that top NFL team from a few weeks ago.
My guess/projection – they don't have the toughness to go beat Indy and Dallas. They might split, but I don't trust Kingsbury and Kyler in clutch spots yet. It's too close to call between LAR and Arizona to win the NFC West right now. Let me see how Arizona responds vs. Indy this week…I think they will rally to win that one, and then we'll see. If they get throttled by Indy this week…Arizona is all but cooked for 2021…they'll make the playoffs but lose to a mentally tougher team.
Fantasy Player Notes…
 -- The MVP of this game, without a doubt, was RB Craig Reynolds (26-112-0, 1-5-0/1). He's the best RB on either team…so, of course, it makes a ton of sense he's been on the practice squad most of the season.
Reynolds ran through and around the Cardinals defense like a seasoned pro…like a smart/savvy/talented enough RB, like an Elijah Mitchell. All he needed was a chance. I think with his last performances, Reynolds has moved from 'cute/capable fill-in' to – the best all-around back the Lions have, right up there with D'Andre Swift. If Swift is out again, and he probably is, then with Jamaal Williams (DNP) returning…Reynolds will be the top back for Week 16 for Detroit. I initially thought Detroit/Anthony Lynn might push Jamaal, the veteran, right back into the starting role and undercut Reynolds…but I think Dan Campbell has taken over the offense from Lynn (happened a few weeks ago, publicly announced) and he won't allow that to happen.
If I see Jamaal active this week, no Swift, and Reynolds starting this game full – then I will consider Dan Campbell as a Coach of the Year candidate and the future of the Lions is bright because Campbell is going his own way and not letting NFL players be royalty for the sake of it when there are other guys underneath who are clearly better players. I think Campbell will reward Reynolds Week 16, but not a sure thing…'the way things run around here' is a gravitational pull for all NFL head coaches. Campbell has hope to be different.
 -- The other MVP of this game…Jared Goff (221-26 for 216 yards, 3 TDs/0 INT). Facing one of the better defenses in the NFL…what was arguably the best defense the 1st-half of the season, Goff tore right through them.
Goff has 9 TDs/2 INTs in his past 4 games. On a turned upside-down Lions team all season, Goff has completed 67.0% of his passes and has thrown for 17 TDs/8 INTs this season…working with pure garbage at WR the 1st-half of the season.
Now, Weeks 13-15, Goff has a more decent WR group, and it shows…
I'm not an Amon-Ra St. Brown (8-90-1/11) fan, as a scout, but he's a capable slot/good hands WR that's piling on the targets and numbers.
St. Brown has more space to work since Josh Reynolds (6-68-1/6) has come in and given the Lions a legit downfield WR threat defenses have to account for. Reynolds has 68 or more yards in a game in three of his first 4 games as a Lion. If you take Reynolds 4 games in Detroit time 4 for a projected (old) 16-game season. His pace would be: 64 catches, 1,036 yards, 8 TDs.
 -- I'm not worried about Kyler Murray (23-41 for 257 yards, 1 TD/1 INT, 4-3-0) beyond always worrying about any FF player who hasn't been great two weeks in a row. I don't see anything glaringly wrong on tape, but 3 TDs/5 INTs in his last 4 games is worthy of some worry.
He should be fine for Week 16…but if Indy controls the ground and reduces Kyler's possessions, it could be another 'meh' Kyler at the very wrong time.
 -- No DeAndre Hopkins this week, the first time Arizona has played with Hopkins out the rest of the season for sure. So, where did Kyler go to as his best options?
Looks like Christian Kirk (9-94-1/12) is the winner in the Hopkins-gone sweepstakes. Kyler has spent three years with Kirk, and Kirk is really good, so it only makes sense.
A.J. Green (4-64-0/8) still have a weird connection…every other pass they are not on the same page. AJG is more a nice #2, not the alpha #1 here.
Zach Ertz (6-74-0/11) is likely to take more target share too as a reliable over the middle pass Kyler loves to utilize. Maxx Williams was emerging in that before he got hurt, and now Ertz can take it to another level.
Antoine Wesley (3-19-0/8) got good targets here, but he's a #3 WR…#4 most favored option in the WR-TE mix.
Rondale Moore (3-9-0/3) is fading into the background…another promising, small-speedy WR weapon gone to waste under Kingsbury. Rondale is being 'Isabella'd'.
 -- James Conner (8-39-0, 2-31-0/2) didn't look hurt. He just looked ineffective running the ball in key spots, as is his norm…and then the game script got away, and the run game was ditched. It's a risk every week, but the Cardinals are so into Conner you just FF-play him every week without question.
 -- Well, we waited weeks to use Arizona-DST vs. Detroit, and we got smacked in the face for it. It seems to be the way of the DST world…everything is going along as planned, and then a big underdog rises up and plants 30+ on the previously dominant favorite.
I don't know how we can trust Arizona-DST vs. Indy in a dome, and vs. Dallas in a dome. Two of the best O-Lines with good QBs. It's still a good defense but given their recent run and the two opponents ahead…there's better out there to work with.
 -- Detroit-DST vs. ATL this week is probably as hopeful as ARI-DST v. Indy.
When the Lions have faced weak QBs, they've been good…
Week 4 at CHI = allowed 24pts
Week 10 at PIT = allowed 16pts
Week 11 at CLE = allowed 13pts
Week 12 v. CHI = allowed 16pts
Week 14 at DEN = allowed 30pts…not good, but then followed that holding ARI to 12pts.
They're susceptible to good running teams…that's not Atlanta Week 16 or Seattle Week 17.
Snap Counts of Interest:
72 = Kirk
64 = Wesley
56 = AJG
20 = Rondale
12 = Isabella
33 = Conner
29 = Edmonds
49 = Brock Wright
29 = Zylstra
42 = Reynolds
12 = Igwebuike
06 = J Jefferson
**College Football Metrics 2022…new season signups coming in January 2022**
The new season of CFM will be starting up in January, as always. A little different schedule this year as the NFL extended their season by a week and the Senior Bowl was bumped back a week as well. We should have a Senior Bowl, NFL Combine…it looks like it will be a normal scouting year!
The NFL Draft, Dynasty Rookie Draft, and regular season ahead rookie analysis all gets started through CFM in January with our usual season starter -- the past two years/2020-2021 Mock Rookie Draft re-do, along with in-depth Senior Bowl analysis, and full QB scouting reports and much more as we build towards the NFL Combine and all the other positional scouting reports. Football study never ends…
Thank you for your support of CFM for the past decade now…wow, time flies.