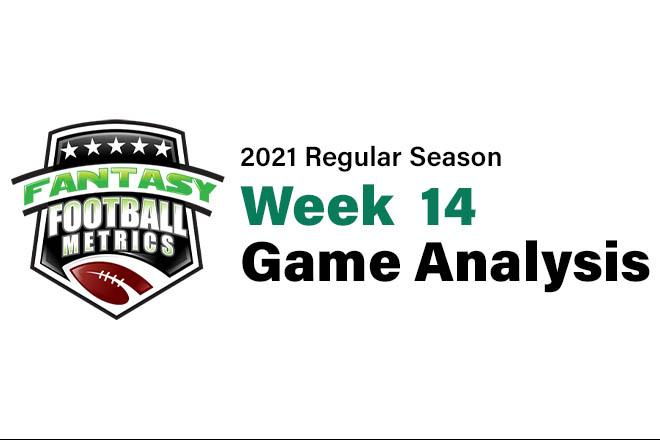 R.C. Fischer
FFM
16 December 2021
2021 Dynasty/Fantasy Game Analysis Week 14: Bucs 33, Bills 27
There will be opportunities to correct it in the future, maybe…but with this loss, I believe the Buffalo Bills have been corrupted for good. They are the fallen angels of the NFL – what was a high-potential #1 seed/Super Bowl threat a month+ ago has now become a generic wild card chase team.
It's not that this one loss is damaging their record type of complaint…that's not what I mean. I mean this loss combined with the Patriots loss the prior week is a 1-2 punch of emotional devastation that I do not believe the Bills can get back up from…not just this season, like this was a grenade thrown into this current Bills team's current and near-future. The past few weeks have derailed this current Bills iteration for good – only team mgt. won't acknowledge it and they'll try and hang on with the current group way too long before making wholesale changes.  
Bill Belichick is such a luminary…and the Patriots have been such a gold standard of crushing the AFC East under its heel for two decades, but then Buffalo broke the streak of excellence and won the AFC East in 2020. It seemed like the Bills would be the new power for years to come. And then less than a year later, Belichick with his rookie QB went to Buffalo and out-toughed and outsmarted the Bills to win a pivotal game launching the Patriots strongly into 1st-place in the AFC East.
The follow up/next week's game could not be worse for Buffalo…this game with Tom Brady, who was also a main reason why the Bills and the AFC East were dominated all those years. If the Bills could bounce back strong and beat Tampa…then the Bills would have shown they can shake off a bad weather game loss as a fluke and are ready to take back the AFC East over the next 4 weeks. It was an 'everything' you'd want to know about the soul of the Bills type moment here in Week 14.
So with that…the Bills came out flat, scared and down 24-3 at halftime…and you knew it was over…over for the game, over for the franchise being an AFC beast. But then the Bills chipped back into the game in the 2nd-half and miraculously tied it with seconds remaining – the Bills were trying to win their soul back from the brink and had sent it to OT.
The Bills won the OT coin toss and it looked like they were going to save their soul after all. Nope. Three and out, and then you knew Brady would waltz down the field to win it on his first attempt…and he did. The Bills soul was dealt another death blow.
You can see it in Sean McDermott's face in these big games. He's on the sidelines looking like a nervous, uncomfortable, agitated adult about to give a public speech from a podium having never done so before in their life. He looks super-nervous, to me. The past two weeks, he moves around the sidelines differently than in other games. He was visibly rattled v. Belichick Week 13, right away…and the team took on the coach's uptightness. And then in this game the team came out flat vs. Tampa, but then rallied back (when there was not as much pressure) and McDermott starts acting strange…too fired up, too holding his breath in the big moments. I think it all rubs off on the team…he's not their chin up, fearless leader. He's just another nervous football nerd who makes his team nervous, and who plays the game NOT TO LOSE. In this game, the Bills were 2-for-13 on 3rd-downs…that's a team choking…because they are better than that the past 2-3 seasons. 6-for-27 on 3rd-downs the past two weeks of pressure cooker games.
This loss was bigger than just the NFL loss in a week. I think it was the final blow to a staggering group of players. It exposed the coach who has been really solid, steady in most games…but I saw the concern with him in the playoffs last season -- he puckers up in big games, and in this NE-TB 1-2 punch of games the past two weeks, he showed it again. You can see it in his face and body language.
I respect Sean McDermott, but 'I'm out' on him as a great NFL head coach. He's a fine, good, solid, better-than-most team manager -- but I don't want him coaching my team in a huge moment, in a big game. Another idol falls.
Buffalo is now (7-6), which is an embarrassment for a team that has been mostly healthy all year. That loss to Jacksonville a while back – it was not a fluke…it was a warning, a foreshadowing. The Bills have lost four of their last 6 games. Fortunately, they have an easy schedule from here and should get to 10 wins and a wild card. And they might win a playoff game if they're an underdog, but no way they make a title run. No Tre'Davious White…no chance. No chance if Sean McDermott is on the sidelines privately quivering in big spots and that rubbing off on his team.
Tampa Bay is one of the four best teams in the NFL, and all four of those teams are in the NFC. Arizona, Green Bay, Tampa Bay are the kings of the NFL right now -- and Dallas might get up in there to make noise if they could get everyone healthy. The Bucs are now (10-3) and have an easy schedule, so they should sweep the rest of the way and wind up (14-3) and only Green Bay can give them a race.
I think whoever is the #1 seed between GB and TB will win the NFC due to the weather advantage for the homefields. Tampa Bay has the easiest path to that #1 seed now.
Please God, may we have a Tampa v. New England Super Bowl?
Fantasy Player Notes…
 -- Josh Allen (36-54 for 308 yards, 2 TDs/1 INT, 12-109-1) singlehandedly got his team to overtime from a 24-3 deficit at the half. Allen is the entire offense. The concern being for Week 15, for FF…Allen hurt his toe and it may restrict him some, get him off his mechanics that are so key (for him).
I think Allen plays Week 15, but probably throttles back his running some…but he may have to throw caution to the wind as this team is drowning, but if they subdue sad Carolina quickly, he may not have to be Superman. But this Week 15 game is going to be played at a very cold Buffalo field…which makes the passing game struggle (the drops come out from them in the cold) and if Allen isn't fully himself…yikes, for FF upside.
A bad FF-time for all this chaos to be added into the decision-making mix.
 -- I like the Buffalo passing game…when the weather conditions are favorable. I am getting to worry about it when the weather is off. These receivers drop too many passes in rougher weather and Allen inadvertently throws the ball so hard that in cold and/or rain, it can be an issue for the best of receivers…not to mention the overall shaky receivers of the Bills (outside of Diggs).
This week the weather will be 'feels like' mid-teens with some wind. Not a good projection for the Buffalo passing game…and with Allen having a not-100% toe issue.
On paper, Gabriel Davis (5-43-1/8) is becoming a nice sleeper for the Bills passing game, for FF…especially with Emmanuel Sanders faltering and out with injury. Davis has TDs in back-to-back games. If this Week 15 game was in a dome, then Davis might be a WR2 projection with Sanders out. But in the cold, Week 15, with a shaky-handed Davis…he's a shaky WR3 hopeful/risk.
And Buffalo might have colder weather games the rest of the way, so Davis has a somewhat pressured upside as a new starter with Sanders out.
 -- The Bills could use a run game with the cold weather, but their main run attack is Josh Allen…and his now gimpy toe.
When the weather was brutal Week 13, Zach Moss emerged out of hiding taking the most touches – a bigger, plodding runner in the cold. Here in this Florida game…Moss didn't see the field. He'll probably be the lead for Buffalo in Week 15's colder event…but that's only an RB3-4 type hopeful.
The Matt Breida (3-12-0, 0-0-0/1) 15 minutes of fame in Buffalo seems to have expired.
 -- Breshad Perriman (1-58-1/2) was the surprise game-winning TD throw for Brady in OT. Perriman has been a ghost most of his time in Tampa the last few weeks. I don't think anything is building with Perriman…he just had a moment.
Antonio Brown will be back next week and take back his job.
And I don't care what Bruce Arians says/hints/is on the fence about…if he was going to drop AB due to the vaxx card thing, he would have done it already. Tom Brady runs the team, and Brady will not allow it. AB has done a thousand times worse, and the Bucs were fine with signing him. This vaxx card thing is going to get swept under the rug – my prediction. Which means, Week 16…AB is back…an option for the FF playoff run.
 -- The Bills defense got pushed around by the Bucs in this game. No Tre'Davious White is killing them…now (0-2) without White. The Bills cannot be taken seriously in the playoffs without White. They will be solid against CAR Week 15, and ATL Week 17…and maybe OK Week 16 at NE. But in the playoffs, no way they can run the table without him.
 -- The Bucs-DST has an awesome finishing schedule…NO-CAR-NYJ-CAR their final 4 games of the NFL season. They are a solid DST start in each one of them.
Snap Counts of Interest:
64 = Singletary
11 = Breida
69 = Diggs
65 = G Davis
63 = Beasley
78 = Godwin
77 = Evans
49 = Tyler J
26 = Perriman
**College Football Metrics 2022…new season signups coming in January 2022**
The new season of CFM will be starting up in January, as always. A little different schedule this year as the NFL extended their season by a week and the Senior Bowl was bumped back a week as well. We should have a Senior Bowl, NFL Combine…it looks like it will be a normal scouting year!
The NFL Draft, Dynasty Rookie Draft, and regular season ahead rookie analysis all gets started through CFM in January with our usual season starter -- the past two years/2020-2021 Mock Rookie Draft re-do, along with in-depth Senior Bowl analysis, and full QB scouting reports and much more as we build towards the NFL Combine and all the other positional scouting reports. Football study never ends…
Thank you for your support of CFM for the past decade now…wow, time flies.