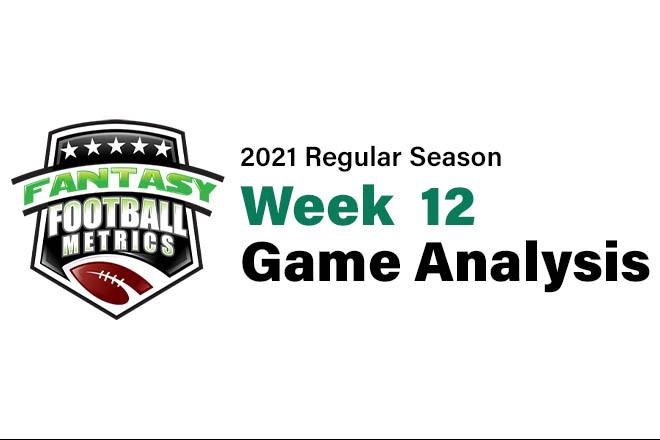 Ross Jacobs
FFM
30 November 2021
2021 Dynasty/Fantasy Game Analysis Week 12: Bears 16, Lions 13
You've got to be kidding me with this game. Anyone that has Bears or Lions season tickets...why? Can someone explain it to me? These two teams are the worst. How is it that in the year 2021, with all the amazing talent available, that these two groups are trotted out and called professional football teams? It's a crime against football.
This game was bad in case you haven't figured that out yet. Literally the worst thing I've watched all year. I can't capture in words just how boring and forgettable this game actually was. 
I'm not even going to bother with the outlook for these two "teams." Obviously the Lions are far and away the worst team in the league. Maybe they get lucky and win a game somewhere? It's going to take some luck. They are awful.
The Bears aren't much better. Maybe they win 2 more games somehow? It's possible.
Fantasy Notes
--Well, I didn't see this coming. The Lions shut down David Montgomery (17-46-0, 3-28-0/3) but how when they've been getting gashed all year? That's an easy answer. Because they stacked the line with defenders because absolutely nobody is scared of Andy Dalton (24-39 for 317 yards, 1 TD/1 INT). Montgomery needs Fields to come back and soon. The threat of the QB taking off running opens holes for RB's. I love Montgomery's schedule of run defenses left and think he could be a league winner down the home stretch.
--Now do you believe me about Darnell Mooney (5-123-0/8)? He is so good. Just note that this did come against the Lions and they were daring Dalton to beat them deep. Mooney made them pay a couple of times. While I like the schedule for Montgomery, I do not like it for Mooney. Lot of tough pass defenses coming up, and Fields isn't the most accurate passer ever. I love Mooney as much as anyone, but I don't like his situation.
--What's up with Cole Kmet (8-65-0/11)? Didn't you say he was a slug? Yes, I did, and yes, he is a slug. 
The best way I can describe him is as an even slower, stiffer version of his Notre Dame compatriot Kyle Rudolph and keep in mind Rudolph was slow for a TE when he was drafted in 2011. Kmet would have made a fine TE 15-20 years ago, in the days when Jason Witten was a thing. But in 2021 we have freaks like Kyle Pitts roaming around. The fact the Kmet is actually starting is an utter shame and yet another black mark for this front office.
All he ever does is run 5-10 yards down the field and turn around for a simple curl pass. I mean, I guess it works ok because defenses could not give a rip whether he's actually covered or not. It's not like he's going to run away from anyone. He's literally the least threatening skill position player on this offense so most times nobody even bothers with him. Dalton took full advantage by throwing checkdown after checkdown to him. Nobody else is open so why not?
Once Fields comes back I think these numbers go back to normal, 3-4 catches for 30-40 yards or so. The connection is there if you're TE desperate. Personally, I'd rather gamble on someone with more upside in a better offense like Foster Moreau.
--The best player I saw outside Mooney was former Dolphin Jakeem Grant (2-25-0/4). He made a couple of really nice plays and was absolutely the fastest guy on the field. Of course, after his two successful catches provided a spark during an offensive lull (if you can call it that during a game with a combined 29 points), Grant never saw the ball again because Matt Nagy is a subtle genius and cannot be questioned. I wouldn't be surprised though if his role grew a little bit more next week. Maybe the Bears just stumbled across their version of Jamal Agnew?
--I can't believe I still have to say this, but clearly, clearly Jared Goff (21-25 for 171 yards, 2 TD/0 INT) is not the problem for this offense. I get so tired of hearing how he hasn't won a game without the magical unicorn coach Sean McVay (whose team has lost their last 3 games while the QB he traded Goff and multiple 1st round picks for has three pick 6's in each game).
Stafford is still the exact same guy he was in Detroit, a talented but flawed QB that can't carry a team, and Goff is still the same guy he was with the Rams, a talented but flawed QB that can't carry a team. The difference between them is negligible. The only thing that changed was McVay's confidence in Goff.
Detroit can build around Goff if they so choose, and they should. He's a good QB, good enough to win a Superbowl with the right team around him. He just doesn't have remotely the right team right now. That is still probably 3 years away at best.
--Just as D'Andre Swift was getting going he hurts himself again. I'm afraid that's going to be a recurring pattern for him the next few years. Don't worry though because the team will give him a massive contract extension that they immediately regret when he misses 10 games again next year.
Swift reportedly has some kind of shoulder strain. The Lions are calling him day to day, but I'm not sure how accurate that is. We'll have to monitor the situation this week. I wouldn't be surprised if he needed a week to rest. Doubt it's much worse than a week or two though.
--If Swift is out, expect a heavy dose of Jamaal Williams (15-65-0, 5-18-0/5) because it's more important that we give the slow-ass veteran on a winless team 20 carries than see what we have in Godwin Igwebuike. The Lions couldn't care less that Igwebuike is averaging 14.2 ypc. They don't care that he ripped off a 42 yard run three weeks ago, and they don't care that he took his single carry here for 11 yards. Nope. We need more Williams plowing ahead for 2 yards! That's how you win games, by being tougher than the other guy and biting kneecaps or something...
If Swift really is out though, I imagine we see a small handful of carries from Igwebuike and Jermar Jefferson, but it also wouldn't surprise me if this idiotic coaching staff gave more of them to Jefferson for some stupid reason like "he's more experienced as a RB" as if that matters when you're 0-10-1. IF for whatever reason Igwebuike does see significant carries and does something with them, he's still getting buried the second Swift is back. And is anyone around the league paying attention to this exciting, safety to RB convert and getting ready to snatch him away? Not a chance.
--It took Josh Reynolds (3-70-1/5) all of a week to establish himself as the #1 WR in Detroit. But you know, practice and experience, and learning the playbook and stuff...that's what's holding back OBJ! 
Reynolds is just a very good receiver and should pair nicely with Goff over the next couple seasons. He probably needs to be the #2 guy for a real stud next year. Don't know if he can handle some of the better CB's. Chicago just happens to not have any real corners, thus Reynolds's nice day. It's a prayer in redraft but maybe you can get away with him as a flex some weeks? The volume is so low that I'm not really comfortable with it, but having the true #1 for any team is worth a little something.
IDP Notes
--Dean Marlowe (10 tackles) popped up with a nice fantasy game here. He got the start at safety after starting safety Will Harris had to move to nickel to replace the injured AJ Parker. Parker just got put on IR so this could be a good opportunity for Marlowe the next 3 weeks, but we'll have to see if Harris stays at nickel with rookie Ifeatu Melifonwu returning from his stint on IR. With another healthy cornerback, Harris might be free to return to his more natural safety spot which would push Marlowe back to the bench. We'll have to watch the reports this week about who is practicing where to get an idea of what to expect.
If Marlowe does get another crack at the starting safety job, I'd expect solid numbers from him. He's got good size, decent speed, and hits like a load of bricks. The Lions get run on an awful lot too which provides lots of opportunities for the safeties to rack tackles.
Snap Counts of Interest
31 = Jamaal Williams
5 = Jermar Jefferson
4 = Godwin Igwebuike
61 = Darnell Mooney
53 = Damiere Byrd
32 = Marquise Goodwin
19 = Jakeem Grant
59 = David Montgomery
10 = Khalil Herbert