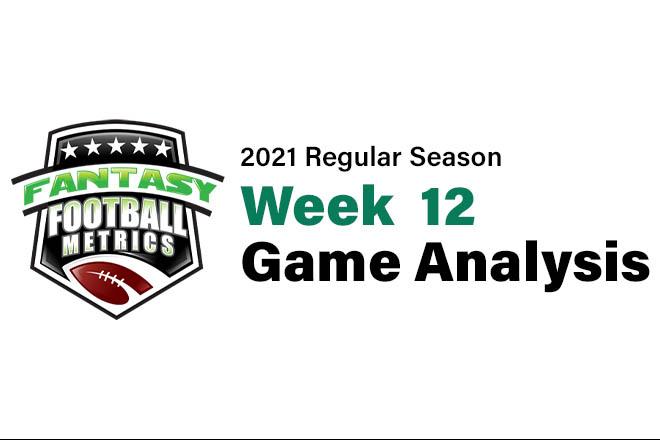 R.C. Fischer
FFM
29 November 2021
2021 Dynasty/Fantasy Game Analysis Week 12: Bills 31, Saints 6
My best bet of Week 12 was Buffalo to bounce back from the somewhat fluky Indy loss Week 11 to destroy the Saints. I believed this because the Bills were ringing up as one of the 1-2-3 best teams in the NFL in our studies/data, but more importantly we saw the Saints totally and utterly dying as a team – a collapsing defense, Siemian as a fraud, and no Alvin Kamara (or Ingram) which means they lost their entire offense…that team going up against a very good Bills team in a dome/perfect weather environment = money on the Bills. And it was. I love it when a plan comes together.
No sense in analyzing this game in any minute detail, as far as the teams and the game flow went…Buffalo took control early, the Saints fought as much as they could, but the dam broke after halftime and the Saints were powerless to do anything about it. Justice was served.
The biggest news from the game is negative for the Bills, a nice blowout win on Thanksgiving gets tainted by the news that Tre'Davious White tore his ACL and is done for 2021 season. That is a MASSIVE blow. I think the Bills would take a Deal or No Deal option to magically make this game a loss but in exchange for keeping White healthy the rest of 2021. To me, most of this season, I was a proponent of the Bills as the best team in the AFC and heading to the Super Bowl. But now I am not. Losing White is devastating. The Bills have a wobbly O-Line, a limited run game, but they do have an ace QB and top defense…well, now that defense is chopped down to size. Now just 'good with flaws' on defense. Because they have Josh Allen, they have a chance…the same way KC always has a chance with Mahomes, Green Bay with Rodgers, etc. – but I thought Buffalo was a step better than every AFC contender…not anymore.
Buffalo projects to win the AFC East, but now tighter in the race with the Pats. In fact, I'd say it's close to 50-50 on the Pats v. Bills to the finish line in the AFC East. The #1 seed hope for Buffalo is slipping away, but still possible because KC has flaws…Tennessee has a huge IR list. The AFC North is a fraud. The Chargers haven't found their groove yet. The Patriots are suddenly the Bills biggest threat for the #1 seed…and thus the AFC East title. It's going to be a Battle Royal of flawed teams to the finish in the AFC, and none are better than Arizona or fully healthy Green Bay or fully healthy Dallas.
The Saints season is about done at (5-6). They can't win with Trevor Siemian. I expect Taysom Hill will take over when he can, but not sure when he can…and it's probably too late to save the season. The Saints will stammer and stumbled to around 8 wins. They could get to 9 wins if a healthy Taysom gets in Week 13 with Kamara back but that's the highest upside possible. This is a really bad, fading, too injured Saints team right now.
Fantasy Player Notes…
 -- Just to theorize on it… Taysom Hill (DNP) sounds like he will start as soon as he is cleared of his foot injury, but it's all very murky. Hill practiced in full all week and then never played a snap here. Either Payton wants Siemian to shine (and he keeps dimming) or Payton is trying to get Hill to 100% along with 100% Kamara-Ingram to make a run at the playoffs…and those things may all line up this week for Week 13.
If Hill takes over as the starting QB, he will be a QB1 in 4pts per pass TD.
Kamara-Ingram run their same duo backfield with no worries with Taysom.
Marquez Callaway (2-24-0/4) might be Hill's favorite WR but more likely he'll spread it around due to a lack of real great/obvious options.
 -- Josh Allen (23-28 for 260 yards, 4 TDs/2 INTs, 8-43-0) is experiencing some of the same issues Patrick Mahomes is facing…a weak offensive line pass protection and Allen/the QB trying to do everything by himself because the QB IS the offense for these two teams. So, Allen's turnovers, like Mahomes, are going up and people are concerned week-to-week.
You just have to live with it for Fantasy Football…live and die by them. They are too good when things go good. The top Qbs are having more bad games this season than normal…all you can do is ride them as far as they will FF-take you
The one interest pique I have now with Allen…if the Bills defense is brought down to good (from great), then will there be more shootouts, more offense needed…more losses/deficits and junk passing…versus Bills up huge and Mitch Trubisky coming in 4th-quarter to put it to bed. This could be nice for Allen to have to elevate his output.
Or will the reduced defense reduce Bills possessions and force Allen down, or has him gambling even more (like Mahomes has been)?
That Week 13 game hosting New England is going to be a HUGE tell for forecasting the future on the Bills.
 -- There were all kinds of whispers/shouts about Matt Breida (9-26-0, 2-29-1/2) getting more work this game, and it was true. Zack Moss benched/inactive and Breida with his most touches as a Bill. My point on that all week – it's something to observe/consider, but when has a Buffalo Bill RB mattered for FF in the strong Josh Allen era? They haven't.
So, Devin Singletary (15-44-0, 1-4-0/1) started…got more work…was FF boring, as usual…Breida was a backup rotating in and was boring (but better than nothing), and Breida got a late screen pass TD. There was no emergence of any big Breida, or sweet uptick Singletary move…which is normal for the Bills RBs for FF.
It will likely be the same Week 13 on…an RB rotation that you don't FF-care about.
 -- Speaking of RBs you won't care about in Week 13… Tony Jones (16-27-0) had his big debut as a full starter, and he got stonewalled. Credit the Buffalo defense…and thanks to Sean Payton for not involving him in the passing game at all.
Unless Kamara-Ingram go down again…we'll not be talking about Jones again in 2021.
If you played him…you had to in most cases. 16 carries is a good day for an RB…he just did nothing with it, and then got blocked from targets apparently.
 -- We likely also won't be discussing Deonte Harris (1-9-0/5) the rest of this season either. He's the best technical WR they have…he gets open on any coverage with his amazing feet/cutting ability…but when he springs open, he doesn't have any QBs who can hit him with accuracy, so far, so he's going to waste.
And now he's been suspended three games for an offseason DUI, so thus he's useless for FF 2021 the rest of the way.
 -- Dawson Knox (3-32-2/3) has leapt past Cole Beasley (5-46-0/5) and Emmanuel Sanders (3-28-0/3) as Josh Allen's second favorite target. This has gone from a cute 'he's available/open in the end zone' to legit, consistent FF work. Ross Jacobs calling Knox the potential Kelce option for Josh Allen in the preseason had a lot of merit…but I brushed it off because I didn't think Knox had good enough hands and that they were pursuing Zach Ertz anyway. But now Knox is pushing Kelce for top FF scorer at TE (PPG) all the sudden this season.
The good TE with the elite QB is always a thing not to take lightly…especially if they worm their way into a #2 position in the QB's heart.
 -- What do we do with the Buffalo-DST now that Tre'Davious White, their heart and soul on defense, is gone for the season?
Well, first off…the schedule ahead is more rough than forgiving…
Week 13 = NE
Week 14 = at TB
Week 15 = CAR
Week 16 = at NE
Week 17 = ATL
If NE is now an unfavorable matchup, or even just 'neutral'…and you definitely don't want that Tampa Bay matchup…then are you willing to hold the Bills-DST for the Weeks 15 and 17 opportunities? The NE-TB schedule next two weeks could be 'meh'/weak and then we'll lose faith in the Bills defense by the time we get to Week 15.
If you can hold on to them to use them for Week 15, then great…but then if Week 16 is expected to be not great then they are no good in three of their next 4 games – how can you hold onto that?
I'd like to take a look at them vs. New England this week…probably on my bench while I stream something else, if available. If they take it to NE…then if you can get past Week 14 with them on the bench, then Weeks 15-17 will be optimistic/favorable. If they get whacked by NE Week 13…then we got some problems ahead. Let's see how Dane Jackson fits in (but he's not close to White), and then decide next week. if you need to bail because you can't hold onto two DSTs, I get it…then move on.
Snap Counts of Interest:
45 = Singletary
21 = Breida
45 = Tre'Quan
34 = Callaway
27 = Lil'Jordan
23 = Deonte
29 = Ty Montgomery
21 = Tony Jones
24 = Juwan Johnson
21 = Vannett