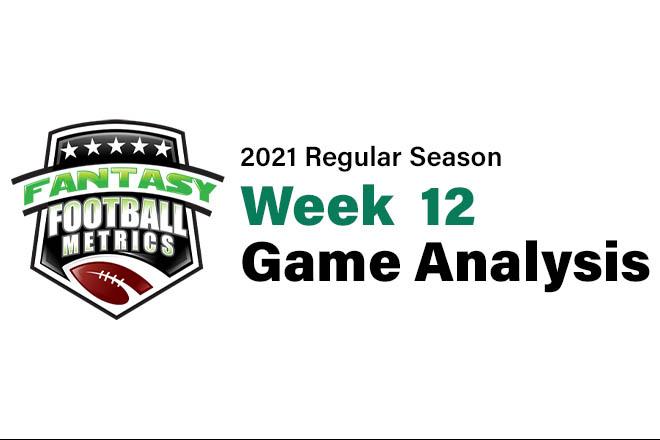 R.C. Fischer
FFM
01 December 2021
2021 Dynasty/Fantasy Game Analysis Week 12: Jets 21, Texans 14
These are two bad teams, for sure, going nowhere in 2021…but I appreciate that they played with effort and heart to the wire here. I won't nitpick the minor details of the two teams/the game flow here, it wasn't that well played or that important…besides for draft positioning, in which case the loser here is really the 'winner' here.
The Jets get the NFL win to jump to (3-8), and likely secure the #4 pick in the 2021 NFL Draft behind DET-JAX and now HOU. The Jets will probably beat Jacksonville Week 16 to cement their #4 draft position…a loss could get them a chance to be in the top 3 picks.
Houston falls to (2-8) and is now fighting for the #2 pick in the draft. If they beat Jacksonville (again, beat them Week 1) in Week 15, then it probably locks in the DET-JAX-HOU-NYJ 2021 Draft order. Still time for Chicago (4-7) to try and get into the top 4 draft pick race...which is owned by the Giants so that the Bears could secure the illustrious Justin Fields.
This was a fun watch, and I have a few observations…but I didn't expect to actually catch the vapors off one player here in particular. Someone that stood out/caught my attention/got me excited about their prospects. I will reveal and discuss that player last of the player notes.
Fantasy Player Notes…
 -- Zach Wilson (14-24 for 145 yards, 0 TDs/1 INT) played, perhaps, the worst football of any QB this season for about a half of play here. But just as I was writing him off, he got things back together and helped lead the comeback effort (the Texans led 14-3 early). Early on, Wilson was overthrowing, misfiring, forcing everything…it was brutal.
Wilson is not impressing me much, and I was very 'pro' his prospects, as a scout, going into the 2021 NFL Draft. Every so often he flashes skills in-season that only he possesses (arm and velocity and precision)…but mostly he's wildly inaccurate and trying to force bigger plays vs. taking easy stuff short to move down the field, and it's not working out so well.
4 TDs/10 INTs this season for Wilson…that stats aren't 'lying'.
I wouldn't be shocked if Joe Flacco takes back over. Wilson is not ready. He needs a serious QB coach to help him or stick a foot up his bum.
 -- Wilson's issues helped pour cold water on Elijah Moore's (4-46-0/8) recent hot streak. Moore is a WR3 with Wilson…WR1.5-2 with Flacco.
 -- The Jets ran with a heavy dose of Tevin Coleman (16-67-0, 2-3-0/3) as the lead back, as expected…and, well, you see the results. This was the best matchup that Tevin or any Jets RB is gonna get and a whole lot of 'bleh' for FF output.
Ty Johnson (6-42-0, 0-0-0/1) lost his PPR mojo due to Zach Wilson returning to the starting QB spot.
Austin Walter (6-38-1, 0-0-0/1) caught my attention with high effort running, up off the practice squad and rotating in some this game. It was exciting watching him grind for a moment live on Sunday, but rewatching it back…not that exciting. Walter tries hard but is not that fast and falls down with any contact because he's so small. He's earned some touches with his effort but he's not that talented.
I thought Walter might be the out of nowhere RB this week, but I'm downgrading him a bit to honorable mention for that label this week.
 -- Rex Burkhead (12-27-0, 3-27-0/3) got more workload again this week but did nothing with it because he's a worse athlete (at this stage) than Austin Walter. Terrible O-Line and slow Rex…not a good combo for FF. This was also as good a matchup as a Houston RB could want…and you got little/nothing for it.
 -- Rookie TE Brevin Jordan (3-23-1/3) is getting a little more involved every week. He's not great, but he's something. He's trying to be a TE2 that you could hope has a game flow go his way for a 4-5 catch game ahead or, like here, lucks in for a TD. Once Jordan Akins returns it might be a lid on Brevin's output for now.
Jordan is a mediocre talent, but someone has to catch passes here.
 -- I'm not saying the Houston defense is good or anything but they're not terrible. Just 17.0 PPG allowed the last three weeks.
DE Jonathan Greenard (2 tackles, 1 sack) has been on a sack tear all season, but now OLB Jacob Martin (2 tackles, 1 sack) is getting in on the sack party. Martin had just one sack his first 8 games of the season, but has had a sack in each of his last three games including two forced fumbles. He's a good athlete that may be starting to 'get it'.
 -- The player that really caught my attention here?
Nico Collins (2-28-0/5) looks really, really good running routes now. He looks confident and very quick…very quick for his size.
In the preseason, I was worried that he was going to be neutralized from upside due to his surroundings (Houston QB play), and that may be true for the next year or two – but that dude can move/play. He's like a bigger Rashod Bateman all of a sudden…quick feet into short and medium routes. And he's an end zone master…I've seen it in college and at the Senior Bowl…he's 6'4" but moving around like he's a 6'1" speedster. I'm back on board/interested in Collins for the future…to a point/price.
He may even hit in the next week or two for an FF-moment. He had two shots at TDs in this game. Tyrod threw him an interior slant for a 15+ yard score, but Collins got held on the play/developing route (and PI called). Later, Collins beat a double team to the end zone on a 30+ yarder floated to him, but Tyrod overthrew it by 3 yards.
There's hope here all of a sudden.
Snap Counts of Interest:
47 = Cooks
37 = Collins
29 = Conley
34 = Ph Brown
34 = Brevin
30 = Tevin
23 = Ty J
16 = Walter