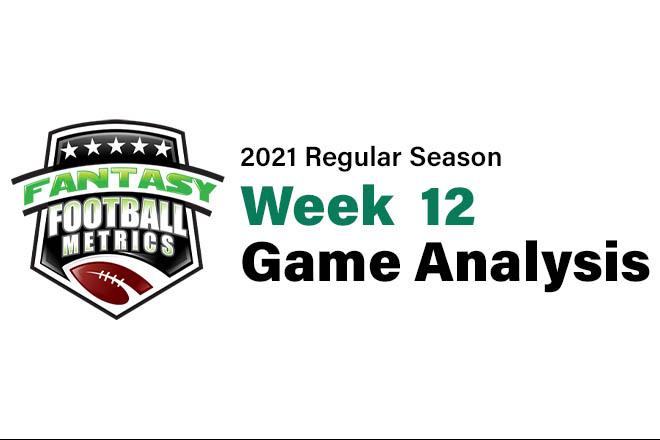 R.C. Fischer
FFM
03 December 2021
2021 Dynasty/Fantasy Game Analysis Week 12: Bengals 41, Steelers 10
No big game detail examination needed here. The Bengals kicked the Steelers arse from the opening bell. This was never a game. It was a sad affair, actually. It was already true, but this game kinda marks the official timeline where the Bengals shift into becoming more of an AFC North power…and even more marks the end of the Steelers run as a 'good' team…as a 'respected franchise'.
The Steelers are one step ahead (for the good) of the Atlanta Falcons…i.e. teams that are secretly one of the worst in the league, and they have a respected, veteran QB past their prime (a la the final years of Eli Manning) that they have a hard time admitting are 'done'.
Once the Steelers, for example, ditch Ben (or more likely he ditches them/retires) then it really means 'it's over'…the decade long run as a top/respected team is over. I mean, it's already over/been over…but when Ben is officially 'done' it's like the dot on the 'i'. The Steelers are trying to fight that reality…they hope against hope…they give the long-time stellar employee that one last chance to save them – but they can't. Eli ended like that. Ben is now. Matt Ryan is as well.
It happens to all the great ones, eventually. The Steelers, as we projected in the preseason, are dead/going to finish in last place…are the weakest team in the AFC North, and as a bonus – they have no franchise QB in sight and their O-Line is devastated. Some lean years coming to Pittsburgh. And no free agent with options is going there willingly. The first person who types an article on 'the Steelers should go get Deshaun or Rodgers or Russ' should be shot. The last people to realize that no one cares about the Steelers rich history…are delusional fans cheerleaded on by the delusional local media.
Steelers fans…go look at the New York Giants for the past 3-5+ years. They're a joke, a shell of what they used to be -- but they think they're still an NFL elite franchise 'name', a desired destination by one and all.
The Steelers are (5-5-1) on their way to 6-7 wins at best, and last place in the AFC North.
What's happening to the Steelers is happening in reverse to the Cincinnati Bengals. We're all so used to the Bengals being a joke, that we can't wrap our minds around them as the power in the AFC North for the future. As delusional as the Steelers fans are, the Bengals fans are the reverse…they can't hardly enjoy this season, their rise because they're waiting for the other shoe to fall and wipe them out and force them into last place.
If you had to bet on one team from the AFC North to win the most division titles the next five years – you would make that bet with the Burrow's…I mean, Bengals.
Cincinnati has beaten the Steelers twice this season, by a combined 65-20 score. Cincy beat the Ravens, at Baltimore, by 24 a few weeks ago…and only by 24 because they pulled their starters late in the game. The Bengals are a 'drafted Penei Sewell instead of Ja'Marr Chase' away from sheer AFC North dominance. They may achieve it anyway…partly because all the other teams are collapsing…and the Ravens are the luckiest team in the NFL right now. The Ravens are (8-3) and they are very lucky they are not (3-8) right now. Some of their wins have been miracles…some against the worst teams in the league.
The Bengals are (7-4) and are my 51/49 pick to win the division from here (over BAL). I think the Bengals are way better than the Ravens, but the current schedule and standings gives Baltimore a great shot to take the division. If the Bengals go and smoke LAC this week, then you really have to take this team seriously as a team 'you don't wanna play'. Tough schedule ahead but they should get to 10 wins and that giving them a shot to win the AFC North, assuming they beat Baltimore Week 16 for a clean sweep of the Ravens in 2021. The Bengals are not perfect by any means…just better than everyone else in the division.
Fantasy Player Notes…
 -- Big Ben (24-41 for 263 yards, 1 TD/2 INT) threw a pick-six early and it just stayed bad from there. Eventually, the game got so out of hand that as backups rolled in and the Bengals main guys were yukking it up on the sidelines Ben finally put some numbers up late and his lone passing TDs.
It's all Ben has to offer anymore…prayer throws, and junk time hopes.
 -- Ben's issues continue to have this FF-affect…
1) Diontae Johnson (9-95-0/14) is Ben's most trusted look…and even if he starts slow, when the junk time comes around…Diontae is his main man in general.
And Diontae is in real trouble for the same role/targeting when Ben leaves/is dropped next year. One of the top 'sells' for Dynasty offseason 2022.
2) Pat Freiermuth (4-40-1/4) is Ben's trusted red zone, end zone option…and he faces a weak-against-the-TE Baltimore defense this week, one that has played Diontae well – DJ has never had more than 54 yards in a game v. BAL and has not scored a TD against them in 4 career games.
3) Chase Claypool (3-82-0/8) is your WR3/flex hail mary option…Ben flings him prayers, and all it takes is one for CC to land.
 -- Najee Harris (8-23-0, 3-14-0/5) has looked not-good this season, but it doesn't matter because he gets the volume to make up for it.
If the Steelers don't find a QB and don't fix their O-Line…he's going to be a fringe RB1 ahead. If they can get an O-Line…Harris can be a high-end RB1 on volume and production. He's a straight-ahead runner that needs straight ahead holes to run through.
Either way, he's an RB1 threat…with the worry that he has a Josh Jacobs career arc. He'll likely be in the list for the #1 overall RB/player taken in 2022 redrafts. Keep and use him if you wish, but if you ever entertain a trade-off…just know he's the apple of everyone's eye. You should get a ridiculous amount in exchange for him.
 -- Let's finish out the Steelers notes with defense talk…
This Steelers-DST looks dead, even with T.J. Watt playing. No Haden, no Watt possible this week…and that's even worse.
Alex Highsmith (5 tackles, 2 TFLs) is emerging out of this mess. 8 TFLs in his last 6 games.
 -- Joe Burrow (20-24 for 190 yards, 1 TD/1 INT) didn't have a great FF day but he didn't need to…the Bengals whacked PIT right away and they just ran Joe Mixon (28-165-2, 4-0-0/4) over their downtrodden souls.
It's possible Najee is the 3rd-best back to have for Fantasy in 2022…in his own division.  
 -- Tee Higgins (6-114-1/8) had his best game of the season…finally. It's been a choppy season for Tee, but he missed a few games and went on a TD drought…but he's a back-end top 25 PPR PPG WR this season to date.
Since Ja'Marr Chase (3-38-0/3) cooled off starting Week 8 (under 50 yards rec. four straight games), the top PPR WR since Week 8 for Cincy is Tee not Ja'Marr.
Since Week 8:
13.6 PPG = Higgins
10.5 PPG = Chase
09.4 PPG = Boyd
 -- I know people still do not take the Bengals seriously, in general, because every time I pitched them as a legit DST to start last week…there was nothing but groans or no visible reaction/excitement. People still (over)respect Ben/the Steelers and totally discount how good the Bengals defense is. I've been carrying the torch for Cincy's defense as 'good'…top 5-10 good in the NFL…all season.
Last week, for projections, I was more excited about 'v. Ben/PIT' than I was 'Bengals D'. You have to look at the Steelers offense as 'to target' for opposing DSTs and we also all need to respect the Cincy defense. All that said, Cincy's only real worthy DST start the rest of the FF season is Week 15 at DEN, and that's not amazing but viable/hopeful.
 -- As always, the best way to wrap up a Steelers game analysis: https://youtu.be/rJVAbIz2h_w
And you get a bonus this week, showing how low this franchise is falling and the fans are realizing it ahead of their local fawning media: https://youtu.be/EsF7gZtg94I
Snap Counts of Interest:
61 = Claypool
61 = Diontae
27 = J Washington
25 = Anthony Miller
52 = Boyd
52 = Chase
43 = Higgins
22 = Stanley Morgan