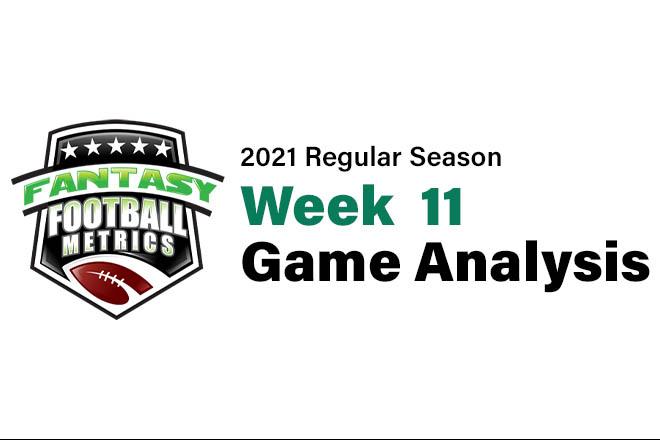 Ross Jacobs
FFM
27 November 2021
2021 Dynasty/Fantasy Game Analysis Week 11: Buccaneers 30, Giants 10
Not much to say about this one. The Buccaneers did whatever they wanted to on offense, and while the Giants tried to fight they were just no match. Tampa marched right down the field and scored almost at will. The game was 17-10 at the half but only because a Brady pass ricocheted off Mike Evans's hands straight to a defender. That set up the Giants for an easy TD, their only offensive one of the night.
I'm not sure if this was a return of the Tampa defense, which we've seen zero evidence of so far (they've been quiet bad actually) nor can I think of a reason why they might be making a turn...or the Giants are just absolute garbage on offense because Daniel Jones is a backup QB at best playing behind a terrible offensive line.
The skill position players for New York are wonderful, but they can't get the ball without a QB that is decent and has time to throw. And for all you people out there that think taking Ja'Marr Chase over Penei Sewell was the correct move because Chase caught a few lucky long TD's...the day will come where you won't think that any longer. Teams should be drafting QBs and offensive linemen every year. That's the foundation of a strong offense. The WR's and RB's and TE's aren't meaningless, but you can get by without superstars at those positions if you have a good line and good QB.
Tampa jumps to 7-3 and nothing has changed with them. They are still in the second tier of NFC teams, jockeying for the #2 seed behind the Cardinals. They'll finish somewhere around 12 wins and get a high seed. Where they land exactly I don't know. Doesn't matter too much. This team is more than good enough to go on a Super Bowl run obviously.
The Giants fall to 3-7 and their NFC East dreams are dead. This offense stinks and changing coordinators isn't going to do enough to fix it most likely. I do think we could see a sudden spike upwards this week from having a fresh gameplan, but it also comes against an Eagles defense that has been getting a bit better each week. If the Giants could pull off a miracle and get this team playing to their talent level, they could for sure still make a run at the East with a relatively soft remaining schedule. Don't count on that happening though.
Fantasy Notes
--Well it appears Kadarius Toney (7-40-0/12) is back in good graces as the star receiver in New York. Unfortunately, there's still two problems with jumping on board the Toney train. 1. Daniel Jones sucks and 2. Toney is hurt again. He reportedly has a quad injury which could be a one week thing or it could be several weeks. We'll have to see. In redraft you can probably drop him for the moment if you need the bench spot. He's been on and off hurt and hasn't done much in weeks. Once he's healthy we can reassess his usefulness.
In dynasty you should be buying him hand over fist. Never overpay but this man has rare movement skills. He didn't get many yards in this game because there was nowhere to run, but just watch the way he moves. He jump cuts and everyone else looks like they are standing still. If he can keep his head on straight (a big if) he's going to be one of the best receivers in the league for the next 10 years.
--Kenny Golladay got paid and now he's done working. He's barely even trying anymore. It might actually have more to do with how awful Jones must be to play with, but regardless the connection isn't great right now and hasn't been most of the year. I don't think you can play him with any confidence at the moment.
*RC NOTE: Little confidence this week, BUT with Toney out and a new O-C...I have some kinda hope that Golladay can get overfed targets this week. 
--Saquon Barkley (6-25-0, 6-31-0/6) is moving as well as ever, but he's suffering from the same problems. No offensive line and his QB sucks and so the defense just stacks the run. In addition he's now dealing with an ankle injury after finally getting healthy last week. He's gotten in limited practices this week, so we'll have to see if he can suit up this weekend.
--Only two things have changed with the Bucs offense.
 1. Rob Gronkowski (6-71-0/8) returned from his injuries and picked right back up where he left off. He's a top 5 TE as long as he's healthy. 
And 2. Ronald Jones (8-33-1) is finally out of the doghouse and splitting carries with Fournette again. This is why I said you couldn't count on Fournette as an RB1 the rest of the season weeks ago when some analysts were peddling that nonsense. Fournette is still a nice RB2 due to his receiving numbers, but this is close to a 50-50 split again.
*RC NOTE: I think it's more 70/30, 80/20 or more Fournette/Jones. This game was under control and they let RoJo work some. If Tampa plays in games where it's more evenly matched, it will be more all Fournette. If games get out of hand, we'll see RoJo giving more relief to Fournette for the playoff run ahead. 
Snap Counts of Interest
46 = Rob Gronkowski
35 = Cameron Brate
46 = Leonard Fournette
15 = Ronald Jones
44 = Kenny Golladay
35 = Kadarius Toney
34 = Darius Slayton