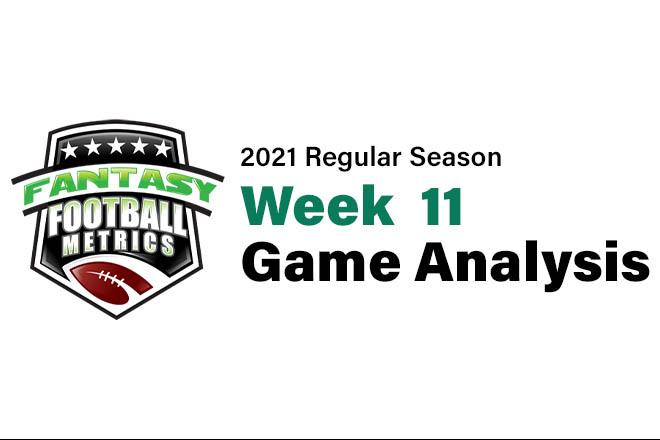 R.C. Fischer
FFM
27 November 2021
2021 Dynasty/Fantasy Game Analysis Week 11: Cardinals 23, Seahawks 13
*With the Thanksgiving week schedule complexities of the triple-header, etc., the game reports this week will be less pontificating and more 'just the facts' on players/situations we need to consider for Week 12 and beyond. I'll be back to being a blowhard next week, I promise.
I remembered this game being more of an Arizona beatdown of Seattle, from the live watch/memory. It really wasn't, per se. It was a lot closer in 'style points', as I watched it back…'style' a loose term…it wasn't a football clinic on either side.
It came down to: The Arizona defense is the best in the league, and they constantly saved the day and held Seattle's offense down…while Colt McCoy played efficiently, and Arizona 'escaped' with a win. Arizona was the better team here, but there were several moments where Seattle had their chances to seize the momentum – but that Arizona defense…so good.
Seattle put up a fight, but they just don't have the O-Line to have any room for error…especially against top teams. Since Wilson returned, they've played two of the best teams/defenses in the NFL – Arizona and Green Bay. They lose here and fall to (3-7) and out of the playoffs for all intents and purposes.
If I were Pete Carroll, I'd try and rally my team that if they just go out and win Week 12 at WSH, then they aren't dead yet. If they beat Wahsington (win #4), they also have HOU-CHI-DET to come…which (hopefully) gets them to 7 wins.
That leaves three other games remaining that I haven't mentioned…hosting SF (winnable) and at LAR, and at Arizona. If they were to beat Washington Week 12 and then smack SF with the Seattle home crowd help, then they get to (5-7) and then play Houston…so, they COULD be (6-7), winners of three straight, going at LAR with the season on the line Week 15, because after that game it's very winnable games with CHI-DET. Week 18 at Arizona could be meaningless for Arizona. Seattle has a chance.
All that to say, the Seahawks should have some energy on Monday Night Football at Washington. Win that, and Seattle's not dead yet – which is why their DST might have hope ahead if they win their next two games (HOU-CHI-DET) on the schedule to come. Never count out Russell Wilson.
Arizona arm-wrestles their way to (9-2) with this win, winning 2-of-3 McCoy starts. They are on a Week 12 bye and will then get back Kyler-Hopkins and they will be the best team in the NFL ready to take on the world Week 13 on. They should finish with 13-14 wins…15 wins not out of the question. Kyler is one of the best QBs in the NFL now. Their defense is arguably the best in the game. The NFC #1 seed is theirs if Kyler stays healthy.
Fantasy Player Notes…
 -- First offensive play of the game, Seattle with possession, Rashaad Penny (2-19-0) starting…and I'm flipping out with excitement at this sudden development. He gets a handoff and blows right past everyone for an 18-yard run and I'm like (during the live watch Sunday): Finally, it's Penny time!
Nope.
He doesn't see his next touch until the 3rd-quarter. I've heard he got nicked up on the 1st play…which is par for the Penny course, but he looked fine upon his return…so I don't know that he was hurt that bad. I have to assume he got nicked up. No way they would sit him after giving him a surprise start and seeing that first carry was their best carry by a Seattle back since like Marshawn Lynch's playoff TD run vs. Saints years ago. https://youtu.be/r18lHPDMNFE
Perhaps that was a little generous to praise Penny's random Week 11 tote in that Marshawn light…but it's been a while since you could get excited about a Seattle RB. Actually, it's been a while since you could get excited about Penny. Every time you do, the rug is pulled.
But…if I see him back practicing in full, I'm in. In fact, you'd be smart to sit on him this week even if he's questionable or inactive. I think the moment he's ready to go, he's going to be the lead back for the rest of the season (if he can stay healthy) – he is the only back who could bring life to this offense. And IF he ever does get a run as the lead – he might be the RB1 for FF at just the right time for you.
Now, he's more likely going to slip on a banana peel and go on IR the rest of the season – but IF he can take advantage of his 19th chance…running into his free agency 2022…maybe just maybe…
 -- Rondale Moore (11-51-0/11) got a ton of short targets, which is what I want to see…but he really didn't do much with them. He looked good, nimble, but Seattle closed on him with every short shot, and he had little room to escape. He danced around for an extra yard or two, nicely, on various short tosses…but no 'big' plays.
I don't think the Cardinals are now going to target Moore 11 times a game going forward. This was a Colt McCoy thing. Moore was available. McCoy was working safe. Seattle was worried about the outside WRs and James Conner. Moore had a ton of targets, but it wasn't anything special.
Zach Ertz (8-88-2/9) looked more like a plan, more like a dominant weapon than Moore (albeit in a different way). This was really good work by Ertz…but, again, I think this was a McCoy thing, and a 'it was there' thing. And it was a…Seattle not great vs. the TE thing.
Watching McCoy use Ertz and RoMo effectively, made me think…McCoy was using Christian Kirk (2-25-0/4) more his first two Kyler-fill-in starts…and A.J. Green (4-78-0/7) made some plays here – the Cardinals are loaded with options and the QBs are using them as the matchups/opportunities dictate. The Cardinals passing game is not like GB or MIN…everything to Davante or Jefferson. They spread it around and hit you from all different angles.
It's why DeAndre Hopkins isn't a WR1 anymore. He's not lost any skill…it's just Arizona comes at you differently game-to-game, drive-to-drive…because they can. Having Ertz only makes it more maddening for the opposing defenses. Rondale is just another punch they can throw as needed.
None of them are a WR1 in 2021.
And it's why Kyler may be the most lethal passer in the NFL these days. Not only is Kyler great, but he also has five legit options to use at any given moment.
 -- Russell Wilson (14-26 for 207 yards, 0 TDs/0 INTs) has no TD passes in two games since his return, but he has faced two hot NFL pass defenses upon his return – ARI and GB. Wilson had his chances here. He hit D.K. Metcalf for a score, but DKM just stepped out of bounds, reversing the TD call. Wilson looked totally fine and normal Russell to me. He has a bad O-Line, so he's having to work for the most basic of things…kinda like Mahomes and J. Allen and Dak (without Tyron) have to because of their O-Lines, against good defenses. Russ looks fine otherwise; I think this was weak O-Line meets top NFL defenses at the wrong time.
Wilson is due a 300+ yards, 3-4 TD event…and it might be this Week 12.
Snap Counts of Interest:
18 = DeeJay Dallas
18 = Collins
08 = Penny
05 = Homer
42 = Everett
25 = Dissly
04 = Parkinson
63 = Wesley
61 = Kirk
57 = AJG
32 = Rondale