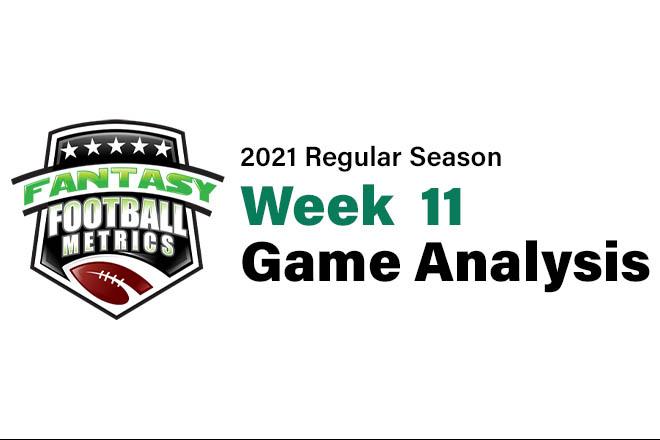 R.C. Fischer
FFM
25 November 2021
2021 Dynasty/Fantasy Game Analysis Week 11: Dolphins 24, Jets 17
*With the Thanksgiving week schedule complexities of the triple-header, etc., the game reports this week will be less pontificating and more 'just the facts' on players/situations we need to consider for Week 12 and beyond. I'll be back to being a blowhard next week, I promise.
Watching this game, honestly, I couldn't tell you who was the better team. I mean, Miami was supposed to be…but they looked equal to or lesser than the Jets…to me. Take that for whatever it is worth. Had the Jets not missed two field goals in the first part of this game…it might have been a different game/flow had the Jets got a lead to protect…but the Jets were behind by a score all game, catching up then falling back again.
Neither team here is all that great.
The Jets are (2-8) now, and they have a chance to steal a win or two more before the season ends…they have MIA, JAX, HOU still to go.
Miami books their 3rd win in a row to get to (4-7), and thus has some delusional/long shot playoff hopes. They have a schedule that can keep them in this. The QBs they face the rest of the season: Cam-Dimes-bye-ZWilson-Siemian-Tannehill(no Henry)-Mac J. Their final six games are all winnable. I need them to cool down to keep my Miami win total under bet to pay off. I think it will, but it will be closer than it needs to be. We project Miami with 7 wins in the end…but 8-9 wins is not out of the question.
The schedule also warrants the Miami-DST as a legit opportunity every week (except their bye) ahead.
Fantasy Player Notes…
 -- Miami did their normal offense…baby throw offense (the BTO, now coined by me this second…patent pending). Little short, growing to be 'unstoppable' quick throws by Tua (27-33 for 272 yards, 2 TDs/1 INT). When Tua can't do the BTO, when he has to stay in the pocket and let routes develop he's a disaster, but in the BTO he's getting pretty good.
My only unique Dolphins note here was – man, Mack Hollins (2-72-1/3) has been good, and deserves more targets/a better offense to work with. Did you know Hollins has 3 TDs in his last 5 games? He got lost in coverage here and Tua found him for a wide-open 65-yard score.
 -- After this game, on Wednesday of the week leading up to Week 12, the Dolphins claimed Phillip Lindsay off waivers. You only do that if you're not 100% confident in your lead running back – and/or you're impressed with Lindsay (as everyone should be).
Either way, this is an opportunity for Lindsay because Myles Gaskin (23-89-0, 3-7-1/4) is arguably the worst on-purpose starting RB in the NFL. It will likely take 1-2 weeks before we see if Lindsay can home in on the job, but it's an opportunity for sure. Reminder to self: The NFL never changes RBs they start a season with/cement as 'their guy'.
 -- I thought Joe Flacco (24-39 for 291 yards, 2 TDs/1 INT) looked totally fine, in that fill-in sorta way. He looked very capable…like a better Trevor Siemian. If Zach Wilson (DNP) flops this week…I could see Flacco going back in as a starter.
 -- Michael Carter (9-63-0, 1-2-0/1) will miss a few weeks. Who fills in?
Pre-Carter starting and with Carter down, the Jets most always put Tevin Coleman (3-16-0, -1-2-0/1) into a lead carry role and Ty Johnson (1-5-0, 1-8-0/1) holds down a passing game back role. So, all we can do is assume that's what they'll do for the next few games.
 -- Elijah Moore (1-15-0, 8-141-1/11) looked fine/good, but he was left open in zone coverage a lot and Flacco was kinda checking it down to him. There was one sweet slant that turned in a 62-yard catch-and-run score. Moore looks fine, but when I saw the targets on paper -- I was thinking he was the new #1 WR…but, after watching the tape...I'm going to pause and wait another game before saying that. He's their most talented WR, for sure. 
It still seems like the Jets wanna force it to Corey Davis (3-35-0/7) and Moore is a nice side option. A side option you have to start for FF now, until he proves otherwise.
 -- Two NYJ IDP notes…
1) Quincy Williams (15 tackles, 2 TFLs) FINALLY got back as the starter over awful Jarrad Davis and was great…per usual. He should be the starter again…I guess. If he is…he's an LB1.
2) Rookie UDFA CB Isaiah Dunn (7 tackles) got his first start and looked OK. High effort. Solid performance but facing Tua isn't a big test of one's coverage skills.
 -- The Jets defense is so much better with Quincy Williams in. The NYJ D tends to hold opponents in the 20s when Williams starts/plays full and gives up 35-40+ when he's not. They face the worst offense they've faced all year this week with Houston. It's not a crazy DST long shot play for DFS.
Snap Counts of Interest:
56 = Corey D
48 = Elijah Moore
41 = Crowder
13 = Cole
20 = Coleman
20 = Carter
20 = Ty J
55 = Waddle
38 = A Wilson
25 = Pr Wiliiams
22 = Hollins
53 = Gaskin
11 = Laird
06 = Duke J