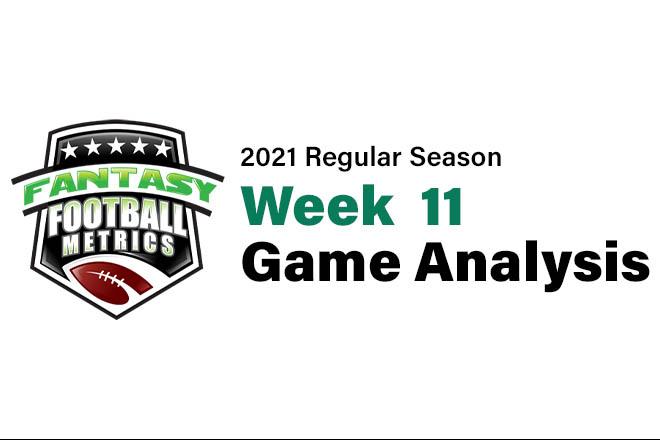 R.C. Fischer
FFM
24 November 2021
2021 Dynasty/Fantasy Game Analysis Week 11: Bengals 32, Raiders 13
*With the Thanksgiving week schedule complexities of the triple-header, etc., the game reports this week will be less pontificating and more 'just the facts' on players/situations we need to consider for Week 12 and beyond. I'll be back to being a blowhard next week, I promise.
I thought I was going to watch some simple tape of the Bengals manhandling a falling Raiders team. Nope…that wasn't the case. The Raiders played a much better game than I expected – led by a flying all over the place defense. It's just that this game for the LV defense…and all the games I'm watching lately (it seems) are filled with 3rd & long to go for the offense, and the defense makes a great push/hold/pressure and gets called for some nonsense penalty, especially ROUGHING THE PASSER calls…and what was going to be a negative play created and a forced punt turns into a +15 yards gain and a fresh set of downs. It's demoralizing…and it changes the flow of games all the time now.
I've resigned myself to the fact that trying to predict the outcomes of football games against the spread is madness because the referees are as big a factor as anything – you might as well just bet the underdog/take the points every game because 2-3 perfectly timed BS penalties can swing the field, the momentum, etc.
With 11+ minutes left, this game was just 13-6 Cincy in a slugfest, most of the slugging by Las Vegas…with penalties being the difference. In the final 11 minutes there were more penalties but also turnovers by Vegas to add gasoline to the fire. The Raiders played with energy/effort most all game and played well enough to win…they just didn't, and then it got out of hand late. The score looked like a blowout/knockout, but the judge's card would have awarded the win on style points to Las Vegas…on defense, their offense isn't great but good enough to have won here potentially.
The Raiders fall to (5-5), losers of three straight. For the most part, under the new staff…they are playing good football. The one hiccup was Week 14 when KC blew them out. Otherwise, they are really working on defense and floundering a bit on offense…too much Josh Jacobs and not enough everything else. Las Vegas can get right back into the playoff picture with an upset win at Dallas on Thanksgiving, which I wouldn't rule out. We see the Raiders getting to 8-9 wins with a shot at the wild card because they have good wins over other teams in the wild card hunt, except this loss here hurts. They have several more games with wild card teams to come – they got a shot but will probably fall short because of their shoddy O-Line play.
The Bengals are now (6-4), and very legit to win the AFC North…because as flawed as they are, Joe Burrow should be a top MVP candidate who is willing this team to wins. We see 9-10 wins for Cincy, and possibly Week 18 at CLE for all the AFC North marbles.
Fantasy Player Notes…
 -- Joe Burrow (20-29 for 148 yards, 1 TDs/0 INT) had a terrible FF game/output…credit the Raiders defense attacking that Cincy O-Line, but credit the Bengals for getting a lead and just running it out to evade the Vegas pass defense that was so good. And credit Burrow who is a magician in the pocket making the subtle moves to be able to get passes off.
Burrow is going to this era's Tom Brady-like QB…just stuck in a terrible organization.
Cincy got the benefit of penalties to help sustain drives at the right time, and they just rammed the ball at Las Vegas on the ground – Joe Mixon had 30 carries for 123 yards and 2 TDs. And it wasn't that Cincy was just running over Vegas, it's just Cincy had the ball a lot and kept possessing the clock.
I keep mentioning penalties…FYI, the penalty count in this game:
Cincinnati = 1 penalty for 5 yards
Las Vegas = 7 penalties for 77 yards
 -- The MVP of this game? With Cincy getting stonewalled by the Raiders, but keeping drives alive due to penalty, for the first 3 quarters, the Bengals would eventually stall out and they'd shoot for long range field goals…and my man Evan McPherson (4/4 FGs, 2/3 XPs) had three 'money' 50+ yard field goals in the first three quarters. Those FGs were daggers to the heart of the Raiders…LV would overcome the penalties, stop the drive, and then McPherson would hit a bomb and give Cincy some breathing room.
McPherson is one of the best kicking talents in the game.
 -- The Raiders offense, on the other hand…they're getting sluggish. Too much Josh Jacobs (9-37-0, 5-24-0/7) low result plays. The Raiders have all these unique weapons…Bryan Edwards (0-0-0/1), DeSean Jackson (0-0-0/0), Kenyan Drake (5-23-0, 1-6-0/2) and they just go everything to Jacobs-Waller-Renfrow.
Waller is great but is doubled and contained most games. Jacobs-Renfrow are solid, but they can't carry an offense to another level. It's a shame, because this defense is playing so well…if the offense could score, the Raiders could make a push from here on in…but NFL head coaches typically stick with 'the known' and die with the familiar. Derek Carr (19-27 for 215 yards, 1 TD/1 INT) is as guilty as anyone for the malfeasance of not using Edwards, DJax, Drake more. It never changes, so no matter how much I think they'd finally 'get it'…it's two years, and two coaching staffs 'not getting it'.
Why do I think it could change next week? I'm the fool.
 -- In their five games under the new head coach, the Raiders defense has actually been pretty good/better than you'd think. Their five games under Rich Bisaccia…
Week 6 = beat Denver 34-24…gave up a junk time TD with a minute left, got 4 turnovers.
Week 7 = best Philly 33-22…gave up a junk TD late, got 2 turnovers.
Week 8 = bye
Week 9 = lost to NYG 23-16, one of the NYG scores a defensive TD.
Week 10 = Blown up by KC 41-14. It was bad all the way around.
Week 11 = Lost 32-13 here but had Cincy to 16 points through three quarters and 9 of the points on three 50+ yard FGs. Held Cincy to just 288 total yards despite a 37/23 time of possession gap.
Las Vegas defense facing Dallas Week 12…if Tyron Smith isn't ready to go, with the top WRs out, maybe LV-DST shocks a bit?   
Snap Counts of Interest:
39 = B Edwards
34 = Zay Jones
34 = Renfrow
16 = DJax
31 = Jacobs
15 = Drake
54 = Uzomah
37 = Sample