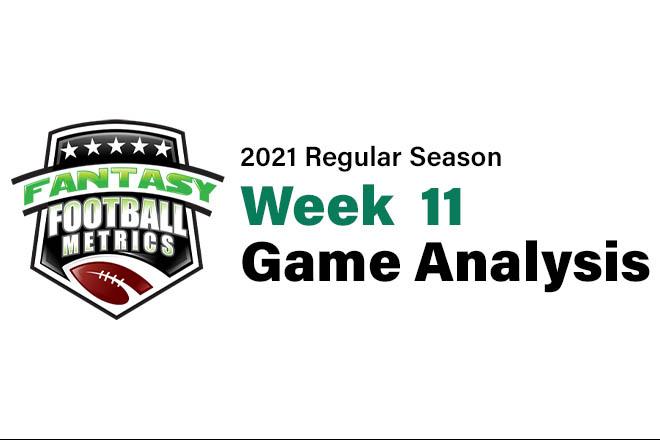 R.C. Fischer
FFM
26 November 2021
2021 Dynasty/Fantasy Game Analysis Week 11: 49ers 30, Jags 10
*With the Thanksgiving week schedule complexities of the triple-header, etc., the game reports this week will be less pontificating and more 'just the facts' on players/situations we need to consider for Week 12 and beyond. I'll be back to being a blowhard next week, I promise.
The 49ers were definitely the better team here, but the Jags did put up a fight with their defense but penalty calls at the wrong time, injuries to both starting CBs, a lack of offense (Trevor Lawrence is useless) and lost fumbles got the game out of reach by halftime and the Jags have no offensive firepower to even get back into any game in a deep deficit. It was a boring blowout.
The 49ers have now scrambled back to .500 (5-5) and are right in the playoff mix. The 49ers should get to 9 wins and a shot at the playoffs, but 7-8 wins or 10 wins is still in play. A huge game hosting Minnesota this week, one I think they'll lose and then be pushing more 8-9 wins as a projection in the end.
The Jags had been playing well but crumbled here to fall to (2-8). Their schedule might allow 1-2 more wins before the finish line.
Fantasy Player Notes…
 -- Deebo Samuel (8-79-1, 1-15-0/2) is now a running back. How could we think otherwise? 8 carries and 2 targets here?
It's cool, and I'm down…but I want to see 5-8 targets with my 5+ carries from a WR weapon. No rush TD here and it would be a WR3-ville.
The thing is…Deebo almost had 3 TD runs in this game. Every time Deebo ran the ball the Jags acted like they'd never seen football played before…they were mesmerized. The Jags completely cutoff the 'real' RBs in the run game otherwise…but Deebo was the difference/MVP/unstoppable here. I don't know why it confused the Jags. There was no trickeration. Deebo literally lined up in the backfield and took handoffs, but Jacksonville couldn't lay a finger on him it seemed.
 -- If Deebo is going to be an RB, of some note…3-5-8 carries in a game…then how do we project/value the RBs? This hurts Elijah Mitchell (DNP) if this keeps up…or if Mitch is out and Jeff Wilson (19-50-0) has to start. Does it make them more RB3s than RB2s for a weekly projection (Deebo + lack of targets)?
Let's see if this keeps up with Deebo. The NFL trend is to abandon this Deebo/radical-type thing as soon as it starts, inexplicably -- but if it keeps up then the other 49ers RBs are gonna suffer for touches/output.
 -- Deebo as an RB did spring Brandon Aiyuk (7-85-1/7) to a WR1 here. Aiyuk's best game of the year…great catches in tight windows this game. He's struggled with that this year, so let's see if it keeps up – noting that this happened against the Jags, who are terrible against the pass as it is…and then they lost both starting CBs in the game. Be careful getting too far excited on this Aiyuk event but do get excited…he seems to have gotten his groove back.
 -- Excitement was taken away from us with another WR…Jamal Agnew (1-2-0, 3-18-0/3) injured his leg, done for the season…and probably just cost him a career at WR. Not the injury itself, but the timing.
This 2021 Jacksonville season was a unique situation that opened a door for Agnew to get snaps and targets he would never see otherwise. Now, he'll lose his opportunity and Jacksonville will go get other legit slot WRs. Agnew will go back to a return man but be a #4-5 WR depth option.
Sad, but true.
Note: In his absence, the Jags claimed WR/KR Jaydon Mickens off the Tampa Bay practice squad…he can be an Agnew-ish WR as well, for a team in need suddenly. Mickens is more of a Deonte Harris type than a thicker Agnew type...but all of them playmaking WRs with the ball in their hands.
 -- After an inexplicable past few years of low TD counts with his nice other output, George Kittle (4-34-1/4) has scored a TD in three straight games. If Kittle can get up to 8-10 TDs in a season instead of 5-6…then he can push into the #1-2 spot among all TEs. He's pushed Darren Waller aside of late for that #2 behind Kelce right now.
Trey Lance at QB in the future…not sure that's the ticket to 10+ TDs for Kittle in the future.
 -- Three games in a row with 2 TD passes for Jimmy G. (16-22 for 176 yards, 2 TDs/0 INT). The last time that JG did that is…well, never. It's not normal for him. The offense is getting efficient with a nice O-Line to allow JG to throw for under 200 yards but toss smart/short TD passes.
I'm guessing this is more blip than reality ahead, but against MIN-SEA the next two weeks…maybe he keeps it going.
 -- Trevor Lawrence (16-25 for 158 yards, 0 TD/0 INT, 3-23-0) has not thrown a TD pass in three games, and here's what's scary about that…
When Zach Wilson or Justin Fields has a ZERO TD pass game…they at least have the excuse of a battered/bad O-Line and Wilson has had to work with terrible WRs (when Wilson was starting, and Moore wasn't a thing yet). Lawrence has one of the five better O-Lines in the league and he has solid enough receiving weapons…and they are always down so there's prevent defenses to toss against – and yet no TD passes.
The recent string of zero TD passes is more because Lawrence is one of the great scouting frauds of 2021. He was never generational.
Since Week 2, Lawrence has played 9 games and had 5 TDs/6 INTs…he's not getting better, not at all.
Snap Counts of Interest:
423 = Marvin Jones
33 = Treadwell
29 = Shenault
12 = Tavon Austin
10 = Agnew
04 = John Brown
40 = J Wilson
24 = Sermon