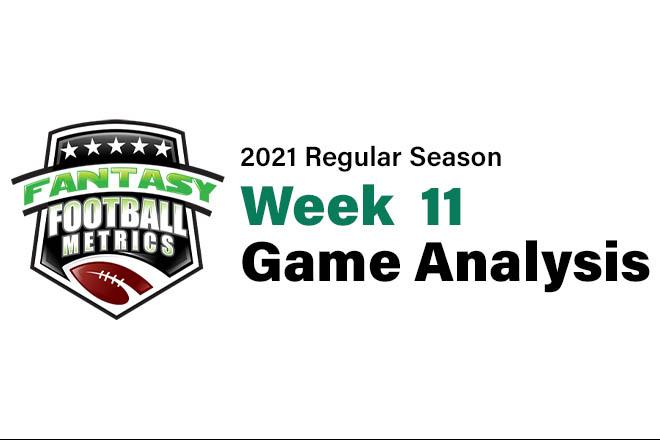 R.C. Fischer
FFM
24 November 2021
2021 Dynasty/Fantasy Game Analysis Week 11: Colts 41, Bills 15
*With the Thanksgiving week schedule complexities of the triple-header, etc., the game reports this week will be less pontificating and more 'just the facts' on players/situations we need to consider for Week 12 and beyond. I'll be back to being a blowhard next week, I promise.
I was expecting to try and dissect 'What's wrong with the Bills?' here…why did they get so crushed by the inferior Colts, and this coming off the loss to the Jaguars a few weeks ago? Are the Bills done?
I rewatched this game, ready to point out things and do clever analysis of the problem…but really, after the rewatch, I don't see a problem with Buffalo. What happened here is why you should never bet a favorite ever in the NFL. Any given week, this type of thing can happen to any good team…things such as:
(In order of when they happened in the game)
Josh Allen thought he had drawn an offsides, so the offense stumbled off the snap at first waiting for the flag, but the play wore on and the whole play was off and eventually Allen just chucked a pass downfield into traffic, and it got picked -- but no offsides (and that was the right call), so it ended up a live play and a turnover…leading to an eventual TD for Indy (and a 14-0 lead, quick).
Down 14-7, the Bills halted an Indy drive on 3rd & long…BS roughing the passer, extending the drive and keeping it away from Buffalo.
Bills get Indy in 3rd & long again, they blitz Wentz and are all over him…two guys go to make the free sack, and they quasi run into each other as Wentz crouches down and somehow totally ducks down (assuming he'll get consumed) and escapes the easy sack and then Wentz runs for 18 yards instead, and a 1st-down…a -10 yard event + ensuing punt instead is +18 yards and the drive continues.
Colts kick a field goal to take a 17-7 lead, after all the BS the Bills are about to get the ball back with 2+ minutes until the half. If they go drive/score here, they go into halftime down just one score…which would be a miracle given the bad luck all 1st-half. Bills get the ensuing kickoff, and as the kick returner takes his first few steps, untouched, he coughs the ball up (like a wet bar of soap) right into the Colts' hands, who return the gift down near the goal line…where Indy punches it in for a 24-7 halftime lead. What was likely going to be a one score deficit before half turns into a three-score deficit nightmare.
The Bills then drive down to get into position for a last second 1st-half field goal…and 'doink' off the post. No good.
In-between all that the Bills dropped 3-4 or so 3rd-down on the money conversion bullets from Allen, forcing them to punt away the ball too much…the rain killing them in their passing comeback efforts. The Indy defense didn't stop them at all – the rain and penalties did. Tyler Bass would also miss another field goal on top of everything else.
The Bills lose to fall to (6-4), but they're better than that record. They're not perfect, and they could lose the division…and could lose their first playoff game whether wild card or division winner, but they're also one of the handful of teams you can say is the 'best in the league' and are among the favorites for the Super Bowl too. They are going to win 11-12 games and win their division, in the end.
The Colts played solidly, but really they just took the gift Buffalo handed them. They are now (6-5) and on their way to 8-9 wins and a possible wild card. Their season may come down to Week 15 hosting NE, as key for wild card tiebreakers.
Fantasy Player Notes…
 -- Carson Wentz (11-20 for 106 yards, 1 TD/0 INT) was not bad here, but it was rainy, cold, and the Colts got up so fast they just ran over the Bills on their way to victory. Wentz is having a very solid season, but they didn't need him to do much here but not turn the ball over…and mission accomplished.
Week 12 vs. TB might be nice for Wentz, and then Week 13 at HOU as well. Wentz is a legit option for Week 12 for the QB needy.
 -- And don't worry about Michael Pittman (2-23-0/5) for all the same reasons above on Wentz. No issues here.
 -- And don't worry about Josh Allen (21-35 for 209 yards, 2 TDs/2 INTs, 2-18-1). He's definitely in the argument as 'the best QB talent in the NFL right now'…the leader in the clubhouse probably. Him and Kyler…with broken (due to the O-Line issues) Mahomes trailing them.
Allen in a dome with the Saints Week 12…light 'em up!
 -- A (minor) developing situation in the Bills backfield…
Devin Singletary (3-17-0, 3-26-0/4) started and was fine, but (again) the game got out of hand early and Buffalo barely had the ball.
Zack Moss (3-5-0, 0-0-0/1) got in for a series and was a nobody.
But then the interesting part… Matt Breida (5-51-0, 1-16-0/2) came in on a 1st and 10 in the red zone in the 1st-quarter, which I thought was interesting/odd, but it was one play then out. The real intrigue came when we saw Breida as the starting RB on the 1st-drive of the 2nd-half. Breida played with effort, looked good, sprung a 28-yard run…and he just kept staying in the game because he provided a spark the other RBs haven't been. Breida played most of the 2nd-half, when Buffalo was still trying to get back in.
When Buffalo 'gave up' by putting in Mitch Trubisky mid-4th-quarter, you know who was the Bills RB in the 'give up'? Devin Singletary. Breida left with the starters. Singletary went in with the mop up crew…and Moss.
Breida is playing his way into a real role with Buffalo…maybe even a 'lead' role, or split role…which is RB3-4 at best with Buffalo, but it's better than nothing.
Buffalo plays a gauntlet of tough run defenses the next 4 weeks, so it won't mean much for any of them for FF…NO-TB-NE-CAR.
It should mean Josh Allen is going to be throwing 40-50+ times a game the next few weeks…good for all the WRs, and then maybe Breida wins as a passing down back…maybe?
 -- IDP note/reminder…
When Tremaine Edmunds is out for Buffalo, A.J. Klein (6 tackles, 1 TFL, 1 PD) will come in and put-up numbers.
Klein has had to fill in for Edmunds three games this year. His averages in those games: 7.3 tackles, 1.0 TFLs, 0.67 PDs per game.
 -- The Colts-DST does not look that great to me, but credit to them…they are riding a wave of turnovers. The Colts D is #4 in the league in INTs, #1 in fumbles recovered.
Indy is #1 in the league in total turnovers (25) after grabbing 4 of them here…leaping the old #1, new #2, Buffalo Bills (24).
Turnover differential leader in the NFL: Indy +15…way ahead of #2 Buffalo +10.  
‍
-- It goes without saying Jonathan Taylor (32-185-4, 3-19-1/3) had a special game. He's playing great, but note here that Buffalo kept getting the ball back and just running it in the rain...smart...and Taylor had two times his normal carries in a game. He really had two 16 carries for 93 yard games all in one game.
The five TDs...the Colts kept getting down into scoring range and JT took the scores -- the early Colts pick almost returned for a TD but went out of bounds at the 3-yard line. The Bills fumbled kick return, scooped and scored...almost, tackled at the goal line. The TDs were somewhat of a perfect storm day you love to have from your lead RB. He had the luck of the Irish/the luck of James Conner this day.
Snap Counts of Interest:
21 = Singletary
18 = Breida
16 = Moss
51 = Doyle
24 = Granson
00 = Alie-Cox