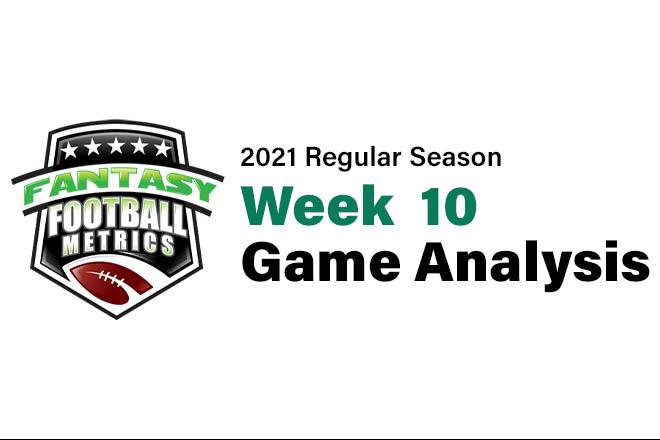 Ross Jacobs
FFM
16 November 2021
2021 Dynasty/Fantasy Game Analysis Week 10: Cowboys 43, Falcons 3 
Don't try to read too much into this game. The two teams battled closely for about a quarter, and then the better team took over and the game was quickly out of hand. The Cowboys were about to take a 28-3 lead into halftime when they blocked a punt for a TD that effectively ended the game on the spot. If Atlanta was harboring any hopes of a comeback that play ended them.
The Falcons put their starters out for a bit after halftime, but the Cowboys scored again which prompted Arthur Smith to wisely pull most of his starters. The second half was the 2nd team offenses and defenses scuffling around trying to get the game over faster. That's why you can't take most of these numbers seriously. It was a completely unbalanced game, not unlike what happened to the Cowboys last week against Denver.
We already knew Dallas was one of the better NFC teams. How good they are is still up for debate. Personally, I think they are still battling the Packers and Bucs for the title of 2nd best NFC team. RC thinks the Packers are better than either of those two and in the mix with Arizona for best team. Regardless, this blowout doesn't sway my opinion on Dallas either way. I want to see how they do against better teams first. This team is headed for 13 or 14 wins most likely and a top 3 seed in the NFC. Their January 2nd game against the Cardinals could have huge implications for the final seeding. Win that and they might snag the top seed and home field advantage throughout the playoffs.
The Falcons fall to 4-5 and things are looking grim the rest of the year. They should finish somewhere around 6 wins at best. This just isn't a good team. They've been fortunate to play a few of the weakest teams in the league and that is pushing their record to where it is. This team hasn't been above .500 since 2017, strange as that sounds. In my mind I always want to think of the Falcons as a decent but not great team, but the reality is they have been very poor for years now and are on the cusp of falling in with the dregs of the NFL, teams like the Jets and Jaguars.
Fantasy Notes
--Again, you can't take anything very seriously from this game due to its nature. Tony Pollard (11-42-0, 6-56-0/7) is arguably the best backup RB in the league and a top 5 guy if Elliott ever gets hurt. He's been more involved than ever this year, but the high number of touches here was solely because of the blowout. He wasn't taking nearly as many carries until the starters got pulled.
--Amari Cooper (4-54-0/4) just isn't bouncing back. He's another random WR3 until we see some signs of a reversal.
--Another Cowboy that strangely disappeared from the game plan is Dalton Schultz (1-14-0/2), but unlike Amari I believe that is just a one week blip. He had 5 and 7 targets the two games before this one but only managed to pull in 2 catches on those 7 targets against the Vikings excellent linebackers. This game just got out of hand so fast that Dallas didn't need him to move the chains like usual. I expect him to bounce back in a big way against the Chiefs. In my opinion you should be looking to buy him off this dip.
--Kyle Pitts (4-60-0/7) had a "down" game, but I want to put some context to this and explain why I think he's going to finish strong as a top 3 TE the rest of the year. One Atlanta's first couple of drives he was the man. He was the guy Ryan was going to every play, and he was wide open all day. After the initial burst the game was essentially over already and Ryan was struggling just to complete a pass into prevent coverage. Even later in the game when Ryan threw a terrible interception right into Trevon Diggs's hands, the throw was targeted to Pitts and he was absolutely wide open on the supposed best corner in the league.
Pitts still isn't running any crazy routes or doing anything particularly creative, but he is consistently getting open against the top coverage of opposing defenses. There was some concern that he would struggle as the top option with Calvin Ridley out, but I saw no signs of that here. Things just got out of hand too quickly. If the game had proceeded like normal, Pitts would have easily gone over 100 yards here.
4 catches for 60 yards doesn't sound like much, but when you consider that Ryan only completed 9 passes for 117 yards it suddenly seems much more impressive. And obviously Ryan won't be held down nearly this bad most weeks despite his diminishing skills. Pitts was about 50% of the receiving production here, but even if he drops to only 30% he'll still be putting up excellent numbers if Ryan bounces back to his 252 yard per game season average.
On the year Pitts already has 606 yards on 40 catches for a ridiculous 15.2 ypc average as a TE. He's going over 1000 yards easily. The only thing holding him back so far is his 1 TD, but that number should regress a little. Even just 3-4 TD's over the remaining schedule would do a lot to bump his numbers. If he keeps up his current pace of catches and yards but adds in just 3 TD's, then we're looking at about 13.5 ppg the rest of the year. He's TE6 in scoring and 8th in ppg at the moment, but 13.5 would put him in 3rd behind Kelce and Andrews. It's also entirely possible that he continues to get better as the season goes on, grabs a larger share of the passing game, and finishes even higher.
I know it's been an up and down year for Pitts so far, but I love what I'm seeing from him and I think things are just going to get better. He's ready to jump into the discussion for best TE in the league already.
--I was shocked to see Wayne Gallman (15-55-0, 1-21-0/2) lead the RB touches by such a huge margin because I didn't remember seeing him much in the live watch. Is this a trend to jump on? Not even close. I watched the backfield closely my second time looking at the game, and it's clear what happened.
Davis and Patterson were out there doing their thing as usual, but then the game got out of hand, Patterson got hurt, and they abandoned the run in the 2nd quarter. After the first drive of the second half Arthur Smith threw in the towel and pulled Davis from the game along with most of the starters. Gallman came in to run the clock out. The only way Gallman takes significant carries is if Patterson is out this week, but RC thinks Patterson will play. Even if Patterson is out, it's still going to be a 60/40 split at best for Gallman with Davis as the lead. There are better streaming options available.
--Russell Gage put up a big fat zero on only 3 targets? Am I worried? Nope, for the same reason as I don't like Gallman. The game got crazy and Gage got pulled with the other starters fairly early. He should be fine most weeks, but you can't expect too much against top coverage and with Ryan at QB. He's a desperation WR4 right now.
--Likewise, don't sweat Patterson so long as he's healthy. Nothing has changed about his role.
IDP Notes
--I swear this Trevon Diggs (2 tackles, 1 INT) nonsense is getting out of hand. I'm sorry, but I've seen him get beat too often by some very average receivers this year, and most of his INT's have been thrown literally right to him. It's not like he's making all these crazy pass breakups. Pitts smoked him all game, but Ryan threw the ball two feet behind him and high right into Digg's hands. Diggs is on the short list for Defensive MVP, but I don't believe he even belongs on the list. He's been pretty good but not even the best corner in the league, much less the best defensive player.
--The runaway favorite for Defensive Rookie of the Year, Micah Parsons (6 tackles, 1 sack) absolutely deserves it though. I wasn't too impressed early in the year, but he just gets better and better every week. Great scouting job by RC and great bet opportunity sleuthing by Chris Bilello.
--If you don't already know who he is, I want to introduce you to Foyesade Oluokun (14 tackles in only 78% of the defensive snaps), the NFL's 3rd leading tackler with 100 already in 9 games (11.1/g). In his past four games, Oluokun has had 13+ tackles three times with an average of 13/g. He's only been under 8 tackles one time this year and has gone 9+ in all but two games. The man is a tackling machine, one of the best in the league.
Snap Counts of Interest
35 = Russell Gage
31 = Tajae Sharpe
23 = Olamide Zaccheaus
33 = Kyle Pitts
23 = Hayden Hurst
23 = Wayne Gallman
20 = Mike Davis
51 = Amari Cooper
41 = Michael Gallup
32 = CeeDee Lamb
51 = Dalton Schultz
36 = Sean McKeon
38 = Ezekiel Elliott
32 = Tony Pollard