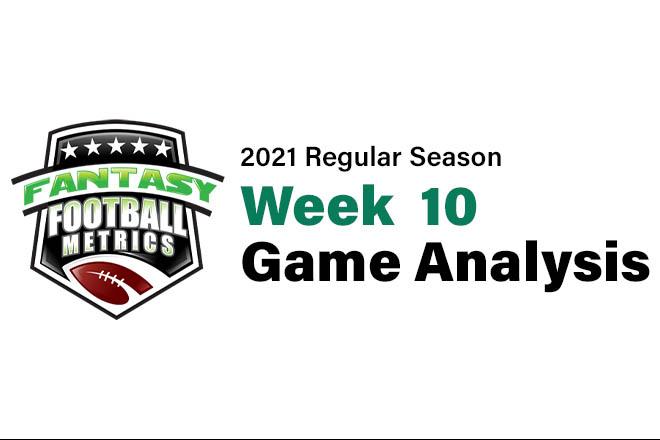 R.C. Fischer
FFM
16 November 2021
2021 Dynasty/Fantasy Game Analysis Week 10: Panthers 34, Cardinals 10
Wow. Well, I would say 'This is what you get when you have to roll with Colt McCoy', but the Panthers just walloped the formerly-known-as 'the best team in the NFL' with P.J. Walker having his best game of his life.
This game makes (along with the emergence of Mike White and all the other emergency-start QBs who come and win/beat down opponents) makes me wonder if the NFL is not turning into a real passing league as much as it's just in a 1970s mindset and/or a West Coast simplicity of run the ball and play good defense, as their mediocre QBs work a safe screen pass game around that desire.
When you play 'small ball' you don't need Tom Brady or Patrick Mahomes…those guys scare most NFL head coaches because they might throw an interception. The fact that they throw 4-5 TDs passes a game and lead their teams to all the Super Bowls…that doesn't matter in the wake of that bad interception they once threw that one time (trying to make a play/win games). Most NFL head coaches want to play ball control, screen pass games for safety…and really they want to win via 'out-toughing' the other team…with their heads fully up the ass of their own monstrous playbook. NFL head and assistant coaches are usually all former players who were grinders, and they coach from that perspective – they hate flashy and risky, they covet 'sound' football to outsmart their opponents, because they weren't talented/flashy players themselves, they were the outwork, out-tough, outsmart to make up for the lack of athletic skills.
When I wanted to start opening positions in Bitcoin a year+ ago, because I thought it had a chance to be the world currency at some point, a hedge against inflation…my wife said: "I wouldn't buy that it's too scary; what even is it?" My wife is a 'bury your extra shillings in a Mason jar in the backyard' kinda person because money and risk scares her and she's not good with numbers. It's all a blur. That's not a crime…it's just a reality. She didn't want to go school for finance, she wanted to be a teacher from age five...and eventually graduated college to be a lower school teacher. On the other hand, I should've been an accountant (but was too lazy as a youngster to do excessive homework needed), and I ended up in corporate financial management because I was very good with numbers and they identified it in me when I was a young pup in the system. When it comes to my money, I'm a 'Let me learn about new things and see if I can put money to work to grow, knowing you have the risk of loss as well'. Money, numbers don't scare me – culinary arts and home repair scare me (among many other things)…and my mindset is to 'go for it' on investments I've researched.
With my wife's plan…she'll never lose, so she can't really be criticized, in her mind. She didn't lose. And when the market tanks, it's actually a great strategy. However, with my style/plan if we lose ground, the wife will complain about it…so, there used to be a thought by me to not have the nagging criticism come into play and just take the safe route out to avoid the hassle. There are advantages to playing it safe when real results and mass criticism is on the line. Just don't lose (the anti-Al Davis story) tends to feel like a non-critiqued way to live. NFL head coaches gravitate towards 'don't lose'…it's human nature, and 2x the nature of football coaches. If it wasn't, there would be WAY more going for two and going for 4th-downs then there is, and just think it's the wild wild west of that today vs. 5 years ago.
What do coaches always talk about? Turnovers and penalties. They talk about mistakes they never embrace opportunities, especially if they took a shot and failed…they don't take pride in it and to be honest…they hide and say to themselves I'll never do that again.
I'm not saying one investing or coaching style is absolutely right or wrong…they can both be right or wrong depending upon the era. Stock Market crashes…you're glad you had the Mason jar. Take a lot of risk and lose, you feel like crap. I say all this to climb into the mind of the NFL head coach/assistant coaches coming up – they are by and large people who are short sighted, concerned about the appearance of 'toughness', play to not-lose, play to not get criticized, play to hope to be able to have a chance to win in the final few minutes. They don't play to win…except the first drive of games, where they spill their one cool new play they drew up for the week and they can't wait to show it as fast as possible, then never use it again the rest of the game.
I'm not sure how I went down this bunny trail, but you can apply this logic to the football GMs. Why do you think none of them make any real trades or a lot of trades? They're afraid. Doing nothing escapes the most criticism by the media, fans, and themselves internally.
This game was a shining example of most of the NFL mindset… Two teams with shitty quarterbacks tried to dink and dunk against good defenses and the one team that committed turnovers lost all the momentum and didn't have any gear to mount a comeback, so they just rolled over and lost.
Colt McCoy isn't any better or worse than P.J. Walker, and the Arizona defense is just as good as the Carolina defense. But McCoy had the triple crown of head coaches worst nightmare to start a game…
1st-series = sack, fumbled, gave the ball to Carolina deep in the red zone…quick TD right after.
2nd-series = Arizona has 4th & a long 1 from their own 40, they go for it…with their GREAT runner Colt McCoy, who was so bad on this play that he lost yardage on a 4th & 1 surge play…Carolina capitalizes and scores another short field TD.
3rd-series = Arizona drives down, and the GREAT Colt McCoy scrambles and throws a pass 10-yards over the head of the intended receiver downfield, and it goes right to a deep safety who fielded it like a punt, drive killed. Carolina then drives down, Walker throws a pick, but the defender let the grip loose falling to the ground and it becomes an incompletion and Carolina retains for a FG. It was 17-0 Carolina in a blink and all that really happened was Colt McCoy gave the game away to Carolina every series. It wasn't the Arizona defense sucks.
It was 31-3 going into the 4th-quarter, Carolina. But, honestly, this wasn't Carolina 31-3 better than Arizona…it was just the game of playing it safe backfired quickly for Arizona, and they couldn't dig out of the hole they put themselves in. If fully healthy Kyler were here…totally different outcome.
Arizona is now (8-2), and no one should take away anything from this game other than…it unluckily got out of hand early and that was that, and Colt McCoy is to blame. If healthy Kyler is back Week 11, they will beat Seattle and be fine. I just think Kyler will be out again this week (the Rams losing again helps the decision), and then you just hope McCoy can play safe and keep you in it. Arizona will win 12-13 games and win the NFC West just fine. The Rams are not in Arizona's class, with Kyler playing.
It's a huge win for Carolina, now (5-5) with three very winnable games ahead: WSH, at MIA, bye, ATL. If they can sweep that group, they then get crushed by the ending schedule of at BUF, TB, at NO, at TB. They might get to 9 wins if they can win their next three to get to 8 wins. If they lose one of the next three, they aren't likely hitting 9 wins, and thus no playoffs. We project 7-8 wins, but 9 possible.
Fantasy Player Notes…
 -- The biggest news item/storyline from this game was the return of Cam Newton (3-4 for 8 yards, 1 TD/0 INT, 3-14-1)…rushed for a TD, threw for a TD…but more importantly, gave the Panthers team a big shot in the arm. His presence boosted the team as much as Colt McCoy handing them the game did. Players like Cam, the person…and they could care less about Sam Darnold.
Acquiring Sam Darnold was probably the single stupidest move of the 2021 NFL season. Simply signing Cam Newton could be one of the best moves of 2021, and I don't like Cam as a QB…but this was a signal to the franchise that you're actually trying to win.
It's an obvious take, but to go from cutting Cam to going all-in on Teddy, to dumping Teddy for Darnold and failing with that to now get back to Cam to be a savior – when does the criticism of Matt Rhule and the Carolina GM begin in earnest?  They are doing this to themselves.
Cam is going to run the ball a lot and throw for 150 yards or less in games, as Carolina is going to try and copy the Patriots 2021 offense only with more screen passes to their man back – all running, good defense, hope the other team implodes while you just stay safe.
Cam is going to be a lesser Jalen Hurts, Lamar Jackson for FF…and that can be a back-end QB1 in 4pts per pass TD leagues.
 -- Christian McCaffrey (13-95-0, 109-66-0/10) is a huge winner with Cam's return…a player he has history with. McCaffrey is getting ready to win FF-leagues for people…unless/until he gets hurt again.
Cam had two TDs, but McCaffrey had the shots at them before that and fell just short, or just stepped out of bounds going in. McCaffrey nearly had 3 TDs this game but ended up with zero.
McCaffrey is back, and if you are going to face him ahead…curse your luck – why couldn't you face his FF team when he was out?
 -- Cam returning is OK for D.J. Moore (4-24-0/7), given a prior relationship…but Cam is a shell of himself as a passer, so beware.
I'd use this week to cash out on DJM…play on the hype of Cam returning and how wonderful that will be for Moore. Cam will throw for 100-150 yards per game, and half+ of that to CMC. Not a ton of DJM upside.
Ditto for Robby Anderson (4-37-1/6), who got a short TD toss off a Cam fake run. Nice, but likely Carolina will run in most short scores and Robby is a downfield worker with a non-downfield QB. Sure, they'll probably hit one every so often…but no boost or consistency in sight here.
 -- Kyler Murray (DNP) may return Week 11, but if he does…I'm sure he will not be at 100% in the legs and therefore he will not run the ball as much, and when he doesn't run he's a bit wobbly for FF production, not as hot for FF at 90% vs. peak 100% Kyler (and 100% Kyler is arguably the best QB in FF). Us Kyler owners have to get him through Week 11 to his Week 12 bye to be back 100% for Week 13 on.
 -- Christian Kirk (7-58-0/8) is quietly trying to push towards WR2-2.5 in PPR. He's the #31 WR in PPR scoring per game this season, but he's the #22 PPG PPR scorer since Week 6…as DeAndre Hopkins started having issues and A.J. Green is fading off.
The risk is, once Hopkins is back…it's likely back to a WR2.5-3.0 instead of a WR2 hopeful.
 -- I will no longer implore you to hold the Cardinals-DST at all costs for the rest of the season. Not because they got rolled here – they really weren't bad here, just the offense put them behind the 8-ball so often, so quickly. It's more because of the schedule ahead starting to turn.
Week 11 = at SEA (I'm not totally afraid, BUT if no Kyler then we're back in the same boat).
Week 12 = BYE
(if you don't use Arizona Week 11, then you're not again Week 12…do you want to hold for Weeks 13 and 15?)
Week 13 = at CHI
Week 14 = LAR (I'd rather not)
Week 15 = at DET
Week 16 = IND (top O-Line, never great for FF DST scoring)
Week 17 = at DAL (top O-Line, never great for FF DST scoring)
You know who is the perfect match for Arizona's Week's 11, 12, 14 matchups? Carolina with JAX, WSH, and MIA those weeks.
But you could also go with Miami-DST for Weeks 11-12, use ARI Week 13 and then reassess from there.
 -- The Carolina-DST's schedule Weeks 11-14 is great, except a Week 13 bye. And Carolina's defense is really good, with near-great around the corner with Jaycee Horn back someday.
Week 11 = WSH
Week 12 = at MIA
Week 13 = BYE
Week 14 = ATL
Then you run from Weeks 15-17.
 -- This game got out of hand quickly, but Eno Benjamin (6-22-0, 0-0-0/1) only played 15 snaps…so no real excitement from the team on Eno here. This RB coach is way into/friends with Conner (from back in the day), so he's now going to be the big lead carry RB. Eno is just a handcuff for Conner for now, as Edmonds will be upon his return. Eno or Edmonds have the same value as Marlon Mack or whatever backup RB you want to hold and hope the starter dies off.
 -- Not for nothing, but Carolina PK Zane Gonzalez (4/4 FG, 2/2 XP) is the #1 PPG kicker in Fantasy since Week 5. Don't overlook him if you have an underperforming 'name' kicker meandering for you right now.
Snap Counts of Interest:
45 = Conner
15 = Eno
47 = Kirk
42= Wesley
38 = Green
18 = Rondale (the 'Isabella' virus has been transmitted to Rondale)
44 = CMC
16 = Hubbard
16 = Abdullah
66 = PJ Walker
09 = Cam