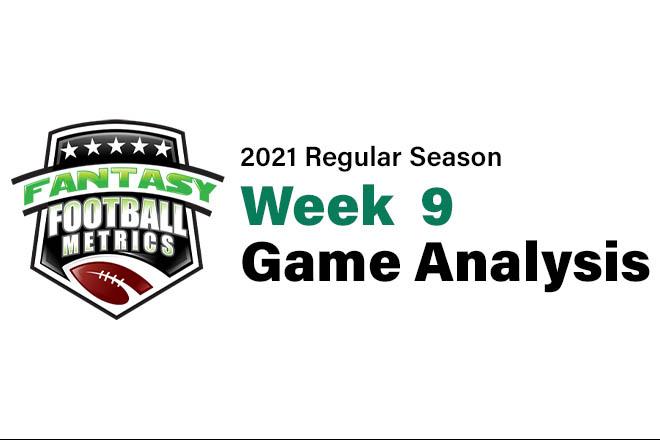 Ross Jacobs
FFM
11 November 2021
2021 Dynasty/Fantasy Game Analysis Week 9: Steelers 29, Bears 27 
This game was such a snooze fest between two boring ass teams for the first 55 minutes of the game that I turned it off well before that. Little did I know the last 5 minutes would be some of the craziest all year.
The Steelers led 14-3 at the half. It wasn't what I would call a dominant half for them, but they appeared to be the better team by a decent margin.
A good way into the second half and the score was 20-6 Steelers with no hope in sight for the Bears. They couldn't move the ball and couldn't take it away from Pittsburgh. But then David Montgomery got going and suddenly it was 20-13 and the door opened a crack. Pittsburgh would extend their lead to 10 but a fumbled ball on special teams got picked up by the Bears for a TD and suddenly the Steelers were sweating a 23-20 game.
Pitt would kick another field goal to make it 26-20, but Chicago put together their best drive of the day to go up 27-26 with 1:45 to go. It was too much time, however, and the Steelers calmly marched down the field for a FG to take the lead 29-27.
The Bears had only seconds remaining but picked up enough yards to give themselves a chance at a 65 yard field goal. The ball clanked off the crossbar, inches too short and the Steelers held on for the win.
Despite the exciting finish, these are still two boring, not great teams. Both have decent defenses and terrible offenses dragging them down. Roethlisberger is beyond done. It's just sad now. Watching him put every ounce of strength into a 30 yard wounded duck is pathetic. And Justin Fields is just not a good QB. The physical gifts are nice but underused, and while he is capable of the occasional great throw, they simply come far too infrequently and are mixed in with a bunch of terrible, rushed, inaccurate throws.
There is a group of analysts that rush to proclaim his obvious greatness every time he does something marginally good, and I believe they are spurred to do this because they believe he has been unfairly attacked for whatever reason. In their minds his greatness is beyond question. It's obvious that he's amazing, and so whenever anyone questions his ability, that person must have some ulterior motive. It's a problem with society in general these days, but also beginning to crop up frequently in football analysis these days.
For example, PFF somehow gave Fields their highest grade for a QB this week. You have got to be kidding me. That is utterly ridiculous, and I challenge anyone to try and explain how that is accurate. Right after this information was released, the pro-Fields crowd began howling that the Bears had their QB1 for the next 15 years and he was better than Mahomes...blah blah blah. It's a bunch of drivel. Fields is one of the worst 5 starting QB's right this second, and I don't see much hope for him to improve.
The Steelers move to 5-3 and are without a doubt one of the worst teams with a record that good. Other than the Bills, every team they've beaten was either bad or mediocre or very injured (Browns). The good teams they just lose to because they don't have the firepower to compete (or rather they do have the firepower but Ben can't/won't get it to them). I don't think they can keep up with the Browns and Ravens in the division or possibly even the Bengals. I see them headed for an 8-9 or 9-8 record and possible last place finish in the division.
The Bears fall to 3-6. They aren't one of the absolute worst teams in the league, but they aren't far off either. If the defense wasn't decent they would be in Houston territory. Fields isn't getting any better either, so I don't see how they finish with more than 5 wins or so. It's hard to win games when you can barely score 17 points on offense most games.
Fantasy Notes
--Woo boy we need to get Najee Harris (22-62-1, 3-16-0/3) some more touches! He's obviously a huge weapon with his 2.8 ypc average. Of course, reality doesn't matter for fantasy. Najee is just another big, average RB with decent hands, but because the Steelers believe he's a weapon, he gets used like one, and usage is the #1 key to fantasy stats. He's as safe an RB1 as you'll find this year. However, 2022 is a whole different animal, and I can already see him being a huge disappointment after he gets drafted 1st overall.
--Chase Claypool (3-30-0/5) hurt his foot towards the end of this game and will likely be out several weeks. Of course, he was just another WR4 with the occasional splash week anyways, so it's not like you're losing much. Claypool is dead so long as Ben is there, but if Pittsburgh ever replaces him with an actual QB then Claypool rockets up to the top WR in all formats. He is the single most physically gifted WR in the league today and a caliber of weapon we haven't seen since Calvin Johnson. He should be acquired cheaply in all dynasty leagues simply because the upside is so high.
--People are joking that Diontae Johnson (5-56-0/6) will get a million targets without Claypool playing, but Claypool wasn't a big part of this offense anyways. Nothing changes for Diontae. He's always been Ben's bff and will get his usual 12 targets for 8 catches and less than 10 ypc most weeks.
--Some analysts are pushing James Washington (1-42-0/3) as a guy to pick up to replace Claypool, but what's the point? Washington is a deep ball guy and Ben can't throw deep anymore. Their one connection here was busted coverage and Ben threw the worst deep pass I've seen outside of a Darnold game. The only reason it was completed is because the coverage was actually in good position but the ball was so underthrown that only Washington could come back to it. Also Claypool wasn't getting many targets anyways and wasn't useful in fantasy, so I fail to see why tiny little Washington would suddenly work where 6'5" 242 lb Claypool couldn't.
--The player you want with CC out in redraft now is Pat Freiermuth (5-43-2/6), Ben's other best friend, but you won't be able to acquire him after this 2 TD game. Freiermuth has seen his role expand for weeks now, and it was just a matter of time for him to have a game like this. He's a safe outlet for Ben when Diontae isn't open and looks like a TE1 the rest of the year.
--I've hammered Justin Fields (17-29 for 291 yards, 1 TD/1 INT, 8-45-0) enough at this point that I'm not going to beat a dead horse. He's not a good QB, although he can be plausible if given enough protection as most QB's can. For fantasy though I'm a buyer in redraft if you need a safe QB2. Since he started running last week, things are opening up for him just like I theorized and the running points give him a high floor.
--David Montgomery (13-63-0, 2-17-0/2) returned from a multiple week injury with no practice time and looked as good as he ever has. Tell me again why practice is so important. He walked right back in and took most of the carries with very little Khalil Herbert (4-13-0) mixed in despite how great he's been. Matt Nagy is such a genius.
--Darnell Mooney (3-41-1/6, 1-15-1) is the WR to own here and has been ever since Fields took over. He is the WR1 not Allen Robinson (4-68-0/6). Robinson might be a WR 2.5-3 now instead of the nothing he has been all year. If he's on waivers and you're desperate then go for it, but don't actually spend resources to acquire him.
I called Cole Kmet (6-87-0/8) a slug earlier this year, and at the time he was moving like one. This is the first time I've actually seen him look somewhat plausible. He's still not the next great TE that's for sure, but he's something now instead of nothing. His numbers this game weren't really anything he was doing so much as Fields running around and finding him on broken plays down the field. I don't think you can count on this connection every week though. There are plenty of other TE's I'd rather have even if you're desperate.
IDP Notes
--Not sure how he's been flying under the radar since he was such a huge name just a year or two ago, but Minkah Fitzpatrick (8 tackles) is playing solid football as always and has been quite good for fantasy as well. He has 8 or more tackles in four of his last five games.
Snap Counts of Interest
65 = Diontae Johnson
58 = Chase Claypool
41 = James Washington
26 = Ray-Ray McCloud
51 = Pat Freiermuth
37 = Zach Gentry
53 = David Montgomery
10 = Khalil Herbert
50 = Darnell Mooney
48 = Allen Robinson
32 = Marquise Goodwin
48 = Cole Kmet
22 = Jesse James