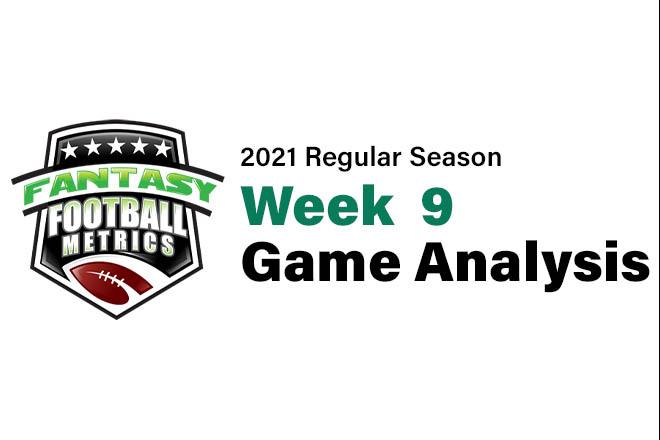 Ross Jacobs
FFM
09 November 2021
2021 Dynasty/Fantasy Game Analysis Week 9: Browns 41, Bengals 16 
After the Bengals got thoroughly beaten by the Jets last week I was prepared/hoping that this was the drubbing I needed to see to dump all Bengals stock. Unfortunately, it was not. Let me explain.
The Bengals got the ball first and drove right down the field to the 1 yard line. Burrow attempted a pass for Ja'Marr Chase, but Denzel Ward played it perfectly and picked the ball off and raced 99 yards for the pick six. 7-0 Browns.
Cincy got the ball back and immediately raced right back down the field for a TD to tie it up. The Browns finally got their first offensive possession and did the same to take a 14-7 lead.
And then the dam broke. The Bengals turned the ball over after Chase fumbled the ball, and Cleveland graciously took the short field turnover and turned it into another 7 points. From this point on it was more of the same. Cincy could never get things going and Cleveland kept piling on with a brutal running game and a couple more turnovers.
It was just one of those days for the Bengals. They didn't play particularly poorly overall. It was just a lot of bad/somewhat fluky plays that went against them and turned this into a blowout.
Now the one player that did play badly, and the one almost singularly responsible for all the turnovers and thus the blowout, was Ja'Marr Chase. He had a fumble and 2 INT's that were thrown to him in coverage. Now some will say the INT's were on Burrow, but I watched both plays a few times, and I feel comfortable saying, no, they happened because Chase's early season success has gone to his head and he thinks he's the greatest wide receiver to ever play the game.
The goal line throw his route was lackadaisical and the other INT he had no separation and the ball got tipped up to a defender. Ward and Greg Newsome had absolutely no problems with him in coverage all day. I've said it all year and I'll say it again: I don't care what kinds of numbers he's put up. I've watched all his plays. He's good. He's not special, and certainly not a Randy Moss level talent. He's had an unprecedented run of good fortune with lucky plays for TD's all year and now that those plays are drying up you're left with just another ok/pretty good receiver.
So where does that leave these two teams moving forward?
Cleveland is finally getting healthy, and you see how dominant they can be. They are a good team and one you do not want to be playing in cold outdoor playoff games. They are the better version of the Colts and Titans, a power running game with competent QB play and a solid defense. If they can stay healthy they might be able to make a run at catching Baltimore for the division title. The schedule isn't easy, but I don't think Baltimore is all that great either, so it's up in the air.
The Bengals could possibly get back into the chase for the division as well, but I think they might not be quite ready for that. They are a decent offense and decent defense but probably not good enough at any one thing to take down the better teams consistently. They are good enough to beat anyone on the right day though.
Fantasy Notes
--I'm not done with bashing Ja'Marr Chase (6-49-0/13) just yet. In addition to causing/contributing to 3 turnovers here, he also flat out dropped two easy passes including a TD. This is more of the type of game you can expect from him moving forward. He isn't going to completely disappear because he's still a decently skilled receiver, is quite athletic, and is going to get a zillion targets because he's Burrow's buddy, but this game was more the reality of what he is than not. It's been the reality all year if anyone cared to actually look at what happened and not just the box score.
Yes, he'll produce decent stats the rest of the year, but if you have him I say now is the time to sell him off at astronomical prices. Don't dump him just to dump him. Get top of the line things in return for him. If you held a dynasty draft today he's without a doubt the #1 pick for almost anyone. Sell him for nothing less.
*RC NOTE: Last two games for Ja'Marr: 4.5 rec. (11.0 targets...41% catch rate), 40.5 yards, 0.50 TDs per game. The recent numbers are melting to support Ross's (and my) theory that Chase was a blip...but also that he is not a very good WR...excellent athlete, but a sloppy worker.
--The real #1 WR you want from the Bengals is Tee Higgins (6-78-0/8). Where Chase struggled with coverage all day Higgins looked much better. I'm a buyer on Higgins.
--Joe Mixon (13-64-2, 5-46-0/5) salvaged an otherwise mediocre day with 2 TD's. You won't be able to buy low on him because of it though. He's still an RB1 as long as he's healthy.
--Joe Burrow (28-40 for 282 yards, 0 TD/2 INT) had a bad fantasy day, but he's playing good football. Neither of the picks was really his fault although he probably shouldn't have thrown the one in the endzone. If he's smart he'll start fading Chase a little and spreading the ball around to Higgins, Boyd, and Uzomah more. I like what I see from his knee and his confidence. He's getting better as the season goes on and he's already been pretty good. If you need a good backup QB he'd be on my short list.
--So I guess Baker Mayfield (14-21 for 218 yards, 2 TD/0 INT) wasn't the problem huh for OBJ huh? He had no problem hooking up with Donovan Peoples-Jones (2-86-1/3) for a 60 yard score. You can consider DPJ the new #1 receiver here now although that's probably a WR2 at best for fantasy in this low volume passing attack.. He'll still probably trail Jarvis Landry (3-11-0/5) in targets but that doesn't matter. DPJ is the threat. Landry is nearly as washed up as OBJ and should be the next to go. I'm excited to see what Baker can do in 2022 with some real receivers.
--Everything else in this Cleveland offense is a random option behind Nick Chubb (14-137-2, 2-26-0/2). In my opinion he's the best pure RB in the league and a top 5 lock as long as he's healthy. He's even better with Kareem Hunt out.
*RC NOTE: And now Chubb has COVID, so we're back to D'Ernest as the waiver wire chase guy of the week! 
IDP Notes
--Anthony Walker (14 tackles, 1 sack) has been killing it this year. In the 6 healthy games he's played he has 57 tackles (9.5/g).
Snap Counts of Interest
71 = Ja'Marr Chase
59 = Tyler Boyd
57 = Tee Higgins
47 = Joe Mixon
25 = Samaje Perine
35 = Austin Hooper
35 = David Njoku
25 = Harrison Bryant
32 = Jarvis Landry
29 = Donovan Peoples-Jones
28 = Anthony Schwartz
27 = Nick Chubb
16 = D'Ernest Johnson