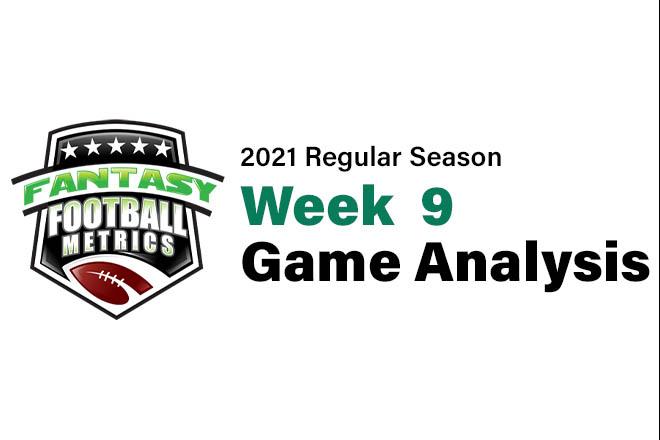 R.C. Fischer
FFM
13 November 2021
2021 Dynasty/Fantasy Game Analysis Week 9: Falcons 27, Saints 25
The Saints are one of those 'good-not-great' teams that can beat any top team (crushed Tampa Bay Week 8) and can also lose to any bottom team out of nowhere (losing here to ATL). You never know what Saints team you're gonna get week-to-week.
The Saints are trying to play this season on a strategy of having a plausible offense (with Trevor Siemian) and solid defense (which varies wildly week-to-week) to back their way into the playoffs. They do not have the firepower to make any noise if they get to the playoffs. The Saints are in no man's land for the NFL…too good to tank for better draft slotting, and not good enough to take seriously as a title contender. They just kinda exist as this annoyingly good or bad team week-to-week. They have a path to 9-10 wins, and a wild card…but they won't do much with it if they do get into the playoffs.
The Falcons were up 10-0 at the half, and up 24-6 with 10+ minutes left in the game…but then they did the typical Falcons collapse-with-the-lead and out of nowhere the Saints pulled ahead 25-24 with 1:01 remaining. Cordarrelle Patterson came down with a big/deep ball prayer to get the Falcons into a reasonable FG position with not much time left…and the Falcons ended up hitting the game winning 'three' at the buzzer to shock the Saints in New Orleans.
Atlanta climbs to (4-4) and could have been (6-2) with a little luck, or (1-7) with worse luck. They are at .500 today, but I think they're one of the worst teams in the NFL. But they are still in the playoff race today. The Falcons will win 6-7 games tops.  
Fantasy Player Notes…
 -- I may be leading us all off a cliff…or more apropos, I'm offering you some purple Kool-Aid straight from a Jonestown home brewed recipe. Whatever analogy you'd call it, I'm going to make the following comments, I'm going to trust my instincts/scouting, and you decide whether to pick up the cup and drink…
Deonte Harris (6-52-0/8, 1-22-0) is the closest thing to Tyreek Hill there is in the NFL right now. It's a large gap/distance between them in the race…but Deonte is starting to give me that same hair standing up on my arms feeling like when I saw Tyreek Hill early on in his NFL career.
It's not so much an 'on paper' comp, as it is 'my eyes'…but to just show the physical comparison data, and the gap between them…
5'6"/171, 4.48 40-time, 2.50 20-yd, 1.51 10-yd, 4.16 shuttle, 6.82 three-cone = Deonte
5'8"/185, 4.29 40-time, 2.51 20-yd, 1.50 10-yd, 4.06 shuttle, 6.53 three-cone = Tyreek
Deonte is working like a cross between a store-brand old Tyreek Hill (years 1-2 in the NFL) and Curtis Samuel 2020 – blazing speed, super high-end ability to stop-start/accelerate and juke, a top punt/kick return threat, BUT (and here's the key) he's starting to work like a real NFL WR. He's running sublime routes and breaking them off so quickly or changing directions that no corners can keep up with him.
And the great news is, the QBs are starting to notice. Harris has played three normal (for him) games since Week 4 (got hurt Week 5 in-game, missed Week 7 and had a Week 6 bye). The Saints top 3 in targeting in those three specific games…
23 targets = Deonte (14 catches)
13 targets = Callaway (8 catches)
11 targets = Kamara (7 catches)
It's not even close how much the Saints are shifting to Harris. And it's happening with him working with Winston and Siemian.
Harris is taking some bubble screens, because he should take 3-4 per game, but more and more he's running downfield routes and the QBs are using him the most for real NFL throws. He's been on the brink of breaking small catches turning into long run TDs. He's a deep ball threat, a reliable 1st-down maker with his hands/routes, and an excellent bubble screen option who can take jet sweeps (hit on a 22-yarder in this game). He can do it all.
The crazy thing is, he's doing all this while playing about 30% of the snaps in games. People freak out about lower snap counts for WRs/RBs, and I get it, but I'll make the same argument here that I did when everyone in FF analysis was wanting to deny Cordarrelle Patterson for the same rationale – snaps don't matter as much when the player is consistently touching the ball when he IS IN for his snaps. Deonte has nearly doubled the next closest player on the Saints in targets in his recent three 'normal play' games (Wks 4, 8, 9) while only playing 38% of the snaps in those games on average (49-32-30).
Most people will say – it's a red flag/it can't keep up playing low snap counts. I get that. It's totally natural. But I believe in the thought process that he's getting good targets despite the low targets, and it's getting consistent, and then…WHAT IF THEY UP HIS SNAPS (what I said about CPatt early on in the 2021 season)?
Harris is moving towards the Saints top non-RB weapon and Sean Payton knows it, and the QBs know it, but they do need to manage his reps because he has had history of getting nicked up – they need to treat him with some 'management', and you only 'manage' things you care about/need.
Some random Harris factoids…
2019 NFL All-Rookie team
2019 1st-team punt returner voted by AP (and many others)
2019 All-Pro as a return man
2020 hurt (minor injury) most of the season.
2021 Currently leading the NFL in kick return avg (27.6) despite not returning one for a TD yet.
He has caught 75.8% of his career 62 targets.
He has run the ball 12 times in his career, for 105 yards (8.8 ypc)
He is YTD #3 on the Saints in targets and catches, despite having missed three games, essentially -- but making his big move as of late in targets and catches.
Despite missing two games and playing under 50% of the snaps all season…he currently leads the Saints in receiving yards (323) and yards per reception (15.4).
We're not on the verge of a Tyreek Hill 2020 or 2021, were more kinda-sorta early stages Tyreek…but no one was like Tyreek or will be (of anyone I see in the NFL). Harris isn't thick enough or pure speed fast enough to be like Tyreek, but Harris is in the realm in the church but not the same pew…and I'd say Harris is a better pure WR than Tyreek, but Hill is the freak of freaks with his speed/agility.
He could have 3 catches for 30 yards and no TDs this week, and you'll scoff at him as another RC delusion, and it could be…wouldn't be the first time -- but whether he breaks out to a big game/play Week 10 or the following…I sense something is happening/building here. Something that can work for FF and might give you some big pop play/FF scoring while now starting to form a base of not being a zero on the downside…that he's 'the guy', in a sense, for this passing game.
With Alvin Kamara out…might Harris see more touches Week 10?
Deonte Harris quick bio with some interesting college info/stats: https://youtu.be/jaB85XNdFpY
 -- Mark Ingram (9-43-0, 5-21-0/5) will take the bulk of the backfield work Week 10 with Kamara out. Ingram has rolled right back into his old role and the Saints have no other RB of note to lean on. Josh Adams isn't ready, and they never push Ty Montgomery.
 -- Sean Payton is sticking with Trevor Siemian (25-41 for 249 yards, 2 TDs/0 INTs) at QB. I was wondering if Taysom Hill (2-2 for 33 yards, 0 TD/0 INT) caught Payton's attention with his brief, but sweet work 3rd-quarter of this game, or on fears the Saints have no offense with AK out Week 10 so maybe Hill would be a wrinkle…but, no it's Siemian for Week 10.
Watching this game…Siemian was fine. But nothing special. BUT is a coach's dream running the playbook, being smart with the ball, etc. Sean Payton has had to make two QB decisions in 2021, and both times he chose not-Taysom, so unless Siemian goes down or they lose 2-3 games in a row…the Taysom story is about over (at QB). Next year, the Saints will sign a free agent and then it will really be over.
 -- If I were making a list of 10 candidates for league MVP through nine weeks, I think Cordarrelle Patterson (9-10-0, 6-126-0/6) would have to be on it.
Succeeding at WR, RB, and kick returner…and teams are changing their defensive plans around him. Pretty amazing.
My top MVP guys right now might be (off the cuff)…
Derrick Henry
Kyler Murray
Lamar Jackson
Tom Brady
Josh Allen
Cordarrelle Patterson
Tyreek Hill (triple teamed often)
Kyle Pitts (instantly double teamed from day one)
Alvin Kamara
Michael Pittman (now getting the double treatment)
 -- Russell Gage (7-64-0/8) takes over as the Falcons #1 WR, of sorts, with Calvin Ridley gone. He's a solid WR2-3 play in PPR. gage had that odd zero catch game Week 8, but in Week 7 and 9 = 5.5 rec., 65.5 yards, 0.5 TDs per game. I know, I know...he's too boring for you...you want to chase Brandon Aiyuk putting up the same numbers (at best) on a worse passing game because the guys on Fantasy TV and print are really into Aiyuk making a reemergence...and they don't ever mention Gage at all.
Olamide Zaccheaus (3-58-2/3) made the most of his extra opportunity here. Facing Dallas this week…usually the guys not covered by Trevon Diggs have nice games, OZ might have another useful one Week 10.
Diggs may be on Kyle Pitts (3-62-0/7) this week…that's why I say Pitts is an MVP candidate. He gets more coverage respect than any player I'm watching weekly except for Tyreek Hill and Michael Pittman.
Pitts had an OK game here, but he dropped a wide-open, perfectly thrown first pass of the game for 35+ yards, which would have (in theory) given him a 100+ yard game again. Pitts is going to be a mega star…maybe, depending upon if he can get some more single coverage in the years to come.
Snap Counts of Interest:
61 = Tre'Quan
60 = Callaway
25 = Stills
23 = Harris
17 = Taysom
15 = K White
52 = Kamara
26 = Ingram
48 = Gage
47 = Sharpe
44 = Pitts
33 = CPatt
33 = Mk D