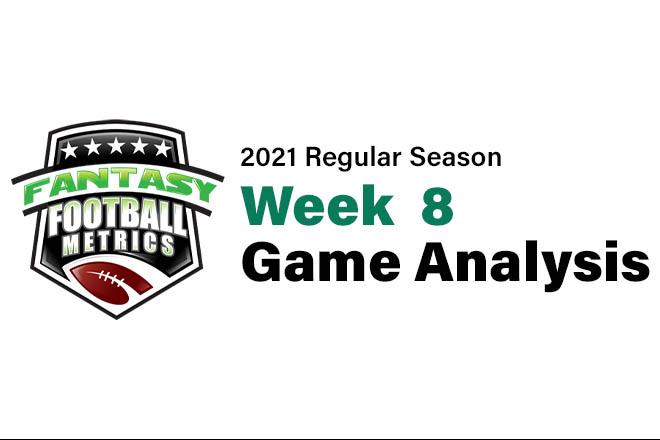 Ross Jacobs
FFM
06 November 2021
2021 Dynasty/Fantasy Game Analysis Week 8: 49'ers 33, Bears 22 
If you think this was some kind of statement game for the 49'ers, you're dead wrong. They weren't that much better than the Bears here and mostly won because Deebo Samuel broke another long play for a near TD. That one play sparked the team to wake up and they finished strong, but before that play they were getting their butts kicked by a pretty bad Chicago team.
The Bears led 13-9 at halftime having outplayed the 49'ers thoroughly. They would increase that lead to 16-9 shortly thereafter, but Deebo's long catch and run got SF back into it making the score 16-15. That event seemed to spark SF into action and they began a scoring fest that the Bears could not keep up with.
The main engine of their offense now is Elijah Mitchell and the running game. I'll discuss Mitchell more below (as I know several people were mad at me over it last week and probably thinking I know nothing after this game), but, in short, it's some incredible blocking by the line that is making this thing go (that and a dying Bears defense).
SF is essentially a .500 team. They are tied for 16th in scoring offense and are a mediocre 22nd on defense (the defense isn't getting better. They just gave up 22 to a terrible Chicago offense). They haven't even played a difficult schedule either with games against the Lions, Eagles, and Seahawks mixed in. They seem to play to their competition's level. They had to stave off a Lions comeback, got lucky to beat the Eagles, did lose to the Seahawks, but then they hung in games against much better teams like the Packers and Cardinals too. Overall, they aren't a bottom 10 team by any stretch, but they aren't a playoff caliber group either.
The Bears definitely are a bottom 5 team though. Their offense is 2nd worst behind only the dumpster fire in Houston, and the defense is currently 20th but getting worse every day. They are 3-5 and will be lucky to get to 5 or 6 wins. It's possible they won't win another game all year looking at the schedule.
Fantasy Notes
--Kyle Shanahan is going to show you...he's going to show all of you! Jimmy Garoppolo (17-28 for 322 0 TD/0 INT, 5-4-2) is a good QB and he was right to start him over Trey Lance all along!
It's weird, Lance is Shanahan's hand-picked guy and yet because the media is saying starting Jimmy is a mistake, now Kyle feels he has to prove everyone wrong by giving more playing time to the guy he wanted to replace…
Strange thing in this game, Kyle called two option read QB keepers near the goal line with Jimmy. I think that could be Kyle trying to get the offense used to running those plays for when he does finally pull the plug on Jimmy. He just can't do it now because he has to show he was right first. I don't know. The guy is an egotistical lunatic.
I would expect Lance to make his debut against the Jaguars if the 49'ers get smacked down by the Cardinals and Rams the next two weeks. If Kyler is out and the 49'ers pull the upset that could delay Lance a few more weeks...
--Ok, Elijah Mitchell (18-137-1). Yes, he had another good game. Yes, he is the lone RB taking carries for SF right now. No, that does not mean he's automatically going to run for 100 yards and a TD every single week. First of all, it's not so much that Mitchell is an amazing unicorn RB. The offensive line is blowing holes open for him, the same as they've blown holes open for every decent runner over the years. It's a function of the offense, and it's working so I get riding it while it's useful. I've been for that.
What I'm warning against though is that the last two games have been against the average to bad run defenses of the Colts and Bears. The Cardinals aren't going to be so kind, and the Rams might not allow SF to run as much if they are down by 20 points. Either way, Mitchell has averaged 5.9 and 7.6 ypc in those two games, and you simply can't count on that continuing, nor can you count on getting a TD every game. Those two factors should happen about every other game or so. What happens when you don't get them? You're left with 17 carries for 67 yards. He doesn't get any catches to prop him up.
I get that you have to play him for the moment and there will be some really nice games, but everyone acting like they've hit the jackpot and lucked into a top 5 RB is likely mistaken. In addition, Jeff Wilson is coming back this week, and while he's not some amazing back, it's entirely possible that Kyle starts rotating these guys like he's done so much the past 3 years. It's definitely something to think about.
I'm not trying to rain on any parades, and I'm not saying to trade Mitchell away (although personally I would consider it). I just want people to think rationally about what they've got here and how the situation could change very quickly. Mitchell is not a foolproof asset the way Kamara or Zeke are. He's good for the moment, but it's important we don't get carried away with our expectations.
--Deebo Samuel (6-171-0/9) is the luckiest receiver outside of Ja'Marr Chase this season. The guy has at least three very long receptions that were fluky/bs. I know he's a good player. I've always liked Deebo. The point is he's been more fortunate than he is good so far, and the good times aren't likely to last. This is a low volume passing game and is about to get Kittle back healthy in addition to Aiyuk starting to reemerge (we'll get to that below). I fully expect Samuel's value to come back down to earth very quickly. RC has been warning of this for weeks and we're in the last chances to move on from him. I agree with RC's assessment. Trade him while he's super hot and has a top 3 WR valuation from the masses.
--Brandon Aiyuk (4-45-0/7) has been a literal ghost on the season. We've covered this several times and I have warned in past weeks about trying to buy him low because he was so obviously in Kyle's doghouse for whatever reason. Well, it's safe to say that he's out of it now. This is what OC Mike McDaniel had to say about Aiyuk this past week:
"These last couple of weeks he's looked like the player that we envisioned when we drafted him," offensive coordinator Mike McDaniel said. "He's a young guy that's finally starting to understand what it means to be a pro and to approach every practice like, 'Hey, I'm determining the game on Wednesday. I'm winning the game on Thursday.' That's been the difference."
In this game Aiyuk was definitely part of the game plan. Jimmy was looking for him early and often, although still the obvious 2nd guy behind Deebo. He had shots at two touchdowns that just missed. He's about to start producing. What he produces is hard to say. He's still the number two guy on a low volume passing game, and George Kittle is coming back as well.
Last year when Aiyuk put up big numbers, it was because Deebo was out with injuries. Unless that happens this year, I have a hard time seeing how Aiyuk is going to be a radical producer for fantasy. The most likely result in most games is going to be about what he got here, 4 catches for 50 yards or so, and a TD every 3rd game maybe. Add it all up and it's not that impressive. The best approach with him, if you have the roster space, would be to snatch him up and trade him off after his first big game because that's all it will take for the masses to assume that he's a star again.
--I've addressed it a few times, but Kittle's return likely just muddies the waters even more for the top three guys here. I want no part of this passing game while everyone is healthy.
--On the Bears side, it was Damien Williams, not Khalil Herbert (23-72-0), that was in the game first. This coaching staff is beyond idiotic. They've seen what Herbert can do for weeks and yet they insist on giving boring ass Williams the first crack at starting here.
Luckily for them Williams promptly hurt himself and Herbert was forced to take over again. Williams didn't practice Thursday, but David Montgomery is eligible to return this week. He hasn't practiced in weeks however, so it's unclear if he will be ready in time. If Montgomery can't go Herbert will get another full workload.
That scenario is precisely what I'm rooting for as Herbert looks pretty great. Don't be fooled by the box score here. Herbert had another 40-50 scrimmage yards called back for various stupid penalties. He's not the greatest athlete I've ever seen, but he's just another natural runner that just plays the game well. He kind of looks like a smaller Matt Forte to me.
Watching Herbert and Mitchell across from each other was interesting. They are both smart, crafty runners, but on paper you'd expect Mitchell to be more explosive, and I just don't see that. They look fairly similar, but Mitchell is getting incredible blocking right now and I find myself favoring Herbert as a talent. Either way, ride both of them for as long as you can. They are both just fine in their respective situations.
--I just do not like Justin Fields (19-27 for 175, 1 TD/1 INT, 10-103-1) as a QB, but I have to respect him for fantasy now because he has FINALLY started to run. Why he didn't do this more before, I have no idea, but he's running now and that means good things for fantasy. He's still a very limited passer so you can't get too crazy, but he's a nice bye week streamer.
I see a lot of people call Fields a better passing version of Jalen Hurts, but I radically disagree with that assessment. He is capable of some amazing throws (like his TD pass here), but it's far too rare for my tastes, and he's really jumpy in the pocket and crumbles under pressure (think Tua). Hurts doesn't give a rat's ass about the pass rush and will stand in there and deliver the pass. Fields gets scared and will fling up a wounded duck the second anyone gets close to him.
--Fields's best friend is still Darnell Mooney (6-64-0/9) and not Allen Robinson (3-21-0/4). I know that sounds weird and it's taking people a long time to catch up to. It's true though. As Fields starts to run more I also expect his passing numbers to improve as teams will start backing up for fear of him taking off. When that happens then it's time to jump on Mooney for redraft. Trying to time these things is nearly impossible, so if you have the room I'd grab him now. Pretty soon he's going to crack 100 yards and a TD and it'll be too late. I'd much rather have Mooney than Aiyuk for redraft.
IDP Notes
--DeAndre Houston-Carson (6 tackles) has 17 total the last two games after being elevated to a starting role. I don't see anything amazing from him, just a warm body making a lot of run tackles as teams jammed the ball down this defense's throat.
--Josh Norman (7 tackles, 1 INT) has 23 tackles the past three weeks and is working quite nicely for fantasy precisely because he's not a very good corner anymore and is allowing a ton of short completions. His INT wasn't a great play either. He just happened to be in the right place for a tipped pass to bounce right to him to end the game. Play it if it works I guess, but I feel like there are a ton of safeties putting up similar numbers available on waivers. Corners are hard to count on.
Snap Counts of Interest
56 = Allen Robinson
54 = Darnell Mooney
30 = Marquise Goodwin
59 = Khalil Herbert
7 = Ryan Nall
63 = Cole Kmet
38 = Jesse James
49 = Brandon Aiyuk
46 = Deebo Samuel
25 = Mohamed Sanu
36 = Elijah Mitchell
19 = JaMycal Hasty