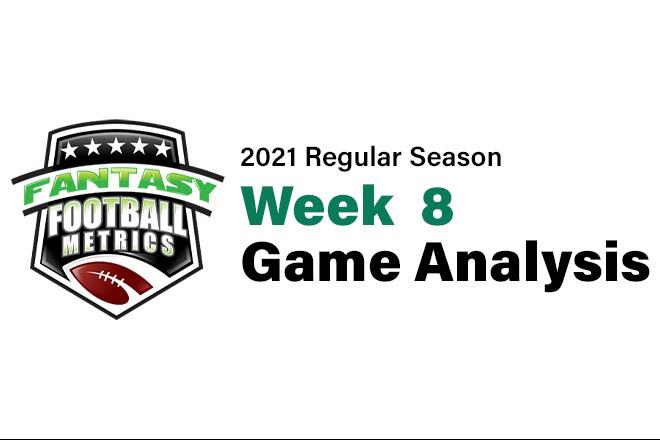 Ross Jacobs
FFM
05 November 2021
2021 Dynasty/Fantasy Game Analysis Week 8: Bills 26, Dolphins 11
I'd like to be able to say that the score of this game was closer than the actual result...but that would be the opposite of the truth. The truth is that the Dolphins came to play and gave the Bills all they could handle for three quarters. The dam finally broke in the late 3rd, early 4th and the Bills pulled away, but until then it was an absolute dogfight.
I walk away from this game highly impressed by Miami's defense. They were all over the Bills, pressuring Allen, defending passes, even stopping the run for the most part. There were only two things they struggled to contain a little bit. 1) Josh Allen running plays and 2) Cole Beasley in the slot. Once the Bills finally figured out that was how to beat Miami they went heavy with those two concepts and scored twice to give themselves an insurmountable lead.
The final Bills score came on a Tua interception as he was trying to make a play with just a couple minutes left. Without that turnover the Bills would not have covered the spread. I don't think that's any reflection on the Bills though. I think this was Miami trying to rise up.
Buffalo keeps right on rolling down the road to the #1 seed in the AFC. They are far and away the best team in that conference in my opinion and probably the best team in the league. We're halfway through the year and they are still the #1 scoring offense and #1 scoring defense. My one knock on them is that they've played a rather weak schedule of defenses so far and have fallen to two of the tougher teams they've played, Tennessee and Pittsburgh, two teams they should have beaten. Combine that with the Dolphins defense making their offense look mortal here, and I'm starting to worry just a little bit about how good this offense really is.
I'll say this about the offense though, Josh Allen is absolutely carrying it 100% and he would likely be my vote for MVP right now. That guy is unbelievable.
Miami certainly played a tough game here. They had been getting spanked on defense for weeks because they couldn't stop anyone on the ground, but they really played that well here. Maybe it's just a fluke, but if the defense continues playing like this every week they are going to fight their way into a few wins. The schedule is still rather tough though, so I'm not sure how many more wins they could get. I think they probably top out at 5 or 6 max.
Fantasy Notes
--I said Josh Allen (29-42 for 249 yards, 2 TD/0 INT, 8-55-1) was my vote for MVP and I meant it. He's back to leading the team in rushing which is exactly what you want for fantasy. Miami was all over the passing game and made him work for every inch here. Allen didn't blink and kept on firing into tight windows, willing his team down the field. I can't state enough how impressed I am watching him play QB. The jump he's made the last 3-4 years is beyond anything I thought was possible.
--Unfortunately though, with Allen's continued improvement as a QB, that is taking away from Stefon Diggs (5-40-0/7) in fantasy because Allen doesn't have to force it to Diggs every other play. I think Diggs will start to come on a little more soon, but there are still a lot of good pass defenses on the schedule, a lot of good CB's, and Diggs is proving to be mortal this year. I think you just have to hold with him and pray a turn comes.
--Cole Beasley (10-110-0/13) continues to be an up and down performer based on matchup. You want to play him in weeks where the outside cornerbacks are very good but the slot is weaker and where the Bills have to throw a lot to stay in the game.
--Emmanuel Sanders got completely shut out here, but I wouldn't panic on him. He's usually the #2 look behind Diggs and hasn't even been far off of Diggs's production. Sanders is the deep threat, so his average is going to be something like 3-4 catches for 50 yards and a shot at a TD but there will be lots of ups and downs. He had a rough matchup here with Byron Jones that's all.
--Tommy Sweeney (3-30-0/4) is no Dawson Knox replacement. He's your average TE, capable of catching passes thrown his way a couple times a game but doesn't provide much else.
--Somehow now Zach Moss (8-19-0, 6-39-0/7) has become the pass catching back over Devin Singletary. I don't like it or agree with it, as I haven't all year, but that's the reality now. He also gets the goal line touches, so he's Buffalo's version of James Conner, except Allen takes more short TD's than Kyler is right now.
--I'm growing to have a grudging respect for Tua Tagovailoa (21-39 for 205, 0 TD/1 INT, 4-10-1). I know, I know. He's not my favorite, but I have to admit he's getting better. The mistakes are becoming rarer and rarer and he just dices defenses up with all these short passes. Seems simple enough to stop, but nobody has really done it yet. Buffalo was in his face all day and not giving him much room to throw, but he handled it well, better than I've ever seen.
Regardless of his real world talents, he's definitely been working pretty well for fantasy, and I see no reason why that would change. He's played four full games this year, scored 15 and 16 points against the very good defenses of the Bills and Patriots, and scored 20+ against the Falcons and Jaguars. He's a good #2 guy, someone you can stream against weaker defenses.
--The top WR for Tua is still Jaylen Waddle (4-29-0/11). These two are slicing and dicing most weeks. The Bills defense was all over it however. I love buying Waddle as an undervalued WR2 but only in ppr.
--RC's best friend DeVante Parker (8-85-0/11) has been working pretty nicely this year as well, when he's not hurt. He's one of the only receivers to have received at least 7 targets in every game he's played and is averaging 12.74 ppg in ppr leagues. That's decent work.
*RC NOTE: With his production with Tua...he is becoming my new BFF. I knew he was good all along!! ;)
--One of my new favorite TE's Mike Gesicki (3-48-0/4) had a little bit of a down game. The Buffalo LB's were all over him because he lined up more as a traditional TE for some reason. He's basically been a huge WR every other game. Not sure what the game plan was for him, but I would expect him back out wide most weeks.
--I've said it all year and nothing has changed, Myles Gaskin (12-36-0, 3-19-0/4) is still the lead back here. That role just isn't worth much in Miami. They have a terrible offensive line and Gaskin just isn't athletic enough to make things happen on his own. He's probably due for a nice ppr pop game.
IDP Notes
--I've got to spotlight a guy I have a lot of appreciation for. Christian Wilkins (5 tackles, 2 tfl, 1 pd) is one of the most underrated defensive linemen in football. He's a DT so he tends to get overlooked because of guys like Donald and Chris Jones, but he's just a really solid football player, is constantly around the ball, gives 110% effort on every play, is smart and a true leader for Miami, impeccable character...he's the perfect team player.
He's got 38 tackles on the year (4.75/g) at defensive tackle. That's 2nd on his own team and 5 more than Donald. He gets consistent production on the defensive line if you need that for IDP.
Snap Counts of Interest
67 = Mike Gesicki
41 = Adam Shaheen
29 = Durham Smythe
65 = Jaylen Waddle
63 = DeVante Parker
40 = Myles Gaskin
16 = Salvon Ahmed
60 = Tommy Sweeney
4 = Reggie Gilliam
56 = Emmanuel Sanders
55 = Stefon Diggs
52 = Cole Beasley
47 = Zach Moss
25 = Devin Singletary