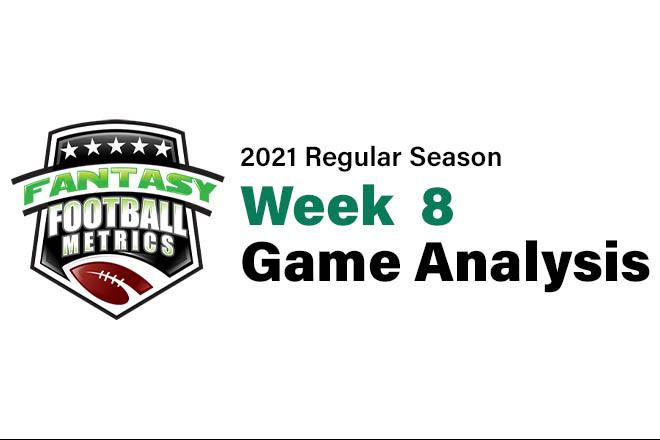 R.C. Fischer
FFM
06 November 2021
2021 Dynasty/Fantasy Game Analysis Week 8: Panthers 19, Falcons 13
I just watched two of the dullest games in the NFL this season, back-to-back for my workday…CLE-PIT then this mess, CAR-ATL. The Computer had a terrible week picking games ATS in Week 8, but it's rolling on 'best bets' and picking underdogs to outright upset/cover – and Carolina was our top bet and outright win call, so at least we got that one.
I wanna say Carolina was lucky to win here, but they were/are better than the Falcons, but Sam Darnold and Chuba Hubbard are so nothing that they can hardly score points, so the games are always too close…but then their ace defense keeps them in games for potential wins against bad opponents – and the Falcons are one of the worst teams in the NFL.
So, two teams wobbled around on offense…and the one with the better defense got the lead and held because the QBs in this game are two of the worst in the NFL.
With this win, Carolina breaks a 4-game losing streak and gets back to .500 (4-4) – and now they play a very pivotal game (for both teams) this week hosting (4-4) New England. The winner has some wild card hopes, for sure. The loser has a lot of work to do to try and scramble into the wild card. We project Carolina to end up with 7-8 wins, but Christian McCaffrey's return (or not) can alter those hopes. Week 9 is huge vs. NE, a very similar team to CAR…almost identical.
The Falcons fall to (3-4) and are about to fade away in the NFC. They project to finish around 5 wins if they're lucky.
Fantasy Player Notes…
 -- The Falcons are so poorly run/schemed by Arthur Smith (not a genius).
Cordarrelle Patterson (9-35-0, 5-37-1/5) is so clearly their best player, one of the most electric/effective players in the NFL, so it only stands to reason that in a must-win game, a game where with a win you actually had some playoff life – that Art Smith (not a genius…or 'NAG' for short) throttles back CP for a heavy dose of Mike Davis (9-44-0, 5-22-0/6) here.
I'm not anti-Mike Davis, but if I were an HC/O-C for the Falcons in Week 8 – I could not get the ball to CP enough in a critical game that was winnable. NAG didn't, so they lost…big shock.
Patterson is not at any FF-risk, it wasn't like CP didn't play or get his touches – just, you'd think they'd lean into this more – but NAG is nickname = not a genius, so he loses a key game and can go back to designing boring, ineffective plays and eating meatball sandwiches for breakfast all week.
The answer to the reason for all the Titans offensive success of late – was it Ryan Tannehill or Arthur Smith? The answer = Derrick Henry.
 -- Cordarrelle is one of the best weapons in all the NFL, and Kyle Pitts (2-13-0/6) is already the best receiving tight end weapon in football. It took about 6 weeks, but it's already true.
Whenever Pitts gets a target, there are a minimum of two guys around him…and possibly 4-5 in the camera shot. Christian McCaffrey catches 100+ passes a year with no defender in camera shot. Cooper Kupp has no one in camera shot on him 80% of his catches this season. A rookie TE is already the most covered/planned-for player in the NFL.
Pitts is an amazing physical talent, but he's not ready to beat constant double teams…especially when NAG has no real scheme or plays to get him open. Weeks 1-4, Pitts was just running 1970s tight end routes…short route, sit down over the middle, face the QB. Now, Pitts is just on the outside working like he's LAC WR big Mike Williams, complete with #1 corners on him…losing his 'great mismatch' ability so that linebackers aren't on him, corners are…with safeties over the top.
Matt Ryan (20-27 for 146 yards, 1 TDs/2 INTs), who is as bad as Big Ben now, just flings prayers out to Pitts…which worked the past few weeks when he was more single covered but this game the prayers were not answered, and Pitts was blanketed.
Pitts will be fine, but elite consistency is probably a year and a new QB away.
 -- It would help Pitts, if Calvin Ridley (DNP) were playing…to take these #1 CBs away. Stephon Gilmore was covering Pitts on the final drive where ATL was trying to win it with a TD drive – and it ended with a terrible pass from Ryan to Pitts, picked by Gilmore.
When is Ridley going to return? I don't know, but it's at least 4 weeks away as he was played on the NFI list this week.
Bad week for Alabama wide receivers…
Tajae Sharpe (5-58-0/6) takes over for Ridley, but if you think Sharpe is going to do much for you for FF…you're insane. Ryan wasn't getting Ridley over in 2021, so he's not going to get Sharpe over. The target pecking order for Ryan is: Pitts, Patterson, Mike Davis, then randomly everything else.
Here's how bad Ryan is…his best WR, with Ridley gone, is Russell Gage (0-0-0/0) -- and Gage played the most snaps of any WR this game for ATL…and never saw a target. Good luck with your cut-by-20-different-teams Tajae for Fantasy!
 -- Ok, let's switch gears from how poorly the Falcons offense is run to how poorly the Panthers offense is planned…
Chuba Hubbard (24-82-1, 1-9-0/2) is every generic RB in the NFL. Perfectly, cromulent but not a star…strikes no fear into defenses, and you could get the same performances from 50 other RBs not-starting in the NFL.
BUT Chuba Hubbard is Matt Rhule's wife's favorite player – so, Hubbard is the future for Carolina. I guarantee Rhule would be happy to ditch McCaffrey's giant payroll, deploy the money elsewhere and go with Hubbard as his lead back.
And if you don't think Rhule is capable of that kind of offensive stupidity…have you seen what he is doing, on purpose, at QB? Do you trust his offensive eye?
Hubbard fumbled the opening touch, setting up ATL for a quick lead. Next series, Hubbard right out there again. Newly signed Ameer Abdullah (8-31-0, 3-35-0/5) came in and took touches after a few Hubbard touches, and Abdullah instantly provided a spark with chunk runs moving at a speed that was like you hit the fast-forward button on Hubbard running the ball.
Seeing that, Rhule quickly got Abdullah out of there and went with more Hubbard…and his 3.6 yards per carry this season.
I want to like the Panthers, but Darnold-Hubbard is the worst QB-RB combo in the league…worse than Tua-Gaskin.
 -- Rookie TE Tommy Tremble (3-18-0/4) is slowly climbing the ladder of trusted TE option in the passing game. He's averaged 3.0 targets per game the past 4 weeks as a 40-55% of the snap playing TE. He's ever so slightly becoming the Panthers lead TE. He's not there yet, but it's heading that way.
The last 4 games, Tremble has 7 catches (1.8 per game) for just 42 yards (10.5 per game)…so we're not close for FF, but he's someone to keep any eye on going into 2022. Ace blocker, easy short pass for Darnold…and some athleticism after the catch (he's run the ball twice this season, FYI…for a TD and for a 2-point conversion).
 -- The Panthers defense is so good right now…it's a shame the offense won't support it.
Shaq Thompson (10 tackles,1 TFL, 1 PD) is back and playing his best ball of his career.
Stephon Gilmore (2 tackles, 1 INT) debuted and sealed the win with a pick late…only playing 32% of the snaps in the game.
Thompson fully back. Gilmore arrived. Rookie CB Keith Taylor (2 tackles) impacting. Jeremy Chinn an all-Pro level safety. Haason Reddick and Brian Burns a top 1-2 punch in sacks. This is a really promising defense…potentially best in the biz in 2022-2023 with Jaycee Horn back.
You might get a nice 4-week run with Carolina ahead…NE, at ARI (if Kyler out), WSH, and at MIA before a Week 13 bye.
 -- Carolina kicker Zane Gonzalez (4/4 FGs, 1/1 XP) is suddenly on fire. He hit a 51 and 57-yard FG in this game. He's 10-for-his-last-10 FG attempts…averaging 2.5 FGs made per game the past 4 weeks. This season, he's 10-for-10 in all FG attempts under 50 yards.
Snap Counts of Interest:
46 = I Thomas
34 = Tremble
22 = Colin Thompson
41 = Hubbard
22 = Abdullah
11 = Freeman
44 = Pitts
33 = Hurts
18 = Lee Smith
34 = Mk Davis
32 = C Patt
36 = Gage
36 = Sharpe
21 = Zacchaeus