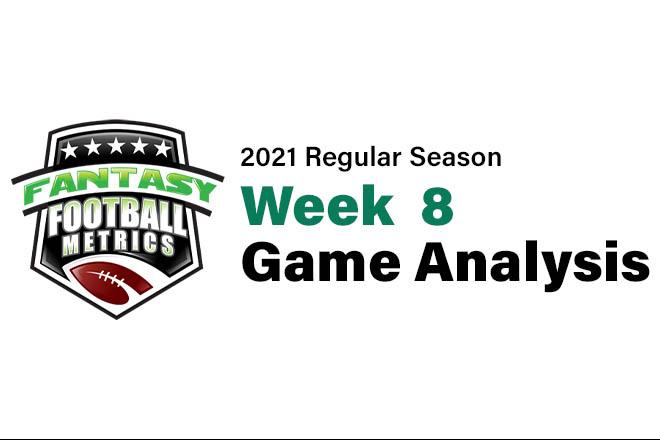 R.C. Fischer
FFM
04 November 2021
2021 Dynasty/Fantasy Game Analysis Week 8: Patriots 27, Chargers 24
I went into this rewatch wondering what I was really going to see/uncover, but my bent/bias going in was – what's wrong with the Chargers? Lost big to Baltimore Week 6, then a bye, come out of the bye and lose to New England. What gives?
Well, there's a two-part answer…
#1) It's a classic wrong-minded NFL conclusion based on my preconceived (false) reality. It's not 'What's wrong with the Chargers'…which is a question that essentially states – how could the great Chargers lose to the lowly/inferior Patriots?
I'm looking at it wrong/too far on one side…
 The Patriots are a good football team…a plausible offense and a really good, emerging very good defense. The Chargers played decently here, but the Patriots were just better, tougher, more energized…led by the defense.
#2) Something is off with the Chargers. They are playing very California cool/lazy, low energy…especially on offense.
Blame the Patriots…they brought pressure, they held time of possession 34/26, they didn't let the Chargers get in any rhythm. LAC had more talent and played well on defense…just the Patriots were tougher and more energized.
The Chargers looked sloppy and low energy three weeks ago, and a bye week off didn't cure it.
This current Chargers team isn't winning the AFC West. I don't know who would win the AFC West, but it isn't the L.A. from this game or last game (v. BAL). The Chargers team from Weeks 2-5 was going to win the AFC West. Can the Chargers get that mojo back? We'll see – the schedule is begging them to reel off 4 straight wins ahead (@PHI, MIN, PIT, @DEN), if they go (2-2) floundering around…then they got real issues.
We project the (4-3) Chargers to finish with 10-11 wins still, but it's a fluid situation right now…a precarious one.
On the other hand, FYI…I think the Patriots are going to the playoffs (potentially). The almost-wins over Tampa and Dallas in recent weeks should not have been interpreted as a scrappy lacking team staying close – it was signs that this team is really good. It's an OK team being well-coached into a 'good' team.
Bill Belichick rises again! If he's not careful, that plucky young coach may just win a Coach of the Year award.
The entire league turns into a pass happy entity…so, then Belichick goes 1970s run game and defense and special teams in 2021. That's 'so Bill'…
We'll see how this pans out. The Patriots (4-4) play a pivotal game (for both teams) this week at (4-4) Carolina…a similar-ish type team…RB-based with a good defense. The winner is probably a future wild card in their conference. The loser is going to fight for .500.
We project the Patriots to finish with 9-10 wins, and a wild card shot. Eight wins possible…10-11 wins a stretch goal. Nine wins the most likely outcome, with 10 wins very possible.
Fantasy Player Notes…
 -- The two QBs here both struggled to be above a 50% Comp. Pct., in what was a defensive struggle holding down both QBs. Not surprising for Mac Jones (18-35 for 218 yards, 0 TDs/0 INTs) as a rookie struggling against a good LAC defense -- but kinda surprising for Justin Herbert (18-35 for 223 yards, 2 TDs/2 INTs).
Is there a problem with Herbert in 2021? In his last two games, 3 TDs/3 INTs, both games under 57% Comp. Pct., and two losses. He's the #9 QB in Fantasy Football right now…and that's a disappointment. He flew into the top 5 for FF after Week 5…but has stumbled since then.
I didn't see a huge problem with Herbert in this game. Everything looked mostly normal. Some misfires, but too many dropped passes…and too many pressures. Credit the NE defense because they got after him and to him…a season high 3 sacks on Herbert.
Something seems a bit off, in general, with this offense. Not a total breakdown, but Herbert's accuracy has tanked in his last two games…albeit against good pass defenses, but that's not like Herbert.
I'm confident enough, but not overly confident in what I see. I will feel better if he comes out and blows the doors off of the Eagles this week – as all the good QBs have this season. If he flops vs. Philly…then we officially have an issue.
 -- Mac Jones played solid football, again…it's just the Chargers have one of the best pass defenses in the league. Both teams in this game have top pass defenses, and both QBs scuffled.
 -- The story of this game was really the two defenses…
I've been touting the Chargers for weeks, while they gave up 42 (CLE) and 34 (BAL) points in games…and people abandoned me on this pro-LAC defense scouting.
In this game…they held NE to 20 offensive points (the other 7 was off a pick-six), which goes with their usual flow in games this season – holding team at or under 20 offensive points in a game.
They are the #4 pass defense in the NFL (by yards per game).
They are 8th best in fewest TDs allowed (9) this season.
They held Mac Jones to just above 50% Comp. Pct. and allowed no TD passes.
Their Achilles heel has been against the run, and here they did allow 141 rush yards…but it was on 39 carries, just 3.6 ypc allowed. They were much better against the run here coming out of the bye week.
The Chargers defense is showing signs of good, but not great. Useful in good matchups…Week 9 vs. PHI might be a good one. Week 12 at DEN is promising. Week 14 v. NYG depends upon the Giants health. Week 16 at HOU and Week 17 v. DEN would be a great FF-way to end the season.
The Patriots have a much better, deeper defense with a real pass rush…a defense starting to come into it's own, bolstered by the intense run game controlling time of possession. The made Brady and Herbert struggle this season. And when they get a weak opponent, they've done some damage – thumping the Jets twice, and really thwarting Houston but the Texans had some fluky big plays hit and covered a decent effort over.
We'll see how really good (or not) the Pats defense is the next four weeks: @CAR, CLE, @ATL, TEN are all either favorable or neutral matchups…no bad matchups.
 -- Josh Kelley was set to inactive for this game, so I want to be done with him and looking for other #2 RB gambles. Justin Jackson (3-79-0) reeled off a 75-yard run in this one but did little otherwise and got hurt…AGAIN.
I have no idea who the handcuff for Austin Ekeler is. I don't think the Chargers know either.
 -- Mike Williams (2-19-0/5) got shut down this game. I watched a lot of this game from his perspective to try and get a feel for what happened. He looked fine. He is getting doubled – teams do recognize he's the WR to stop, not Keenan Allen (6-77-1/11).
Williams has been hurt in recent weeks, but I don't think it's an injury issue – I am hoping it was injury before (Weeks 5-6), and just a good game plan here, and we can resume that Big Mike great start to the season going forward now. If Herbert and Williams struggle against Philly, then it's time to worry.
The Pats have shut down Amari, Cooks, and Godwin in recent weeks…and now Williams. It might just be the Patriots effect here.
The Eagles seem like they have a good pass defense, statistically but it's a massive 'tale of two cities'…
PHI defense versus = ATL, SF, CAR, DET = 11.8 ppg allowed + (3-1 record)
PHI defense versus = DAL, KC, TB, LV = 36.0 ppg allowed + (0-4) record
Quite a split.
12 TDs/3 INTs in those losses to good teams, big scores.
I think you know which bucket LAC should go in…
 -- Since Week 4, Kyle Dugger (6 tackles) is the #8 DB PPG scorer in IDP.
Matt Judon (5 tackles, 1.5 sacks, 1 TFL) made life miserable for Herbert in this game. He's #3 among classified linebackers in the NFL in sacks this season with 8.0 sacks…a half a sack away from #1 (TJ Watt, Landry). #4 in sacks among all defenders (Garrett #1 with 10.5).
Snap Counts of Interest:
33 = J Cook
25 = Parham
11 = McKitty
45 = Ekeler
08 = Roundtree
07 = J Jax
‍
41 = Dam Harris
25 = Bolden
12 = Stevenson