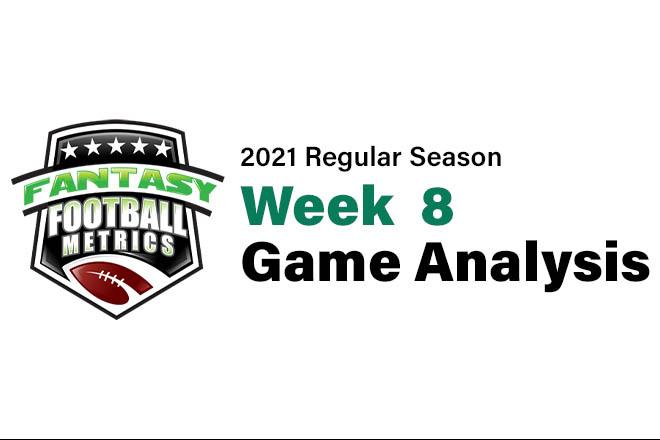 R.C. Fischer
FFM
02 November 2021
2021 Dynasty/Fantasy Game Analysis Week 8: Jets 34, Bengals 31
This was no fluke – this was the Jets smacking the Bengals down, a very good Bengals team.
And it wasn't like it was a lot of fluky things that the Jets seized on…in fact, it was the opposite. NYJ raced right down the field opening drive and took a 7-0 lead. Then the Jets then turned the ball over 3 times in a short span – two tipped pass picks, and a fumble lost…allowing Cincy to crawl back in and take a 17-7 lead with under 2-minutes to the half. At that point, it seemed like the Bengals had righted the ship, seized control and were on their way. They weren't…
Mike White drove the Jets right down the field on a beautiful hurry-up/2-minute drill long drive for a TD to close it to 17-14 CIN at the half. The Jets tied it 17-17 in the 3rd-quarter. Cincy took back the lead 24-17 and then 31-20 with 7+ minutes remaining, and it seemed over again, but the Jets scored two more TDs in a few minute span led by Mike White driving them down…and the Jets held on for the win.
The Bengals were shell shocked. They were definitely sleepwalking through this easy win (they thought) early on, but when they woke up and started fighting back…the Jets fought harder. The Bengals were beaten in every way this game. The kinda game that can derail a season…all Cincy momentum lost. Huge game hosting Cleveland next week will either re-propel them or send them into a tailspin. I'm not sure, after watching this, if Cincy just played a bad game and will fire back Week 9 and handle the Browns…or if this was a sign of the breakdown, and they become 'the Bengals' again…coming back to earth. I really am not sure…because pretty much nothing made sense in the NFL Week 8, which is why the product is so wonderful…and maddening.
The Jets are now (2-5)…two wins over playoff teams, TEN and CIN. If they beat Indy at Indy on TNF this week (9) then the Jets have a full scale QB controversy…they kinda already do…
Fantasy Player Notes…
 -- All hail Mike White (37-45 for 405 yards, 3 TDs/2 INTs)!  He won this game. A lot of screens, but also a lot of shredding the gaps with smart slants and timing passes. He played a terrific game. He's not like some wheeler dealer looming passing star…he's just another really capable NFL QB. He had/was like a better Mac Jones type of game – a lot of short slicing and dicing, but Cincy was helpless to stop it.
White wore the Bengals out with screen passes that Cincy never adjusted to…and when they tried to adjust, White would start going more downfield. It was so good, so efficient, that the Jets suddenly have a major issue…White looked 10x better running the offense than Zach Wilson. If Wilson could come back this week…they couldn't/shouldn't bench White after such a performance (and the Jets performances prior), but they probably would do that because it's the NFL and 'best man wins' is a con they tell themselves. If they forced Wilson back in, then Wilson would be crucified if he jumped back in and lost big with turnovers, again. It may be terminal to his Jets career.
White will start Week 9 TNF at IND…if he wins that game, then the Jets have a MAJOR problem. If White wins again this week, then I bet Wilson would magically not get cleared as fast by the doctors for Week 10…
White's two picks in this game…one was a pass that was a little off but hit receiver's hands and led to a pick. The next a batted pass turned pick. He really didn't throw too many bad passes…maybe 1 or 2 at the most. Very impressive. Way better shock-win start than Cooper Rush (who was fine too).
 -- White's efficiency sprung the RBs to huge games in the passing game.
Michael Carter (15-77-1, 9-95-0/14) and Ty Johnson (4-15-0, 5-71-1/6) combined for 14 catches, 166 yards, and 1 TD on 20 targets in the passing game.
It's a super smart plan…and I've been whining about it for 4+ weeks for Zach Wilson to simply checkdown to set up the big plays…but he never would. White did…and the Jets scored 34 points and won a game against a top defense. The game plan was perfect to protect/divert attention away from the bad O-Line, and it keeps the ball moving.
I expect we'll see a repeat plan against Indy in Week 9…so Carter is a for-sure PPR play and Ty Johnson is a sleeper PPR option.
 -- Four WR notes…
1) Ja'Marr Chase (1-9-0, 3-32-1/9) didn't have his best game, a couple of drops but you can count on the fact that the defense is starting to play him like he's the main thing to shut down – which helps open up everything else.
He's still not a great WR to me, but I am starting to see the speed/fear of the speed making defenses overcompensate on him and that allows the rest of the offense to flourish.
2) Jamison Crowder (8-84-0/9) got a ton of easy passes and he cashed in. Could keep up Week 9…if he's not traded first.
3) Elijah Moore (6-67-0/6) stood out here. Best he's looked. Several catches in the gut/over the middle, a nice pitch-and-catch with White. Moore may be getting ready to PPR pop a little bit…IF Crowder is traded.
4) Denzel Mims (2-30-0/3) got more time with Corey Davis out, but he didn't cash in on it. Played the most snaps of any Jets WR this game but was minimally looked at. They just need to deal Mims. He's either done as an NFL player…the new N'Keal Harry…or it's a Jets problem that new scenery will fix. I think Mims will be a Panther by the end of Tuesday/trade deadline.
‍
-- C.J. Uzomah (4-33-0/4) got an extra target and catch more than usual this week, but no TD...he's slowly getting himself in the 'could be a TE1 this week' sweepstakes every week now...the same way Hunter Henry and Dawson Knox were -- low targets, good efficiency, high TD rate.
 -- Quincy Williams (1 tackles, 1 PD) was back from his concussion but he played limited snaps as NYJ activated terrible Jarrad Davis (3 tackles) and jammed him into the starting lineup. The Quincy Williams run may be done for reasons I will never understand, but I know the NFL…the Jets sought out Davis in the preseason and he's back off IR and rammed right into the starting lineup.
Snap Counts of Interest:
43 = Uzomah
20 = Sample
43 = Mixon
14 = Perine
59 = Mims
55 = Cole
51 = Crowder
30 = E Moore
59 = M Carter
24 = Ty Johnson