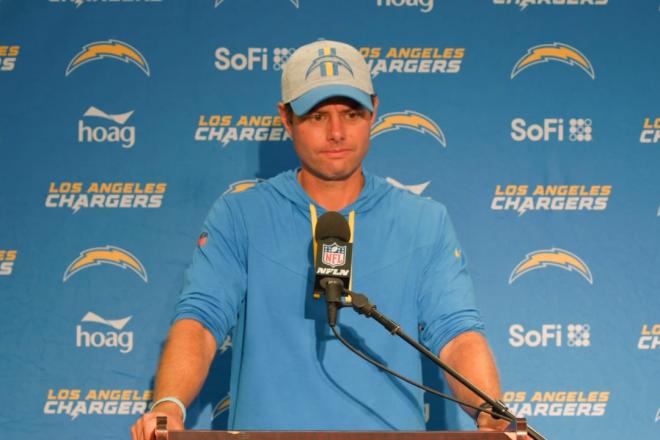 R.C. Fischer
FFM
05 July 2022
‍
2022 REWIND: 2021 Dynasty/Fantasy Game Analysis Week 15: Chiefs 34, Chargers 28
When I think of this game, what I'll remember the most is…heading into the 4th-quarter it was 14-13 LAC leading, an offensive slog with Mahomes without a TD and the Chargers having failed about 100 times in goal-to-go situations – it all seemed FF-lost for the heavily-invested-in-KC/LAC-things FFM cult. What was I going to need to write going into the weekend to keep all our FF-spirits up?
There's nothing worse, in my world, then a KC dud on TNF for everyone to bemoan for 72 hours until the next kickoff…using the hours to re-do their entire Fantasy Football plan from the August 2021 draft to their future business plan created for 2022, a plan to never include any Chiefs ever again because they all have been figured out or misused or whatever is thought in frustration watching the KC dullness happen with you own two eyes on a spotlight night game.
That's Fantasy Football…we love all 'the possibilities' in our planning and the perfect storm re-do redrafts we imagine in our minds, but then watching the live action of our plans play out like we're being taken to go in front of a firing squad. I wish we could more enjoy the beauty of the everchanging game we get to participate in…for 'fun'. Maybe the fun is the torture of it all? It kinda seems to be that way, actually :)
We didn't have to wait long for the beauty to arrive to save us from our torture rack, for those with the KC guys, as the final 10 minutes of regulation got us an offensive/FF explosion and the extra blessing of overtime/more football to add more to the tallies. Three quarters of a defensive struggle with 27 total points scored between the two teams and fullback Michael Burton as KC's FF star of the night…to suddenly a twist to 35 points scored in about a quarter+ of play to the finish with the KC guys having some of their best game outputs of the season.
You have to love Fantasy Football when it goes like this on a Thursday night…love it at least for 72 hours, then you can go back to complaining about all the letdowns from the Sunday guys not being as good as your KC guys. It's the nature of this FF-game…
What looked like LAC getting ready to take over the AFC West for now, and forever…slipped right through their hands and sent them reeling to the wild card chase. I absolutely 100% agree with every Brandon Staley call to go for TDs and not field goals throughout that game, when faced with the decision. You play for TDs when you face a team like KC for the very reason of what happened…KC can look stupid for three quarters and then blow your doors off in a 10-minute span.
To the media, or fans, who love to shout 'analytics' every time a team goes for a TD/1st-down on 4th-down instead of a field goal…please stop. You have no idea what you are talking about. You shouldn't need a Harvard grad student with a MacBook Air to tell you that you need to score TDs not FGs against Patrick Mahomes (or any other elite offenses). It should be a given, but the media (and fans) are so conditioned to playing the game in an antiquated way we were raised…that they cannot handle such simple logic/strategy. And the fans are worse, because they live to watch their favorite team lose games and complain about how they would have done everything different in all the 50-50 choices…just like us FF owners do week-to-week.
You either play to win or you play not to lose…in the NFL…in Fantasy…in life. I like playing to win, knowing I might lose. I'm not putting my lifesavings on one hand of blackjack…I'm not saying we all be stupid risk takers – but I'm more thinking in the sense that (back in my heyday) I wanted the basketball in my hands down one with 5 seconds left in the game. Missing the game winning shot and then rehashing my entire reason for ever playing the game for the next 24 hours/week/month/year is not productive and doesn't solve anything. I should be counting down the days until I get my next chance to do so again. We have to make those 50-50 calls for sit-starts every week with our Fantasy teams...we take our best shot and if we miss, we comeback next week on the attack again. Brandon Staley went for the kill, and he missed…the offense didn't convert many golden opportunities. They will learn from this…they will build up scar tissue from this for the next time.
I assume there will be a next time. Staley's young coaching career is at a crossroads from all the second-guessing this week he's faced – will he chicken out the next time he's in the same position, or will he establish that he will go for wins despite the media and fans crying? FYI, nothing you can do as an NFL head coach will stop the media and fans from complaining. As soon as you win a Super Bowl, the media and fans are already creating a top five list the next day on reasons why you won't repeat.
The Chargers fall to (8-6) and are in a good spot still for the wild card. 10 wins should be an easy ticket to the playoffs, and LAC should get there…as LAC faces Houston this week (although after watching Week 15 kings Arizona and Tampa Bay go down to inferior teams…who knows?) and likely gets the win…and then they need to win one of their last two hosting DEN or at LV. They can also sweep the rest of the season, they'll be favored to, but at a minimum they should get to 10 wins and the wild card.
The Chiefs won at just the right time, they are now (10-4)…the only 10 win team in the AFC, with their nearest competitors all losing this week (NE and TEN). KC is set to win at least 12 games and take the #1 seed.  
*2022 JUNE NOTES = How fast everything can change in the NFL. This game was a total dud for three quarters and then an epic finish led to some of the best FF tallies of the season for various players...just at the right time, entering the FF playoffs.
When it appeared LAC had the schedule, and the team, to win 2-3 of their next three...they lost to lowly Houston the very next week and then lost the do-or-die game to Las Vegas Week 18. What should've been a dangerous playoff team was bounced from the playoffs from here on in.
On the other hand, KC was set to run to the #1 seed...but then 'Cincinnati happened' and knocked KC from the #1 seed and then from the playoffs a few weeks later. No one saw that coming the date this game ended/this report was written.
You gotta love football.
Fantasy Player Notes…
 -- First off, I have to say 'thank you' to Patrick Mahomes (31-47 for 410 yards, 3 TDs/1 INT, 3-32-0) and Tyreek Hill (12-148-1/13) for helping get FFMers, many of whom have one or both, off to a great start for the FF week.
2021 has been the most erratic run with this duo in the years of having them together. Mahomes had fallen out of the top 5 PPG Fantasy scoring QBs this season with a real rough stretch for the last several weeks, and Tyreek was mostly with him in those FF-doldrums. But one of the reasons we push for those two guys for FF every year we can – they have more of 'these' types of games than any FF QB-WR duo over the past few years…weeks where they almost single handedly get an entire FF team over.
For three quarters, it didn't look that way. For most of the last 5-6 games worth of 'quarters' it hasn't looked very good. Something is still wrong here with the KC offense…I know it is because I've been so heavily vested in/observing it the past few years. But, with these guys you just shove the chips in and hope they kick into gear at this stage of the FF season. They did in the 4th-quarter here. Still not totally in the clear ahead, but there's always hope that there is…and that's all you can ask.
My apologies to…
a) The FF teams where I thought Kyler v. DET was more logical than Mahomes here. Some Dynasty teams have this duo/option and given the choice everything seemed obvious for Kyler…until Week 15 showed nothing in football is obvious.
if you thought Kyler was bad...check out Tom Brady's week.
b) Travis Kelce (10-191-2/13), of whom I told Ross Jacobs in-game that Kelce keeps looking old to me and he was really dying in this game, so I made fun of him (and Ross has him on a key FF team of his) but then the 4th-quarter magic hit, and Kelce took a swig from the fountain of youth and suddenly is out-running every player on the field. Glad I could reverse jinx him into 41+ PPR points.
…still, Kelce does look like age is catching up to him. Everything about Mahomes-Tyreek looks normal (physically) this year, just not connecting as well. But Kelce looks like he is slowing down…and that might be a part of Mahomes issue the past two months. But that old magic was there late this game…maybe it carries over the next few weeks.
 -- Justin Herbert (22-38 for 236 yards, 2 TDs/1 INT, 5-16-1) looked better than Mahomes most of this game, and he looks like the QB of the future between the two. If Jared Cook could catch, this game might have been a whole lot different on the perception we walk away with.
I think Herbert's main issue is his offensive coordinator – he's the one who has pushed Jared Cook (3-32-0/7) when Donald Parham (0-0-0/1) is a much better, more dangerous mismatch weapon in the passing game. The O-C's the one who keeps calling for useless end zone fades and stupid goal line quick passes in traffic to Mike Williams that come in so hot he never catches them, then gets blown up by the defender going into the soup when he does, and the ball pops off his hands and into the air risking turnover…I've seen them run that play near the goal line probably 7-8 times this year, and I cannot recall one time it hitting for a TD…but they keep running it.
My vast football opinion: If they simply put Joshua Palmer (1-15-0/1) in the starting rotation with Keenan-Big Mike and then more Parham than Cook…this offense would be loaded with unique weapons. The Chargers are being suppressed from within…by the O-C. You wonder why LAC could fail so many times near the goal line…it's not because Herbert isn't an elite weapon. If anything cost LAC this game, this season…it's the O-C Joe Lombardi. It's so cool that he's related to Vince Lombardi…who is probably rolling over in his grave at the dreadfulness of this offensive plan/attack.
You have to do some pretty good coaching to make a Justin Herbert-led offense stumble around so much and not get better as they go. *See, also: Eric Bieniemy, Kansas City (2020-2021).
*2022 JUNE NOTES = I am telling you Jared Cook was a big part of the LAC self-inflicted wound on offense. He likely cost them this game with a key drop for a TD (lost). But O-C Joe Lombardi was worse...and he's back for 2022...sigh...
‍
 -- Speaking of Big Mike Williams (3-49-0/9)… In most cases, you just have to stick with him. He's too good to bench. Flyers on like a Courtland Sutton type Flex shot are true long shot bets that the previously great WR can have a moment again…but it's been so bad, and his QB so down that it's a real uphill battle. Big Mike with Herbert playing indoors a lot in December…it could hit big at any moment, and they've had some huge 'highs' this season together…which makes the mediocre games feel more frustrating. We know what they're capable of.
Jaylen Guyton (2-10-1/2) has a string of three weeks in-a-row with a TD but look at the targets during that stretch: 4-3-2. One of the games with Keenan Allen out with COVID, and he mustered 3 targets. It's FF-something that he exists with Herbert, but Joshua Palmer is coming on fast to share in those limited targets. Guyton is a risky play, but hopeful a TD falls his way…especially hopeful at HOU this week.  
*2022 JUNE NOTES = Big Mike got COVID the next week, and missed the game...a LAC loss to HOU. The final two games of their season, he averaged 6.0 rec. (10.5 targets), 91.0 yards, and 1.0 TDs per game...15.1 FF PPG/21.1 PPR PPG. A nice finish after a terrible middle of the season and wonderful start to his season. I really don't know which Big Mike we get in 2022.
The set up is for 'success'.
‍
 -- Justin Jackson (13-86-0, 1-13-0/1) was the best RB on the field in this game. In many key spots in this game, Jackson was in and not Austin Ekeler (12-59-1, 4-23-0/4)…which Ekeler was hurt going in, but he was playing and working fine, but I think JJax got so hot that they stuck with him in spots.
Ekeler starts Week 16 with COVID, but with the new rules he'll likely be clear by Sunday. If he is not, Jackson will be an RB1 this week.
Outside of the COVID situation, Jackson has at least established that he is the proper handcuff for those with Ekeler…but you might not get to him now with Ekeler having COVID – everyone will be coming after JJax, where he is still available.
 -- Jackson sure looked better than Clyde Edwards-Helaire (9-32-0, 2-18-0/4)…talk about a perpetual dud.
Here's how bad this was: The Chargers are notorious for their issues stopping the run, and while the KC passing game floundered for three quarters, the Chiefs could not get CEH going…nor did they seem that interested in doing so, one or the other. All kinds of RBs have mowed over the LAC run defense…but not CEH in the most critical of moments for him to do so.
CEH has played 9 games this season…
-In seven of the 9 games he has rushed for 63 or fewer yards.
-In five of the 9 games he has rushed for less than 50 yards.
-The supposed master pass catcher out of the backfield has caught no more than 3 passes in a game all season and never eclipsed 30 yards receiving this season in any game. Darrel Williams has 30 or more yards receiving in a game five times this season.
I will maintain my stance that the Chiefs are better off with Darrel Williams (5-12-0, 0-0-0/1)…and he's not all that great either. In games where Williams has taken 10 or more carries in a game, the Chiefs are (5-0)…and (5-4) in all the other games – which is just a quirky stat, I don't believe Williams is the end-all-be-all.
*2022 JUNE NOTES = The CEH clock is ticking...if he comes out of the gates slow this season, he'll be split up by RoJo-McKinnon and then just be a rotational, forgotten RB. He needs a fast start, and I'm not sure he's going to be able to get it.
‍
 -- Credit the Chargers-DST for flustering KC's offense for about the first 53 minutes of this game. This LAC defense has some potential. They squashed NYG the prior week, but then gave up garbage late/the last 4 minutes of the blowout. This defense is trying to peek through…
Week 16 at HOU and Week 17 v. DEN are hopeful DST options, as I've been pushing for a month+. It's not perfect, but it's something.
*2022 JUNE NOTES = The LAC defense had so many 'flash' moments, but always flopped in the end. This game was another example. Next week, Houston is going to bury them.
‍
 -- The KC defense came up big on those goal line stands and facing LAC's offense isn't a favorable matchup because Herbert can make lemonade out of the O-C's playbook. You can use the KC-DST with confidence against PIT Week 16 and with some confidence Week 17 at CIN.
Nick Bolton (14 tackles, 3 PDs) was a machine in this game for KC, a difference maker…which he was to start the season but then they benched him for struggles in pass coverage – they found out that he has other gifts to bring to a defense that they should utilize in this game. I don't think he'll be benched any more, but with KC/NFL coaches in general…you never know what's going through their minds. They love things that don't work and hate unplanned things that do work.
*2022 JUNE NOTES = Bolton played about 50% of the snaps in each game the rest of the season, including their playoff games.
‍
Snap Counts of Interest:
65 = Mike Williams
62 = Kennan Allen
33 = Palmer
28 = Guyton
43 = J Jackson
27 = Ekeler
13 = J Kelley
60 = Tyreek
49 = D Robinson
46 = Pringle
31 = Hardman (this puppy is about over)
51 = CEH
21 = D Williams
‍