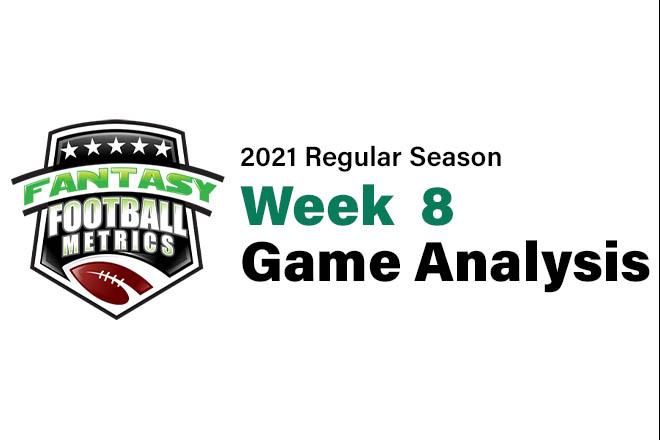 R.C. Fischer
FFM
05 November 2021
2021 Dynasty/Fantasy Game Analysis Week 8: Steelers 15, Browns 10
This was a typical AFC North slog…and not in a good way, just two boring teams with boring offenses and good defenses traded punts all day and the team that got unlucky with penalties at the wrong time and the one that didn't have OBJ drop a pass that would have given them 1st & goal with a few minutes left to take the lead, is the one that lost.
Neither team played particularly well or poorly, it's just their two solid defenses outplayed the weaker offenses and kept the scoring down and the Steelers caught the breaks at the right time and stole it.
The Browns are now (4-4), losers of three of their last 4. They didn't have Denzel Ward here, which was big. They didn't have Kareem Hunt, who I think is the heart & soul of their offense. They didn't have Donovan Peoples-Jones, who is probably their best receiver now. They also had an O-Line injury to further set them back. The Browns are better than the Steelers, but Pitt got the win…and now the Browns have a key game with Cincy Week 9 and then face Baltimore two times in the following 4 games.
The Browns are projecting to land around 9 wins, which likely won't be good enough to win the AFC North.
The Steelers are somehow (4-3) now…winners of three straight. They will be favored in their next two games (CHI and DET). If they book those home wins, they will be (6-3) and in the AFC North hunt. We still project them at 8-9 wins, closer to the 8-win mark. If they can get to 9 wins then they got a shot at a wild card. They won't go anywhere if they get there.
Fantasy Player Notes…
 -- The biggest news involving a player from this game has nothing to do with this game, and that's the Odell Beckham (1-6-0/1) saga.
I've said that the OBJ trade was terrible for Cleveland from the jump, and then it was beyond obvious the offense was better without him as we saw this play out the past three years – but the Browns persisted on keeping him. They should've cut him before this season for the sake of the locker room and the offense…because you knew this day was coming.
OBJ, through his dad, complained about the WR not getting throws from Baker when he was open. It's a simple explanation for the lack of throwing to OBJ – Baker is smart, he can't have any faith in OBJ actually catching the ball if he is wide open. With about 5 minutes to go in this game, down 5, Baker planted a laser beam about 30 yards downfield, over the middle to Odell down around the Steelers' five-yard line…but, of course, he dropped it…looking around to see where the hit is coming (bailed out by a penalty elsewhere to negate the play from the history books.
Beckham's career is over…he hasn't had the heart or mental capacity to play for years going back to the Giants final years. He doesn't deserve to be on an NFL field, and now he won't be. The smart thing for the Browns to do is set him inactive every game, pay him not to play…don't cut him and allow him to go to KC or PIT or BAL or anywhere in the AFC to bite you if he gets a spark of trying/effort.
But it appears they are going to cut him, and he'll go wherever he's wanted/tolerated…to go and ruin their locker room. I thought the Browns might pay him not to play, but honestly, maybe it's smart – let him go to an AFC foe to sink their ship through the cancer that is OBJ.
His career is just about over. Thank God. Now, maybe the Browns can win some games.
In the last two seasons, the Browns are (7-5) in regular season games OBJ has played 20% or more of the snaps in a game. They are (9-3) in regular season games with him out/less than 20% of the snaps.
As a Brown, OBJ has caught 56%, 54%, and this year 50.0% of his targets in a season.
 -- The best WR on the Browns has been Donovan Peoples-Jones (DNP) this season, and he had been getting better and better – and just as he was really taking off (4.5 rec., 85.5 yds, 1.0 TDs last two games), he got hurt (groin) pregame Week 7 and didn't play and then missed Week 8 because of it…so, he seems out of sight out of mind.
Don't forget him. He's coming back to be a true #1 with OBJ out of the way. The Browns aren't a high-volume passing game, so it might not be that amazing, but it has WR2 chances…maybe.
Jarvis Landry is just a WR3 who has WR2 moments from time-to-time now.
FYI…Baker Mayfield (20-31 for 225 yards, 0 TD/0 INT) did not show any affect from his shoulder injuries. He looked 100% normal, fine. He's not an issue in the passing game…and I think DPJ is going to be his BFF WR ahead.
 -- Big Ben (22-34 for 266 yards, 1 TD/0 INT) played about as well as he's going to play in 2021, in this game. He barely gets his one TD pass per game these days. He got his one here on a 4th & goal, late, forced throw, tipped up by Pat Freiermuth (4-44-1-/7) and caught by him a blink ahead of stepping out of bounds.
Ben was barely headed to getting over 200 yards passing in this game until a late game dump pass to Diontae Johnson (6-98-0/13) turned a 50-yard catch and run iced the game.
Ben has no upside, and his fade is putting FF-pressure on Dionte, among others. I'm worried we're gonna see a bunch of 6 catch, 50 yard, no TD games ahead for Diontae. I'm a Diontae seller HIGH not a PANIC-DUMP.
Pat Freiermuth (4-44-1/7) has become Ben's second favorite target now…7 targets in each of his last two games for Patty F. Chase Claypool (2-16-0, 3-29-0/3) is fading off into about one more week before we all start saying – should I keep him in redraft (12-team/17-man roster)?
 -- Najee Harris (26-91-1, 3-29-0/3) is volum-ing his way to FF goodness, as expected. 23-24-26 carries in a game his last 3 games…4.0 yards per carry in that stretch, 3.7 ypc on the season.
 -- The Steelers defense is really sold/good, and the next two weeks with CLE-DET, both at PIT, is going to be great for DST scoring, so you'd think. Then a rougher schedule the rest of the way…likely unusable (with confidence) the rest of the way.
 -- I think the Browns have just as good a defense, if they are at full strength, as the Steelers. However, they have a messy schedule ahead for DST usage. Weeks 10-11 at NE, DET is the last real usage.
Snap Counts of Interest:
33 = Chubb
18 = D'E Johnson
09 = Felton
58 = Freiermuth
45 = Gentry