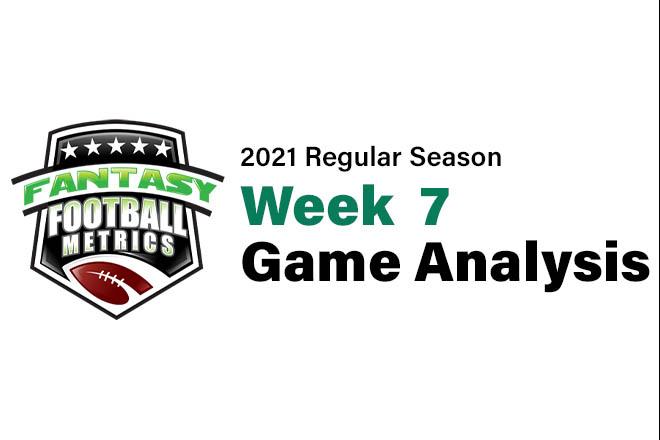 R.C. Fischer
FFM
28 October 2021
2021 Dynasty/Fantasy Game Analysis Week 7: Rams 28, Lions 19
I'm not sure how to 'call' this game…
The Lions threw the kitchen sink at the Rams…in fact, they threw the entire kitchen at the Rams but still lost. An opening drive 'lucky' catch-and-long-run TD by D'Andre Swift to get the kitchen tossing metaphors started. An onside kick right after, and the Lions recovered it…but their offensive drive off of that stalled, but then they pulled a fake punt to keep it going, ultimately taking a 10-0 lead. The Rams looked shell shocked.
But then the next thing you know, the Rams are leading 17-16 at the half.
Another fake punt conversion…going for it (unsuccessfully) on 4th-downs…the Lions getting back the lead 19-17…and then the next thing you know the Rams are up again 25-19 – but the Lions were driving into the red zone with 6+ minutes left, and then a Jared Goff INT in the end zone killed the chance to take the lead and the Rams put it away to secure the 25-19 victory.
The Lions tried every trick in the book…and failed. I wanna say 'kudos' to the Rams for withstanding all that, but they didn't look that great doing it. Everything was driven by Lions, the pros and cons…and the Rams played their normal game – pretty good offense but not dominating, a sloppy defense that man's up at just the right time. I've not been overly impressed with the Rams all season. They're good but soft…and they have had the world's easiest schedule to help them get over to (6-1) so far. We see the Rams finishing with 10-11 wins and a few games back of Arizona for the NFC West.
The poor Lions…they pour their heart & soul into every game and always come up short. They're (0-7) but aren't an 0-7 team…they are not the worst team in the NFL. They will win 2-3-4 games before it's all said and done. I believe they will get that first win Week 8 hosting Philadelphia.
Fantasy Player Notes…
 -- Who won the battle of the QB-who-were-traded-for-each-other?
You have to say Matt Stafford (28-41 for 334 yards, 3 TDs/0 INT) but it looks like the same old 'good' with flaws Stafford we always see. He looks comfortable…because he's well protected by one of the top O-Lines, and healthiest O-Lines, in football.
On the other hand, Jared Goff (22-36 for 268 yards, 1 TD/2 INTs) always looks frazzled as a Lion…but he's lost his two best OLs and has Kalif Raymond as his best WR. So, what would we expect Goff to look like? Comfortable is not possible for him.
Stafford looks better, but factor in their surroundings…and I might respect what Goff is fighting through more than the silver spoon year of Stafford.
For FF, I want Stafford…no debate.
 -- How about the battle of the two main RBs here? I pose the question that way for a reason…
D'Andre Swift (13-48-0, 8-96-1/10) is ripping up PPR and had a nice/lucky catch-and-run short pass long TD here to start the game…he almost fell down after the catch, he broke an arm tackle, two defenders knocked into each other…and then Swift was off to the races.
Swift looks fine, and you love that Goff has no protection…so that little swing pass out of the backfield to Swift is key to preserve his life, and it's better than any other play they could run. I'm totally fine with Swift. He looks good-not-great, but his situation for PPR is great-not-good.
However, I'm watching Darrell Henderson (15-45-0, 3-19-0/6) in this game…and it's the fastest he's looked to me all year. He looked like a better version of Swift in the game. Henderson was working fine before this, but it looks like someone took a restrictor plate off of him this week because he was really moving…and, yet, he had a mediocre FF game here. Why? The Lions defense was turned up to 10 all game; they played great…as well as they could. The Rams blocking was fine…DHendo looked great/speedy…but credit the Lions run D.
I say all that to then say…you know how I've been calling RB breakouts a week before they happen? Like good RBs that haven't totally popped for FF yet and I think they're about to go from RB2 to RB1…James Robinson, Leonard Fournette come to mind. Darrell Henderson was already doing better than the those guys I just mentioned leading into this, so me calling this 'pop' isn't as shocking – but I think Hendo is about to go to another level of FF output…with 100+ yard rushing games and he keeps his TD pace elevated and he becomes a stronger RB1.
DH is a good buy low in that his owners respect him, but not fully…they're suspicious…and just had this did vs. DET happen, and DH has not rushed for 100+ yards this season yet…and Cam Akers rumors of a return started happening (but it's for the playoffs, maybe). I think all the recent news is pushing DH down a little more than he should be.
He may pop big against the Texans Week 8 because 'the Texans', so your buy lower-ish window is short.
McVay is stuck with DH…Sony Michel isn't on the radar right now. But there is always risk McVay turns on DH for any given reason.
 -- Two WRs to point out in this game…
1) I plugged Kalif Raymond (6-115-0/8) 4+ weeks ago, before his first breakout moment…then Kalif had a zero game after a spike output game, and we all bailed on him because of it. Well, last week I re-pushed Kalif again ahead of this game…and he popped for 100+ yards here.
Whether we like it or not, he is the best WR on the team…but more importantly, as I've been stressing – he is Goff's favorite WR throw…and it's all he's really got at WR. Raymond may have a down week here or there, because I'm not saying he's a WR1…he's just a solid WR2…but most people see him as WR3.5 garbage. He's making tough catches and has some speed after the catch. He'd be a #4 WR on the Rams, but he's the Lions' #1. FF-Respect it.
2) Cooper Kupp (10-156-2/13) is the obvious #1 look for Stafford. No one can stop it, we've said this since Week 1 (but not before that, so I missed it initially). But you know who the #2 look for Stafford is…who he is most comfortable with? Van Jefferson (4-43-1/7).
I don't know if Van will have the 2nd-best FF numbers among the WRs here in 2021, but Jefferson is moving closer and closer to surpassing Robert Woods (6-70-0/6) as the trusted #2 I don't know that it will fully happen this year, but it's coming – a very solid WR in a high functioning offense. He'll be a solid PPR WR2 in the near future.
Jefferson is not overly athletic…he's just good at catching footballs and getting open.
 -- The Rams are struggling on defense…and it's being hidden by the string of soft opponents they've played. They are struggling at linebacker, big time. They just traded away LB Kenny Young, who seemed like a star early on this season…now banished.
It looks like Troy Reeder (8 tackles) is working 1st and 2nd-down, and a host of players are rotating in around that…including more-linebacker-than-corner Jalen Ramsey (6 tackles, 1 TFL, 1 INT). When Reeder worked as the main ILB last year…he was money for 10+ tackles per game.
You can keep using the Rams-DST on the easy matchups…like Week 8 at HOU. After that it gets a bit dicey on an elevating schedule, a Week 11 bye. Week 8 at HOU and maybe Week 13 at JAX is your last two uses. If this has been your main DST…you better come up with a Plan B ahead. This Rams-DST is nothing like the 2020 version with Brandon Staley.
 -- One of the reasons Darrell Henderson had a so-so game was the play of linebacker Jaylen Reeves-Maybin (9 tackles), who is seeing more and more snaps and his IDP numbers are jumping each week as well. Not sure he's ready to be a full scale IDP starter – but he's one to watch in deeper IDP leagues. He's a Dan Campbell kind of 'heart and hustle' player.
Don't think the Lions defense is a pushover for FF purposes either…
They held Baltimore to 19 points (3 of them on a 66-yd FG) Week 3. They held Minnesota to 19 points at MIN Week 5 (and another long, game-ending FG). The Rams scuffled to 28 points here.
The Lions defense plays all-out every week (except for when CIN drubbed them Week 6). They're going to be trouble for any weak-minded offenses. Philly Week 8 and PIT Week 10 better watch out.
Snap Counts of Interest:
63 = Kupp
63 = Woods
61 = Jefferson
04 = DJax
57 = DHendo
08 = Michel
56 = Raymond
43 = St. Brown (and not one target)
33 = Hodge
32 = Allison
52 = Swift
20 = Jamaal W