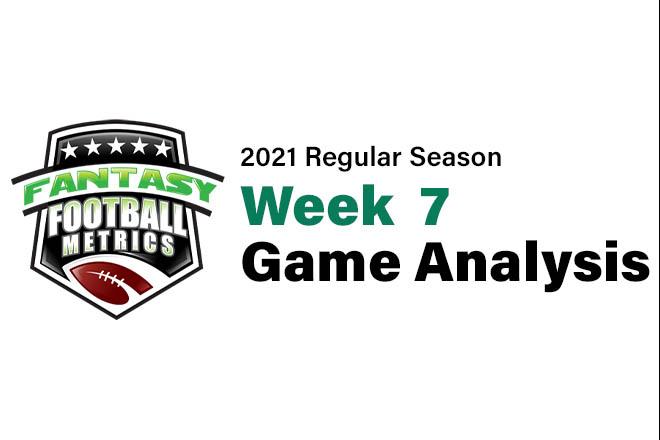 R.C. Fischer
FFM
29 October 2021
2021 Dynasty/Fantasy Game Analysis Week 7: Bengals 41, Ravens 17
I knew as soon as I said something nice about the Ravens (last week) that they would do an instant heel turn on me. I will eviscerate them/John Harbaugh this week…so, guaranteed, next game for Baltimore – they will win by 70 points.
What a strange game, but a good game for the Bengals…a defining game, really. A game where you could say the Bengals are the best team in the AFC North now…and it not-be ridiculous. I think we need to start wondering if the Bengals are one of the best teams in the AFC…
As far as this game… It was a grind, a standoff in the 1st-half. 13-10 Cincy at the half…both teams displaying good defense that thwarted the opposing offenses. Ja'Marr Chase maybe had one catch and was being taken out by Marlon Humphrey while Lamar Jackson was being somewhat contained by the Bengals and doing his usual Lamar stuff = just missing that wide open receiver on a throw (with the game commentators saying: oh, he'd like to have that one back…no, that's who Lamar is. It comes with the package).
The Bengals, clinging to a 3-point lead at the half, kicked off to Baltimore…who went down the field to take a 17-13 lead. You're thinking, at that point, live, that this game was going to be a continued AFC North slugfest to the final whistle with the last team to have the ball getting the win.
However, from that point on the Bengals scored the next 24 points and it was so bad a beating that they took Lamar Jackson out with like 6+ minutes left in the game. The Ravens just rolled over and quit.
That 'quitting' comment needed to be thrown in there to show just how much the Bengals took it at the Ravens. These two good teams traded punches, but the Ravens ran out of steam and the Bengals just got better as they went. It wasn't one of those 'lucky' wins where a team got a fluky INT or bad ref call or converted three 4th-downs to pull an upset…it was NOT tyat Cincy threw the kitchen sink at them and hung in for the win – this was the Bengals exercising pure toughness and making the Ravens bend to their will. This was a signature game for Cincy…a signature win.
The Bengals aren't just 'good' and capable of surprising teams – they are going out and beating, physically beating…and outsmarting…and out-everything-ing teams. This is a (5-2) team that got screwed out of a win over Green Bay Week 5 (in the missed FG festival) in OT…and lost Week 2 at CHI in a bit of a fluky loss they almost came back late and won…they are closer to (7-0) then (3-4)/(4-3). Detroit gives every team fits week-to-week, but Cincinnati blew them out Week 6 and made them look worse/demoralized more than any time I've seen the scrappy Lions look this year.
I think I'd put my dollar down on the Bengals to win the AFC North today. The Browns are battered…and the Bengals are the new gritty, scrappy bunch of the AFC North.
Baltimore handed over the AFC North baton in this game…actually, the Bengals took the baton from the Ravens and then turned around and beat them about the head and neck area with it.
Baltimore is a random box marbles dumped onto your kitchen floor…you don't know where they're all going to go/wind up at from start to finish. One week they look great, the next they look stupid. This particular game was one of the worst game plans I've seen since the Ravens Week 1 watching Darren Waller catch 422 passes against them and they never adjusted (more on their issues in the next section).
The Ravens go as far as Lamar Jackson takes them/makes things up moment-to-moment as the defense randomly looks hot then cold series to series. This Ravens defense has allowed 30+ points in a game three times in 7 games. The defense is erratic, the coaching is erratic, the RB group is a disaster, and Lamar is erratic. They can beat anyone and lose to anyone. So, that type of team is going to be +/- .500 in the end. Lean 9-10 wins due to schedule, but 8 wins is possible as they are coached downwards…and all reliant on what side of the bed Lamar woke up on that day.
The Bengals are not all the way there yet, but they are legit. Legit to win the division. Legit to beat anyone in the AFC in the playoffs, home or on the road. It's likely 'too soon' in the Bengals' evolution for them to go all the way – but you do not want to play this team. Good offense, very good defense, emerging kicker. If Cincy beats Cleveland Week 9 (at CIN), they will go on to win 11-13 games and win the AFC North and be a high seed in the AFC playoffs. If they lose to the Browns Week 9…it will be a dogfight between CLE and CIN to get to 11-12 wins and a division title, the other a top wild card.
Fantasy Player Notes…
 -- I was asked about who I thought were the early MVP candidates in the NFL…Joe Burrow (23-38 for 416 yards, 3 TDs/1 INT) is someone on my top 10 list.
After Week 7, Burrow is #4 in TD passes, #5 in passing yards…#2 in yards per pass attempt, behind Russell Wilson.
Burrow started out the season a bit clunky looking to me…a bit tentative coming off the injury – but if there is a modern-day Tom Brady, it is Burrow (not Mac Jones)…not as flashy as current day Brady, but then you look up and see him with 2-3-4 passing TDs in almost every game, flirting with 300+ yards passing a lot, winning games and performing well in all the weather elements. He's just a great QB talent…a modern-day Joe Montana is again reforming with Burrow.
But because Burrow is not flashy…the Bengals are undervalued in point spreads, handicapping in general, and in Fantasy. People just do not, cannot see the Bengals as a top functioning team. It doesn't compute with our history. The public is still lagging on the Bengals.
 -- The fans will think it's all Ja'Marr Chase's (8-201-1/10) doing, this Bengals turnaround. You're not going to be able to talk them out of it…so, let them have their fun with it.
Chase was wiped out by Marlon Humphrey early on…barely was targeted, but then it started clicking in the second half and there was a simple short pass turned multiple missed tackle, spun around 360 and sent sailing for an 81-yard TD…and that kinda broke the back of the Ravens at that moment.
The thing about Chase is…he is paying off for Cincy in a different way. Yes, his personal numbers are sweet…but we've been over this time and again – it's a lot of fluky big plays puffing his numbers. But the real win for Cincy here is: the hype on Chase is so real that the opposing team is starting to put #1 cover corners on him, and that's opening up everything else.
Where John Harbaugh is a terrible coach, and whatever they say about Don 'Wink' Martindale being a defensive genius – this was the second time this year I saw obvious malfeasance of coaching forcing a Ravens loss here… Week 1 it was just sitting back and watching Darren Waller catch pass after pass on them, and them never adjusting to it. Here, it was Chase being put in one on one with Humphrey, and the safeties really never bracketing help over the top. And usually Burrow stayed away from Chase when Humphrey was on him, but as soon as Anthony Averett was on Chase…he went there. Eventually, Burrow attacked Humphrey because the underneath was opening up as the corner feared getting beat deep, because he had no help over.
The one time I saw them do a safety help over on Chase…Burrow got suckered into a throw to Chase (assuming the Ravens were never going to give Humphrey help deep), and the pass was picked off in the end zone – the one blight on Burrow's day. I don't recall seeing the safety help in play after that…
Burrow just picked on the weak spot of the Ravens defense over and over, Baltimore never really adjusted, Chase is really fast and has to be accounted for like Tyreek Hill in some senses…or any fast guy WR…Cooks, Ruggs, etc., and that opens up other things if the QB is smart…and Burrow is.
Soon, teams will double Chase a bunch and his numbers will tail off…but Tee Higgins (7-62-0/15) can take advantage of that. Speaking of Tee, he looked not-good here…Anthony Averett is playing a very good CB opposite Humphrey. Averett made Tee's every catch torture. Tee could not separate from Averett often…the one worry about Tee at this level – his speed is a problem, but everything else looks fine.
The Ravens have a good secondary, but they had a bad plan/were out schemed here/Joe Burrow is Montana/Brady-esque with his dissection of things.
 -- The Ja'Marr Chase-effect is helping C.J. Uzomah (3-91-2/3) become relevant. 5 TDs in his last 4 games. Three targets or fewer in six of his 7 games this year, but he's catching 88% of his targets this season, so he's getting like 3 catches for yards and high hopes for a TD on limited targets – there's an upside here with 1-2-3 more targets in games.
You like the main TE working with the elite passer – and Burrow is an elite passer. Uzomah is not going to become Kelce-Pitts or anything but outside of that, he's a useful TE1 hopeful along with 10-15 other NFL starting TEs.
Someone sent me an article from CBS on how brilliant the Ja'Marr Chase draft pick was, to laugh at it. My text back captures the mainstream right now: They (the media/fans) don't believe in (or even know about) the Cincy D, or Burrow as an MVP candidate, or Zac Taylor as Coach of the Year possible, or Awuzie as DPOY -- but Chase is for sure the smartest move in league history, that is now in stone after 7 games. The entirety of their Bengals analysis is = speaking the words Ja'Marr Chase...then mic drop...
 -- Lamar Jackson (15-31 for 253 yards, 1 TD/0 INT, 12-88-0) had his typical 50+ yards rushing and 1 passing TD event.
I could make the argument that Lamar Jackson is a league MVP this year…that he is the entire team. However, I can't say he's an MVP because he's a double-edged sword. One play he makes an escape and converts a 1st-down out of thin air and you marvel at the magician's sleight of hand. No one can do what Lamar does…but then the next play comes along, and he misfires to an open receiver, or tries to run it when it's not there and gets tripped up.
Comp. Pct. in his last five games (in order): 52%, 59%, 86%, 70%, 48%. He's a box of chocolates QB…you never know what you're gonna get. Sometimes brilliant, sometimes disastrous.
Credit the Bengals defense a lot here – it was Lamar's season low for Comp. Pct. in a game, and his high for times sacked in a regular game…ever (5).
 -- Two RB notes from this game….
1) The Ravens RB group is killing them. Bell-Freeman were so bad here, it's laughable…
However, one RB looked legit…Ty'Son Williams (2-10-0, 2-29-0/2). This backfield (that combined for 29 yards rushing on 11 carries…19 yards on 9 carries without Ty'Son) that Harbaugh is running makes no sense, and opponents are not threatened by it. But when Ty'Son came in he looked like a real running back.
I gotta think Harbaugh is not a total idiot, and he'll figure out Ty'Son is his best shot, but…
I still think Ty'Son has hope for 2021, but not likely…and then no hope in 2022 when Dobbins-Edwards returns. It's a 2021 thing/hope when Harbaugh is desperate.
2) Samaje Perine (11-52-1, 1-23-0/1) has back-to-back games with 11 carries each. He missed Week 6 with COVID. Before and after that, he's playing much more snaps and working well.
I've gotten so many 'Should I start Antonio Gibson or Chase Edmonds?' questions this week…
In their last two games played:
12.0 carries, 48.0 total yards, 2.0 rec., 0.0 TDs (6.8 PPR) per game = Antonio Gibson
11.0 carries, 79.5 total yards, 2.0 rec., 0.5 TDs (13.0 PPR) per game = Chase Edmonds (includes the GB game)
11.0 carries, 79.0 total yards, 2.5 rec., 1.0 TDs (16.5 PPR) per game = Perine
Snaps played as % of the game snaps, in their last two games…
64% = Edmonds
55% = Perine
41% = Gibson
Why is Perine getting more touches? Three weeks ago, it was that Mixon was banged up/very questionable and was having snaps managed. But then Mixon got 23 touches Week 6…but got a little nicked up at the end of the game (Perine out with COVID). But Mixon was fine going into Week 7.
Is it a temporary management of touches for Mixon? Or other? Perine took the final 8 touches of this game, which was in the blowout stages – so, I think it's more respect for Perine in general, but the game flow allowed Perine to get more work Week 7 late…and Week 5 Mixon was very questionable. Probably more blip than any alert.
 -- Rashod Bateman (3-80-0/6) looks very good…again, just a weak fit with Lamar in this offense. Eventually, Bateman will have a breakout game, but likely not a follow up after…just randomness, and mostly down on Lamar targeting (lack thereof).
If Bateman had landed better (NFL-wise), man…but he didn't. Maybe he'll surpass Marquise, but that probably won't happen until next season (if it does at all). My fear is they split limited targets and are both 'meh' for FF in 2022.
 -- I keep saying it over and over…this Bengals-DST is no joke. They really won the game here, shutting down the Ravens, for the most part, all game. This is a really good, top 10 NFL defense…better than the Ravens defense…defense.
Watch what they do to Mike White this week…
And, yes, Chidobe Awuzie (5 tackles, 1 PD) should be on a list of 10 possible Defensive Player of the Year, but he won't be…nor will he get a single vote or mention.
Snap Counts of Interest:
53 = Chase
45 = Boyd
42 = Higgins
34 = Mixon
30 = Perine
52 = Uzomah
27 = Sample