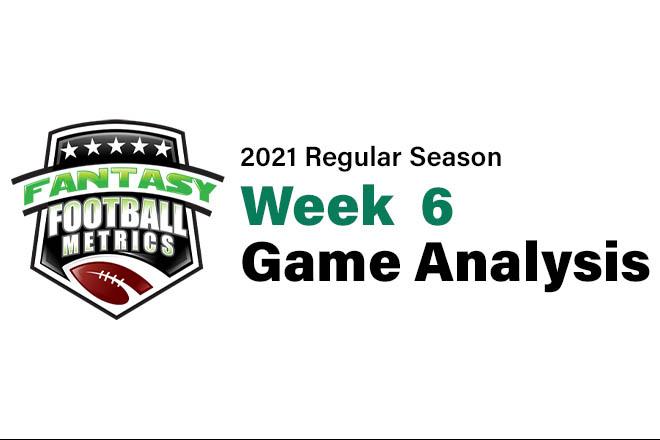 Ross Jacobs
FFM
19 October 2021
2021 Dynasty/Fantasy Game Analysis Week 6: Steelers 20, Seahawks 17 
Two dying teams played, and one of them won. End of story.
Seriously, this game was a real downer. 3-4 years ago the Seahawks vs the Steelers would have been quite the show. In 2021? Not so much.
The Steelers jumped out to a 17-0 lead and looked like they were going to blow the doors off the weaker Seahawks, but credit Seattle for hanging in there and eventually finding a way to tie the game. They still aren't going anywhere with or without Russell Wilson, but it was a nice effort anyways.
Pittsburgh has become so sad to watch. Big Ben is a shell of himself. He's got no arm strength left and can't even read defenses anymore it seems. He's just blinding flinging short passes to Diontae Johnson and Najee Harris. That's their offense. It's just the Steel City version of what's going on in Miami. Seriously, I might rather have Tua as my QB than Ben at this point. They are basically the same guy except Tua is slightly more careful with the ball.
Neither of these teams is going to have a winning record. The Steelers might come close with a decent defense, but I bet the schedule beats them down. The Seahawks don't even have an ok defense to lean on. Their defense is utter garbage. They are a lock for last in the NFC West.
Fantasy Notes
--If you didn't trade Chase Claypool (2-17-0/7) hot off of last week's fluke game you're kind of screwed. I wasn't able to pull the trigger either. It's so hard. Claypool is the most dangerous, majestic talent in the entire league. I get constant fantasies of "what if?" What if the Steelers put it together? What if Ben is just going through a funk and shakes off the rust? Juju is gone, so what if Claypool gets a ridiculous amount of targets to make up for the inefficiency?
You have to try and block all that out. There is no saving grace here, no way out for Claypool. He's stuck in a terrible offense with a QB that can't throw it downfield, and he's the 3rd option in said bad offense. There will likely be random good weeks to tease us from time to time, but the reality is that Claypool is a WR3 for the foreseeable future. I hate it, but we have to face the facts. If he lucks into another spike game try to flip him into something more solid. Otherwise, you're just stuck hoping his down weeks don't hurt you too badly.
--What's bad for Claypool is somewhat good for Diontae Johnson (9-71-0/13). He's Ben's go-to, his Davante/Kupp. Literally every other pass is a 5 yard route to DJ. It's not great work, but for ppr it's fine. The volume alone will sustain him.
--What's bad for Claypool and somewhat good for Diontae is fantastic for Najee Harris (24-81-0, 6-46-1/7). Harris is the fantasy winner of this travesty. RC and I heard Chris Collinsworth proclaim that Najee has top end speed and is one of the most talented young receivers in the league...and we both nearly had an aneurysm. Najee is neither of those things, and they don't matter since he can never get up to top speed anyways. Literally every run is for 1-2 yards. It's a joke.
And yet...it doesn't matter for fantasy. Doesn't matter how slow he is, or how bad the offensive line is, or that every defense knows exactly what is coming when the Steelers pull Diontae and Claypool off the field for Ebron...none of it matters. All that matters is that the Steelers LOVE them some Najee, and he is going to take 20 carries and get 5+ targets every single game. Najee is a top 4 or 5 RB lock for 2021 just on the volume.
For dynasty it's a bit murkier. Josh Jacobs got similar treatment his rookie year, with similar efficiency, and similar results, and look how that's turned out. Just because Najee succeeds this year does not mean he will automatically be ok for fantasy next year or in 2023. Maybe it works out, maybe it doesn't, but I'm not going to be on that train if/when it crashes. I don't like what I see from Harris, haven't all year. RC was the first to sound the alarm in the preseason, and nothing has changed. Unless Najee undergoes a David Montgomery-esque transformation in the off-season, I have no interest in him long term.
--Pat Freiermuth (7-58-0/7) is starting to come on a little too (yet another possible thing to drag Claypool down). His snaps and targets have been steadily growing each week, and it looks like he's earned Ben's trust. He'll be the 3rd short, safe pass going forward, the guy Ben can hit when DJ and Najee are covered. Freiermuth is likely available on waivers and should be a safe ppr guy going forward, not a top 5 TE or anything, but a safe harbor in the stormy seas that are fantasy TE's right now.
--As I warned last week after the Wilson injury, DK Metcalf (6-58-0/7) and Tyler Lockett (2-35-0/7) are screwed. Metcalf still has some vague hopes of remaining relevant as he has become the main target, but it's going to be up and down results most weeks. Lockett is unusable.
--The best thing left on this Seattle offense for fantasy is Alex Collins (20-101-1). I previously recommended him as a spot starter while Chris Carson was out due to how well he was playing and the team's obvious love for him, but even I didn't think it would go this well against a tough Steelers defense. Carson is dealing with a neck injury and will be out for some time, possibly the whole year, and as long as he is Collins should remain a RB1.5-2.
IDP Notes
--Bobby Wagner (14 tackles) now has 65 tackles on the year for an average of 10.8 per game.
--His teammate Jordyn Brooks (14 tackles) has 48 for an average of 8 per game. Both are among the league leaders.
--Alex Highsmith (7 tackles, 1.5 sacks) is trending up and is really starting to fill in well for the departed Bud Dupree. Just a really good complementary pass rusher across from TJ Watt.
*RC NOTE: I think Highsmith has more juice than a complement...he's a talent, first and foremost, but then mix that with Watt garnering so much attention that Highsmith could ride the Watt wave to a 10+ sack season himself. I think a breakout for Highsmith sacks is on the verge…
Snap Counts of Interest
69 = Diontae Johnson
63 = Chase Claypool
52 = Ray-Ray McCloud
45 = Pat Freiermuth
34 = Eric Ebron
58 = Tyler Lockett
51 = Freddie Swain
49 = DK Metcalf
47 = Will Dissly
31 = Gerald Everett
39 = Alex Collins
22 = DeeJay Dallas