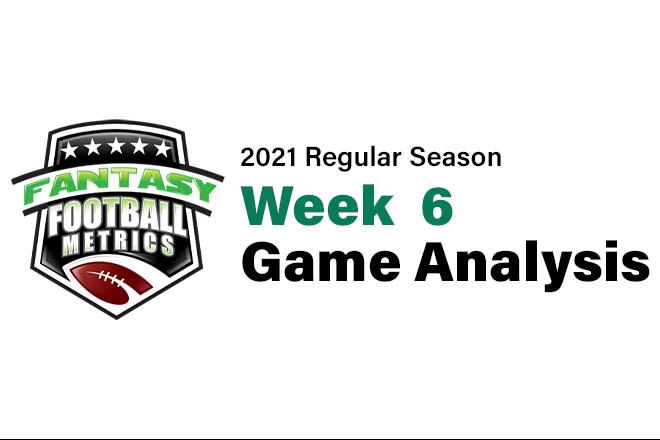 Ross Jacobs
FFM
20 October 2021
2021 Dynasty/Fantasy Game Analysis Week 6: Buccaneers 28, Eagles 22 
The final score doesn't really capture how one-sided this game was.
The Buccaneers came out firing and took a quick lead, but the Eagles responded with a good drive of their own to tie it up. After that the Bucs began to pull away.
With 5:00 minutes left in the 3rd it was 28-7 Buccaneers and the Eagles were struggling to keep their heads above water. They would score with about 2 minutes left in the quarter and again with about 6 minutes left in the 4th quarter, but it was too little too late and the Bucs put the ball in Fournette's hands to grind out the win.
I don't think much has changed with the analysis of these two teams. The Buccaneers remain a dangerous but flawed team, one capable of beating any team any given week. They are a Superbowl contender, although probably not the outright favorites. The easy schedule should elevate them to the #2 seed in the NFC although #1 is still within reach if the Cardinals stumble against a tough NFC West division.
The Eagles aren't a good team, but they aren't absolutely terrible either. They look like a 6 or 7 win team, somewhere in that range. The offense is 19 in yards per game and 20th in scoring while the defense is 11th in yards per game but only 23rd in points per game. They have played a relatively hard schedule so far with losses to the Cowboys, Chiefs, and Buccaneers. They beat two of their other three opponents and should have won the 49'er game but for a bunch of dumb penalties and some bad luck. They have also struggled with injuries, particularly on the offensive line. This really isn't a bad team and the schedule ahead is manageable. They can still make a run at the NFC East provided Dallas comes back to earth. Don't count them out just yet.
Fantasy Notes
--It's said that in life there are only two sure things: death and taxes. In fantasy football there are also only a few sure things, and one of those is that Jalen Hurts (12-26 for 115 yards, 1 TD, 1 INT, 10-44-2) is going to score 20 points in the 2nd half of games.
I said it last week and I'll say it again this week, stop doubting him. It doesn't matter what you think of his real world talent. All that matters is that he's a fantasy monster. He is built to succeed. On the season he now has 8 passing TD's and 5 rushing TD's. Yes, he's had 3 games under 200 yards passing, but that doesn't matter when he's scoring touchdowns and rushing for 30+ yards every single game. He's the #5 ranked QB at the moment ahead of Lamar, Herbert, and Dak. He's a mere 9 points from being #1 ahead of Josh Allen.
The next three weeks look juicy too. He's got the somewhat soft Raiders defense, the league worst Lions, and then the Chargers who struggle against the run and just got demolished by the most similar QB to Hurts, Lamar Jackson. Only one thing can stop the Hurts train this year and I'll talk about that in a moment). Otherwise, he's going to finish as a top 10 scorer and will definitely be in the mix for #1 overall.
My one concern is that the stupid Philadelphia fans are going to get him benched for the skeletal remains of Joe Flacco. Unfortunately, Sirianni seems to be falling into the same trap that Nagy fell into with Trubisky, thinking that his QB has to look and play a certain way instead of focusing on the results. Nagy absolutely killed any confidence Trubisky had by constantly calling nothing but short passes for him. There was never anything particularly wrong with Trubisky. He just got put in terrible situations and then was expected to bail the team out despite being handled like he was incompetent. Hurts is starting to get the same treatment, and it is concerning. The only passes that get called for him are screens and curls anymore, and since the defense knows what's coming they are just squatting on these passes. Hurts has no room to throw the ball.
The coaching staff has to loosen up and start trusting Hurts or at least pretend to. It's their gameplan that is holding things back right now, not Hurts. I don't think this situation will play out quite the same though because unlike Trubisky, Hurts isn't soft mentally. He's a competitor and has been kicked around and treated like this before at Alabama. He didn't let that stop him either and left for Oklahoma where he was even more impressive. I believe he'll get through this, but we definitely have to keep an eye on Sirianni and his attitude towards Hurts. I'm concerned but not fearful...yet...
--RC is right that the Hurts-DeVonta Smith (2-31-0/4) connection doesn't look quite right yet. DeVonta has been ok but not the assassin we expected. Some of that is this stupid game plan of screen passes and curls holding him back, but some of it is Smith as well. Hopefully it's just him getting used to the physical aspect of the NFL. In college teams couldn't afford to try and press him at the line. In the NFL they are on him constantly or else playing off and immediately closing the gap because they know it's a short route. The best thing this coaching staff could do would be to start calling double moves for DeVonta. That would really open this offense up for everyone. For now though you just have to hold and wait on Smith for fantasy. His time will come.
--The WR trending up for Philly right now is Quez Watkins (3-44-0/5). I've been pointing him out since the year started and begging the team to get him the ball more. Apparently they've finally figured out that the speedster is their best screen receiver and have started to get him more involved. He's still just a random WR3 for the moment, and I doubt he ever becomes more, but there is always the potential for Watkins to break a long play.
--With Zach Ertz getting traded you would expect that Dallas Goedert could move into an established TE1 role the rest of schedule, but it may be a bit choppy at times as this passing game ebbs and flows. I think it's a good bet, but good luck trying to get Goedert away from his owner right now. You can't overpay though because he's still likely to be more TE5-8 than top 3 or 4.
--RC and I thought Kenneth Gainwell might have broken out a couple weeks ago, but the Eagles have a funny way of showing it if so. Gainwell has barely been involved the last two weeks. I'm thinking it's just a blip, a weird matchup decision of some sort, and that Gainwell will be more involved going forward. This week against the Raiders linebackers is a perfect spot to get him more touches. If he's a ghost again this week then you can probably forget about it for the time being.
--We speculated that Leonard Fournette (22-81-2, 6-46-0/6) had completely taken over this backfield, and here you go. A true RB1 performance. Now I have to caution everyone from thinking that this will automatically last the rest of the year. Every time you think Arians is ready to go all-in with something he seems to pull it back. Fournette looks like a good start right now, but I could absolutely foresee Ronald Jones getting out of the doghouse and back into the mix before long. Stay optimistic, but remain cautious with this situation.
--I've spilled a lot of ink discussing the Buccaneers WRs this year, and it's another issue that might continually change, but for the moment it certainly seems like Antonio Brown (9-93-1/13) might have grabbed the lead in this race as Brady's bff. But even more so than Fournette, I remain very skeptical of assuming that Brown is now the unquestioned lead. He's still playing far fewer snaps than the other two receivers. I know Brady looks to him when he needs a big play, but I still suspect that Brady is playing matchups more often than not. I would continue to expect a rotation among the three which leaves you trying to guess who is most involved in a particular week. The good news is that the volume is there to sustain all three at decent levels.
--Last week I warned that OJ Howard (6-49-1/7) would have a big game soon. He's been quite involved in Gronkowski's absence and that could continue for a while as Gronk's injuries sounded significant and the Bucs will try to keep him healthy for the playoffs. Consider Howard a TE1.5 with upside for the time being. He's getting decent time and is quite overlooked in fantasy, so if you really need a TE he's probably available to get you through a few weeks.
IDP Notes
--Alex Singleton (15 tackles) is absolutely on fire. Every week I can point out linebackers putting up really good numbers, but Singleton has arguably been the best producer in the league and also the most underrated for fantasy purposes. There's a good chance he's still available on your waiver wire despite putting up a ridiculous 67 (11.2/g) through 6 games. He might be a tick down against the pass heavy Raiders and Chargers the next few weeks, but I don't expect his numbers to fall off too far. He's been money every game this year and doesn't look to be going anywhere.
Snap Counts of Interest
70 = Mike Evans
68 = Chris Godwin
37 = Antonio Brown
49 = OJ Howard
44 = Cameron Brate
47 = Leonard Fournette
14 = Ronald Jones
51 = DeVonta Smith
43 = Jalen Reagor
40 = Quez Watkins
43 = Miles Sanders
12 = Kenneth Gainwell