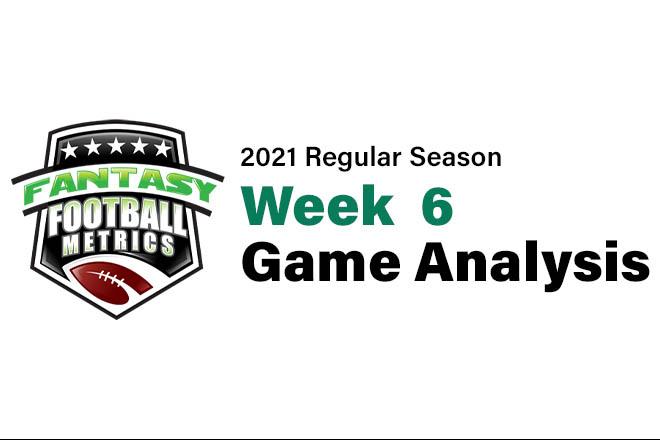 R.C. Fischer
FFM
23 October 2021
2021 Dynasty/Fantasy Game Analysis Week 6: Bengals 34, Lions 11
Another gutsy 'for a half' Lions performance, and then they slowly melt as the opponent takes control to the finish. It was a 7-0 Cincy lead with under a minute before halftime…a back-and-forth affair. A field goal to end the 1st-half made it 10-0 Bengals. Then, Cincinnati scored on the opening drive of the 2nd-half and the floodgates opened.
The Lions play hard. Their defense is energetic. Their offense is fading because it's lost their best two O-Linemen for the season, but it tries to hang in there – but Goff has no time ever. This Lions team will beat a weaker or mediocre foe at some point, but the Bengals are not weak or mediocre, they're good…so Detroit gets thumped.
Cincinnati (4-2) has a HUGE game Week 7…at Baltimore (5-1) for 1st-place in the NFC North. The Ravens have run hot and cold all year. The Bengals have been steady warm water every week…damn close to being (6-0) and not far from being (3-3). Their defense is a top 10 NFL unit. Joe Burrow is not his normal assassin self, but he's really playing smart, sound football and his O-Line is grading as a B/C in our revamped O-Line ratings system…a top 10 unit, better on the run than in pass pro…but a 'passing grade' in both areas.
If the Bengals can beat the Ravens…at Baltimore…they are in a dogfight with Baltimore and Cleveland to win that division.
I pray the Lions knockoff the Rams this week, but that won't likely happen. The Lions chance at a win comes Week 10 at PIT or more likely hosting the Bears on Thanksgiving.
Fantasy Player Notes…
 -- One of the two most eye-catching things from this game…the Lions head coach is complaining about his WRs, but he can't be talking about Kalif Raymond (6-37-0/7).
It looked like Raymond was the only WR Jared Goff really trusts…and he was forcing it to Raymond in this game…and Raymond responded by catching everything his way (and a few not-easy catches) save for one uncatchable target.
In a week where many are scraping the bottom of the barrel looking for players due to the heavy bye week…Raymond led the Lions' WRs in snaps and targets here. Amon-Ra St. Brown had 7 targets too, but many of his were late dump off throws wide open vs. prevent coverage.
The only WR who looked like a real WR here was Raymond. It didn't look 'wow'…it was just obvious this is what Goff has to work with.
 -- The other eye-catching thing…rookie Chris Evans (4-18-0, 3-49-1/3) continues to 'flash' a few times each week. He just moves like a starting NFL talent. He lined up as a flanker early in this game, the offense was 25-yards away from the end-zone, Evans did a quick move on a covering linebacker and was 5+ yards past him in a blink for Burrow soft toss on the money for a TD.
Evans is starting to be explored as a weapon…not just 'warm body behind Mixon and Perine'. No major FF uprising coming…just noting he's really looking good.
 -- I keep watching Ja'Marr Chase (4-97-0/6) to find something I like…to get in the spirit with everyone else in the NFL who claims he's the greatest WR they've ever seen…but I just don't see it.
He's very fast…and that's a good thing. He gets decent targeting…that's a good thing. He works for FF. But what I see on-field is a guy who is likely to drop the ball working around traffic but makes plays when sprinting deep past coverage. NFL teams should shut him off with a safety under and beg Burrow to throw it to him short, because he's likely to drop it or get tackled too easily…I think that will start happening more and you'll see a Chase fade for output.
 -- Tee Higgins (3-4-0/6) looks good…but there's not the QB-to-#1 WR pitch-and-catch overreliance I'd like to see going on right now with him and Burrow. Kirk Cousins wears out Justin Jefferson. Aaron Rodgers seemingly only throws to Davante Adams anymore…ditto Ben-Diontae, but Tee just seems like the #1 WR who is just another nice option among an ensemble for Burrow…like what's happened to Amari Cooper this year.
I like Tee Higgins' work/movement/tape. I will buy low. I'm not beating down the door for it, but I am interested.
 -- Jamaal Williams (4-11-0, 1-0-0/2) is running into a ditch. He gave an 8 catch, 9 target Week 1 head fake game that too many people are holding onto. Since Week 3, Williams has averaged 1.6 catches, 7.8 rec. yards, 0.0 TDs per game as a receiver.
By contrast, Chris Evans, in that same span, as a backup, is averaging 1.8 catches, 22.5 yards, 0.25 TDs per game.
Williams is the 'runner' of the Swift-Jamaal duo, but with the Lions O-Line degradation…Williams has been rendered to RB3-4 status as Swift plays/touches most of the time now.
 -- Joe Burrow (19-29 for 271 yards, 3 TDs/1 INT) is…
#6t in passing TDs this season (14)
One of 7 QBs at 70%+ Comp. Pct. (70.7%)
#4t in yards per attempt (8.9)
 -- The Bengals-DST is a top 10 functioning/on-field unit, but only #15 in DST PPG scoring. They are FF-viable in any good matchup…like Week 8 at NYJ. That one spot (Wk8) is about their best usage for the rest of the season. Either move on now or hold for Week 8…then move on.
 -- Lions CB Amani Oruwariye (2 tackles, 1 INT) has an INT in three of his last 4 games. He's play tough, aggressive but not so effective at DB for Detroit…but the Lions have no other real options if they wanted to replace him.
 -- Lions DE/LB Austin Bryant (2 tackles, 1 sack) has a TFL in three of his last 4 games. Not playing enough snaps to take seriously yet, but just noting.
Snap Counts of Interest:
56 = Raymond
52 = Hodge
49 = St. Brown
13 = Allison
49 = Swift
19 = Jamaal W
57 = Chase
45 = Boyd
41 = Higgins
45 = Mixon
16 = Evans