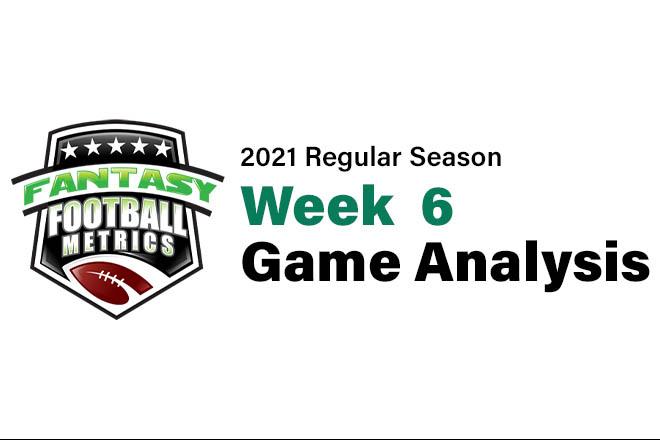 R.C. Fischer
FFM
21 October 2021
2021 Dynasty/Fantasy Game Analysis Week 6: Ravens 34, Chargers 6
I really locked in on re-watching this game this week. For two reasons…
1) My initial thought was: I need to see 'what happened' to my Chargers…the supposed 'best team in the NFL' candidate just got drop-kicked by a team I despise. It was probably just 'one of those games', and I'll watch to confirm.
2) As the week went on, my Spidey Senses kicked in: Wait…is Baltimore getting ready to go all-Baltimore-2019? Remember when they beat the brakes off every team, and were the best team in football…only to get thumped in a shocker by Tennessee in the 1st-round of the playoffs?
So, which was it in this game…LAC laid an egg, or the Ravens stuck that egg right up their arse? There was some evidence of both – I'm squarely on the fence of 'I don't know that this wasn't a one-week thing'…remember Baltimore vs. Indy the prior week? Terrible for 3.5 quarters..
I probably hate the Ravens more than any team in football, as a scout/analyst. Why? Because I'm always wrong about them. I usually dislike their roster and offense and decisions…and then I pick against them in Fantasy and handicapping things – and then they burn me. Then when I write a confession/change of thought, every year, and I get behind them – then the collapse happens.
Great example, of many Ravens examples for me…
2019…I think Lamar is too flimsy of a passer to matter for FF beyond his running tallies, and he ends up league MVP and top FF QB.
2020…I saw the 2019 writing on the wall, so let's get in on that. Let's pay for Lamar in 4pts pass TD leagues. He's a top FF QB projection…and then he becomes a dud in 2020.
2021…Well, the league has figured out Lamar, so let's avoid him…and Andrews, and Brown, and everything there. Well, here we are – Lamar starting to roll and surrounding things rising up.
Lamar, Baltimore, they drive me crazy…it doesn't look like how I want football things to look. I like Justin Herbert and Patrick Mahomes styled QBs more than Lamar ones. I see Lamar work 60 plays in a game, and I find the 2-3-4 he looked like a fool throwing it and I go "see!" while ignoring the 55+ good plays.
Lamar is the new, better Cam Newton…they just make plays with their feet, and defenses live in fear of it and then that opens up wide open passing lanes. Try and stop the run, he'll side arm it down the field through the air. Play back and make him pass, and he'll take off running on 3rd & 8 for 10 yards. Every 4th & short, Lamar takes it, everyone knows it, it doesn't matter…1st-down.
There was a point in this game where analysts got onto the Chargers for 'going for it' on like 4th & 5 midway through the 3rd-quarter AT THEIR OWN 22-yard line. It was bizarre, because you rarely see that – down 24-6 with 20+ minutes left, and you're going for it deep in your own end? You know why Brandon Staley did that, and he was right to – he knew they were getting their arses kicked. It was the do-or-die moment for a dying man. Staley knew it…the team knew it. The Ravens were not having anything the Chargers were dealing.
…and then the Chargers didn't convert, and it was 'ball game'. Honestly, this was over halfway into the 1st-quarter when the Ravens raced out to a 14-0 lead.
The Ravens played well on both sides. They are now (5-1), could be (6-0)…lucky to not be (2-4). It's not the dominant team of 2019…yet…but there are signs. Put me down for the Ravens to win the AFC North now (CLE too banged up right now), and to possibly be the #1 seed in the AFC (wins over LAC and KC already). But because I'm endorsing them now, they will probably go on a losing streak and become a wild card.
I don't want to get too giddy on Baltimore…a week ago, they looked terrible for 3.5 quarters against Indianapolis.
The Chargers fall to (4-2)…the team that looked so good Week 5 looked dreadful Week 6. The Chargers have one dominant win this year (v. LV) and 50-50 games in their other wins. They have played good teams toe-to-toe (DAL, KC, CLE), so it's a good team…but maybe not as good (yet) as we thought. Or it's just the Ravens are that good now…or just this game. The schedule says LAC will win 11+ games and battle KC for that AFC West title.
Fantasy Player Notes…
 -- Lamar Jackson (19-27 for 167 yards, 1 TD/2 INT, 8-51-0) had that 4 TD event Week 5 vs. Indy. In all his other 2021 games, he has 1 passing TD in each game. He hasn't rushed for a TD since Week 2. In his last 8 regular season games, he's had zero rushing TDs in seven of the 8.
In his last 8 games, this time including playoffs, Lamar's passing TDs in each game (starting with the 2020 playoffs): 0-0-1-1-1-1-4-1 = 9 TDs/7 INTs in that stretch.
If you ignore Week 5 of this season, the Indy game, Lamar isn't a QB1 for FF otherwise.
And yet, he looks so electric. It's a weird thing.
 -- It's the run game leading the way for Baltimore here…all three ancient RBs ran for a score. I think Harbaugh is in love with his RB-trio of veterans and he's going with a strict rotation and semi-hot hand. Devonta Freeman (9-53-1, 0-0-0/2) looks the best of the three, but all of them were fine here because LAC has no run defense with their key linebackers out.
I don't want to own any, but either of them could score a TD in a given week.
Ty'Son Williams is 'over' until further notice. As long as the Ravens are rolling with the ancients, they'll stick with it as long as the wins are happening.
 -- Rashod Bateman (4-29-0/6) looks and moves really well. Part of the new breed of instantly ready WRs coming out of college. Bateman looks like a Justin Jefferson/Diontae Johnson type weapon…great, short routes…hard to cover.
The problems with holding him in redraft 2021 are…
1) Lamar is completing a lower amount of passes in games (except the wild Indy game)…not a lot of catches to go around with Brown-Andrew ruling the targets as it is.
2) Lamar is usually throwing for 1 TD per game…and it's likely to Brown-Andrews. If you don't get any TDs and lower volume on catches-yards – what do you really have here? Looks like Justin Jefferson but has the output of lesser-Jakobi Meyers?
I'm a Bateman fan (of his skills) but hate this situation for FF. If Bateman starts to rise a bit…it's coming out of the account of Marquise Brown.
 -- Justin Herbert (22-39 for 195 yards, 1 TD/1 INT, 2-12-0) looked the worst I've ever seen him in the pros, in this game. Misfired several passes. Threw key 3rd and 4th-down passes to WRs at top CB Marlon Humphrey…a VERY bad idea/to no avail – and he threw them offline most times anyway.
Either he just had 'one of those games', or the Ravens defense is starting to fire on some cylinders. They weren't hitting in those cylinders Week 5 v. Indy, so it's hard to write a final answer in stone here on the Ravens-D. But they look good. And I'll tell you, CB Anthony Averitt (6 tackles, 1 PD) looks fantastic…better than Marcus Peters. So, Humphrey-Averitt-Smith is a scary trio when they're on the field together.
 -- One of the biggest shockers for me watching this game back…seeing how often Joshua Kelley (4-7-0) is in the game. He played 18 snaps but seemed in the game more than that. He was rotating in/out with Austin Ekeler (6-7-0, 4-48-0/7) as soon as the very first 1st-series.
They tried to get Kelley going a bit with a power run game, but the Ravens were having it and then the game got out of hand so fast that there was no need for a run game.
Kelley is pulling into the strong #2 back position…the desired handcuff for Ekeler right now.
 -- Mike Williams (2-27-0/5) was in and out of the game with his injury being managed, but when he was in, he looked fine. Had an early bomb that missed. His big catch fell short of the goal line for a TD…but when he landed he was hurt, took a while to get up, and didn't play much after that. He should be fine with the bye week off…hopefully.
It just feels like, to me, that Keenan Allen (5-50-0/5) is becoming a lower option in Herbert's eyes than Williams. Allen has 1 TD this season and has been 50 yards or less in three of his last 4 games. With Williams mostly out of the game here, Allen didn't start getting catches until late when the game was out of hand. I'm not getting a good vibe off Allen right now.
 -- Jared Cook (4-25-1/7) was a primary focus here because you beat the Ravens by avoiding that secondary but Cook too often couldn't separate or make the tough catches. He's not going to be a strong TE1 this season…it just looks like time is catching up to him, and Donald Parham (2-10-0/2) is seeing decent snaps and key red zone targets.
 -- Another week, another Chargers-DST gets stomped. 40+ allowed to CLE Week 5. 30+ here for Baltimore. I keep saying how good they are, and then they get pushed around…what gives?
The fall coincides with the Chargers getting banged up at linebacker, and then facing the #1 and #4 run games in the NFL the past two weeks…and losing the battles to them. A break coming on the schedule ahead, except for Week 10 v. MIN might be another run game problem they can't handle. They need Kenneth Murray back, bad.
Let's see how they fare with a week off and facing NE and PHI Weeks 8-9…two decent run teams/good O-Lines (when healthy). Dallas is a top run team in the NFL, and LAC held them down Week 2.
Snap Counts of Interest:
51 = Brown
45 = Bateman
34 = Duvernay
26 = Latavius
22 = Le'Veon
21 = Devonta
36 = J Cook
26 = Parham
51 = K Allen
40 = Guyton
29 = Palmer
20 = Mk Williams
34 = Ekeler
18 = Kelley
08 = J Jackson