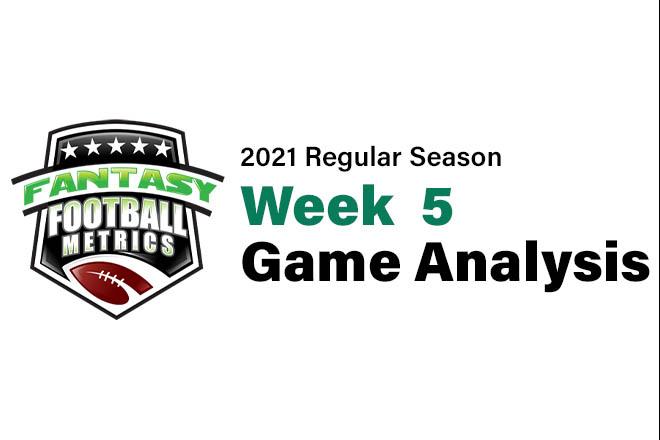 Ross Jacobs
FFM
13 October 2021
2021 Dynasty/Fantasy Game Analysis Week 5: Bills 38, Chiefs 20 
Well, the secret is out. Those of us here at FFM have known for a while that all was not well with the Chiefs and that their problems would catch up to them eventually. We also knew ahead of the crowd that the Bills were a team on the rise, the better, tougher, deeper Chiefs. Now the media and casual fans know too.
I'm going to start with the Bills because I don't like how the media is framing this as a Chiefs letdown or something is wrong with the Chiefs. They do have their problems, but this is the same team as last year, the same team as the year before that. They are a good team. But this wasn't them blowing the game or playing worse or any such nonsense. This was the Buffalo Bills going into hostile Kansas City and kicking the ever living shit out of them.
This is a Bills team that isn't afraid or intimidated by the Chiefs. This is a Bills team that is the deepest, most complete, most well-balanced, most well-coached, most disciplined team in the league. And they just destroyed one of their next closest challengers on the road. This isn't about the Chiefs falling down. This is about the Bills rising up.
I don't have enough good things to say about Buffalo. They are incredible and so fun to watch on both sides of the ball. They now lead the league in offensive ppg at 34.4 and they also lead the league in defensive ppg at 12.8. They are outscoring their opponents by 21.6 points per game on average. That is bonkers. And when you look at their schedule you realize they only have one more game against a team anywhere close to their level, and that's the defending champs in December. It's entirely possible that they won't lose another game all year. They are that good.
Ok, let's talk about the Chiefs. We've already discussed this quite a bit the last few weeks and even going back to last year. The Chiefs have one of the great advantages in football. They have a cheat code in Patrick Mahomes. Mahomes is not the problem. Anyone that says Mahomes hasn't had the best year, or Mahomes doesn't look right, or anything like that has no idea what they are talking about.
The problem is that this Chiefs team has been getting their asses bailed out by Mahomes for years now. They constantly make mistakes, run stupid plays, let the opponent score on them over and over, and 9 times out of 10 Mahomes is able to save them at the end of the game with some miracle because he is the best player in the league. But one player can only carry a team so long. Look at Russell Wilson and the Seahawks. They win 10 or 11 games every single year, but it's not because of the defense, or the run game, or the coaches. It's just Russell is amazing.
You want more examples? What happened to Indianapolis the year Manning got hurt? Bottom of the league. What happened to the Patriots when Brady left? Collapsed from a perennial 13 game winner to average. What's happening to the Saints without Brees? Same thing.
Elite QB's can make up for a lot of flaws in an organization, and now we are seeing the Chiefs warts in the light of day.
Andy Reid is an ok coach, not bad, but not the genius he's made out to be. Eric Bieniemy is not a good OC just because he breathes the same air as Mahomes. The defense isn't nearly as menacing when they aren't constantly playing with a lead. Even Kelce and Hill, two elite players, wouldn't be nearly as dominant without Mahomes back there throwing them the ball.
Think of it like this: if you had a child that was learning to walk, but he always held onto furniture or held an adult's hand, he's never going to learn to walk properly. At some point he has to let go of what's holding him up, his crutch, and walk by himself.
The Chiefs are like a child that never lets go. Mahomes has been masking the growing problems and flaws because he is so unbelievably good.
So does that mean the Chiefs are suddenly an average team? No but only because they still have Mahomes. They are still going to win double digit games because of him alone. It just may not be enough to win the division or a Superbowl. Of course things can always break perfectly. Mahomes is still capable of beating any team on any given day. It's just not the most likely scenario anymore.
Let's keep in mind though that they have now played the Browns, Ravens, Chargers, and Bills in the first 5 weeks. Those are all playoff teams with good offenses. They still have the Packers and Cowboys on the schedule, but every other game they will be heavy favorites. The Chiefs should be fine moving forward. They will at least keep it close with the Chargers for the division title and could still pull it out. The difference is that when they play the better teams now, they are no longer the bullies, the giant that's near impossible to bring down. They are mortal, they can be beaten, they are just another good team among many in the AFC.
RC Note: I would like to add…
This (Buffalo) is what happens when you have a superior coach at the head of your organization. Sean McDermott should win a special award for his five years in Buffalo...taking over a bad team, bad organization in perhaps the worst city in the NFL you could take a team over...and he has built them into a dominant force. 
One of the first things McDermott did, first taking over the Buffalo job, was dump Sammy Watkins...as the mainstream clutched their pearls at such nonsense. I knew I liked "Stone Cold' Sean McDermott right then and there. It would be like if I took over the Bengals and traded Ja'Marr Chase a few weeks later (and I would). 
Ron Rivera took the Panthers to the Super Bowl six years ago, out of nowhere...with a top defense, led by then D-C Sean McDermott. Then McDermott got the Buffalo job and Rivera has had a losing record since. 
McDermott has methodically built the Bills, and I am so glad he got this win to establish the Bills are making a Super Bowl run...and that they are better than KC, regardless. 
Meanwhile, Andy Reid spits out nonsense O-Cs who then go and fail as head coaches (Nick Foles delivered Doug Pederson a miracle Super Bowl, before DP went back to failing...and now Frank Reich is a failure as well from that tree)...but the league LOVES the Andy Reid 'coaching tree', while no one even bothers with McDermott's 'tree'. 
I'm happy for McDermott. 
KC is not dead...they just happened to play the two best teams in football, LAC-BUF, the past few weeks. They will be OK, but they are not the best team in the AFC...nor in the AFC West. 
Fantasy Notes
--Hope you bought more Josh Allen (15-26 for 315 yards, 3 TD/0 INT, 11-59-1) stock early in the season while the mainstream was doubting him. Nothing is going to slow this train down. Allen is a top 5 lock and will be in the running to be #1 all year. He has arguably the easiest schedule of all the top guys as well.
--Before the season started I brought up Dawson Knox (3-117-1/4) to RC and asked him if he thought Knox could become Josh Allen's version of Travis Kelce. They are nearly identical in size and athletic numbers so it seemed like a good idea. RC and I ultimately decided it was unlikely because Knox has displayed poor hands in the past and wasn't being treated like a trusted option.
Five weeks into the season Knox has emerged as Allen's second best option behind Diggs. He is TE2 behind...Kelce. Now before we all get too excited, Knox is not being used the same as Kelce is. Right now he's not getting the same kind of targeting that some of the other TE's are. He's just being incredibly efficient when he does get the ball. Allen is finding him deep down the field most of the time. In this game specifically, Knox got lost in coverage for at least two of his big plays.
I'm not saying to fade him because he's rapidly growing in his connection with Allen. I think this is here to stay. What I am saying is I think the big plays will start to fade off a little but Knox should be able to make up for it with growing target numbers each week. He looks like a bona fide top 5 TE for the rest of the season.
--Make it 4 out of 5 games for Stefon Diggs (2-69-0/5) under 70 yards receiving on the year. The trouble for him right now is that the Bills are blowing people out so badly that Allen doesn't need to throw that much. They get up quickly and then just pound the run to finish the game. Don't worry about it. Diggs is going to get his eventually. He's a fantastic buy-low option at the moment. Still has a lot of name value so he won't come cheaply, but an owner that's starting to panic might be willing to move him in the right deal. Coming into this game he was averaging over 10 targets and game and even with only 5 here he's still averaging 9.4 The yards and TD's will catch up to the targets soon.
--With the rise of Knox and fewer pass attempts by Allen the two receivers behind Diggs have really fallen off hard. Cole Beasley (1-5-0/2) and Emmanuel Sanders (3-54-2/5) have seen their numbers fall off hard in recent weeks. Sanders had a nice day because of his two TD's, but that's not something you can count on. Both guys will continue to be on and off useful, but it's going to be maddening trying to predict their big weeks.
--Zach Moss (11-37-0, 3-55-0/4) is now dominating the snaps and touches between him and Devin Singletary (6-25-0, 1-(-2)-0/2). I don't get it. It doesn't make sense if you've watched them for 5 seconds. But it is what it is. Moss is the back to own here.
*RC NOTE: I mentioned Moss in the TUE Video Q&A (on demand for those that would like to review it...3 hours of goodness). There is a shift/push to have Moss as the lead back for BUF now. I'm still skeptical of Buffalo RBs for FF, for Allen-reasons, but Moss has been productive and is about to get more push...that's a good thing for FF. 
--The only thing that's changed with the Chiefs in fantasy land is that Clyde Edwards-Helaire sprained his MCL and will be out a few weeks. In his place Darrel Williams (5-27-0, 3-18-0/5) will be the primary replacement and should receive about the same workload as what CEH usually got. If you weren't all that excited about Helaire then I don't see why you'd go wild for Williams. He'll be a back end RB2 option that you hope scores a TD to push him higher, and you will only get a few weeks from him. Don't blow your entire FAAB budget on him. He's a nice temporary pickup and nothing more.
*RC NOTE: We discussed Jerick McKinnon a lot on the Video Q&A last night, check it out on demand if you wish. There's a window of opportunity here for him. 
--Mecole Hardman (9-76-0/12) somehow pulled down 9 catches here. I was shocked when I saw the stats because I barely remembered him catching the ball at all during the game. I've said for weeks that the Chiefs were trying to push him as the #2 option and here you go. Trouble is he's just not very good. The only reason he got the numbers here was because the Bills were bullying Kelce and playing two deep to keep Tyreek in front of them. It opened up the middle for easy throws to Hardman.
Other teams may try to copy this approach, but it likely won't work as well for them because they don't have the Bills personnel. I don't think this is the start of any big Hardman breakout. He was just the beneficiary of the Buffalo game plan.
--The big debut of Josh Gordon (1-11-0/1) resulted in one catch on one target. That number will likely grow as Gordon gets more acclimated with the team, but I still have my doubts about how high he can go. One interesting note with him...RC and I were texting while watching the game and when the announcers said Gordon's name for his catch we both thought it was 6'6" 240 Jody Fortson at first. Gordon looks huge, more like a TE than a WR. Not sure if that's a good thing or a bad thing. The size and muscle might rob him of his speed. I couldn't get a good feel for him though as his snaps were so limited. Going to be keeping an eye on him obviously.
*RC Note: DST talk…
Everyone is killing the Chiefs defense, but note that they have faced CLE-BAL-LAC-PHI-BUF so far this season...no break at all for KC. This week they get Taylor Heinicke. I'm not suggesting that the KC-DST is something great in hiding, but may not be as bad as everyone thinks...and that Heinicke may not be that special just because he is facing KC. 
HOLD the Buffalo-DST through their Week 7 bye, and pounce on them if anyone drops them...and look to trade FOR them in a deal Week 7 to an owner who would let the on-a-bye DST go. The schedule for Buffalo-DST from Week 8 on is AMAZING...and the Bills defense is TERRIFIC. 
IDP Notes
--One of the most impressive rookies so far this year has to be Greg Rousseau (5 tackles, 1 sack, 1 INT). He is growing by leaps and bounds every week. He has 18 tackles and 3 sacks already this year despite playing about 50% of the snaps so far. He's a big part of why Buffalo's defense has become so dominant this year because last year all they lacked was a pass rush. No longer. Rousseau looks like the real deal. He's got the size, speed, and strength of a prototypical 4-3 defensive end. The only reason he fell in the draft was his inconsistent play and some character questions. So far those haven't been an issue at all. Fantastic pickup by the Bills.
Snap Counts of Interest
55 = Dawson Knox
22 = Reggie Gilliam
42 = Zach Moss
15 = Devin Singletary