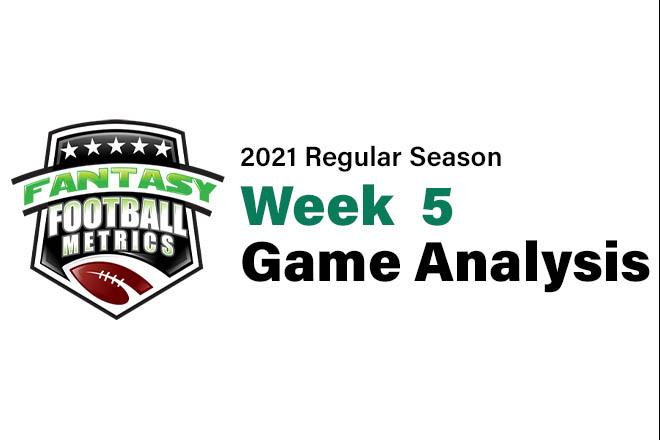 Ross Jacobs
FFM
17 October 2021
2021 Dynasty/Fantasy Game Analysis Week 5: Buccaneers 45, Dolphins 17 
Nothing very surprising happened here. The Dolphins played about as well as could be expected and hung in with the champs until midway through the second quarter before the dam broke and the Bucs ran away with it.
Miami is floundering. They have a decent core of players but no real star power or ways to hurt opposing teams. Tua coming back isn't going to magically fix their problems either. Luckily for them they get three of the worst teams in the league in their next four games so that should help right the ship a little. Their path to .500 doesn't look good though. RC and I should cash our Miami Under bets easily.
The Bucs, however, are right on track for what we've been predicting all year. They are a high flying, air-it-out offense with Brady calling the shots, and the defense is just trying to get a stop or two to seal the game. The elite defense of 2020 is gone. Now they are playing like the Chiefs with Mahomes or the Saints for so many years with Brees. Try to score 30 points and hope it's enough. Most weeks it will be. The Bucs have a relatively easy schedule and should have no problem finishing with a top 2-3 seed in the NFC.
Fantasy Notes
--During the preseason I noted how the Bucs offense seemed to be going all-in on Brady chucking bombs all over and here we are. Through five weeks Brady leads the league in yards with 1767 (353.4/g) and is second to Mahomes in TD's with 15. Depending on your scoring system he's right at the top as well, probably second behind Mahomes. The schedule is favorable and barring injury Brady should be able to maintain a similar pace all year.
--Last week I went over the three Bucs receivers and how they were all being targeted fairly evenly by Brady and how every week two of them seemed to get nice fantasy scoring while the third had a more normal output.
This week it was Mike Evans (6-113-2/8) and Antonio Brown (7-124-2/8) that flourished while Chris Godwin (7-70-0/11) was somewhat left out of the party despite receiving the greatest number of targets. Who knows which ones will score next week. All I know is all three guys are fantasy useful and at least WR2's.
Note that while Brown had the best fantasy week he also had a majority of his points come from one awesome catch and run play. I wouldn't necessarily discount this however as Brown has proven to be the most explosive of the three and the one Brady looks to for big plays. He's going to have his down weeks occasionally but he's still a big part of this offense.
--I speculated last week that Leonard Fournette (12-67-1, 4-43-0/5) might start to dominate the split between him and Ronald Jones (5-21-0, 1-15-0/1) and that's precisely what we got here. Jones barely saw the field until late in the game and looks to be falling behind even Giovani Bernard (4-21-0, 2-14-1/2) a bit. This could all change any given week, but I think for now it's safe to roll with Fournette as a nice safe option.
*RC NOTE: I am told that Gio B. is starting to fall out of favor in Tampa Bay. RoJo is already in a quasi doghouse. If you can buy Leonard Fournette as a random RB2 guy in a backfield mix, you should try and buy low or buy reasonable -- he's got RB1 potential. More on this tonight on the Video Q&A.
--In Gronkowski's absence it has been OJ Howard and not Cameron Brate that has played the majority of snaps. It hasn't translated to fantasy points yet, but if Gronk is out for a while there will be a game eventually where Howard breaks a big play and finishes with a huge game. Good luck trying to time it though.
--God bless Jacoby Brissett (27-39 for 275 yards, 2 TD/1 INT). He is trying so hard to keep this team in games. Unfortunately though he's just not very good and neither is anyone else on this offense. The blocking isn't good, the pass catchers can't separate, and the RB's are led by the uninspiring Gaskin. I don't see any hope for this group as a whole.
--There was some concern last week about Myles Gaskin (5-25-0, 10-74-2/10) and his role after he took a backseat to Malcolm Brown. It was my opinion that the fear was unfounded and Gaskin would return to normal this week and he did. If you played him here, congratulations, but don't count on this every week. He isn't catching 10 passes and scoring twice every week. That was simply the result of game flow and Tampa's aggressiveness. Most weeks he'll be closer to 10 carries for 35-40 yards to go along with 3 catches for another 20 or so. It's decent work but not worth much for fantasy unless you're incredibly desperate.
Brown was a ghost here which further cements my guess that last week was a matchup thing. Of course, that does mean that it's always possible Miami could turn to Brown again if they think he works better for the game plan than Gaskin. Just something to be aware of in case you're starting Gaskin for whatever reason.
--As this passing game dies with Brissett all the WR's are getting taken down. There's no one player they lean on anyways and it renders this group impossible to start with any confidence. With DeVante Parker out this week it opened things up for Preston Williams (3-60-0/5) to resurface. He looked pretty good, definitely Miami's best receiver for what that's worth. I'd love to see what he could do with a real QB, but this is what we're stuck with. Shame. If Parker is out Williams could be worth a dart throw, but the second Parker is back Williams can be safely dropped. Miami has shown no inclination to actually use him.
IDP Notes
--Ok, ok, Devin White (8 tackles) was the top tackler for Tampa this week...but only because Lavonte David (2 tackles, 1 sack) got hurt in the first half. David will be out for a few weeks to heal his ankle. This does potentially open up things for White a little, but I still don't trust him as this defense falls apart around him.
Snap Counts of Interest
58 = Mike Evans
51 = Chris Godwin
42 = Antonio Brown
46 = Leonard Fournette
17 = Giovani Bernard
10 = Ronald Jones
44 = OJ Howard
28 = Cameron Brate
43 = Jaylen Waddle
40 = Preston Williams
42 = Mike Gesicki
36 = Durham Smythe
21 = Adam Shaheen
37 = Myles Gaskin
11 = Salvon Ahmed
5 = Malcolm Brown