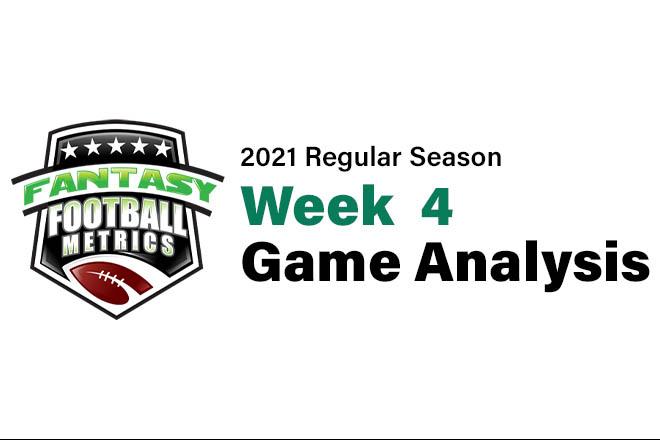 Ross Jacobs
FFM
05 October 2021
2021 Dynasty/Fantasy Game Analysis Week 4: Colts 27, Dolphins 17 
You'd think a game with 44 total points would be more exciting. This wasn't. It was a completely lifeless game between two teams that are hanging on for dear life.
The Colts are the better team for sure, but they got handed an awful lot of gifts by the Dolphins. Multiple short fields off turnovers, kicks going out of bounds, penalties giving them first downs...they wouldn't have scored 27 on this Miami defense most weeks.
Now the Colts do have some hope because they are missing multiple offensive linemen to injury but should get them back at some point. If they can get the line healthy to protect Wentz they might actually have a solid team in the 9-10 win range. I'm honestly not sure they will get there though.
The top 10 defense the Colts fielded last year has taken a step back. They aren't bad exactly, but they definitely aren't as menacing up front either. Despite spending their early picks in the draft on pass rushers, they still don't have one.
As for the Dolphins, well, you know the issues there. The defense is still pretty good and trying to keep this team in games, but the offense is so dreadful that they are constantly being put on short fields that make it really difficult to stop the opposing offense. Their offensive line is the weakest link, but Brissett isn't helping matters much. I thought he would play short, safe football like he always has in the past, but he's acting like he's trying to make plays to take the job from Tua which is never going to happen. Consequently he's turning the ball over more than usual, which is the one bad thing Tua doesn't do at least. I can't believe I'm saying this, but once Tua comes back I think this team is a little better if only because he doesn't make too many dumb mistakes and put his team in bad positions. Then they can hope the defense bails them out with some turnovers. It's possible they'll get to 6-7-8 wins by the end of the year.
Fantasy Notes
--If you have Jonathan Taylor (16-103-1, 3-11-0/3) now is the time to think about flipping him. The offensive line is corrupted right now and may not be healthy all year despite the hope, he's not getting the heavy workloads you'd like to see, and the schedule isn't doing him a ton of favors either. There's a couple of matchups with the Texans coming up, but also dates with good run defenses like the Ravens, Jets, Titans, and Bucs who are all going to key in on Taylor because they aren't afraid of Wentz.
Miami has one of the weakest run defenses in the league and even then a good chunk of Taylor's yards came on one jet sweep that Miami wasn't ready for. Taylor isn't the problem really. He looks as strong and athletic as ever. There's just a lot of other factors that are going to hold him back this year. I'm not sure you can get much for him as everyone is still aware of the slow start, but maybe a 2-for-2 trade will get it done for Mixon or something similar. Of course you may just have to hold and pray for the line to get back.
RC NOTE: I'm a hold on JT. I'll wait for the O-Line to get back + Wentz to get healthier + Marlon Mack to be gone. I'm pro-JT...with mild confidence. 
--One guy you do not have to worry about and should be trying to trade for right now is Michael Pittman (6-59-0/8). I noted a few weeks ago that he looked fantastic, like a true #1 receiver but that he wasn't getting the targets/treatment of a #1. Well now he's getting it. There is no doubt anymore and not much is going to stop this connection. He's a bona fide WR1.5 still available as a WR2+. Don't sell out for him, but try to work a deal to get him on the cheap after this quiet game. He won't be available for discount prices much longer.
--Carson Wentz (24-32 for 228, 2 TD/0 INT, 5-8-0) is playing surprisingly well all things considered. It looks like he's lost a little bit of arm strength as he floated a few passes here, something I haven't seen him do much in the past, but otherwise he's playing smart, accurate football and not taking as many stupid risks. If this offensive line gets healthy Wentz might suddenly become a nice QB2 option.
--So let me get this straight...last week Marlon Mack (10-22-0, 1-1-0/2) requests a trade because he's the odd man out of the Taylor/Hines duo, and now he's taking 10 carries while Hines is barely used? What in the world? I do not understand how this coaching staff decides on RB usage, and I don't think I ever will. I wouldn't trust this at all. Next week it will probably be Hines getting 12 targets and catching 8 passes for 90 yards and a TD or something.
--I'm not really interested in much else from this Colts offense and that includes Mo Alie-Cox (3-42-2/5). I didn't see any real connection or intent to get him the ball here. He's just a big body Wentz could throw a jump ball to in the end-zone. Like most TE's he'll have moments of usefulness when he gets a TD, but you'll never know which weeks those are going to be.
--The biggest question about the Dolphins this week is what the heck happened to Myles Gaskin (2-3-0) and will it continue? Unfortunately, I don't have a great answer for that. It wasn't like Gaskin was sprinkled in throughout the game as a random option. He was in for a series by himself in the middle of the game and that was all. I can't find anything to suggest Gaskin is banged up or in the doghouse, so my best guess is this was simply a game plan issue and the coaching staff wanted a bigger back to lead against Indy. Then once they got down it became throw-to-catch-up time.
I expect that Gaskin will likely be back to his usual role next week for what that's worth. This is still a bad offensive line with a QB nobody is afraid of, and Gaskin isn't a great athlete anyways, so there's just not going to be room to work for now.
RC NOTE: I have no clue either, but Brian Flores is going to get fired soon and he is helping me with my top bet of the Miami 'under' win total this season, so keep it going Brian! I don't know if Gaskin will be the guy next week...or Brown...Gerrid Doaks...or the corpse of LeGarrette Blount, or any other ex-Patriot RB he can get his hands on. They all suck in Miami, so 'who cares'?
--On the back of that discussion I don't think you can suddenly trust Malcolm Brown (8-23-0, 1-4-0/1) either. All the same things still apply and I'm guessing he goes back to his normal workload (or at best a split with Gaskin) next week. It's just not worth anything unless he falls backwards into a TD, and you can't count on that with how bad the offense is.
--Is DeVante Parker (4-77-1/9) suddenly a viable option? Not really. He was barely used until the last 5 minutes of the game and Brissett suddenly realized he could just throw it in Parker's direction and hope he came down with it. Parker still refuses to work the middle of the field and so he's left with only sideline passes in 1-on-1 coverage. He'll make an amazing one handed grab and then drop an easy pass right in his hands the very next play. There are better options available.
--If I was going to have a receiver from this team I'd still take Jaylen Waddle (3-33-0/4). Unlike his superfast college teammate Ruggs, Waddle is actually showing some actual wide receiver skills. There might be some hope for him in a year or two with a better QB. If Watson ends up here Waddle would be the shock WR1-1.5 I bet.
--I don't care how much RC and Katz bash Mike Gesicki (5-57-1/6), he's a decent player. He's finally gotten over the softness he showed early in his career and is able to make tough grabs over the middle and hang on even after taking a big shot. What I said about Waddle applies to him too. If Miami lands a good QB at some point Gesicki could find himself being quite fantasy relevant. He's a decent option right now if you're desperate, kind of in that Dalton Schultz range.
RC NOTE: I am pro-Gesicki with Ryan Fitzpatrick...and Jacoby Brissett, not as keen on him with Tua. And we're getting Tua back soon...
‍
Snap Counts of Interest
35 = Malcolm Brown
12 = Myles Gaskin
5 = Salvon Ahmed
36 = Jonathan Taylor
22 = Marlon Mack
22 = Nyheim Hines
‍