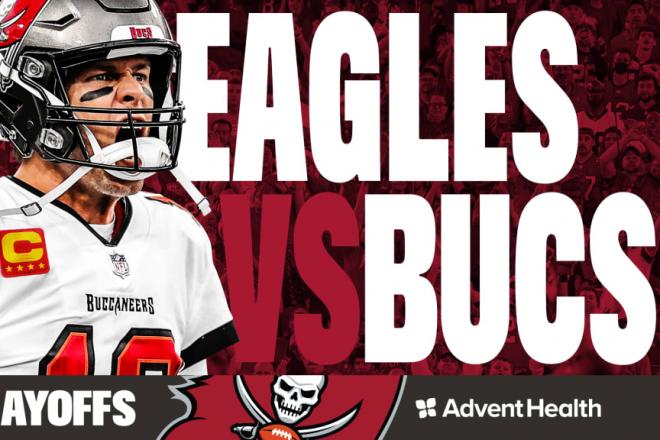 R.C. Fischer
FFM
18 January 2022
‍
2021 Dynasty/Fantasy Analysis Wild Card Playoffs: Bucs 31, Eagles 15
Not much to see here…the Bucs led 17-0 at the half and 31-0 after three quarters. The Eagles tried to scramble back into late, but they couldn't – very similar to their game earlier in the season. I thought the Eagles might give the Bucs a closer game…I thought it would rain more to further complicate things, but it didn't. The one game I got wrong (against the spread) of the playoff weekend (pre- Monday).  
Everyone predicted the Bucs to move on and they did. The defending champs get another winnable game ahead with the Rams. The Bucs are on a collision course with Green Bay for the right to go to the Super Bowl.
The Eagles lose, and to make the suffering worse…they will enter an offseason of nothing but questions and complaints from the fans and the media. The national pastime of our country is not baseball, or even football…it's complaining about your favorite football team and denigrating the current QB with a wish list of things the team ought to do to replace them. Nowhere is that a bigger offseason joy than with Philly fans and media. Buckle up for a six+ months of complaints and fairy tale scenarios from Philadelphia ahead. After all of their caterwauling, Jalen Hurts will be the starting QB Week 1 of 2022.
Fantasy Player Notes…
 -- The six+ months of Eagles talk/complaining this offseason will be 99.5% about Jalen Hurts (23-43 for 258 yards, 1 TD/2 INTs, 8-39-0). Hurts is never going to make it long-term…Philly ought to just make the move ASAP and get on to a new QB to complain about.
When I say Hurts is never going to make it…he's never going to make it with the fans/media. Hurts is on a weekly contract with Eagles fans…when they lose, they want him pulled/replaced. When he wins, 'he might be the guy after all'. When they made the playoffs, it looked (to the fans/media) like Philly found their guy. When they got bombed in their playoff game, now Hurts has got to go.
1st-round pick, media endorsed (and thus fans approved) QBs get 3-4 years before a full uproar happens…Sam Darnold, Jameis Winston, Daniel Jones. I can prove how it works (example) – if the Eagles signed Jameis Winston in the offseason, the town criers (media and fans) would be filled with glee and pride and they would make a thousand excuses for why Winston failed in the past but now THIS was a brilliant move because the organization will boost him.
Hurts doesn't stand a chance, because he won't be given any leash by the media/fans.
And, in reality, a change needs to happen. If you're trying to compete at the highest levels – the fans/media want 'highly mobile' QBs…but the teams advancing through the playoffs have old-fashioned pocket passers. Jalen Hurts is a fine NFL QB, but among the highly mobile, highly mediocre only Lamar Jackson gets nine miles of rope/leash/leeway…because he was a 1st-round pick. That's why all the Malik Willis 1st-round pick talk in 2022 is comical…NFL teams aren't looking for highly mobile, fans are (and FF owners).
Hurts will need to be moved, go to somewhere with little to lose in using him…and then he can be a surprise success. All he is, and will ever be, is a disappointment for eternally disappointed Eagles fans/media. I hope he gets to leave before they destroy his career beyond repair.
I would 55/45% assume the Eagles will draft a QB in 2022 to stoke the flames.
If any of this resonates, and you have Jalen Hurts as a key part of your Dynasty plans for 2022…you have to evaluate whether you should just stick by him…or if there's any 'sell high' this offseason. The problem with the 'sell high' (which everyone lives for…magically selling at the tippy top of the market) is this media assault bleeds into 'the fans'…and thus 'your league mates' and then they won't think much of Hurts either. The value in Hurts may be to buy low on him as a 2nd/3rd QB for your Dynasty when all the anti-Hurts rhetoric starts in full after the Super Bowl when people start to focus on the draft and free agency…the magical elixir opportunities to fix all that ails every team.
 -- If the Eagles do draft or go another way with their QB situation…Dallas Goedert (6-92-0/12) would probably be the winner (if Philly doesn't butcher their QB choice). Goedert had a nice run without Ertz there AND with low volume Hurts…he would fly even higher with a real pocket passer QB.
7.5 FF PPG, 11.8 PPR on 4.3 rec. (6.3 targets), 64.2 yards, 0.18 TDs per game = 11 games after Ertz gone
11.0 FF PPG, 16.4 PPR on 5.4 rec. (7.6 targets), 86.2 yards, 0.40 TDs per game = final five games played (incl. playoffs)
 -- The Eagles needed some ground control from Miles Sanders (7-16-0) here…and he gave another dud. To be fair, he didn't get the ball much and was facing a jacked-up Tampa Bay defense. However, I mention this to note…the bloom is off the FF-rose on Sanders with the Fantasy community/media. I think we'll see him being ranked lower RB2 level and more of a shoulder shrug preseason 2022 versus all the howling about breakouts like the last two preseasons.
Saquon Barkley, Miles Sanders, Mike Gesicki…NFL Combine frauds, no? Penn state knows how to prep guys for the Combine.
Boston Scott (1-34-1, 1-1-0/1) has been better than Sanders all year…and he got one carry…for a 34-yard TD. Because who wants to give more touches to that kind of production? Hopefully Scott gets to leave via (restricted) free agency this offseason.
 -- Week 18, the Eagles used Jalen Reagor (0-0-0, 1-2-0/3) as a mini-Deebo…lined up as an RB, took some jet sweeps. It would have been a fresh wrinkle for the wild card.
How many carries did Reagor get in this playoff game? Zero.
Why do I even bother…?
 -- Cyril Grayson (DNP) had been heating up…starting…for the Bucs after Chris Godwin got hurt and Antonio Brown went nuts. But then Grayson got hurt Week 18 and lost momentum. He couldn't make it back for this game, so there was a void, an opening for another receiver to step up. And we got…
Tyler Johnson (2-31-0/3)
Scotty Miller (1-8-0/1)
Breshad Perriman (1-5-0/3)
This (the other non-Evans or Grayson WRs doing nothing) has been the pattern for weeks. It would appear that if Grayson gets back to full practices, he'll go right back in as a starter…and be a possible 'over' prop bet this week (depending upon what the prop is).
I don't know what the future holds for Grayson, but it doesn't appear Johnson-Miller-Perriman are impressing Tom.
 -- Only important to me…
This was the Gio Bernard (13-44-1, 5-39-0/7) I was looking for in PPR leagues late round picking this preseason, the co-back with Fournette…the James White-alike for Brady.
Gio played 20%+ of the snaps in a game six times (including this one) this season, and he scored a TD in four of those 6 games.
Maybe next season?
 -- The Bucs defense is getting healthy at the right time, and they dominated here…when they wanted. They let off the gas pedal late in the game. They will be a tough matchup for the Rams because the Bucs are so physical when playing at their peak.
If the Bucs defense hits their stride at the right time…and knocks down the Rams and then the Packers, then Todd Bowles is likely to get another shot at a head coaching job. If you're an assistant on a winning football team, then you must be a good coach…not matter how bad you were prior. Because it's convenient to paint the pretty narrative/spin, the media/fans will blame the Jets organization for the prior Bowles HC failure…but they'll have a point about that.
FF Notes for Tampa Bay (vs. Rams)…
 -- You would think the Bucs will not be able to run well on the Rams, so it should be a huge volume attempt for Tom Brady…and there is a minor weakness on the Rams in the secondary depth (many injuries on and off, low depth) and their big weakness (it it's not terrible) is covering the TE. I like Gronk over all the WR options…worrying that the Rams will double Mike Evans.
 -- If the Rams do double Evans, it gives an opening for the speedster deep ball WRs…Cyril Grayson if he's back 100%. Scotty Miller as a long shot hope for a big play score if Grayson is out.
 -- If Fournette is out, and even if he limps back…Gio Bernard could have a huge part in a mass volume passing game effort.
Snap Counts of Interest:
36 = Gio
36 = Vaughn
59 = Evans
56 = Tyler Johnson
36 = Perriman
19 = S Miller
02 = Darden
25 = Gainwell
22 = Sanders
14 = Howard
06 = Scott