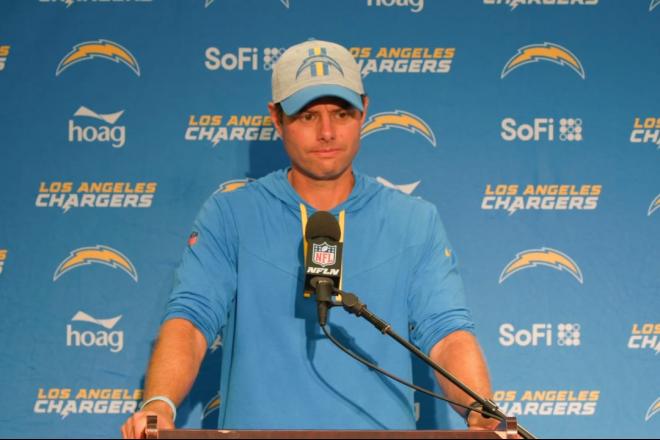 R.C. Fischer
FFM
01 July 2022
‍
2022 REWIND: 2021 Dynasty/Fantasy Game Analysis Week 12: Broncos 28, Chargers 13
I've started re-reading back through my 2021 game reports looking for good and bad scouting instincts on things I might have lost track of, whether for Fantasy or just the team in general. I especially wanted to focus on the L.A. Chargers' 2021 season…because my first computer simulation of the season showed them as the 2022 Super Bowl champs. From not making the playoffs in 2021 to the Super Bowl in 2022.
The Chargers didn't change their coaching staff this offseason and they didn't overhaul much of their offensive core, but they have dramatically boosted their defense this offseason. So, in theory, this team should be gelling and taking a step forward from a 9-win team last season to what I think will be a division winner and serious Super Bowl contender this season. At a minimum, it's a playoff team (if Herbert stays healthy). 
For some summer reading material, I'll be looking back at my Chargers' game reports from last season week-by-week and writing/typing some instant reaction notes (forgive any typos) to what I'm re-reading and then publishing that full 2021 game recap for LAC from each week of 2021 season WITH the 2022 reaction notes. 
We'll start with Week 1 and go through each game week, one game post per day for the next 16-17 days.
Completely embarrassing…
This Chargers team is totally embarrassing.
Of all the teams in the NFL, when you look at the roster of talent, and the talent-level at the key positions (QB and O-L) of all NFL teams and search for what team has the most talent but its results are way off the talent grade – the Chargers have to be the #1 gap, the top 'letdown' of the 2021 NFL season to date.
The Chargers are the most talented team in the AFC West, and they are headed to a last place finish in the division at this rate. Why? You have to blame the coaching staff. It's the only reason one could put their finger on as to why a top 10 roster is playing like a bottom 10 team.
The problem was on full display in this game. Denver played with energy…flying around to the ball on defense. Jumping up and down, high fiving after good plays. There was an energy. The Chargers play like they're reading the newspaper on a Sunday morning. No real energy. No grit. Just comfortably going through the motions.
The two Los Angeles based teams have the same issue – super smart coach who is so smart and so professional and so well-spoken that it's possible that they have no real connection with the team, and they have/acquired/don't groom players who are not leaders on the field to generate that fire (it's all we can assume from watching them play). *2022 JUNE NOTE = Well, one of the L.A. coaches had this issue last year...
If I were Brandon Staley, if I lose Week 13 at Cincinnati…I'd fire my O-C and D-C on Monday, in order to try and salvage the season. This is the most talented, and the most limp offense in the NFL (among the talented teams) – how do you ruin/butcher Justin Herbert? How do you make him worse in year two…worse than when he was with awful/no help Anthony Lynn? It's happening right before our eyes. LAC still has time to get their S together and get into the playoffs and be a dangerous team – but at this rate they are going to finish last in the division, out of the playoffs. Denver and Las Vegas should not be better than the Chargers, but they are…and it's not a talent issue, it's a passion and grit issue. The Chargers are SAWFT like the Rams, and as the season goes on…the sawft are getting sawfter. https://youtu.be/c78FOIsS5fw
I don't mean to take away from the Broncos, they kicked the Chargers arse from the opening bell. Hell, they had to play Drew Lock for a stretch with Teddy in doubt to return…and the Chargers never took advantage of the cold-incoming-QB, and the Broncos never quit under the curveball loss of their leader. Good for the gritty Broncos…they've had so much bad luck the last two years under Vic Fangio, so many last-minute losses, it looks like Fangio is saving his job. If he can just get to 2022 and team up with Aaron Rodgers… *2022 JUNE NOTE = Fangio didn't make it to 2022...and Rodgers didn't head west...
Denver is now (6-5)…tied for 2nd in the AFC West…and tied for last. They have a monster turning point game with KC on SNF Week 13, which they'll likely lose and then everyone will be back to freaking out wanting to fire Fangio at season's end again. We see Denver ending with 8-9 wins, and possibly a wild card. The jury is still out. *2022 JUNE NOTE = The did lose to KC, on their way to a 7 win season and everyone fired.
The Chargers blew a chance to tie for the AFC West lead and are now (6-5). If they lose at Cincy this week, all hell should break loose and they're going to have to scramble their way to 9 wins and a wild card at best. However, if they go and right the ship, take out Cincy and get to (7-5), then beat NYG the following week to get to (8-5)…then it's a Week 15 showdown where LAC can host KC and take back everything they frittered away the past several weeks. Week 13 at cold Cincinnati is a huge test for the SAWFT Chargers. I think they'll get that win and have a shot to turn things around and get to 10 wins and a wild card, at least.
 *2022 JUNE NOTE = LAC went out and wrecked future Super Bowl team Cincy the following week. They then walloped NYG the week after. The ship was righted heading to a Week 15 showdown with KC for the AFC West title...and they had that game, abut blew it and they collapsed from there.
‍
Fantasy Player Notes…
 -- How do you ruin Justin Herbert (28-44 for 303 yards, 2 TDs/2 INTs)? Seriously…how? He's so good, but this offense is so stagnant. Guys are barely open…defenders are running the WR's routes for them it's so predictable. If I were Brandon Staley, I'd fire my O-C today…I wouldn't give him a chance to fix this. I could coordinate the LAC offense with Herbert at QB, and I don't know what I'm doing.
In my opinion, they are playing the wrong players in so many spots it's not even funny.
They have tried to push the worst RB in the NFL on and off all season…Larry Rountree. They coulda been trying out D'Onta Foreman or any number of waiver wire RBs for months, but they usually stick with Rountree and always hurt Justin Jackson or stop-starting playing time with Joshua Kelley.
They play ancient Jared Cook (2-25-1/5) and deemphasize the mismatch nightmare Donald Parham (1-5-0/1).
They play awful Jalen Guyton (2-23-0/3) more and deemphasize the clearly superior rookie Joshua Palmer (2-25-0/2).
They should start Palmer, and not-start Parham but let Cook have that ceremonial title but then play Parham more snaps -- and thus try and change this offensive dynamic. If they don't make changes for this massive Week 13 at Cincy, then I don't know what will force them to after this embarrassing performance.
They have the talent. It's all fixable. I just don't know that they can figure it out…because they are all so smart, they are also stubborn and stuck in their ways…like 99% of NFL coaches.
 -- Mike Williams' (4-39-0/8) plight is emblematic of the LAC problem. To me, watching all the game tape of every game every week, there is no more impressive WR than Mike Williams in 2021. Physically dominant. In the best shape and movement skills of his life. His first few weeks of play was MVP-like. Now, they are pained to get him the ball.
A top five QB…a top five WR…and they cannot figure out how to pitch-and-catch with him and dominate with him, when they had prior. Something has been figured out by defenses…it's on the O-C to make a change, and he hasn't.
All I can tell you is, if you own Big Mike…you gotta stick with him to the death. He's working too well on-field, with too good a QB. If it fails, blame me…blame your sins that God is punishing you through Fantasy Football for. He's too good to bench. Kyle Pitts is similar, too good to bench…but now it is OK to bench him because he is too easy to double and his QB is a piece of literal garbage. While Williams has an elite QB talent he works with…just pray it works out.
 -- Courtland Sutton (2-17-0/3) is in that same debate. He's so good, but his FF results are so $#!& lately. What do you do?
Kyle Pitts is a TE1 talent working in a TE3 offensive scheme with a QB3 to work with surrounded by WR2s and 3s to try and help Pitts, which is little help to him getting freed up.
Mike Williams is a WR1 talent working in a WR3 offensive scheme with a QB1 to work with Keenan Allen and Austin Ekeler around to help take pressure off, even though most teams try and shut down Williams, he's still open enough. If the offensive scheme component changes back to the early season success…everything else is wonderful.
Sutton is as talented as Big Mike…a WR1 talent working in a WR3 offense because they want to run the ball and works with a QB2-3 safe-player QB who loves to handoff and checkdown…not a help to Sutton's output.
The case against Sutton = the situation around him stinks for FF purposes.
The case for Sutton = he's a WR1 talent that can get hot and make plays by sheer force/will. Kendrick Bourne and Russell Gage, etc., are all hopeful WRs who might be better to start Week 13 than Sutton…but they aren't better WRs than Sutton, not even close.
So…what wins out this week – talent or situation among the WR crowd trying to replace your Sutton problem? You pick your poison. I can't tell you should hold Sutton any longer, but I can't tell you Gage-Bourne-AJGreen are definitely better options…they might be, but I know they aren't better WR talents.
*2022 JUNE NOTE = The sentiment on Pitts-Mike-Sutton here pretty much carried through to the end of the season, aside from a splash moment or two.
‍
 -- I don't comment much on Austin Ekeler (12-31-0, 6-68-1/8) because what else is there to say? A great RB performer for Fantasy.
What I did not quite fully realize is…did you see how many TDs he has this season? 7 rushing + 7 receiving. Wow! 14 TDs in 11 games. The new Christian McCaffrey without all the injuries (which means next week…pop goes the hammy).
LAC did elevate RB Darius Bradwell (0-0-0/1) last week…a big, bruising D'Onta Foreman-like RB. He played a few snaps and dropped a pass. No signs of anything happening here after his minor debut, but at least he made the main roster. Let's see if he is elevated again this week and actually gets a carry or two.
 -- Teddy Bridgewater's (11-18 for 129 yards, 1 TD/0 INT, 2-10-1) last four games: 0.75 passing TDs and 204.3 passing yards per game. How is Courtland Sutton or anyone else going to thrive with that? Denver is (3-1) in that span…this is the way they want to win.
Teddy has played 11 games this season, he has 0-1 TD pass AND less than 250 yards passing in the same game six of the 11 games.
That's your case AGAINST Sutton week-to-week.
 -- This passing game drop is also taking a toll on Noah Fant (3-12-0/4)…that and the rise of Albert O. (1-12-0/2) sucking away some touches.
As Denver wins with the run game, those last 4 games where Teddy has no passing stats of note, Fant has no TDs, 3.8 catches per game, and just 29.5 yards per game.
 -- I will say it every week, every day, until you get sick of it…
The #1 young player trading under his real value (and he's not cheap) is Javonte Williams (14-54-1, 3-57-0/4). He will be a franchise RB in 2022+. Imagine if Aaron Rodgers is at QB in 2022!
 *2022 JUNE NOTE = All you can do is imagine, but Russ might be even better news for Javonte.
‍
‍
 -- The Denver-DST has held its last four opponents to 17 or fewer points…including Dallas. They play KC this week – a huge test. The Chiefs offense looks about as disjointed as the Chargers offense does. If Denver goes and thumps Mahomes…man, the media love next week for AFC West leaders Denver will be insane.
You can't use their DST v. KC this week, but Week 14 v. DET is sweet. CIN-LV-LAC Weeks 15-17 might be OK, but not optimal.
 -- Rookie SAF Caden Sterns (1 tackle, 1 PD) played 100% of the snaps in place of Kareem Jackson…part of the reason why LAC's passing game sputtered. Sterns is just a really good, smart safety…BUT I expected some better IDP numbers here and didn't get them. He was in coverage a lot.
 -- Kyzir White (12 tackles) is the man at LB for LAC, and Kenneth Murray (1 tackle) has died off as a now part-time player.
Not only has Brandon Staley ruined Justin Herbert so far, now he's ruining a great college LB who was a 1st-round pick, a Staley predicted star upon his arrival, a team leader – it's all thrown away by Staley. Further cause to make me want nothing to do with the McVay-Shanahan coaching tree. I'm willing to see if Staley turns it around, because I think he is a good coach – but he's sinking right now.
 *2022 JUNE NOTE = Staley gets his last chance in 2022 to prove to me he knows how to run an entire team.
‍
‍
 -- I believe the Chargers have good defensive personnel but between health (many guys in and out the past several weeks) and schedule and coaching…and the fact they are #32 against the run and aren't getting any better fixing that (more Staley and staff issues)…this defense looks good in spurts but never puts it all together.
I still think there is hope here. Not to play this week at CIN, but as a pairing for anyone with the Arizona-DST to finish out the season…as LAC is likely on every waiver wire out there.
ARI + LAC…
Week 13 = ARI at CHI
Week 14 = LAC v. NYG (ARI v. LAR)
Week 15 = ARI at DET
Week 16 = LAC at HOU (ARI v. IND)
Week 17 = LAC v. DEN (ARI at DAL)
If LAC's defense gets fully healthy, and the offense turns up, given the matchups…it might be a real Week 16-17 opportunity for those heading to the playoffs/finals.
 *2022 JUNE NOTE = it worked, in retrospect except for Week 16...Houston bullied them.
‍
Snap Counts of Interest:
53 = Fant
28 = Albert O.
36 = Javonte
26 = Gordon
48 = Ekeler
16 = Kelley
07 = Bradwell
61 = Allen, MK Williams
39 = Guyton
30 = Palmer
37 = Cook
28 = Parham
21 = McKitty 
‍