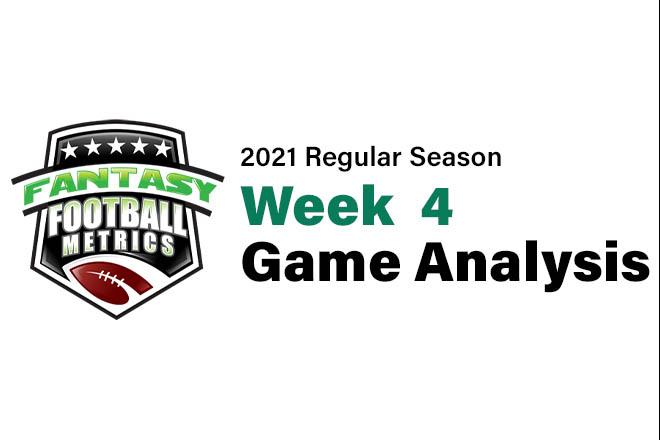 Ross Jacobs
FFM
08 October 2021
2021 Dynasty/Fantasy Game Analysis Week 4: Chiefs 42, Eagles 30
You wouldn't know it from the final score, but the Eagles hung in this game for a lot longer than many expected. They were going toe to toe with the Chiefs early on, trading scoring blows until the end of the first half.
At halftime the Chiefs only led 21-13, and the Eagles would cut that lead to 5 with a 3rd quarter field goal. It wasn't until the end of the 3rd quarter that the Chiefs would score again to extend their lead, but Philly once again answered right back with a TD of their own to make the game 28-23. With 8 minutes left in the game the ending was still in doubt. The Chiefs would then score back to back TD's to put the game out of reach for the Eagles.
It was a 12 point win for the Chiefs, and many people will take this as a sign that everything is fine and the team is still the betting favorites to win the Superbowl. I very much disagree. The Chiefs are still a good team, don't get me wrong. So long as they have Patrick Mahomes they have a chance to win every game. But we've watched this team scrape by the Browns, lose a lead against a banged up Ravens squad, get thumped by the upstart Chargers, and now have to scrap with the Eagles for 3.5 quarters. This is no longer a dominant team. They have a high powered offense, but the defense is beyond poor. 
Think of them like the old Saints teams where Drew Brees was going to score 30-35 points and hope the defense could keep the opponent under 30. The schedule isn't particularly difficult so they should get to 11-12-13 wins, but it's no longer a lock that they will win their own division. If they lose to the Chargers in December they are very likely to end up with a Wildcard into the playoffs which robs them of the home field advantage they've enjoyed for years.
The Eagles are now 1-3, but probably should be 2-2 except for a lot of dumb mistakes and bad luck against the 49'ers. They aren't a good team exactly, but I don't think they are among the league's worst either. The defense has a little bite to it now led by the DPOY level play of Javon Hargrave, and the offense is good enough with Jalen Hurts.
The Philly defense has gotten thumped the last two weeks for 83 points, but that was against two of the best offenses in the league and the Cowboys also had a pick 6 thrown in. They are 24th in points per game but 14th in yards per game, and I'd say they are closer to league average than league worst. The offense, meanwhile, is 17th in points per game but 9th in yards (lots of garbage time). Again, they are probably closer to average than top 10, but there is potential for more scoring if they could get their offensive line healthy and stop shooting themselves in the foot with stupid penalties. Do not sleep on this team. They really aren't that bad.
Fantasy Notes
--Still don't believe in Jalen Hurts (32-48 for 387 yards, 2 TD/0 INT, 8-47-0)? You should. He's QB3 on the season so far behind only Patrick Mahomes and Kyler Murray. He's completing 66% of his passes for 292 yds/g, 1.75 TD's/g, 0.5 INT's/g, 56.5 rush yds/g, and 0.5 rush TD's/g. His ceiling is incredibly high, but his floor is also very high every week because of his incredible rushing numbers. Do not fear starting him ever.
--I cannot stop singing the praises of DeVonta Smith (7-122-0/10) either. He has been one of my favorite players to watch over the last year going back to his final college season, and I'm thoroughly enjoying watching him succeed despite so many analysts saying he wouldn't because 1. "he's too skinny" or 2. "Hurts isn't a good passer." Whoops.
--RC texted me before the game started that he had a funny feeling Kenneth Gainwell (3-31-1, 6-58-0/8) was going to have a big game (I replied back that I had the same feeling about DeVonta) and wouldn't you know it, Gainwell is heavily involved and looks good doing it! Tip for newer subscribers: if RC gets an intuition about something but can't explain it, trust him anyways. He's not always right, but more often than not he is, and you will thank him for his insight afterwards.
This Gainwell breakout might be the last straw for Miles Sanders (7-13-0, 3-43-0/3). I'm not saying Sanders is a bad player, but what I am saying is you cannot really tell him and Gainwell apart on the field. There's no good reason why Sanders should dominate the touches at this point. Gainwell is going to be involved, and I particularly like that they have him working a lot as a WR, taking bubble/tunnell screens from out wide. It's a nice, safe throw and he is really good at them. If you're desperate at RB Gainwell is one of the best available options to try and get some cheap points, but don't expect more than RB3 work most weeks.
--I'm not even going to talk about Mahomes and Hill at this point. Anyone that subscribes to FFM knows those are our two most widely owned players thanks to RC browbeating us into grabbing them years ago (and picking them up every year in redraft even as most other analysts tried to tell you to fade them, that they were overpriced). These type games, from Hill especially, are why we tolerate the down weeks like last week. Because occasionally he just goes completely off and wins your matchup by himself.
--Two weeks ago I told everyone not to panic about Clyde Edwards-Helaire (14-102-0, 2-12-1/3). You're welcome. This week might be rough against a very good Buffalo run defense, but after that he's mostly golden. Yes, there will be dud weeks like there is with anyone not named McCaffrey, but I still maintain that CEH is a late RB1 or RB1.5 because of his role and the scoring opportunities of this offense. If they ever start giving him more goal line opportunities he could go even higher.
IDP Notes
--Yet another item RC was way ahead of the crowd on...Javon Hargrave (6 tackles, 1 sack) is playing out of his mind. He's averaging 6 tackles a game and 1.25 sacks a game so far. Defensive tackles not named Aaron Donald don't put up those kinds of numbers. Unbelievable performance by Hargrave so far. I hope he gets the recognition he deserves soon.
--I thought former Viking Eric Wilson (11 tackles, 1 pd) would lead the Eagles in tackles this year, and he's doing a great job, but it's actually Alex Singleton (9 tackles) that's leading the way with 38 so far. Guys like this are why you don't have to worry about getting Darius Leonard at LB in your IDP drafts. There are plenty of unheralded guys piling up tackle counts all over.
--You know who else is playing fantastic football and getting overlooked (as usual)? Daniel Sorensen (9 tackles). He's been an integral and valuable part of this defense for years, and yet it's Tyrann Mathieu that always seems to get the credit. Sorensen is the better safety by far and is on fire the last three games with 26 total tackles.
Snap Counts of Interest
68 = DeVonta Smith
52 = Jalen Reagor
43 = Quez Watkins
55 = Dallas Goedert
37 = Zach Ertz
47 = Miles Sanders
29 = Kenneth Gainwell